Following much-talked-about exhibitions at the Barbican in London and the Museum of Modern Art in New York, art collective Random International's Rain Room makes its debut in Los Angeles at LACMA on November 1. Amidst preparations for the opening, I spoke to Florian Ortkrass and Hannes Koch, founders of Random International, about the genesis of their collaboration, this project, and more.
How did you both come to making art, and how did your collaboration begin?
From early on, we both knew that we wanted to work artistically. Having met during our art and design undergraduate studies in the UK, we worked together on most projects from year one and conceptualized Random as a collaborative entity in 2002. We then moved on to the Royal College of Art for a Masters program and set up Random as a proper studio right after graduating in 2005. From the first day of Random, we felt this very strong need to emphasize experimentation and self-directed processes, so we couldn't really do anything but art.
Do you see collaboration as an essential part of your practice? Do you also make work separately, on your own?
Random was set up on a basis of trust, and with the conviction that not only could we realize our work better as a collective unit, but that the quality of our individual thinking was better together. Almost fifteen years down the line, we have a very symbiotic creative process (that doesn't mean it's easy!), and I guess we probably would describe our work as our own...
Tell me about the first few projects you did. What were they like and how do you think your practice has changed since then?
Pixelroller enabled the manual reproduction of digital imagery and Pixeltape is a physical way to rapidly convey information. Early projects like this set a very instinctive, explorative, and human-centered tone that has continued to remain at the core of our practice. These early works are very hands-on and intuitive investigations of the borders between the analogue and the digital. 
The practice really took on another level when we started adding a kinetic component to our output, such as with the "Temporary Printing Machine" series (2007) that captures a portrait of their onlooker, which then slowly fades away moments after emerging. In a sense, these works are analogue versions of what the phone app Snapchat does now, just infinitely more crude and mechanized. Likewise, the theme of "recognition of body in space" is explored in works like Audience (2008, acquired by LACMA in 2015), where a hoard of anthropomorphic mirrors collectively turn to face a person in their midst. This triggered a lot of questions about the human capability—or even need—to recognize natural motion. We explored this further in our series of "Swarm Studies" (2010) which simulate collective behavior, movement, and decision-making processes in light, as well as Future Self (2012), which translates the full-length and three-dimensional form of its onlooker into points of light. We are taking this a step further in our newly developing work Point Study, questioning the minimum amount of information humans need to perceive the subtleties of movement and representation. The overarching themes of control and the relationship between man and machine are issues that we are still evolving around at the studio today.
Regarding Rain Room, how did you come to that idea? Was there a lot of difficulty realizing it technically, or did these two aspects (concept and implementation) dovetail easily?
The idea originated in a three-second spark that came up during a discussion where we had looked at a (too) complicated process of printing information with water onto very large hydrochromic surfaces. It seemed that we somehow shared a curiosity to see how it would feel to be immersed in a rainstorm that wouldn't physically affect you. So, we just knew, we had to do this. It then took four years of research and development and unfaltering support and trust from Stuart and Maxine Frankel and their Art Foundation to develop and build the first Rain Room, which was shown at the Barbican in 2012.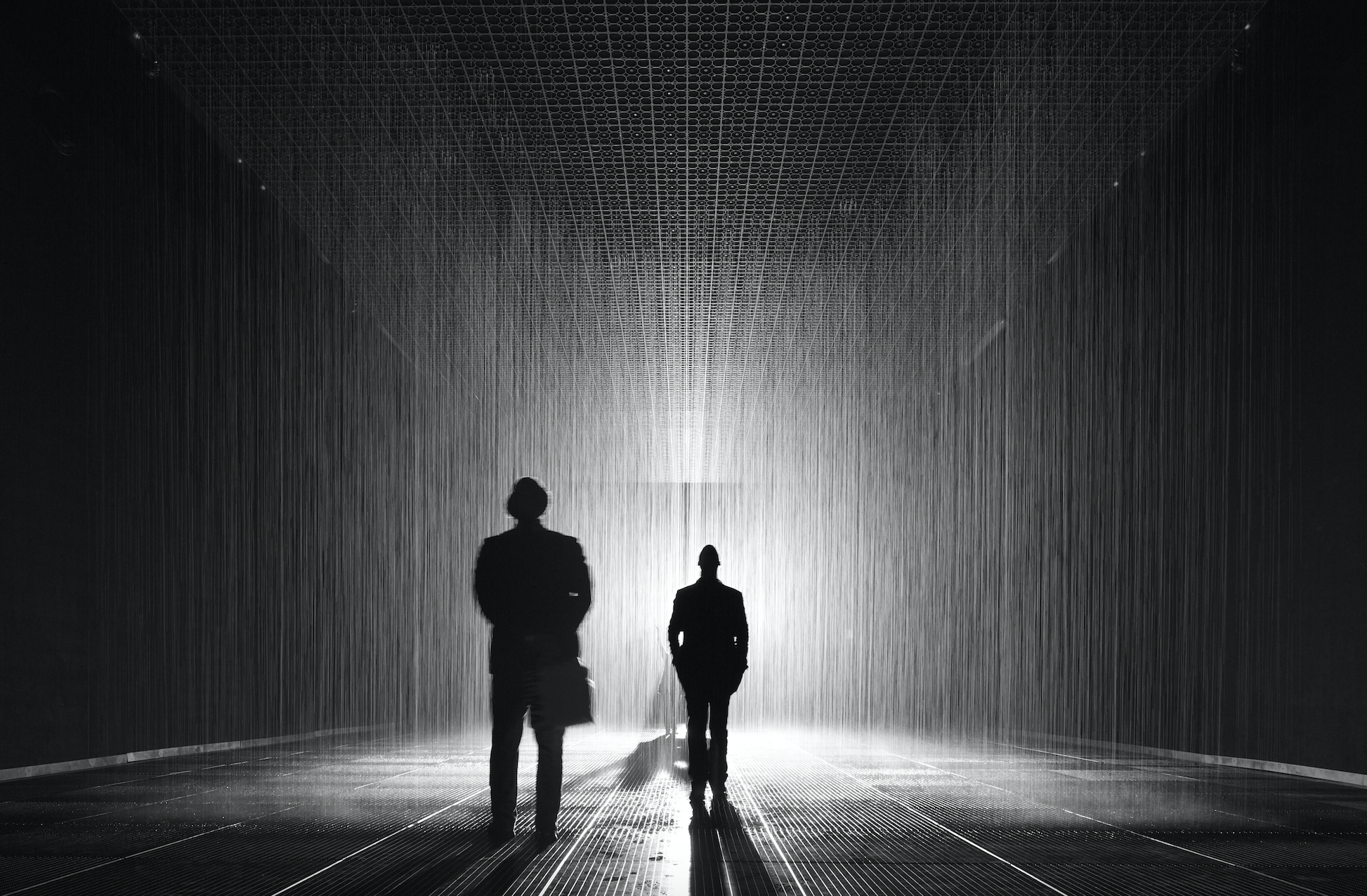 What or who are your greatest influences—artists or otherwise?
Oh this goes far and wide... Wes Anderson has had a huge influence in how we run Random as a studio. Robert Irwin, Doug Wheeler, Olafur Eliasson (from whom we learned to have studio lunches!), Gabi Klasmer. Anthony Gormley taught us to aspire to building our own studio space. Claes Oldenburg, for his beautiful ideas for the Art & Technology program [at LACMA in 1967–71], and [curator] Maurice Tuchman for his vision and perseverance in setting up the Art & Technology program against all odds. Natalie Kovacs with her vision for where our work sits. Wayne McGregor and Max Richter have influenced us hugely (and continue to do so) in our collaborations.
Brian Eno, Foo Fighters, and Donald Judd. Ingo Maurer and Ron Arad, from whom we learned so much about how to make an exhibition. The Long Now Foundation and their work, as well as SETI, and Robert Krulwich from Radiolab.
How has completion of Rain Room affected your practice? Has realizing it impacted the artistic questions that you now investigate?
The questions are the same; it's more that over the last two years we have been able to develop and refine the vocabulary that we use to realize our takes on those themes. It definitely showed us that we don't have to stop at a certain point. If we find the right support we can realize ambitious responses, if we feel that's necessary.
How do you feel about showing Rain Room in Los Angeles? Do you think it takes on a different meaning in a climate that has so little rain, and especially in the current drought?
It's an incredible honor for us to show our work at the same museum where Maurice Tuchman developed the legendary Art & Technology program in the '60s and '70s and yes, it does take on a distinctly different meaning in a state of drought. Rain Room gives us the illusion of control, and seems to tell us that if only we threw enough stuff at something, everything will be fine (i.e. that we can simulate natural phenomena effortlessly after we ruined them). But through its imperfections and abstraction, it also clearly shows us the differences between the simulation and the real deal. So in short, it'll be very interesting to see how it's perceived in California! And yes, it does recycle the water, all 1,200 liters of it...which is about as much as you need to make a single hamburger. Rain Room, if you like, is the H2O footprint of a Big Mac.
What are your occupations and interests outside of making art?
We both have children and partners that we love hanging out with. We've got a 20-strong team of engineers, designers, art historians, and other experts in the studio, so it's a fairly all-encompassing activity to be Random. As for the two of us: Flo reads a lot and has a huge interest in behavior and neuroscience. I love graphic design. I religiously listen to the usual suspects in terms of podcasts like Radiolab, Infinite Monkey Cage, etc. We both love vintage motorbikes and flat trackers. I do yoga. Normal stuff, really. I think Flo wants to pilot a helicopter one day.
Tell me about one work that you haven't yet been able to make, an unrealized project.
We want to control actual rain, accurately. Also, a completely non-electric version of our Tower: Instant Structure in the mountains would be a dream to realize—without a pump. Land art is clearly the way forward.