In September, we opened the doors to LACMA's new Study Center for Photography and Works on Paper, a multipurpose space dedicated to the conservation, study, and display of paper-based works of art in the context of an encyclopedic museum. Though we have about 30,000 works on paper, only a tiny fraction can be on display at any given time, as the medium is more sensitive to light, humidity, and temperature than other types of works. In the Study Center, visitors can encounter a wide range of artworks ordinarily stored in boxes and drawers, from vintage photographs and Old Master prints to contemporary drawings and rare posters.
As an institution, we've been moving toward a more multidisciplinary approach to thinking about and displaying our collection, as a wide range of curatorial departments, from Art of the Middle East to Decorative Arts and Design to Japanese Art, acquire photographs, prints, and drawings as part of their holdings.  This cross-departmental format is particularly timely for LACMA's first study center, a prototype for future facilities integrating display, study, storage, and conservation activities. 
Recently, I tagged along as Canan Cem and Lilia Taboada, our Mellon Undergraduate Curatorial Fellows, toured the space with Sarah Newby, collections administrator for works on paper. Both Canan and Lilia are taking a history of photography course at UCLA, and they hope to write about an object from LACMA's collection for their final papers. 
After a quick overview of the public space, which is lined with vitrines designed to showcase smaller works and dotted with large tables for viewing works of art or for meetings and classes, we entered the glass-walled studio in the center, where conservators, scientists, and collection managers work on the preservation, documentation, and treatment of the collection.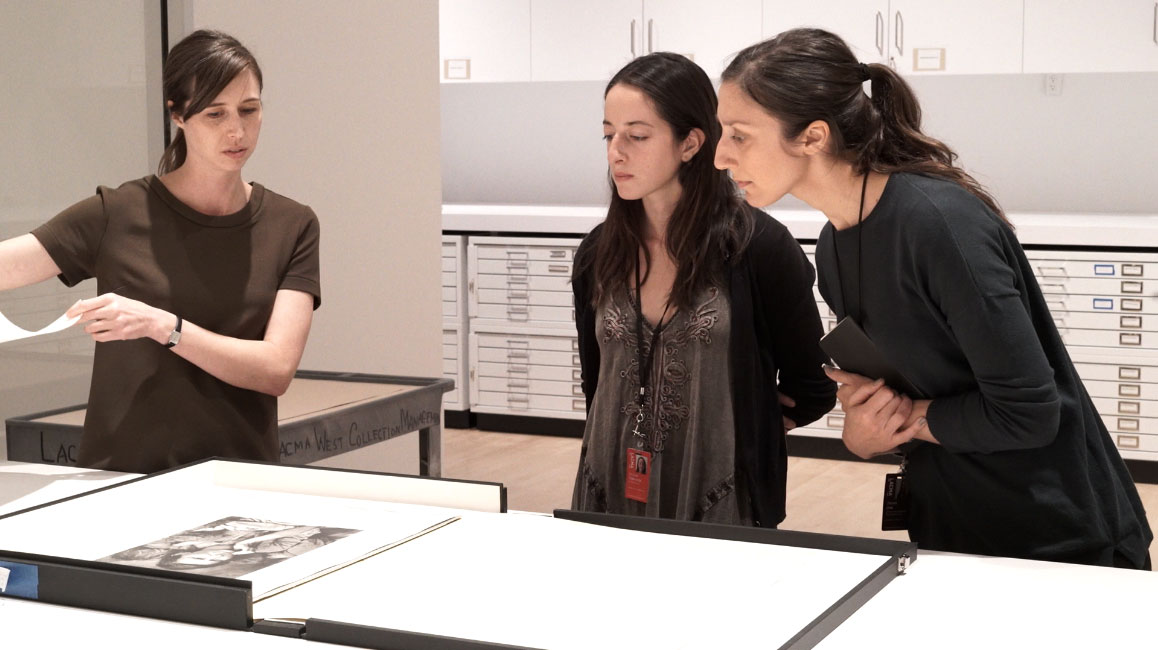 Sarah introduced the fellows to the proper housing and care of the collection, which is essential to the preservation of the art, and spoke about how the housing and organizational system we use is an important component in making the collection accessible to researchers. The fellows were shown into the art storage section behind the conservation studio, where they saw a range of specific mounts and custom housing devised by our conservators. The fellows concluded their visit with a chance to study several highlights from our photography collection related to their areas of research, including works by Gertrude Käsebier and Dorothea Lange.
High school and university classes and scholars can make appointments to request a "customized" viewing of works on paper in LACMA's collection. Instructors and individual scholars interested in making an appointment can contact studycenter@lacma.org. We plan to periodically host public programs and displays of art in the space. In the meantime, everyone is welcome to stop by and see what the staff are doing in the conservation studio!