Over the last several months, visitors to LACMA may have encountered the lustrous images of Los Angeles-based artist Jennifer West's films on the screens at Stark Bar. The selection of six films, representing a small portion of West's body of work in film, photography, sculpture, and performance, range from the purely abstract to representational. The grouping spotlights West as media archaeologist, literally and symbolically, as she mines images from the American West, whether it be from the slopes of Aspen, the Spiral Jetty, or the shores of the Pacific Ocean.
As the movie industry has transitioned almost entirely to digital, West's work reminds us of the materiality of the medium. This attention to film's materiality has been a long preoccupation of experimental filmmakers and West's approach is an homage to her many predecessors including Stan Brakhage, Carolee Schneemann, Tony Conrad, Bruce Conner, among others. And like those artists, West (in her own words) "places populist and universal cultural references next to and inside of avant-garde references to art, film, painting, performance." Originally shot on film and transferred to high-definition or digital video, her films evoke early experimental filmmaking while pointing to the present.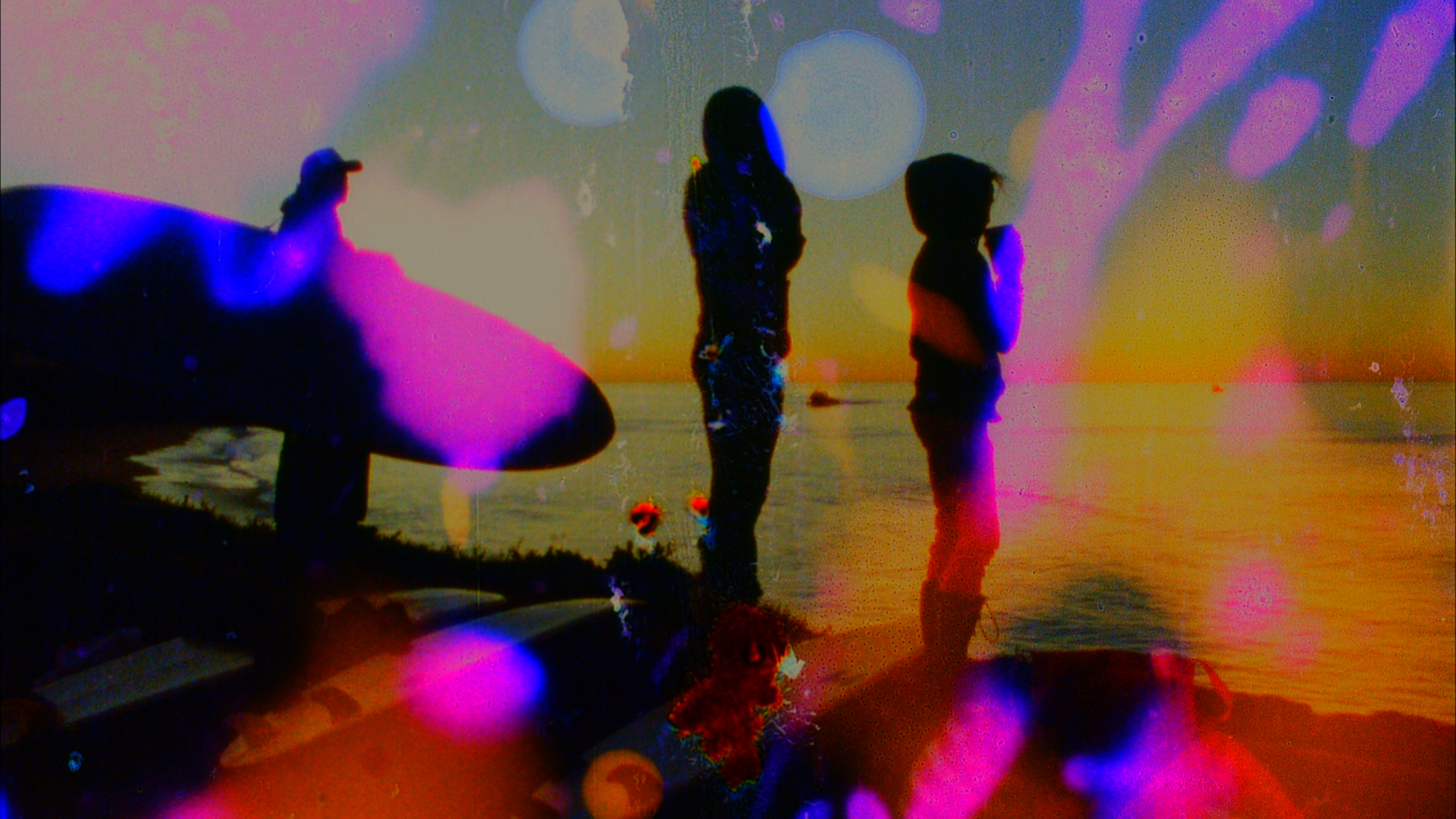 West embraces the physicality of film by manipulating the original celluloid with various substances and actions. Her descriptive titles key in the viewer to the different processes the film undergoes, such as in the 2011 work, Dawn Surf Jellybowl Film (16mm film negative sanded with surfboard shaping tools, sex wax melted on, squirted, dripped, splashed, sprayed and rubbed with donuts, zinc oxide, cuervo, sunscreen, hydrogen peroxide, tecate, sand, tar, scraped with a shark's tooth, edits made by the surf and a seal while film floated in waves- surfing performed by Andy Perry, Makela Moore, Alanna Moore, Zach Moore, Johnny McCann - shot by Peter West - film negative sanded by Mariah Csepanyi, Andy Perry and Jwest). These elements alter the nature of the film, producing brightly colored splashes and stripes that flicker with each frame. The warm hues complement the landscape of Carpinteria, California, which serves as the film's setting. In the work, we get a glimpse into the culture of this town as riders gather to surf the Jellybowl, a favorite local spot.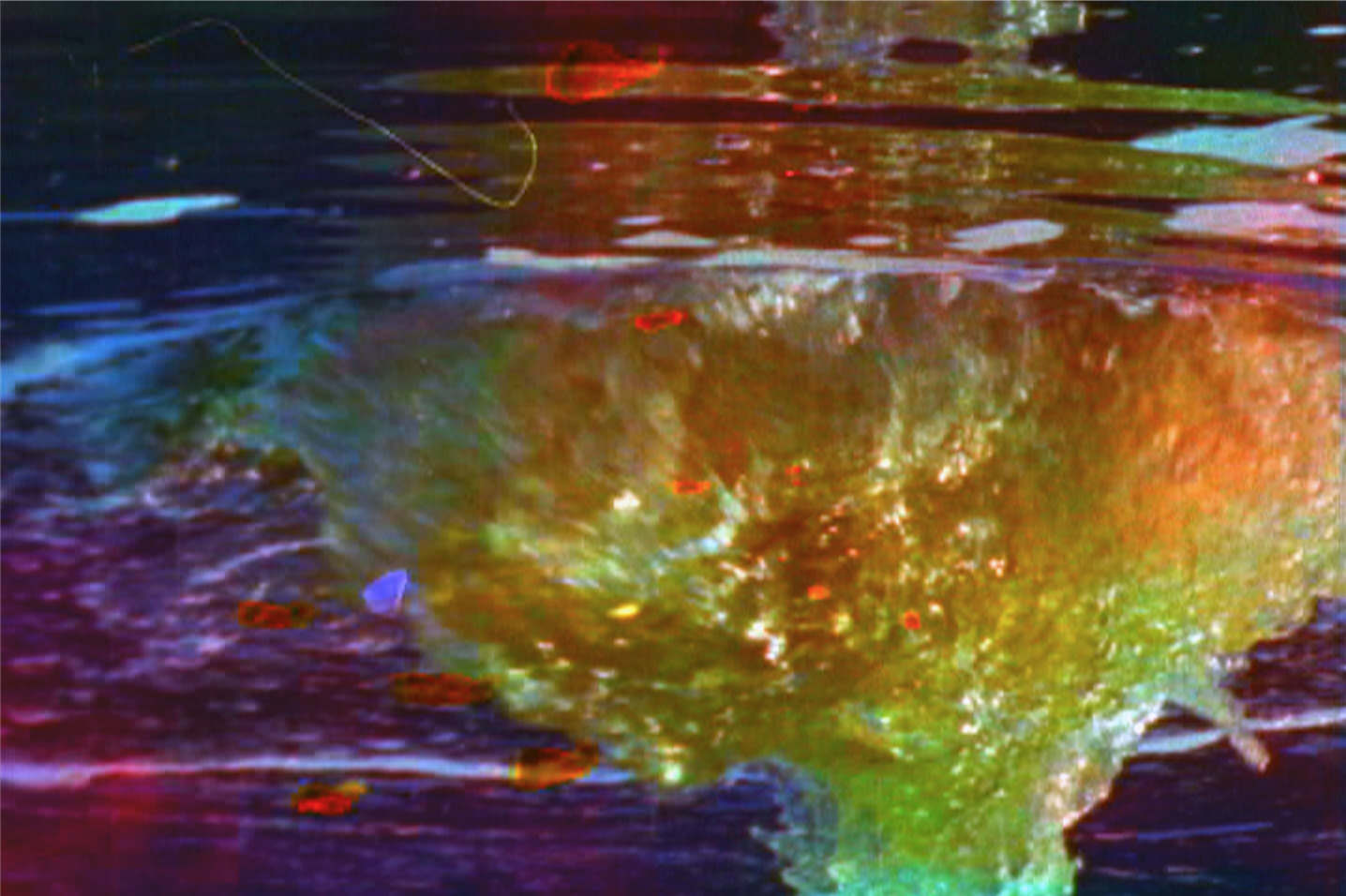 West's 2006 work, Tar Pits Film (16mm film negative thrown in the La Brea Tar Pits, ridden over hot tarmac by a motorcycle, soaked in kitty litter, lighter fluid, mayonnaise and body lotion) may be a familiar subject for most LACMA visitors. The film zooms in on the neighboring La Brea Tar Pits, offering a unique perspective of this L.A. icon. A strong element of chance is at play in West's work as she is unaware of the visual outcomes of her material experiments and interventions on the celluloid. By tossing the negative into the tar, West connects the image back to the site through a performative gesture.
West pulled off the Tar Pit film guerrilla-style, although not without some difficulty—she had to find ways to dry the tar that had directly adhered to the film stock before she could take it to the telecine operator who helped her to make the technical transfers to video. These negotiations with the film itself, as well as the site that is filmed, become direct traces of what can be described as a performance with her medium. 
More recently, West has been interested in how film and television shape our own personal and cultural memories. She has embarked on what will become a feature-length film, and through ongoing research documented on Instagram, West is revisiting years of her own televisual and cinematic viewing. This line of research is also taking her to physical sites of analogue post-production, most of which are in peril of extinction, as well as the locations of film's projection. In the year to come, West will return to LACMA to investigate some of the sites on our own campus, such as the Bing Theater, that have shaped her cinematic memory and visions. 
Selected Films by Jennifer West LACMA Stark Screens Spring 2015 thru January 2016 from Jennifer West on Vimeo.
LACMA is committed to presenting leading Los Angeles-based artists that have made significant contributions to art and culture in our city and beyond. Alongside Jennifer West's work at the Stark Screens, be sure to visit Diana Thater: The Sympathetic Imagination, on view until April 17, as well as Liz Glynn: The Myth of Singularity, which runs through May 22.