The art of film is multi-faceted. In addition to producing theatrical features themselves, the movie industry generates many types of promotional objects, such as trailers, stills, lobby cards, and fan magazines. Amidst this panoply of film-related material culture, posters have achieved the status of art. When adroitly executed—imbued with narrative flair and symbolism—they carry a charge and fascination all their own. In the words of Los Angeles Times critic Kenneth Turan, movie posters are "snapshots of cinema, intense jolts of visual stimulation that convey the focused essence of a cinematic experience."
Poised at the frontier between high art and popular culture, movie posters are emblematic of modernity itself. On the one hand, they often deployed the most avant-garde formal and typographic trends of a given period, demonstrating true compositional innovation. On the other, they were advertisements, intended to stand out in the visual cacophony of the modern city and to attract the broadest possible audiences. Many people received an education in modern art and design history from movie posters, which are an essential link between fine-art practices and their distillation in everyday life.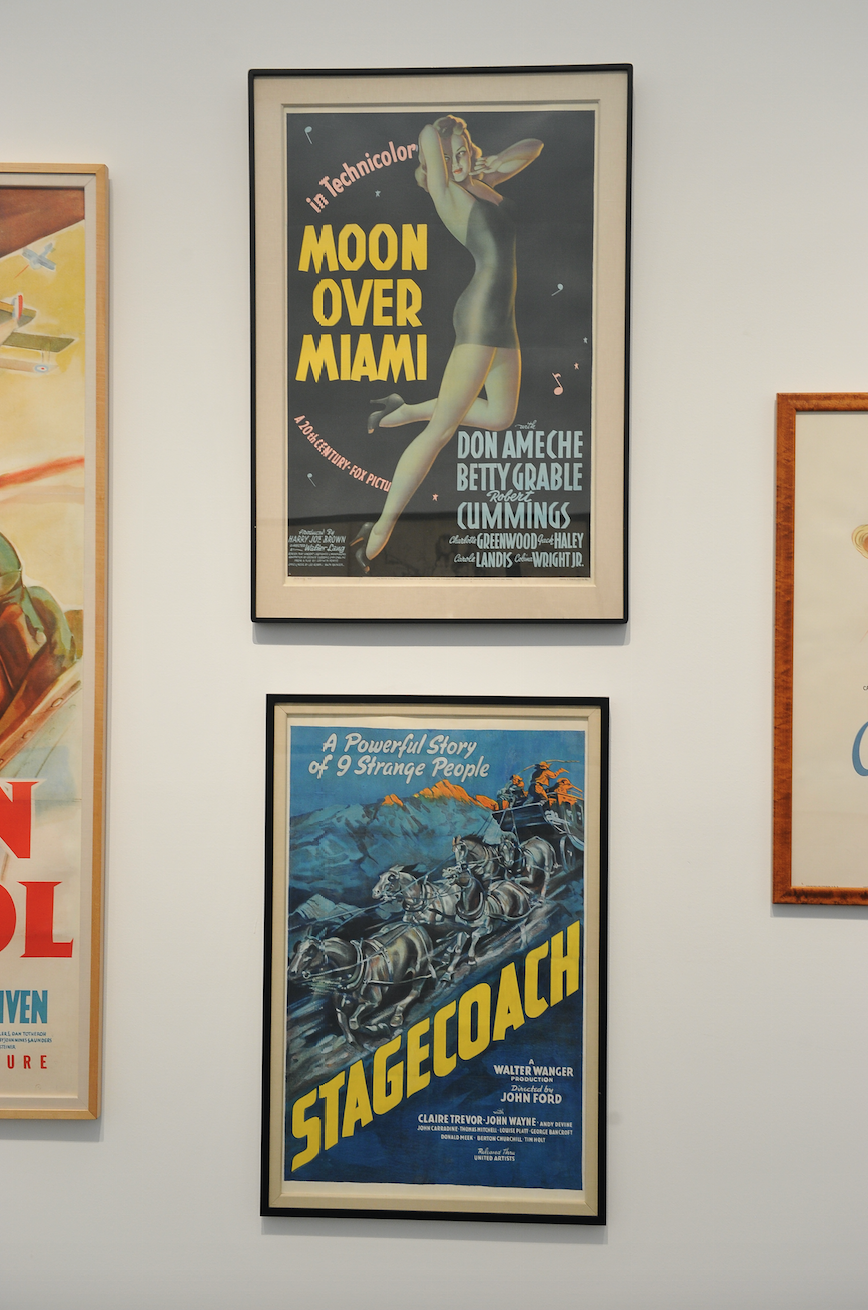 Mike Kaplan has been uniquely positioned to build one of the most notable collections of movie posters in private hands. A designer, art director, and producer, he has first-hand experience crafting campaigns and posters, the most famous among them Stanley Kubrick's 2001: A Space Odyssey (1970) and A Clockwork Orange (1971). He is also a connoisseur of poster design history, gravitating toward exceptional illustrators, motifs, studio periods, national styles (Scandinavian, Italian, French), stars (Barbara Stanwyck, Bette Davis, James Cagney), directors (Hitchcock, Ford, Hawks, Wyler, Altman), and film genres. Of particular interest are international interpretations of canonical American films, such as a French poster for Casablanca, an Italian poster for The Philadelphia Story, and a Belgian poster for Little Caesar. In Kaplan's collection, the Golden Age of movie poster design (1930–1950) is spectacularly represented in all its bravura, sensuality, and charm.
Movie posters were ephemeral, produced for short-term public display and often in surprisingly small numbers. Scarcity is therefore a primary factor in the market to collect them, which emerged in the 1980s, as is condition. Of the 880 posters that constitute the core of the Kaplan Collection, many are the only known copy; others are the example in best condition among only a few known copies. Such a collection, built over some 35 years, could never again be assembled from scratch. 
In recent years LACMA has been expanding its programming to acknowledge the role of film as one of the key art forms of the twentieth and twenty-first centuries. This gift continues an effort by poster expert Ralph DeLuca to increase high-level support for LACMA's interdepartmental graphic design initiative—a program that strategically builds holdings to complement our other collecting areas, in consultation with sister institutions such as the Academy Museum of Motion Pictures. We anticipate the Mike Kaplan Poster Collection becoming a resource for LACMA and other museums—instilling an understanding of film history, fostering an appreciation of the importance of design in that history, and inspiring artists to create unforgettable imagery.
The collection was acquired as part of the 30th annual Collectors Committee Weekend, which took place over April 15–16, 2016; highlights will be included in future exhibitions.
During our 30th annual Collectors Committee Weekend (April 15–16), members of LACMA's Collectors Committee generously helped the museum acquire a record-breaking $6.4 million worth of art spanning a breadth of eras and cultures. Check back tomorrow to read about another acquisition.