Chef Fernando Darin became the executive chef at Ray's and Stark Bar recently and has debuted an all-new, local, and globally inspired menu. I sat down with Chef Darin to chat about his background, his influences, and his current obsession.  
Tell us a little about your culinary background.
I've been cooking since I was seven years old. But I started to cook professionally when I moved to Los Angeles in 2007 to go to culinary school. I didn't intend to stay. I left all my things, my dog, everything back in Brazil. But as I was finishing culinary school I got an opportunity to work with Eric Greenspan. I ended up shipping my dog from Brazil and selling all of my furniture. In less than a year, I was Eric's sous chef. It was super fast. If I had any questions about staying or going back to Brazil, I knew I had to stay at that moment. So I ended up working for Eric for two-and-a-half years. Then I was with Michael Voltaggio and was chef de cuisine in a few restaurants downtown. By then, Eric was the executive chef of Patina. He is the one who directed me to Patina. 
What drew you to go to culinary school here in Los Angeles?
I was a musician and traveled a lot. Los Angeles was always my favorite place ever. I knew that I wanted to come here. Around 2004–2005, things in the music industry started to change a little bit—the way people buy records, the way people buy music. It became a harder profession. I was thinking about switching careers. Instead of doing a plan B in music, like becoming a producer or something, I decided to come up with another plan A. I always had parties in my house two to three times a week where I would cook for everyone. So I decided to make that my profession. 
What attracted you to the opportunity to become executive chef at Ray's and Stark Bar?
I've been very fortunate with Patina with all the projects I am assigned. I started with a little contract to do the Hollywood Bowl. After that, they offered me another project and then another. I was so lucky to work in the most amazing places: the Hollywood Bowl, the Walt Disney Concert Hall, and then here at LACMA. I'm very thankful for being given this opportunity. It's been amazing since day one at LACMA. I had eaten at the restaurant before, but when I got out of the elevator on my first day, I looked at this place and thought, "I can't believe I'm going to have the chance to cook and show my food around this place." It's very, very inspiring and I can't get enough of it. Every time I have a little break, I walk around—it's just mind-blowing. There is always something to see.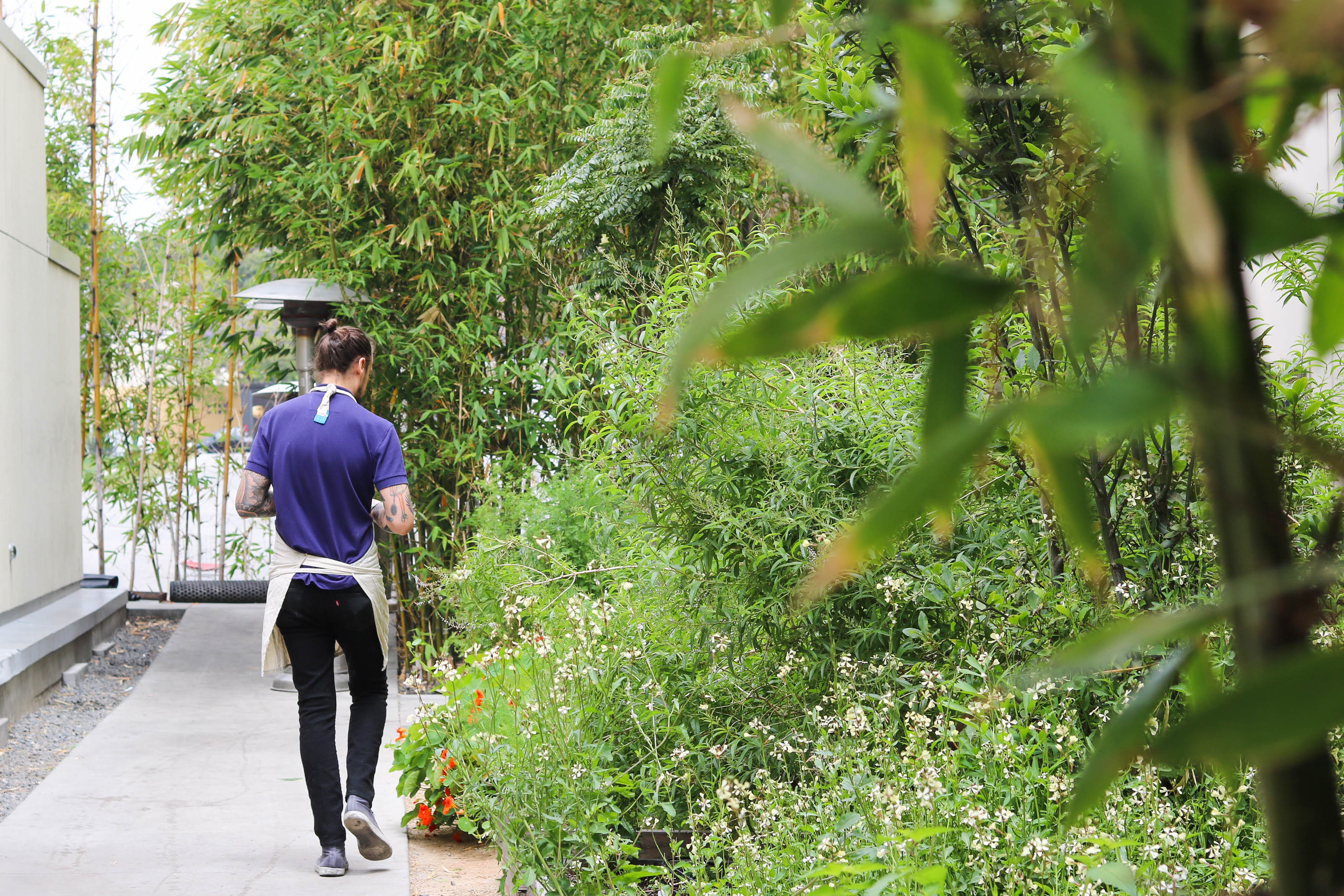 What kind of dining experience do you hope to create at LACMA?
When I first got here, I wanted to make it a very clean, friendly, farm-to-table restaurant. The garden in the back was the cherry on top. We've rearranged the whole garden. We're planting arugula flowers, cilantro flowers—all these edible flowers. We're going to start incorporating those soon and make beautiful garnishes with produce from our garden, which is a dream come true for any chef. How many chefs can say they have this amazing restaurant and a beautiful garden right here?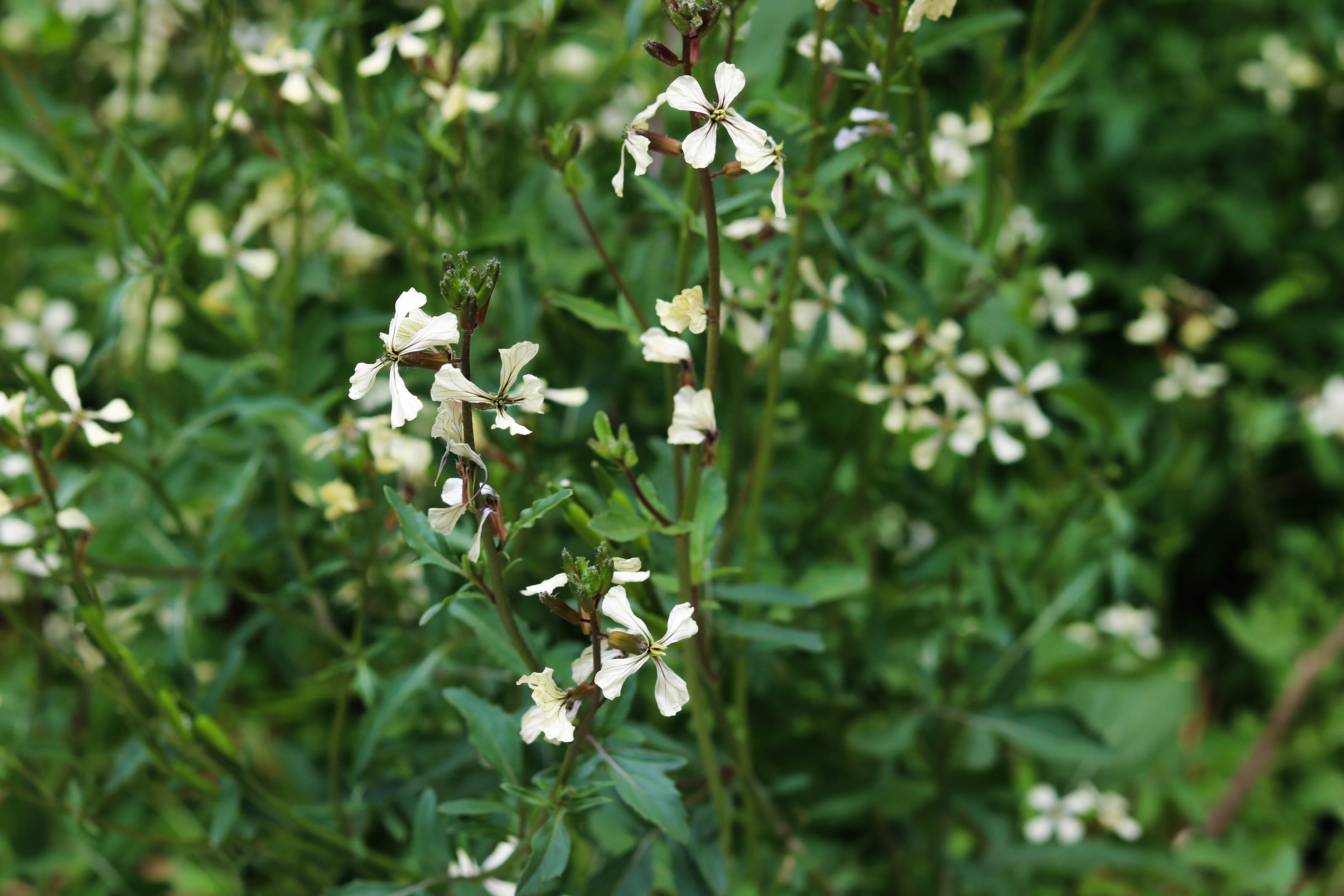 What flavors or ingredients are you most drawn to?
My kitchen is a multicultural kitchen. There are five different languages being spoken here at all times—Spanish, Italian, Tagalog, English, and Portuguese. It's a mix of influences. I like to give freedom to my cooks to express themselves and to contribute to the creative process. One of my sous chefs is Italian. I am half Italian. Although I was born in Brazil, my whole family is Italian. We have a wood-burning oven for pizzas, so there are Italian flavors and influences. But many influences come from all over. We're coming up with very interesting food, and very beautiful food.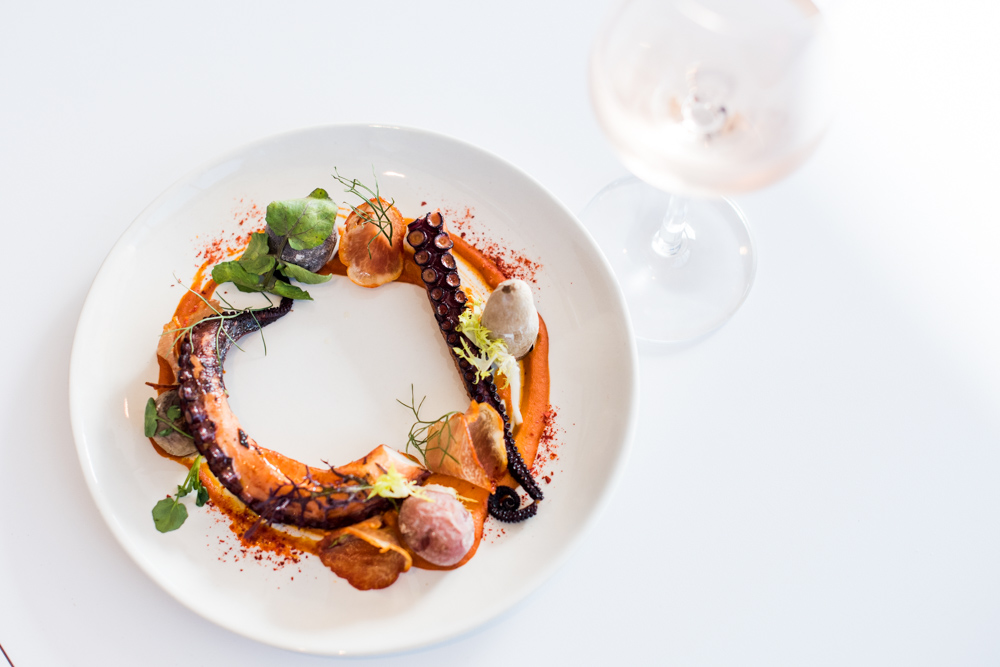 Do you see a connection between cooking and visual art?
Absolutely. Again, inspiration can come from so many places. Inspiration comes to us from music, from the music that we are listening to the kitchen. Some people pay millions of dollars to have a Picasso at home, and I have so many at work. How inspiring is that? There is definitely a connection between the art around us and the art we try to make. 
You said that you had an early career in music. Do you find there is a similarity with how you're working with food and how you may have worked with music?
The creative process is pretty much the same; it's just directed in a different way. I like cooking on the line when it's very, very busy and everybody has that "Let's go" moment. Honestly, it's like being on stage. Cooking in that rush and being onstage and playing in that rush and heat. It has always been important to me in all of the kitchens that I've worked in to make it a very positive environment where people come and work happily. Luckily, I've been able to build a team for this restaurant that is exactly like that. They come in and bring ideas and talk about the dinner they had the night before and they want to cook something similar for us to try. I'm a big believer of letting everybody express their creativity.  
Do you think creating that environment reflects in the food?
I always say to my wife that I can taste it when the food is made with no love. When she makes me a sandwich while she's angry, I taste it. And whenever she is happy and makes something with love and care, it makes all the difference. It's that extra pinch of salt or olive oil and that attention. That attention people give when they are happy, when they're attentive to what they are making, makes the food taste better. 
It took a couple of months for us to get settled, to build the team and the menu. Now we're pretty much in place. We are already starting to see the results. Every single guest who gives us a good comment and every single guest who has a smile on their face—for me, that's work accomplished. We're still in the process of refining, but I think you can already see the results when you come in. I was really lucky to be able to bring some of my people who have been working with me for a couple of years. My cooks, my sous chef, my general manager—we all had this goal in mind and we just worked toward that. I wouldn't be anything without my team. 
What is your own favorite meal?
I like to eat very healthy. I love the new trend of eating more vegetables. Aside from the healthy side, I've been obsessed about pizza lately. I've been working the pizza station every day. I want to make the best pizza in Los Angeles. So I've been eating a lot of pizza. 
Right now I'm focused on the pizza crust, on getting the perfect crust. A perfect crust involves two things: fire and dough. The wood-burning oven is very sensitive. A few degrees can make the difference. So learning how to control that is a big thing. The dough is a living thing because it has yeast in it. The temperature, the humidity, and a lot of things contribute to how the dough is going to rise and how it's going to puff up when you bake it. We are really focused on that right now. And we are pretty close to perfection. 
Drop by Ray's and Stark Bar to try Chef Darin's pizza and more! The restaurant is open 11:30 am (10 am on weekends) to 8 pm (10 pm on Fridays), and closed on Wednesdays. For a table, call 323 857-6180 or reserve online.