Histories of fashion have tended to focus primarily on womenswear, with menswear often appearing as little more than a side note to the main story. LACMA, like most encyclopedic art museums with historic and modern fashion collections, has frequently lavished attention on collecting, researching, publishing, and exhibiting women's dress while largely neglecting menswear. Seduced by the obvious dramatic changes of the fashionable female silhouette over the course of history, the seemingly more subtle changes of men's fashions have often been overlooked.
Reigning Men: Fashion in Menswear, 1715–2015 aims to directly challenge the equation of fashion with femininity in this survey spanning three hundred years of fashionable men's dress. The exhibition highlights the dramatic changes that have shaped menswear from past to present, from the eighteenth-century male aristocrat who wore a three-piece suit conspicuous in make and style and equally as lavish as the opulent dress of his female counterpart; to the nineteenth-century "dandy," who made famous a more refined brand of expensive elegance which became the hallmark of Savile Row; to the mid-twentieth-century "mod" who relished the colorful and modern styles of Carnaby Street; and, recently, to the twenty-first-century man who continues to redefine today's notions of masculinity.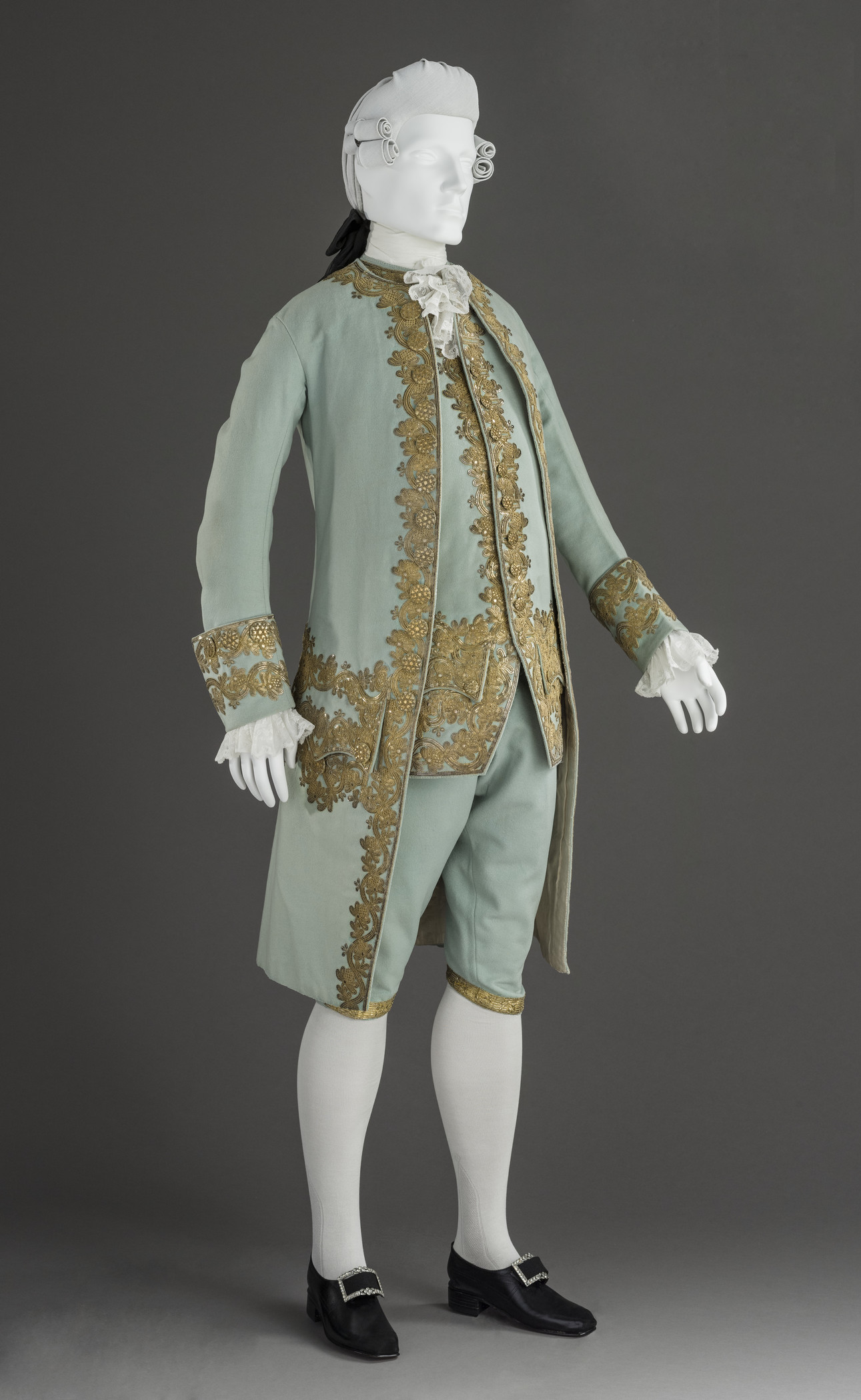 The concept of this exhibition began in 2007, when LACMA acquired a major collection of European fashionable dress for men, women, and children through munificent contributions from Suzanne A. Saperstein and Michael and Ellen A. Michelson, with additional support from the museum's Costume Council, the Edgerton Foundation, Gail and Gerald Oppenheimer, Maureen H. Shapiro, Grace Tsao, and Lenore and Richard Wayne. While unpacking and cataloguing this trove—which ranged from the eighteenth through the early twentieth centuries—we found that it included a remarkably strong and compelling assemblage of menswear. The idea to organize a future exhibition devoted to menswear immediately came to mind, as did its title: Reigning Men.
Our subsequent search for exhibition catalogues and books dedicated to men's dress resulted in the surprising revelation that there has been a general lack of exhibitions devoted to it; moreover, we noticed that the publications on menswear that do exist were largely filled with illustrations, paintings, prints, fashion plates, and photography of well-dressed men or trend-setting youth, but offered very few surviving museum-quality examples. We realized that a comprehensive survey of fashionable men's clothing was long overdue—and, excitingly, that LACMA could now organize such an exhibition drawing from its permanent collection.
Simultaneously, we were researching and developing Fashioning Fashion: European Dress in Detail, 1700–1915 (2010), an exhibition (and accompanying catalogue) commemorating the 2007 European fashion acquisition and acknowledging the legacy of generous donors who participated in building LACMA's world-class costume and textiles collection. In creating the catalogue's timeline, we saw that the women's dress component was easily assembled from the permanent collection, but that key examples were missing for men's dress. During our search to fill the gaps, a small, exquisite collection of menswear soon surfaced. Accessioned into the permanent collection through another generous gift from Michael and Ellen A. Michelson, this new group included a remarkable ensemble likely worn by a wealthy bourgeois gentleman sympathetic to the French Revolution, complete with a bicorne (two-cornered) hat with tricolore (blue, red, and white) cockade.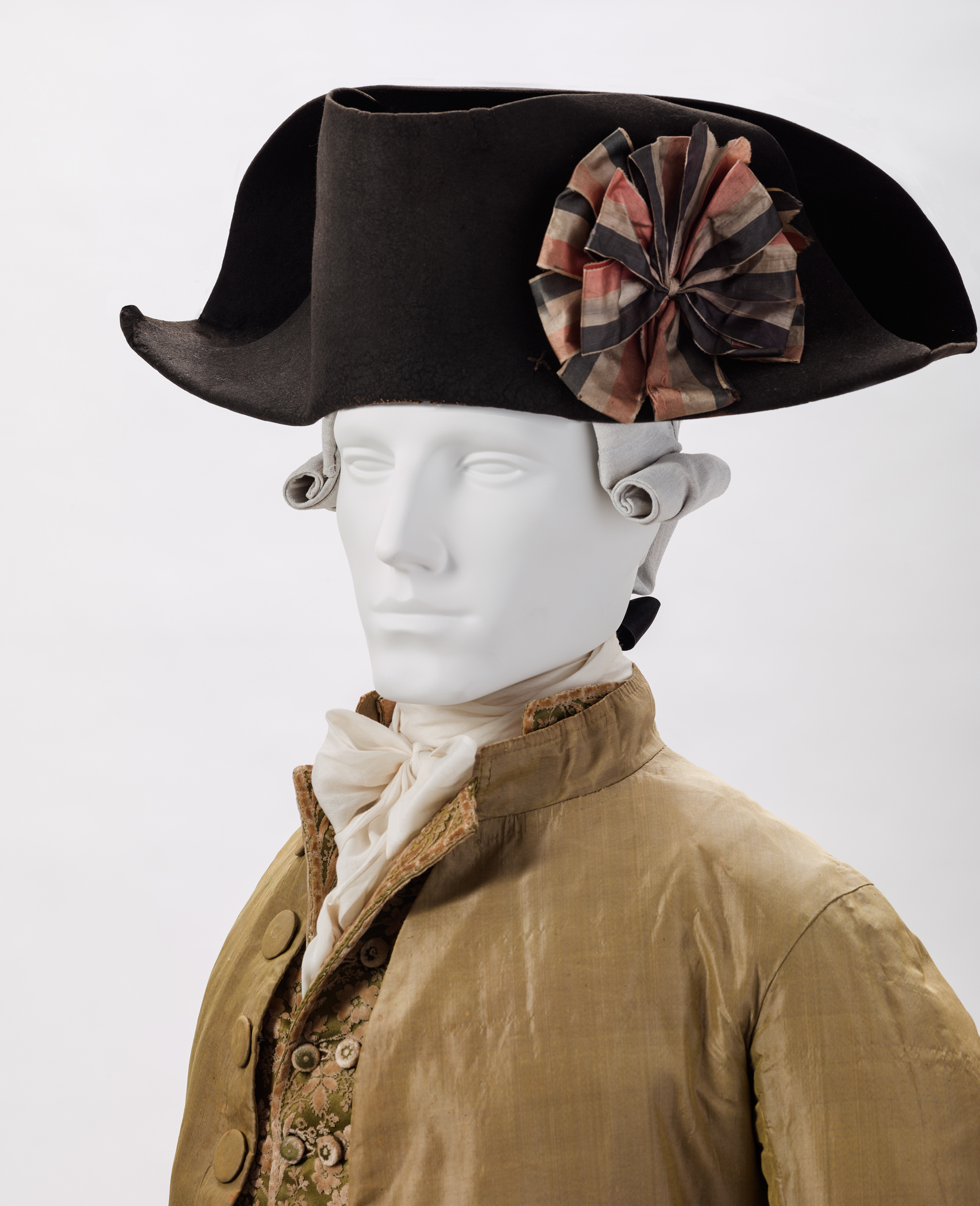 Another example from the French Revolution is a double-breasted tail coat composed of a subdued striped-cotton cloth dramatically similar in cut, color, and pattern to the tail coat worn by Maximilien Robespierre (the militant leader of the deadly Reign of Terror) in a portrait owned by the Musée Carnavalet in Paris. LACMA's Costume Council purchased the ensemble for the museum in honor of the council's sixtieth anniversary.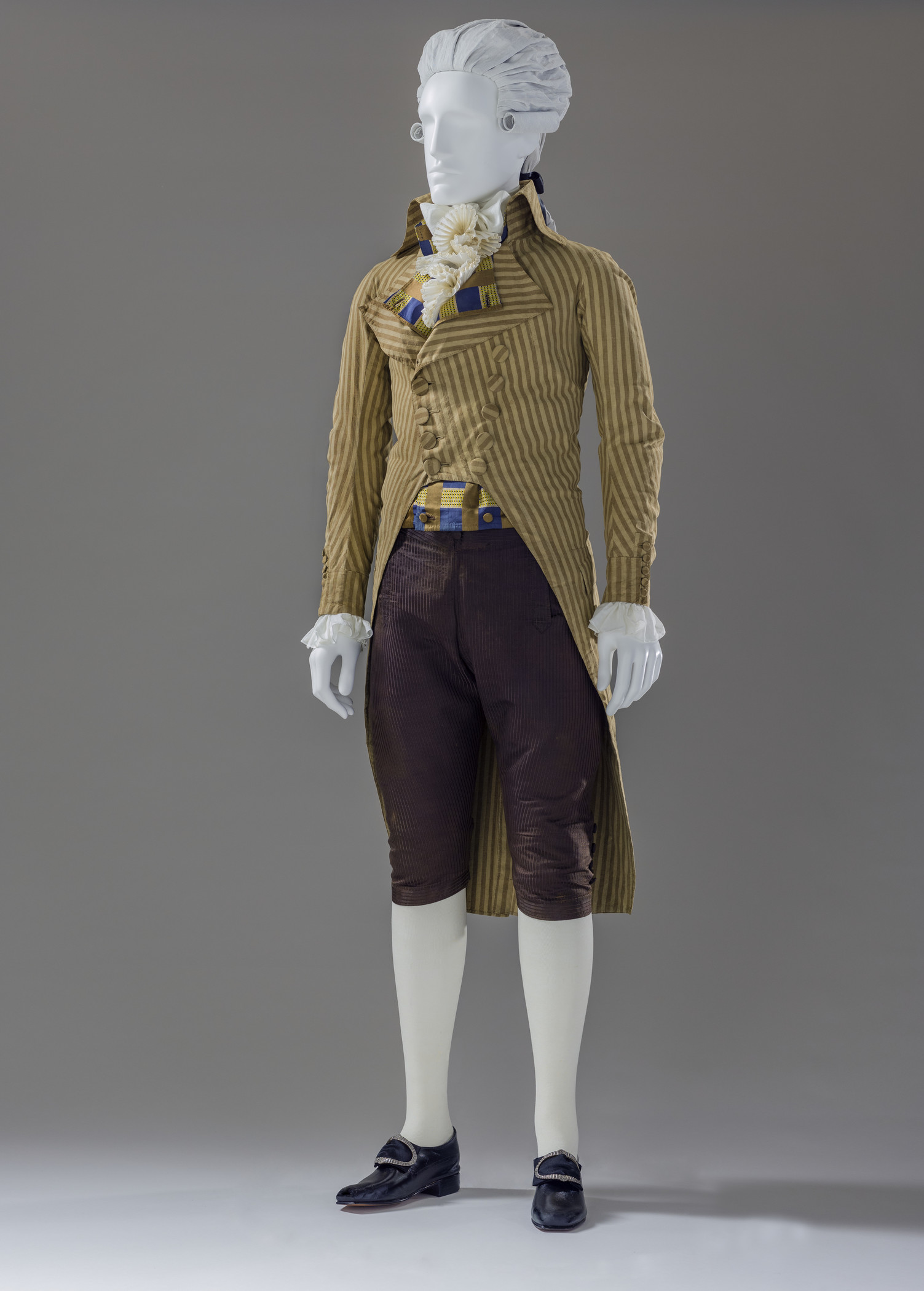 The opportunity to enhance LACMA's permanent collection has often been one of the tactics of organizing an exhibition, and Reigning Men provided the motivation both to identify other existing lacunae in our historic menswear collection and to forge a strategy for fully developing a collection of twentieth- and early twenty-first century menswear. Fashion designers (including Johnson Hartig of Libertine, Helmut Lang's HL-ART, Jeremy Scott, Raf Simons, Walter Van Beirendonck, and Dries Van Noten) and fashion houses (including Burberry, Calvin Klein, Inc., Christian Louboutin, Chrome Hearts, Etro, and Gucci America) responded to our requests for specific objects from their runway collections for Reigning Men by generously donating their wonderful creations to LACMA.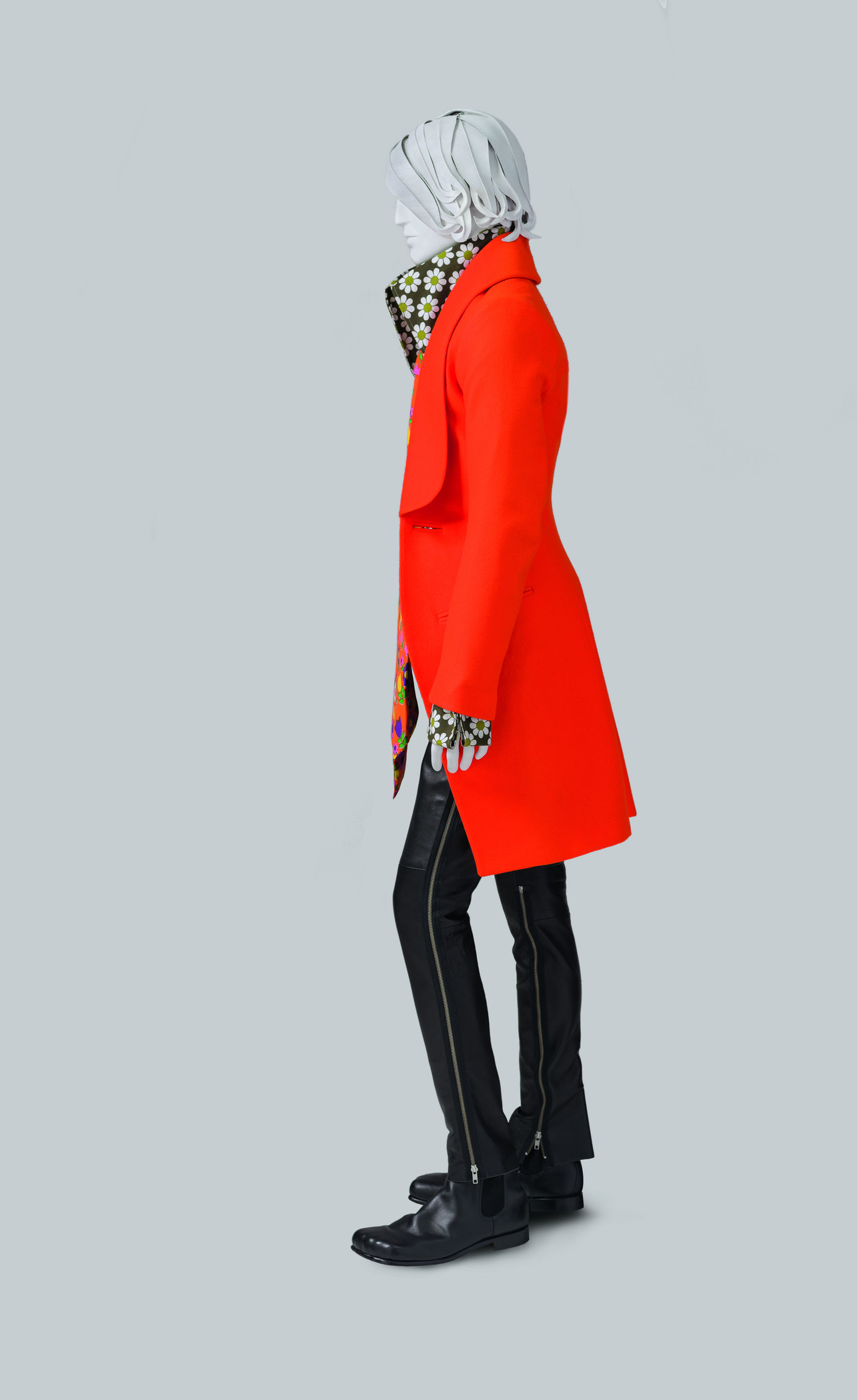 Together with numerous private donors, past and present, nearly ninety percent of the hundreds of artworks in Reigning Men have been drawn from the collection of LACMA's Costume and Textiles department. Reigning Men: Fashion in Menswear, 1715–2015 is organized in five thematic sections—Revolution/Evolution, East/West, Uniformity, Body Consciousness, and The Splendid Man—that reexamine recent conventional gender norms and challenge the commonly accepted concept of the conformist man in the gray flannel suit.
Revolution/Evolution studies historical fashion cycles while underscoring that the fashionable man has always been present, constantly reinventing himself and often borrowing from his forefathers. For centuries, men's fashions have undergone revolutions in dress and evolutions of style that mirror similar shifts in society. Many of these transformations have been led by men who consciously used clothing to express their individuality and ideals. For example, the notably ostentatious suits of the fashionable man known as the macaroni set him apart from other men in 1770s Britain. Even beyond that, the macaroni was the forerunner of countless trends and innovations to come. Later, sans-culotte trousers worn by men opposed to the monarchy during the French Revolution became a political statement and would lead to the demise of breeches, which had been fashionable among aristocrats. Two centuries later, Vivienne Westwood incorporated breeches in reinterpreting eighteenth-century suits for her first menswear collection in 1991, and Belgian fashion designer Ann Demeulemeester updated striped sans-culotte trousers for men in 2014.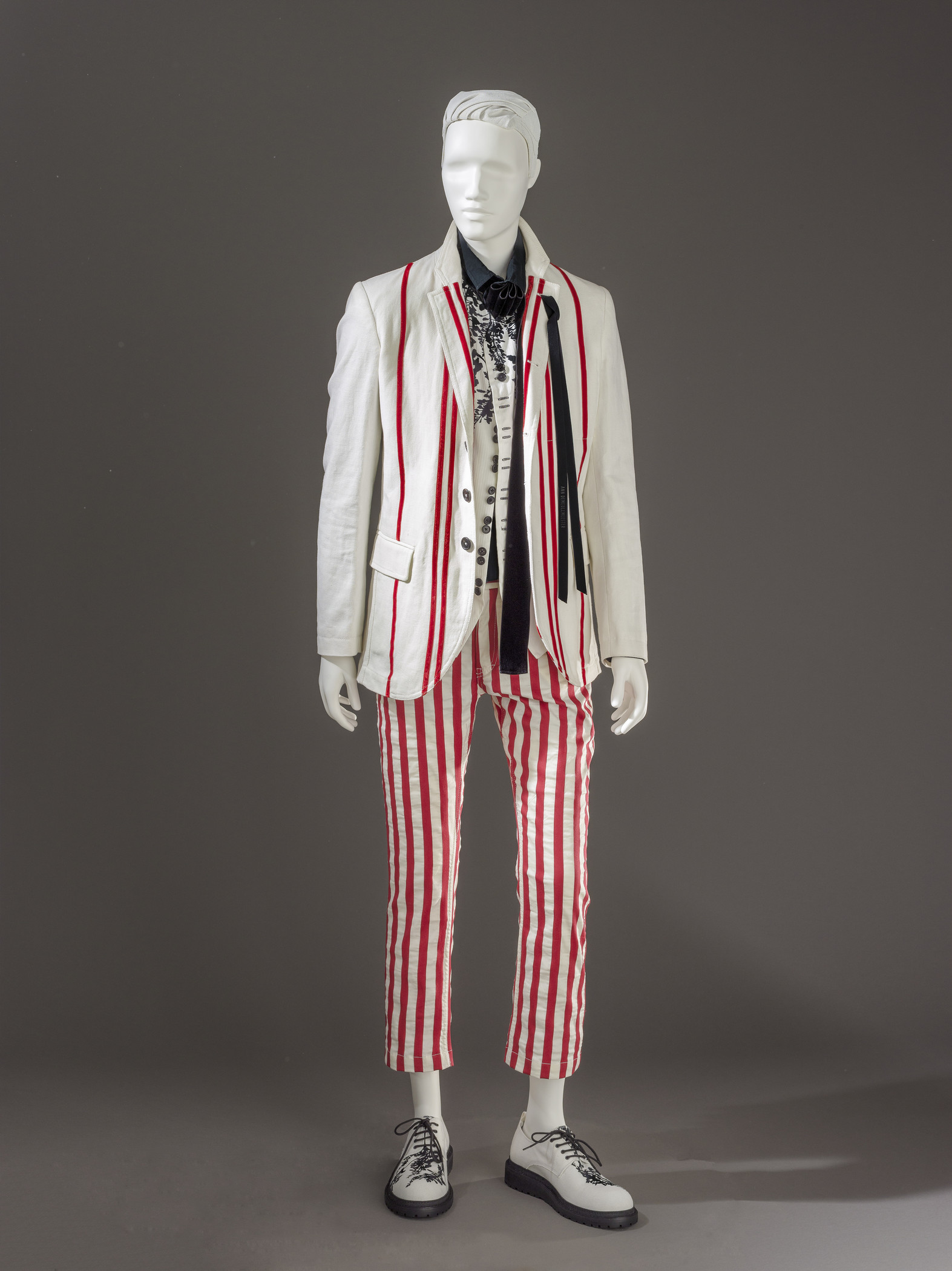 The second section, East/West, observes how international cultural exchanges have influenced men's fashions for centuries. Throughout the eighteenth and nineteenth centuries, Western traders returned from their travels with intriguing goods that were absorbed or reinterpreted to appeal to home markets. Exotic garment styles, such as the T-shaped kimono, were appropriated for men's banyans, while foreign motifs like the tear-drop shaped boteh from India would be transformed into the popular pattern produced in weaving centers such as Paisley, Scotland, from which its name in English is derived. During the mid-twentieth century, immigrants transferred their indigenous styles to fashions of their adopted countries, such as Japanese settlers in Hawaii who utilized repurposed traditional kimonos and imported printed silks to create Western-style shirts that were called Aloha or Hawaiian shirts. Today, Japanese designers residing in their homeland have used traditional textile techniques and dress styles to create contemporary fashion for an international market.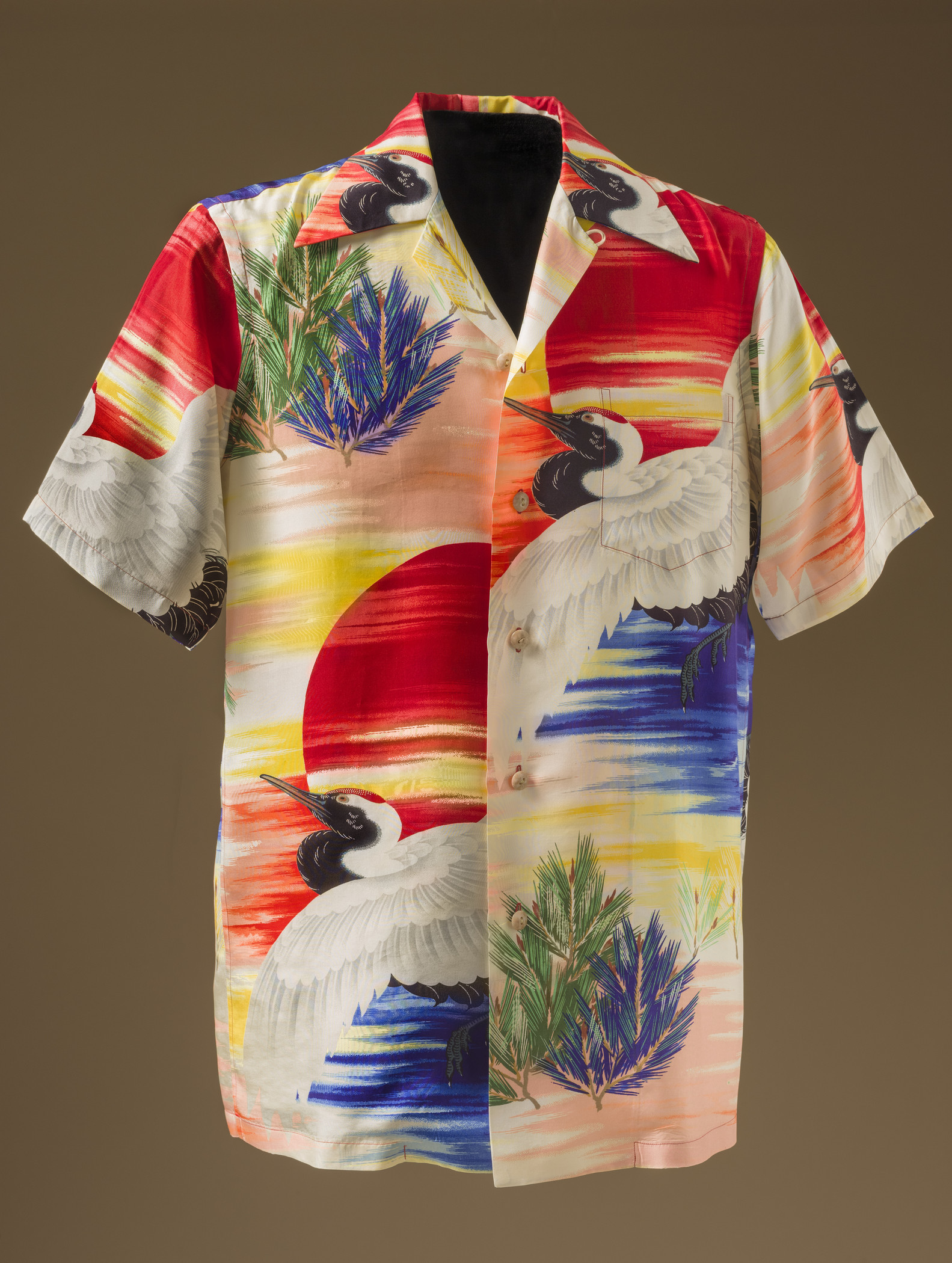 The Uniformity section acknowledges that while military and working uniforms might appear to limit the possibilities for individual expression, a close examination of tailoring techniques, stylistic details, and embellishments reveals that high sartorial standards persist even in conventional capacities, as seen on late eighteenth- and early nineteenth-century British army and naval uniforms. Furthermore, military and work uniforms made for function have often been brought into the realm of fashion, such as the United States Army waist-length Eisenhower jacket that inspired a stylish early 1950s jacket, or a French workman's jumpsuit from the 1930s that informed a 2010–11 silk and wool flight suit by 3.1 Phillip Lim. Even the early nineteenth-century businessman's wool suit has metamorphosed into artistry in the work of twenty-first-century fashion designers such as Kean Etro for Etro.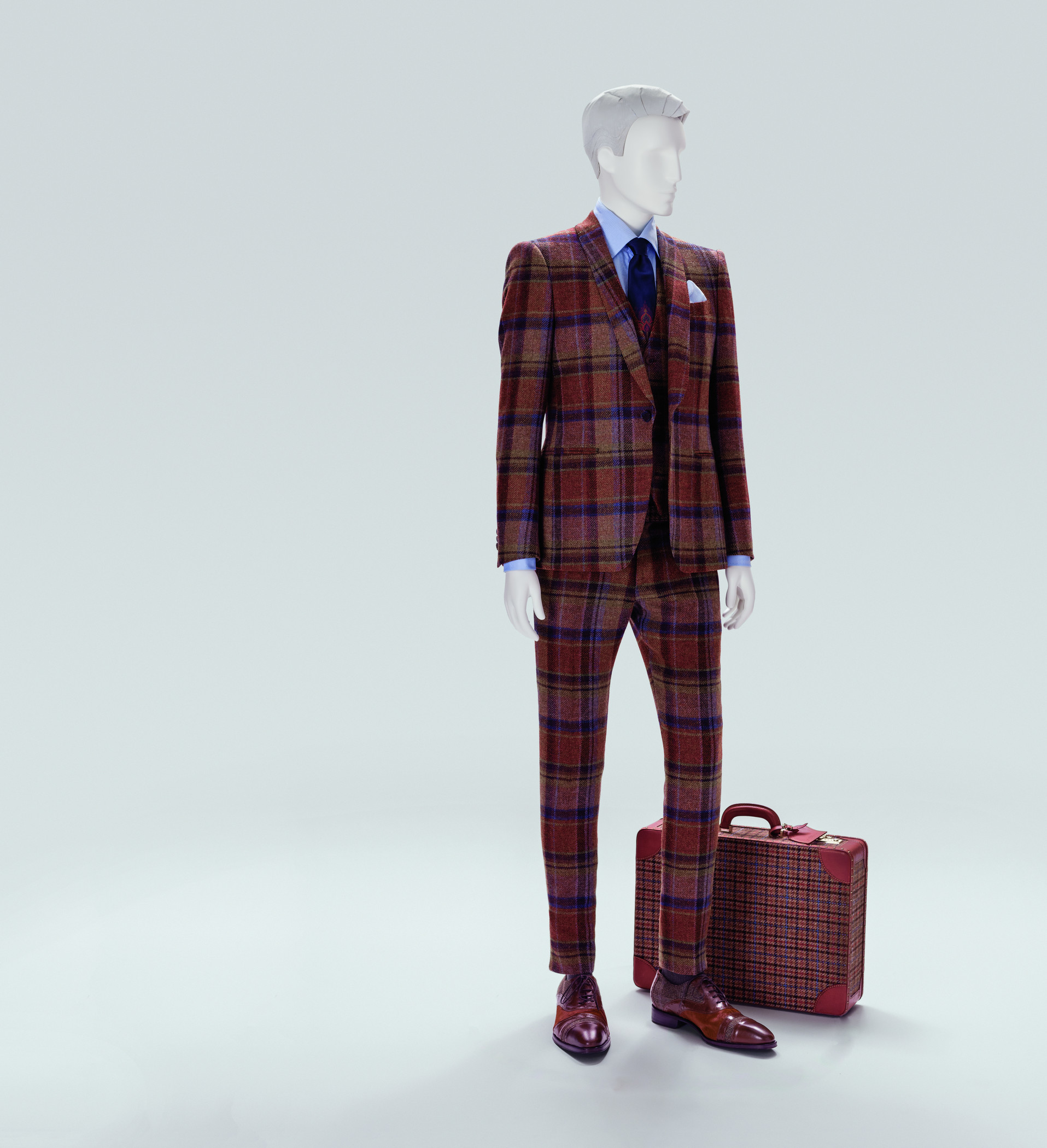 Our fourth theme, Body Consciousness, demonstrates that men have been just as preoccupied with enhancing their physiques as women have, turning to such devices as stockings with padded calves in the eighteenth century, waist-cinching underpants in the early nineteenth century, and body-shaping tailored jackets from the nineteenth century through the modern and contemporary eras. The growing acceptance of exposed skin can be traced through swimwear, from a turn-of-the-twentieth-century bathing suit that nearly covered the entire body, which evolved into a 1935 Jantzen swimsuit with detachable top, then dissolved into a 1997 Tom Ford for Gucci thong swimsuit, only to revert back to a full-body competition swimsuit by Speedo in collaboration with designer Rei Kawakubo in 2008.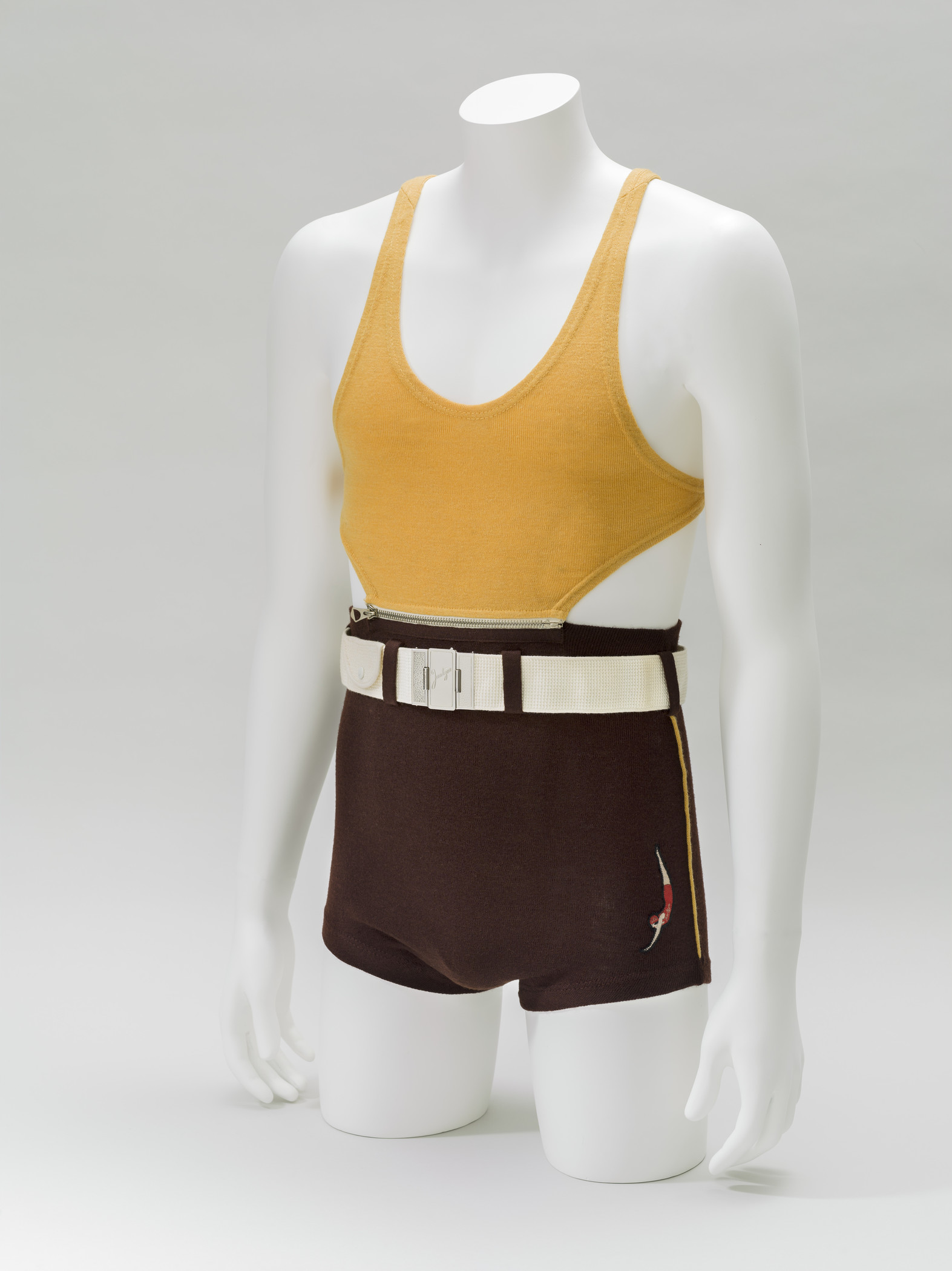 Finally, in The Splendid Man, we analyze changing concepts of "his" versus "hers," considering how fashion forerunners and designers throughout history challenged notions of menswear by looking to a past when certain gender distinctions in colors, fabric, and motifs were far less significant. Superfluities that were once commonplace in men's dress—such as sparkling paste (glass) stones and sequined embellishments, animal furs, floral patterns, and vividly colored textiles—are resurrected and reinterpreted in clothes by contemporary fashion houses, such as the mid-1990s wool pinstripe business suit covered in plastic sequins by Franco Moschino, a 2013–14 fur-print ensemble by Kean Etro for Etro, a 2014 chintz-inspired ensemble by Frida Giannini for Gucci, and a 2009 vivid yellow-green ensemble by Italo Zucchelli for Calvin Klein.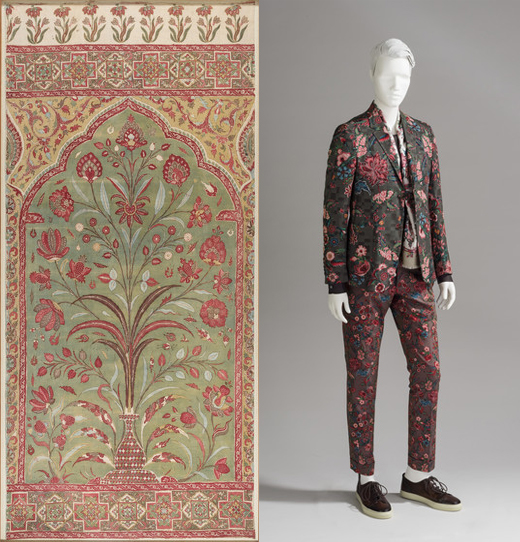 Through illuminating connections between history and high fashion, Reigning Men traces cultural influences over the centuries, examines how elements of the uniform have profoundly shaped fashionable dress, and reveals how cinching and padding the body was, and is, not exclusive to women. On view through August 21, the exhibition, which features 200 looks, celebrates a rich history of restraint and resplendence that acknowledges the past while considering the future of menswear.