"Remember the mod ideal," wrote music journalist Charles Shaar Murray in 1978. "It was a lower-middle- and working-class consciousness that stressed independence, fun, and fashion, without loss of integrity or descent into elitism or consumerism." Nearly 40 years after Murray made his observation, and nearly 60 since the term was originally coined, mod remains the quintessential British street style of the postwar era.
The first mods (short for "modernists") were young jazz enthusiasts who gathered in the clubs and coffee bars in London's Soho district in the late 1950s, before developing into a full-fledged subculture with its own distinct street style by the early 1960s. Like the Teddy boys and rockers before them, mods used clothing to craft a sense of identity. But whereas teds listened to rock n' roll, rode motorcycles, wore drape suits and pompadours, and were stereotyped as beer-drinking brawlers, mods listened to R&B, rode scooters, wore slim suits and cropped hair, and preferred uppers over alcohol so they could dance till dawn—a lifestyle famously characterized as "clean living under difficult circumstances."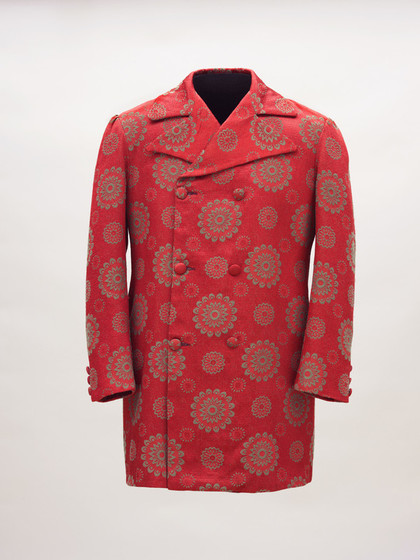 Carnaby Street soon emerged as the fashion epicenter of this movement of latter-day dandies, and designer John Stephen was its king. Stephen was one of the architects of the reemergence of flamboyance that had been absent from menswear for nearly a century—a phenomenon that came to be known as the peacock revolution. Not much older than his clientele, he was renowned for being highly responsive to mods' tastes for innovation and novelty in colors, patterns, cuts, and fabrics. 
By 1965, bands such as the Kinks, the Rolling Stones, the Who, and the Small Faces were all regulars in Carnaby Street—ground zero for the remarkable cultural scene that was soon dubbed Swinging London. It's at this moment, around 1966, that mod arguably ceased (for the time being) to be a specific subculture—in effect, it stopped being a noun and became an adjective, used to describe all manner of bold, graphic clothing and other goods being produced for young consumers in Britain and beyond. LACMA's Reigning Men includes two examples that encapsulate this moment when mod went mainstream, marking a definitive shift in the broader culture in terms of men's fashion. John Stephen's double-breasted scarlet jacket with wide lapels and gold floral is a snapshot of what 1967's most up-to-the-minute man would have worn, particularly with its proto-psychedelic, Indian-influenced colors and pattern.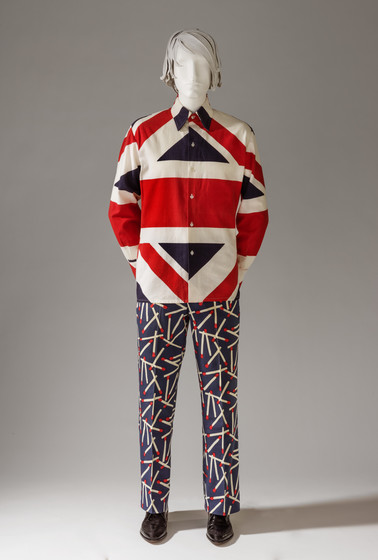 Stephen wasn't the only clothier responsible the upsurge in vibrant fashions for men. In Portobello Road, the boutique I Was Lord Kitchener's Valet specialized in a distinctive merger of pop art and nostalgia, particularly Victorian and Edwardian military wear. Mick Jagger, Jimi Hendrix, Eric Clapton, and John Lennon all sported vintage military jackets from Lord Kitchener's Valet, and its window displays inspired artist Peter Blake in designing the cover of one of the most famous albums in rock history. LACMA's Union Jack shirt from Lord Kitchener's Valet is an excellent example of the boutique's aesthetic as well as a broader fashion trend driven by mod—in fact, it appears identical to the shirt worn by the Who's drummer, Keith Moon, in a 1966 promotional performance of "The Kids are Alright." The use of the Union Jack as clothing was initiated the previous year when Moon's bandmate, guitarist Pete Townshend, approached a Savile Row tailor with the idea of turning the national flag into a jacket. When the tailor refused, Townshend turned to a Carnaby Street shop called Lord John, who promptly agreed to make the bespoke garment for him. 
In the process, Townshend (and his tailor) made fashion history. The Union Jack immediately became iconic attire, having been worn over the decades by everyone from the Jam (second-generation mods, who lamented the decline of Carnaby Street in 1977) to David Bowie (himself an original mod). As an enduring element of British pop culture, its persistence is emblematic of mod itself—a movement with a seemingly endless capacity for creativity, adaptability, and eye-catching reinvention built into its stylistic DNA.
Enjoy a Carnaby Street–inspired playlist while you visit Reigning Men, on view through August 21.