Long before election-year T-shirts, pins, and hats were worn to boldly announce one's party allegiance, striped cockades, cotton textiles, and trousers were donned in the 1780s–90s to similarly express political attitudes. A rare collection of French Revolutionary fashions on display in Reigning Men: Fashion in Menswear, 1715-2015 not only illustrates the wide range of styles popularized during this riotous time in French history, but also how men displayed their civil sentiments through dress over 200 years ago.
When the French Revolution erupted in 1789 following decades of sociopolitical unrest, supporters of the cause donned politically charged blue, red, and white striped ribbons known as cockades, the earliest and most prolific symbol of the revolution. This combination of colors (the tricolore) was associated with the French revolutionary ideals of liberty, equality, and fraternity. Wearing the cockade grew to be so strongly associated with democracy (as opposed to the monocratic system of governing with a king and queen), that it was decreed that anyone not wearing one should be viewed as a counterrevolutionary.
An example of a bicorne (or two-cornered) hat with original cockade is dressed with an unmatched suit of green silk and cotton, likely owned by a wealthy bourgeois who carefully avoided ostentatious display synonymous with aristocracy. Because the French Revolutionary war was waged against the aristocratic elite, looking the part in overtly fine suits was often cause for sending the wearer to the guillotine. If doubts remain regarding this wearer's loyalties (for this ensemble was finely made), a revolutionary leaflet found in the coat pocket when it was acquired by the museum speaks on his behalf.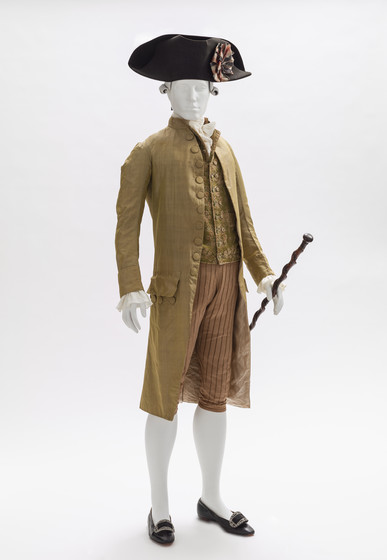 Other new fashions also emerged, such as an early double-breasted tail coat, or habit dégagé. An example in this style is strikingly similar to one worn by the militant leader of the deadly Reign of Terror, Maximilien Robespierre. Made from muted brown-striped cotton (not silk, a fiber long associated with the wealthiest class) with a large collar, wide lapels, high front waist, and long narrow tails at back, it is far from the ample, colorful silk coats of the ancien régime.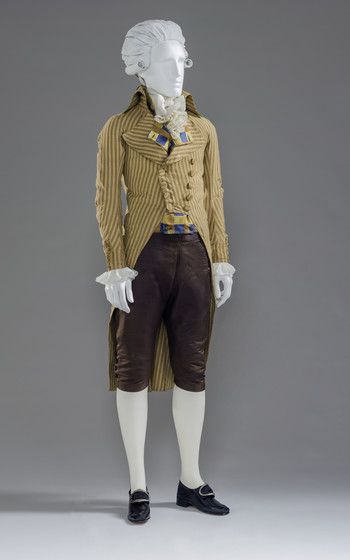 One particularly special piece in Reigning Men that is ripe with French Revolutionary motifs is a vest that likely belonged to an aristocratic convert to the cause, embroidered with motifs, mottos, and colors that declared the wearer's attitudes. It is such an impressive example of revolutionary dress that when it was first shown at LACMA in our 2010–11 exhibition, Fashioning Fashion: European Dress in Detail, 1700-1915, fashion designer John Galliano dedicated his preface to the accompanying exhibition catalogue to highlighting its significance.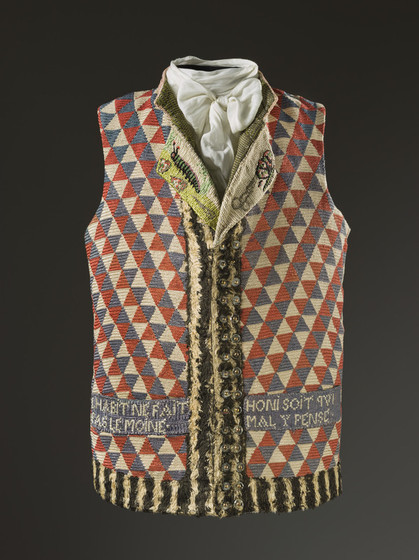 More militant revolutionaries completed the spectrum of anti-aristocratic radicals. They were called sans-culottes—literally, "without knee breeches"—and wore loose-fitting, coarse cotton trousers typical of the laboring class and a symbol against the impractical breeches commonly donned by the aristocracy. These tricolored-striped pantalons were worn with hip-length woolen jackets known as carmagnoles after Carmagnola, an Italian town where the garment was associated with the peasantry. The humble trouser and jacket worn by the sans-culottes, so drastically different from the long coats and knee-length breeches worn by the wealthy, would eventually be adopted into everyday menswear. Topping off this mannequin is a prop Phrygian cap, a soft brimless felt hat (also known as a liberty cap or bonnet rouge) that first appeared in French revolutionary imagery in 1789 as a symbol of democracy and freedom.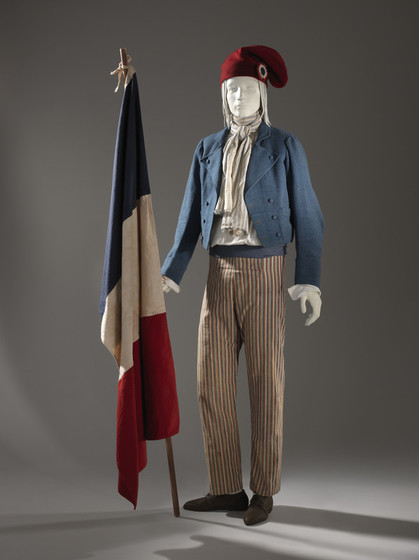 By the end of the 1790s, gangs of young men grew tired of the slovenly dress of the sans-culottes and introduced a new revolutionary style. The incroyables, or "incredible ones," were fashion extremists whose outrageous appearance, so different from their forefathers, illustrated the instability of the period. They roamed the streets of Paris wearing tight, extravagantly cut tail coats and cropped pants, often in conspicuous and clashing striped fabrics. This mannequin ensemble also clutches a fashionable twisted wooden walking stick known as a Hercules club, which doubled as a bludgeon to ward off political foes; in his hand he holds spying-glasses called lorgnettes.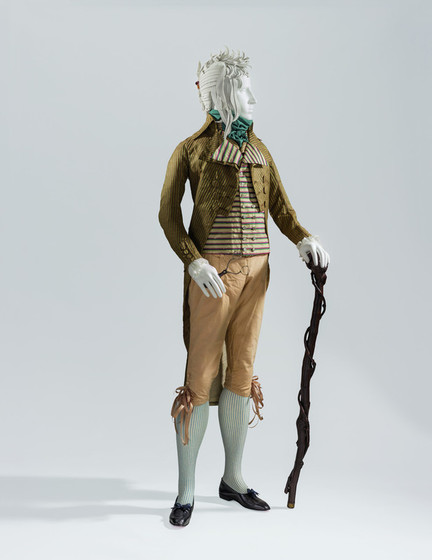 When the French Revolution finally drew to a close in 1799, menswear was changed forever. Wool and cotton were favored over silks, somber colors were preferred over previously popular powder blues, pinks, and greens, and the tail coat and pantaloons would become the new uniform for the 19th century man. 
See these French Revolutionary looks among others now on display in Reigning Men, open until August 21, 2016.