"My job," asserted designer Vivienne Westwood in 1981, "has always been to confront the establishment to try and find out where freedom lies.… I don't really want to talk that much about fashion. It's only interesting to me if it's subversive."
Westwood's commitment to subversion dates to the mid-1970s, when she and her then-partner, Malcolm McLaren, combined vintage clothing, fetish gear, and sheer irreverence to create some of the most iconic elements of punk fashion. By 1981, the immediacy of punk had receded, but Westwood continued to play an essential role the veritable renaissance in popular music and fashion that punk had left in its wake. That year, she and McLaren premiered their first runway show—the Pirate collection, a flamboyant, unisex fashion line that filtered elements of historical and ethnic dress through a decidedly contemporary lens. 
In creating the collection, Westwood and McLaren were influenced by the street style of the postpunk music and fashion scene that had been variously known as "peacock punk," "the new dandies," and "the new New Wave," before finally being dubbed New Romantic. Centered primarily around London's Blitz nightclub, with impresario (and former McLaren/Westwood shop employee) Steve Strange at its helm, the New Romantics synthesized punk's outrageousness with glam rock's androgynous exoticism and recast it in avant-garde terms, plundering the past for inspiration. (No less a fashion icon than David Bowie himself took note of the Blitz Kids, recruiting Steve Strange and several other clubgoers to appear in his Ashes to Ashes video in 1980.)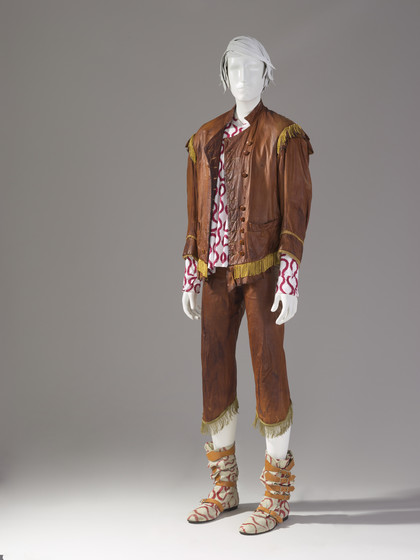 The colorful, playful Pirate collection was associated most closely with Bow Wow Wow (which McLaren had assembled following the implosion of the Sex Pistols, the band he had previously managed). The fringed leather jacket and trousers that are part of the Pirate ensemble on view in LACMA's Reigning Men exhibition are the same as those worn by bassist Leigh Gorman, and the boots printed in the distinctive "squiggle" pattern, to match the shirt, were also known to be worn by the band. An undulating pattern meant to evoke the twists and turns of nautical rope, the squiggle quickly became he most sensational element of the Pirate collection, festooning a variety of shirts, dresses, and other garments. The pattern could be seen not only on members of Bow Wow Wow but also Boy George, Duran Duran's John Taylor, and Adam Ant.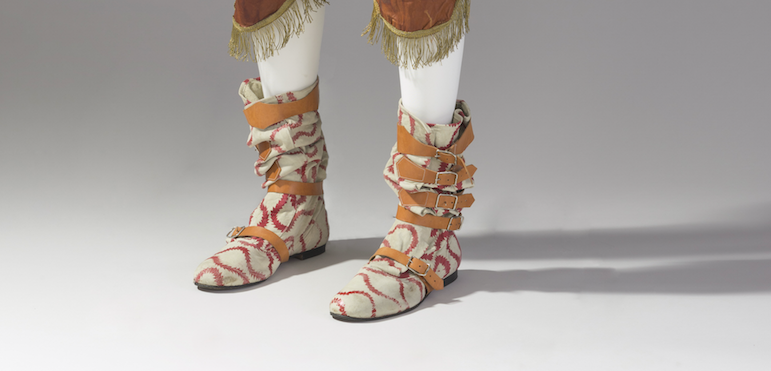 Thirty-five years later, the iconic squiggle remains one of the most enduring of Westwood's creations, continuing to grace dresses and shirts (including those for sale in the LACMA Store) but also now found on everything from purses and jeans to wallpaper and rugs. But though the squiggle may have gone triumphantly mainstream, Westwood herself (McLaren died in 2010) remains defiantly subversive, using her position as a British fashion doyenne as a platform for political activism around climate change and human rights. For four decades, she has made good on the slogan she once stenciled on her own shirt: "Be Reasonable: Demand the Impossible."
Enjoy a New Romantic-inspired playlist as you wander through Reigning Men!