Registration is open to participate in an artist project with Gabriel Barcia-Colombo, one of our 2015 Art and Technology Lab grant recipients. Gabe came into the Lab program, which incubates new artist projects, interested in how cultures memorialize the dead and how technology is altering our relationship to death and commemoration. That course of investigation led him to a concept he called the Hereafter Institute, part performance, part sculpture, through which he is inviting audience members to participate in rituals exploring the digital afterlife.
Over the weekend of August 27–28, Gabe and his team invite you to take part in a private consultation with the Hereafter Institute, which is being hosted in the Lab at LACMA between 10 am and 4:30 pm. Each evening at 5 pm, the artist will also give tours of the technologies for digital memorial that he and his team are prototyping. Sign up here:
Saturday, August 27: Personal consultation | Tour
Sunday, August 28: Personal consultation | Tour
In a recent conversation, Gabe talked about the upcoming performance and the concept behind the Hereafter Institute. Here's what he had to say:
Visitors to the Hereafter Institute will encounter an artistic exploration about how we deal with death in the digital age. Each individual participant will take part in a consultation to discuss the planning of their digital afterlife. Specialists will discuss multiple digital preservation options, including 3D body scanning, wearable memorialization, and the embedding of personal data into everyday objects.
This summer I've been working on digital sculptures, wearable memorials, and virtual reality reconstructions. I started by researching the Egyptian book of the dead and ended up reading great books like David Eagleman's Sum. I've been working out of museums, libraries, funeral homes, and tech incubators to try to understand how technology will influence and change our relationship to death. 
When my grandfather passed away we went to Spain for his memorial service. He was a well-known Spanish author and poet and, at his funeral, they unveiled a bronze bust in his honor. The bust held none of the memories I had of him. It was the strangest experience to be at a public memorial for someone that I knew so intimately and yet feel a complete disconnection from his own image. Death is a personal and intimate experience and modern memorials involving technology should reflect this. This memory, along with several books and essays, heavily influenced the beginning of the Hereafter Institute.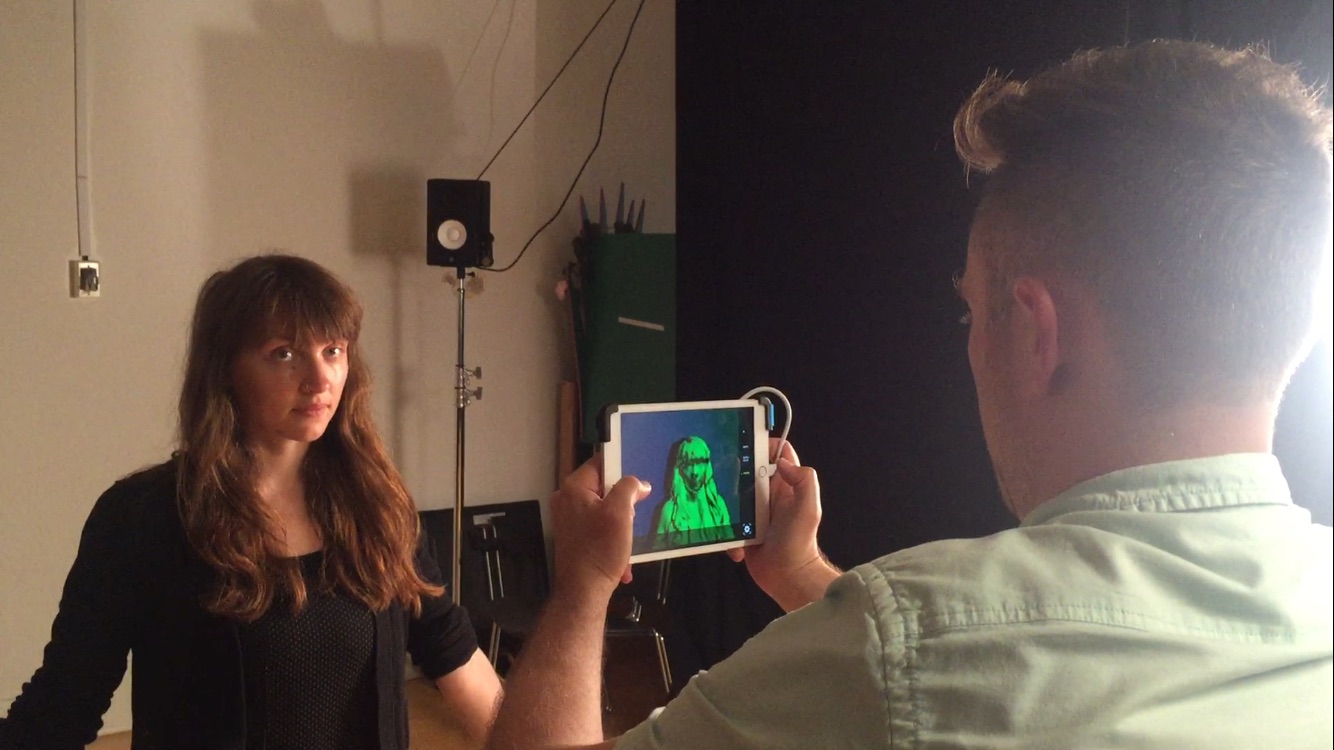 Much of the technology used in this work is brand new. I've been working with a brilliant team to invent new ways to encode data into everyday objects, create custom memorials, or physically wear memories on our bodies. Whenever you deal with new technology, it feels a bit like learning how to swim in a lightning storm. What I mean is: I've been zapped a couple of times by loose wires.
I started out by approaching this project very much as an artistic exploration about death and technology. About halfway through my process, I realized that I needed to take a much more human approach and address the emotional side of death and grief through technology. I began having conversations with friends about their experiences with death and loss, and these conversations evolved into the works featured in the Hereafter Institute. There is a fine balance necessary in this project as the data and emotions are very real. It is my job to pay tribute to the memories of those featured in the project, while also asking questions of the living. It's been difficult to spend an entire year talking about death; however, I've had some of the best and most meaningful conversations of my life.
The experience I imagine for the audience is somewhere between an art installation, theater, and ceremony. I'm hoping that the audience will ask questions upon encountering the work. Questions about their own life, memorialization, and the abundance of personal data online. I'm hoping they encounter the project as an emotional experience and also as a thoughtful exploration of our culture's obsession with memory. 
I think, today, there is a renewed interested in engaging with art in a personal and meaningful way. We often make a distinction about technology-based art, but I think we are at a moment where technology will be viewed less as a tool for the creation of art and more as art itself. Code, circuitry, and sensors are the new paintbrush, oil, and canvas. 
For more about the Lab and this and other projects, visit lacma.org/Lab.