As the social media manager at LACMA, I am deeply entrenched in digital communication both professionally and personally through the various social networks I use on a daily basis. For the most part, I am comfortable with technology, which some might feel wary of or even fear. So when I heard about the Hereafter Institute, I was intrigued and even excited. The thought of a digital afterlife hadn't really crossed my mind, even though I had witnessed and experienced loss in the past decade, often communicated and memorialized through Facebook and other social media.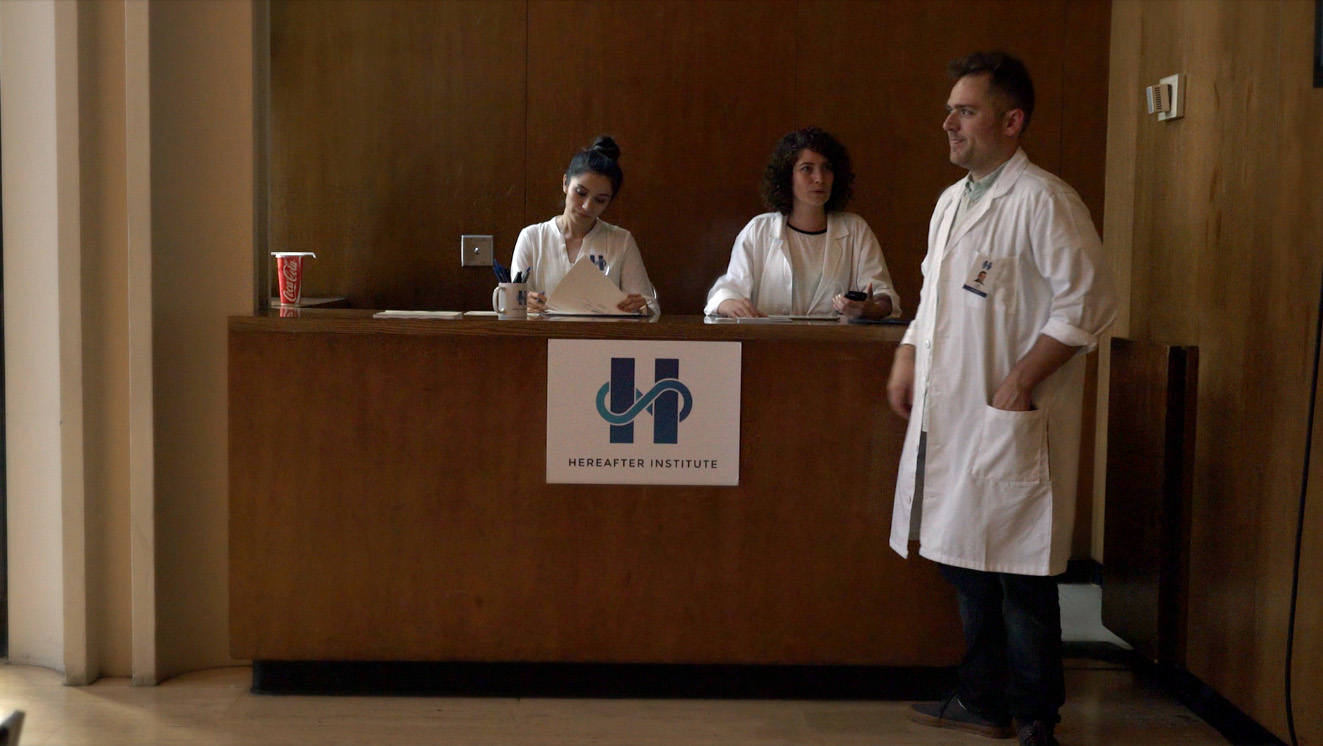 To think about my own death and the subsequent decisions my kin would make regarding my online presence would be an eye-opening experience. So I arrived at LACMA on a Sunday afternoon and proceeded to the Bing Theater lobby. I was greeted by a woman in a white lab coat, who escorted me to a desk to check in. The desk was staffed by two more women in lab coats, release forms neatly stacked atop, next to pens and stickers branded with the Hereafter Institute's infinity loop logo. After filling out the form, I was asked to wait on one of the black leather Barcelona chairs, which formed a U-shaped waiting area surrounding a glass table with a single white orchid. Familiar spaces had been transformed into a more institutionalized setting to fit with the performance.
Another woman in a lab coat escorted me to the Director's Lounge in the Pavilion for Japanese Art, where she asked me questions about my online presence and told me about the three options for a person's data when they die: 1) Continuation 2) Deletion 3) Memorialization. There isn't space to explain each, but if you're curious, leave a comment, and I'll go into more detail!
She also informed me that Facebook has a "legacy contact" setting that allows you to designate one of your friends on the network to manage your profile when you pass. She gave me the option to follow along and do it in the moment. With a "no time like the present" attitude, I designated my oldest friend as my digital heir. Facebook allows you to write a personalized message for the notification it sends your heir, so I added the disclaimer that I'd explain later and not to be alarmed.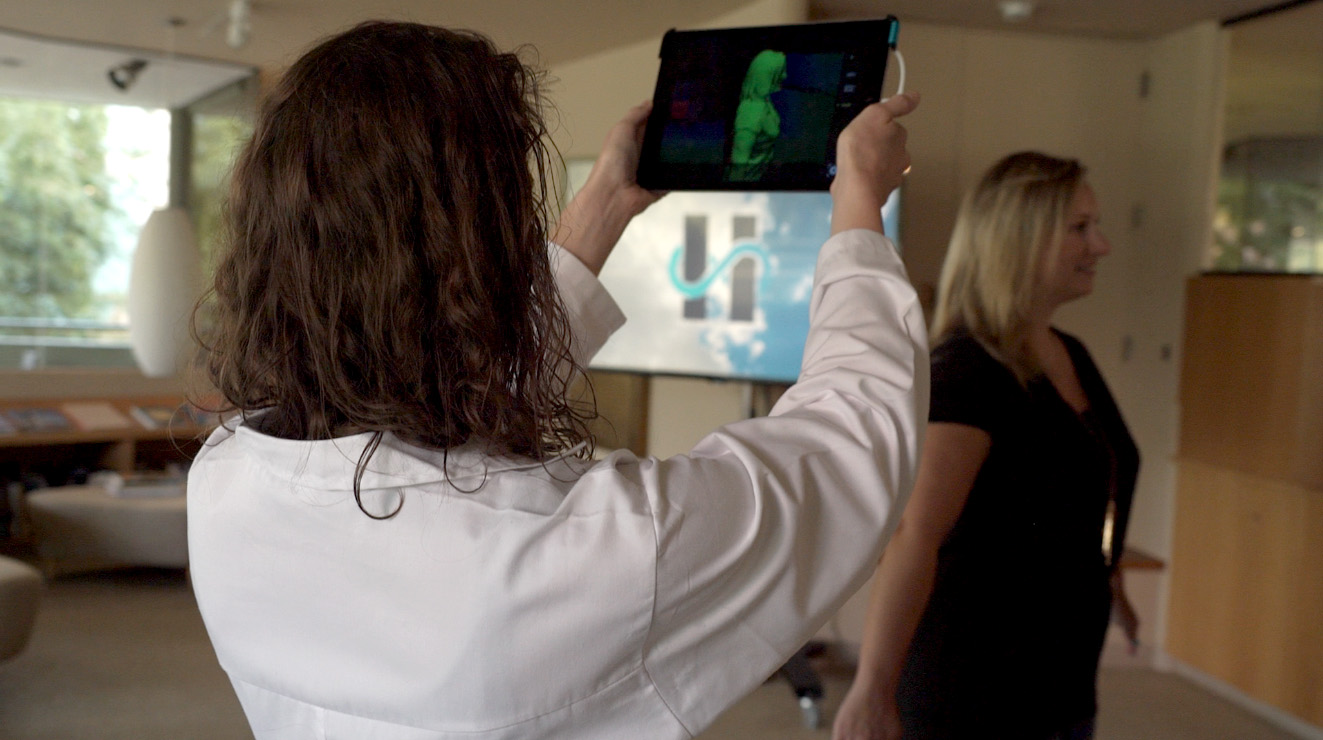 Next, I was asked to stand on a turntable so they could create a 3D scan of my body (something which I had done before at the Museum of Art and Design in New York—I even have a little figurine of myself to prove it).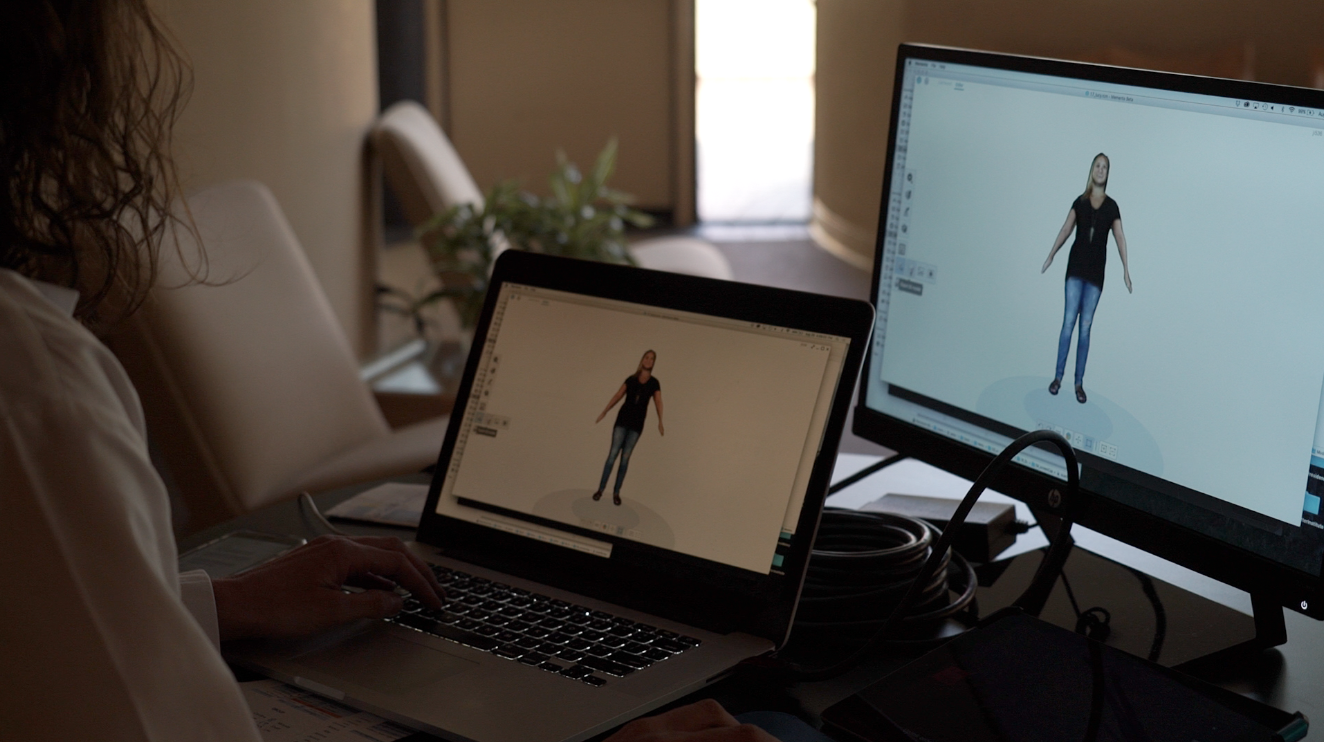 My tour guide said they would use the scan to create an animated avatar of me. Once completed, we left the Pavilion for Japanese Art and meandered through the museum's beautiful bamboo garden and into the Art + Technology Lab.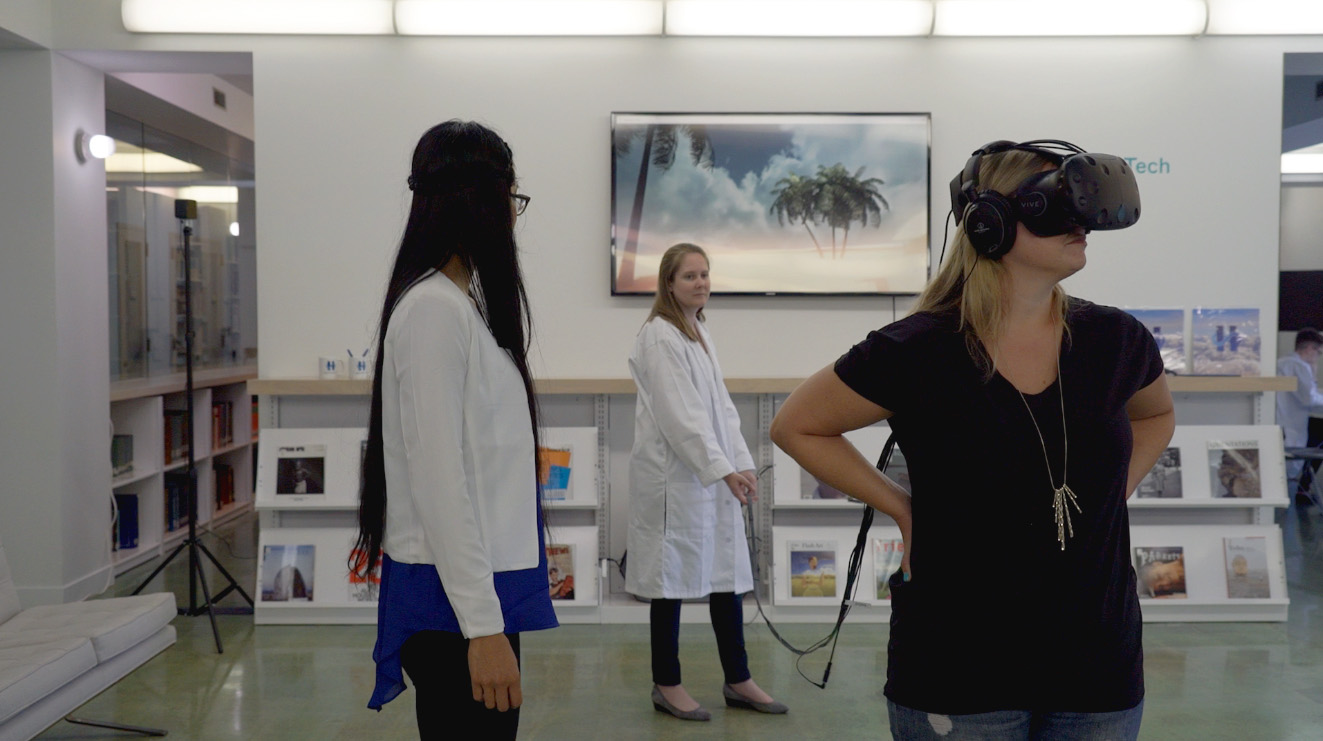 Here, another woman in a lab coat explained that I would be viewing examples of digital memorials for three different people in virtual reality. I lifted the VR headset over my eyes and she outfitted me with headphones playing calming music. I saw two people memorialized in computer-animated spaces, complete with a voiceover by a loved one describing the person. One had a guitar and was sitting on a couch on a sunny beach, while the other was pacing around her own personal gallery where artworks floated in a room without walls. Then I felt a tap on my shoulder and the headsets were removed.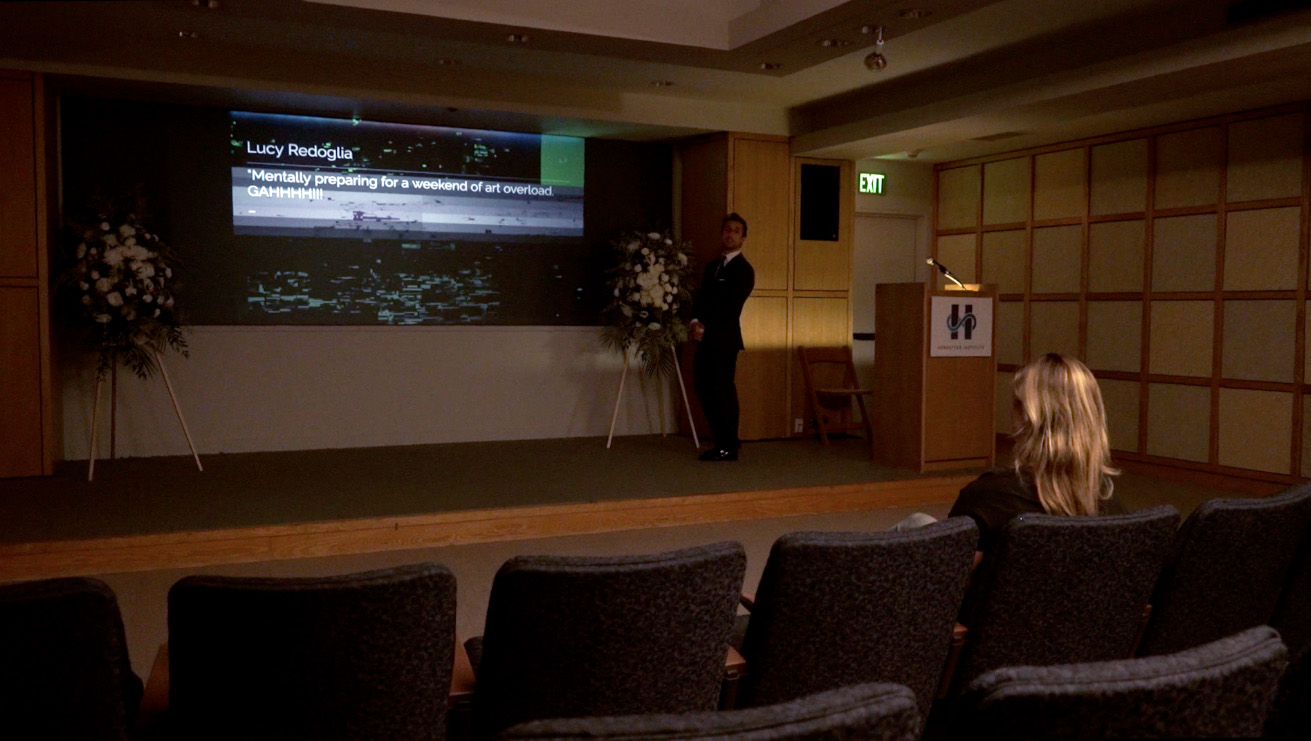 It was time for the final component of the performance. I must admit I was a little worried that I would be emotionally affected by this part. Two flower arrangements flanked a dark screen. A stranger stood in front of the screen and began talking about me in the past tense, eulogizing, throwing out real facts from my life, including where I grew up, where I went to high school, the places I had worked, and the names of family members.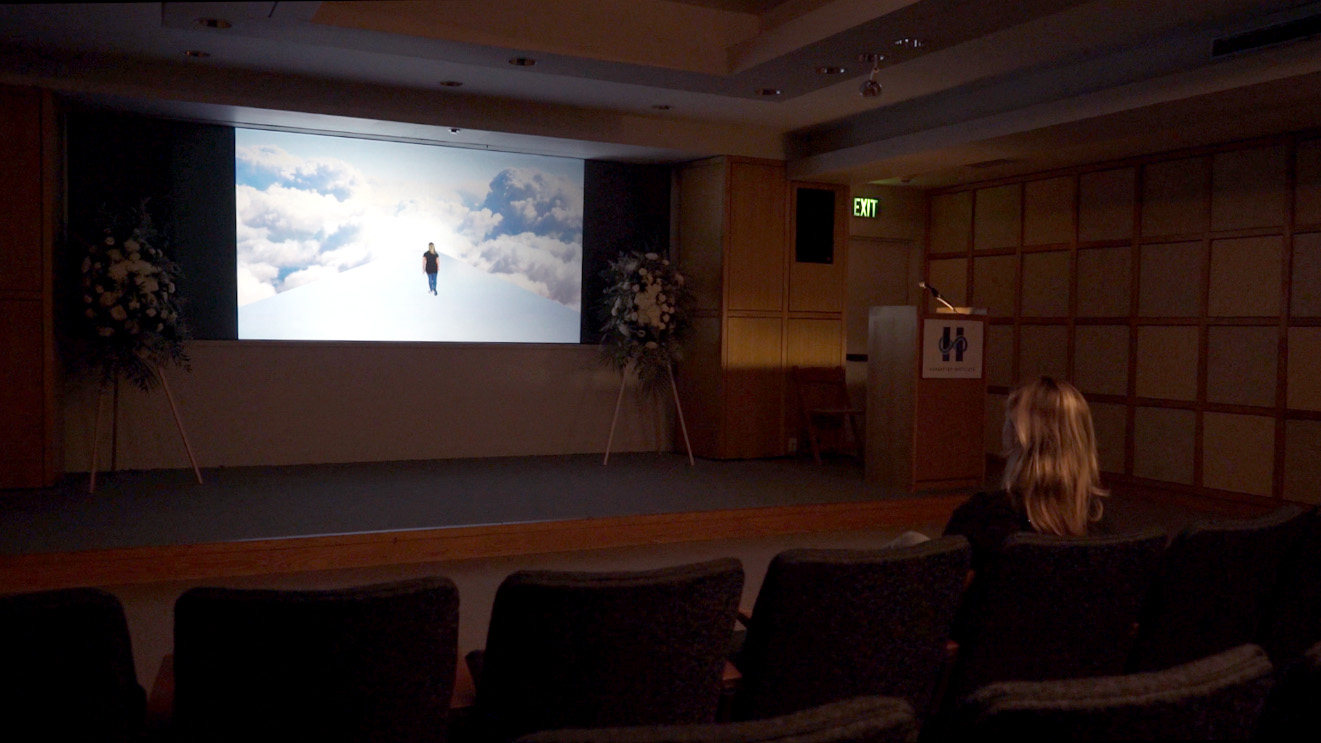 The screen behind him flickered and cycled through dozens of messages I had written on Facebook in the recent past, and then my avatar walked into the frame, wearing the same black shirt, long gold necklace, jeans, and flip flops I was still in. I watched my digital self turn and walk off into the horizon. The lights went up and I was once again greeted by my guide, who walked me outside and bid me farewell.
I left feeling introspective about the part of myself I share online, and the persona I've created that has the potential to live on beyond my physical body. My experience with the Hereafter Institute was sometimes entertaining, sometimes thought-provoking, and even a little eerie. I'm not a morbid person, but I now I think I might like to prepare my digital legacy for when I die.