One of the first things visitors notice when they walk into the Agnes Martin exhibition at LACMA is the use of natural light. Except for two small rooms devoted to works on paper, all of the galleries are illuminated only by light entering from the third floor skylights.
Choosing to use natural light is an unconventional curatorial decision because of the conservation monitoring required to do it safely. When done carefully, however, the results can be beautiful. I sat down recently with with Mark Gilberg, LACMA's Suzanne D. Booth and David G. Booth Conservation Center Director, and Michael Govan, CEO and Wallis Annenberg Director, to discuss the benefits and challenges presented by using daylight.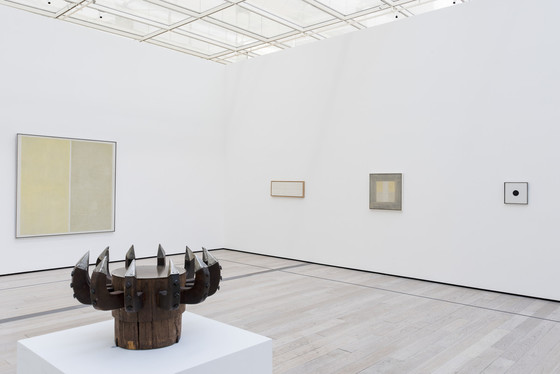 Jennie: Michael, we hadn't talked much about lighting during our planning,  but when we were installing the show, you kept asking to turn off the electric lights because they were distracting.
Michael: In the Resnick Pavilion we have occasionally used only natural light—for example, with Walter de Maria—because it has a different quality. It was my hope that there would be occasions to use the natural light in the top floor of BCAM. Agnes Martin was somebody who painted in natural light, and at Dia:Beacon remarked on the beauty of the North's natural light, and how it made the paintings feel. So it was a hope to install the LACMA show without electric light. And though we were a little skeptical at first about whether we could make it work from a conservation perspective, when we turned out the lights the paintings looked amazing.
Mark: It's important to point out that yes, you're viewing the show in natural light, but it's diffused natural light. It's not as if you have paintings in direct light. People think of natural light as opening a window and shining light right on a piece. In fact, it's being filtered through the screen that's on the roof, as well as through the glass ceiling, which actually has a frit pattern on it and is reflective. It's not direct light. It's important to make that distinction.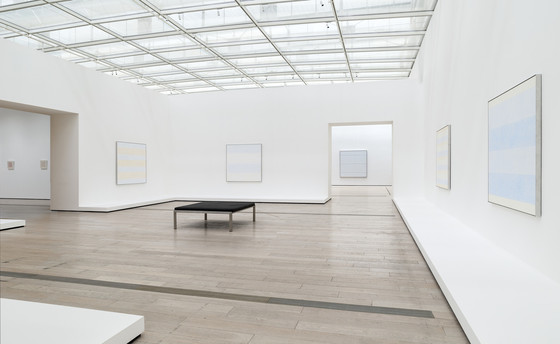 Michael: Lending practices and loan forms have not caught up with thinking about natural light—for example, the idea that you could sometimes use less light if you use ambient natural light through the course of the day rather than shining bright lights on paintings. I think a lot of what's happened in the professionalization of museums is that we've become too formulaic in our application of standards. There was a tendency in the '80s, as exhibitions professionalized, to try to create common standards that everyone would agree to. I think that began a practice of building museums as closed-in boxes with electric light that could be controlled. That helped create standardization for safety, but we also took away some of the most emotional, visual potential to see art under ideal conditions. In my own point of view, there was a little bit of throwing out the baby with the bathwater. In fact, as the science has advanced, we've seen that a cumulative approach to light might even save energy and expose an artwork to less light over the course of its life in public. Like many current building codes, we could instead take a "performance-based" approach.
Mark: The field is going more and more toward considering cumulative light exposure, because damage done by light is additive in which case you want to reduce the total number of hours an artwork is being exposed to light. We've done that in these galleries. The thing about considering cumulative light is that the practice of measuring it is more complicated and more time consuming. It's easier if you have something that's prescriptive.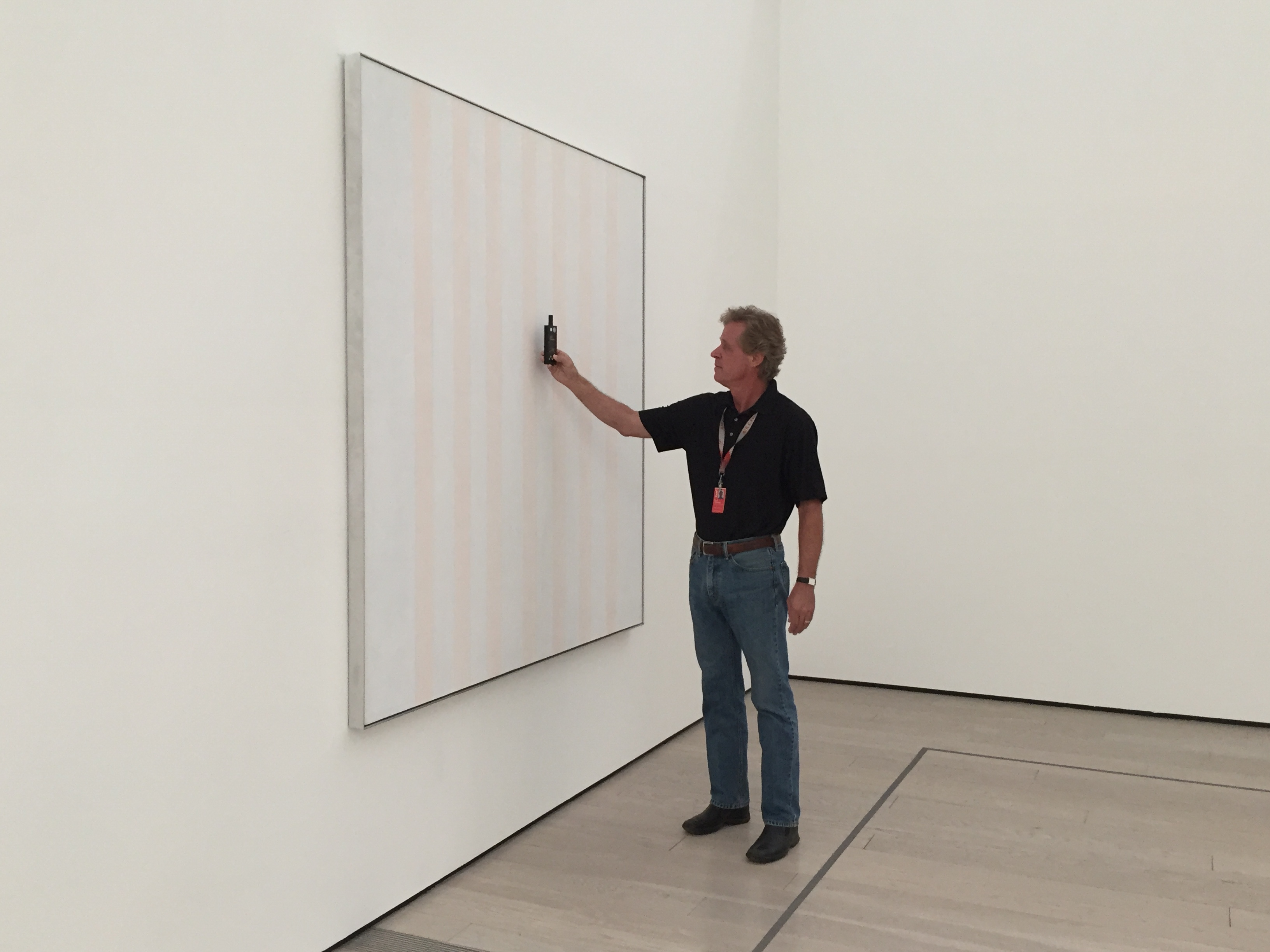 Jennie: Mark, can you explain how you measure cumulative light exposure when you're dealing with fluctuating light? Every time I was in the gallery during the first few weeks, you were there taking light readings.
Mark: You can actually measure the light exposure continuously over time with a data logger—we have that capability—but generally we take measurements every hour on the hour and express the light exposure the paintings receive in foot-candle-hours. Ultimately we want people to see art; we want the next generation to see art. The question is, how do you do that? You can't just say, "well, it's had enough light exposure," and put it in the dark and hide it from people for five years. It's something that we all grapple with, and a lot of times we treat it case by case, or exhibition by exhibition.
Michael:  You can think about cumulative exposure to light in terms of life of the work, but how about its use in the world? For example, if hundreds of thousands of people are seeing it during a particular period of time, you might make sure the light is especially good while it's seen during those three months. And if five people are seeing it in the next three months, you might keep it a little darker.
Mark: Light becomes very complicated because a lot of it is the psychology of light and the psychology of vision. You don't want to go right into a dark gallery from a light one. It just throws you off. But if there is a gradation, then the eyes can tolerate a slightly darker gallery. If it's really abrupt, you have a problem.
Michael: That's very important. I think that's really key. If you come from a dimmer space, things can seem brighter, and you can stage people's experience to get to dimmer spaces for really fragile works on paper so that they can see them. Not every painting should be seen in the same light. In the case of Agnes Martin, you get a lot out of the use of natural light. There are other cases where you wouldn't get a lot out of it. I think that has to be taken into account. For me, in an art museum, where the goal is that visual, emotional sensation, we have to expand our perspective on rules and regulations to be more performance based.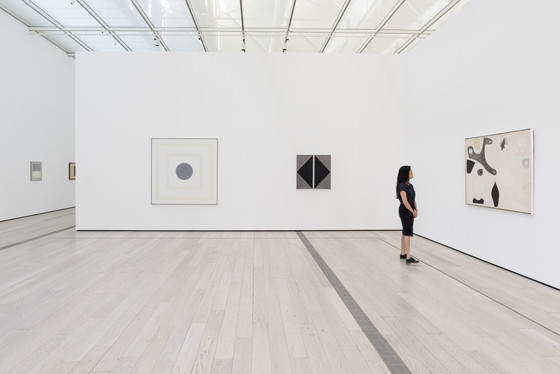 Jennie: What kind of experience do you want people to have in the Agnes Martin exhibition, and how is the light quality different than it would be if the show were lit with artificial electrical light?
Michael: It's interesting because the show is different at night; when the lights go on, the silver frames have sharp light reflected off them, and the shadows are deep around the corners. There are moments when it's really hard to even see the pencil marks on the paintings because of the contrast problem with having single point of light rather than diffused light. A lot of seeing art has to do with setting up an emotional condition to see it. That's why architecture, the grounds of a museum, the entrance, and how you're treated, are so important to how you feel when you're in a museum. I have noticed that people seem to be quieter in the spaces with natural light, which also helps others with their viewing experience. It's an emotional character the space has. So what was exciting was working with Mark and the team and say "we can do both"—we can use natural light and we can find ways to protect the works along the guidelines set by lenders. Some walls were lighter than others, so in some cases we could put a work in shadow, or we could take a certain work and put it in the light-controlled drawings room. There was a lot we did to make these little decisions. It was out of love and appreciation for the opportunity, the specialness, the experimental nature of the exhibition. People worked overtime to take care of it.
Mark: We were there every morning, every day. Even now, I'm up there different times of the day. My favorite time of day is morning to look at the paintings. I think it's a special time. One, because I have the whole gallery to myself, but two, the lighting seems to be just right. If you look at the paintings they look just fabulous.
Agnes Martin is on view through September 11. Come by before it closes to view these sublime paintings in person.