People don't often like to share their innermost fears, but lately, in the Study Center for Photographs and Works on Paper, that's what everyone is talking about. 
Every weekend, in a collaboration between the education & public programs department and the prints and drawings department, a pop-up installation and drop-in drawing activity have taken over the Study Center. The collaboration was sparked by a desire to offer a creative and casual way for visitors to respond to themes in Guillermo del Toro: At Home with Monsters.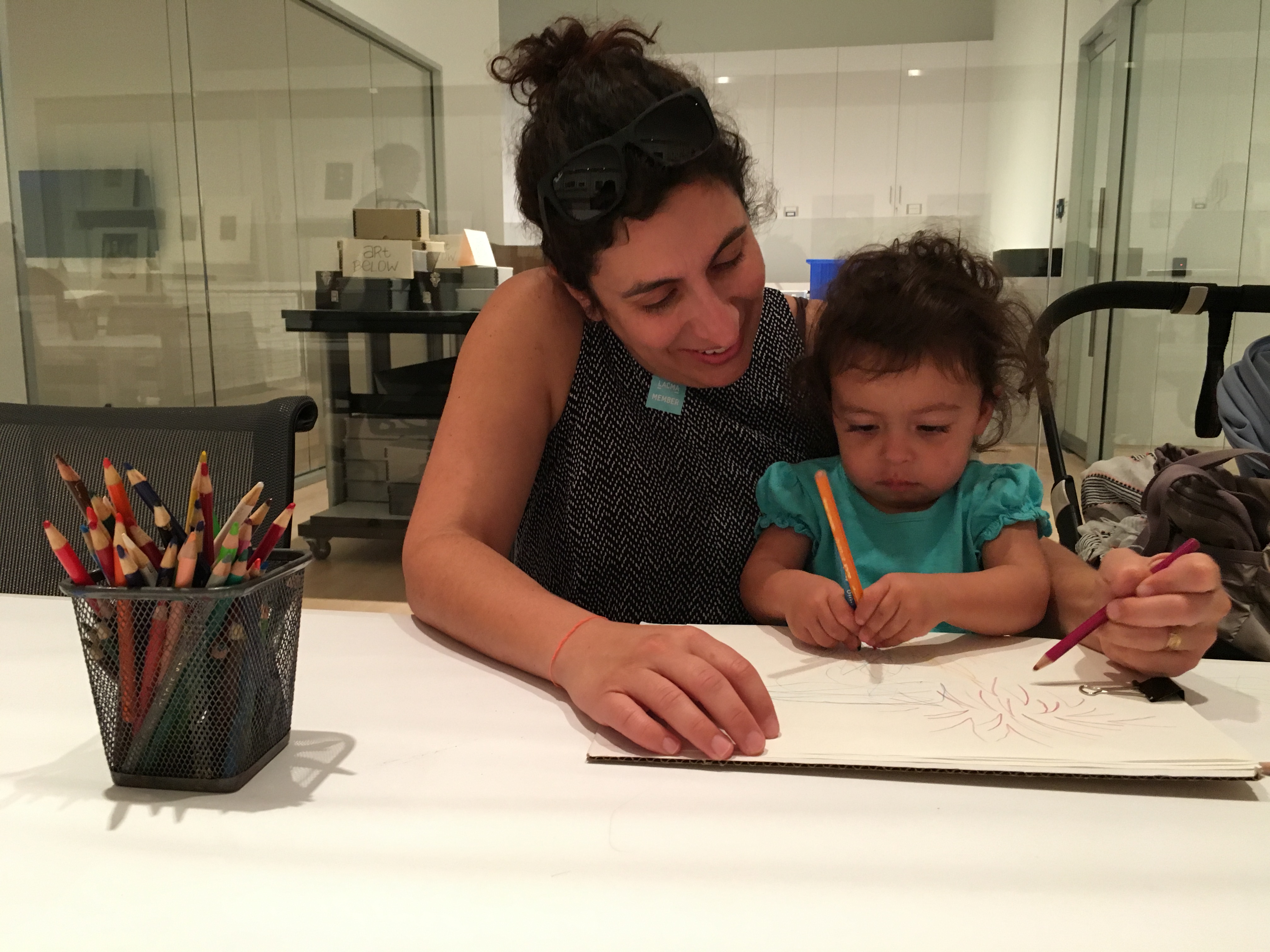 The Study Center proved to be the perfect spot to offer this activity. It is accessible from the Guillermo del Toro exhibition and its purposeful design allows for works to be displayed temporarily without the extensive undertaking of a whole exhibition. The glass cases can hold a couple dozen works on paper (prints, drawings, and photographs) that are easily pulled from nearby storage. 
For this activity, Guillermo del Toro curator Britt Salvesen, along with curatorial assistant Nick Barlow and collections administrator Sarah Newby, pulled a selection of works from LACMA's permanent collection that echo themes seen in the exhibition. While the works seem to magically appear every weekend, they are in fact, installed by Sarah every Friday night. And come Monday, like an apparition, all traces of the frights and fears vanish as she de-installs them.
Education staff invite people to help themselves to drawing paper and colored pencils. Prompts such as "What childhood nightmare still haunts you?" and "You are frozen with fear. You close your eyes. What do you see?" help visitors to think about the exhibition and the installation. 
The activity has been a big draw—especially for fans of del Toro—which is evident in the imagery that nods to del Toro's films. People take their time too, spending anywhere from 30 minutes to two hours. One woman drew the ghost that lives in her house. Some have said the experience is cathartic. 
"It is different from being in a class," reflected LACMA educator Stacy Lee. "In art school you are encouraged to not compare yourself to others, but you can't help it. This activity is not competitive. This is all about having fun. " Stacy also noted that people are hopeful that Guillermo del Toro himself will see their drawings. 
"Lots of teens and young adults are attracted to the activity without hesitation," reports educator Viri Reyes. "Kids motivate their parents to draw. They will say, 'Let me draw my monster!' After the kids get settled, the parents get the courage to also draw their monsters." 
Although the content is dark, the project is lively and fun with a strong social component. Everyone loves to talk about what they fear in the dark. Even people who don't know each other are very encouraging to others. Viri asked one kid to tell her about the monster he was drawing. He said, "Oh, that's my brother!" 
If you need to exorcise your demons through drawing, drop by the Study Center on Saturdays and Sundays from 12 to 4 pm through November 27. (Please note: the Study Center will be open from 12 to 3 pm on October 29 and closed October 30.)
Guillermo del Toro: At Home with Monsters is on view in the Art of the Americas Building through November 27.