As the Andrew W. Mellon Undergraduate Curatorial Fellow in Costume and Textiles, I have had the opportunity to become acquainted with the department's world-renowned encyclopedic collection of textiles and fashionable arts. My study of anthropology and art history has made my experience all the more rewarding, allowing me to explore the realm where these two disciplines meet in the museum. By being exposed to the collection through cataloguing, exhibition installation, curatorial survey, and study, I have gained a deeper understanding of the aesthetic and tactile qualities of costume and textiles.
In the recent exhibition Reigning Men: Fashion in Menswear, 1715–2015, a major 300-year survey of men's fashion organized in five thematic sections, historic and contemporary ensembles were juxtaposed to illustrate the cycles of fashion. Didactics and labels explained the textiles and fashions in context. I was particularly interested in looking at the works of art through an anthropological lens, considering the cultural exchange, appropriation, trade, and tradition embodied in these objects. The costume and textiles are a living and breathing document of human life and the very essence of the interplay between my fields of study.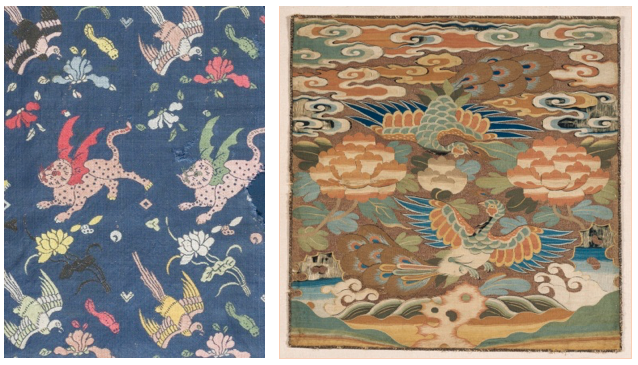 This 15th-century Textile Fragment (left) and 16th-century Court Rank Badge (right) display a burst of flora and fauna that influenced productions of chinoiserie in Europe. During this period, western cultures drew inspiration from Chinese colors, motifs, and composition.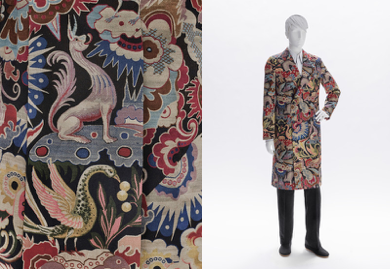 An example is a French furnishing textile produced in 1858 by Lemire and Sons, held at the Musée des Arts Décoratifs in Paris, which is the direct influence on the Dries Van Noten ensemble seen above. This temporal and spatial exchange, where the Ming dynasty (1368–1644) in China meets the 19th-century silk industry in Lyon, France, appears in Dries Van Noten's Spring/Summer 2014 coat, creating a tertiary level of cultural intersection.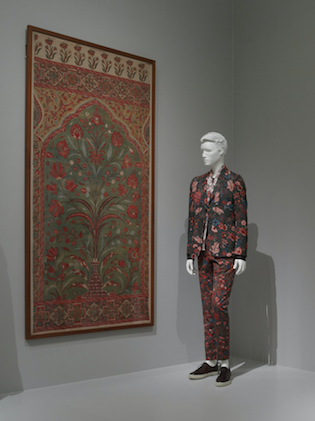 17th-century mordant-painted and resist-dyed cottons (chintz) from India informed the color and floral motifs used by Frida Giannini for her Spring/Summer 2014 Gucci suit ensemble. The c. 1645 tent panel displayed next to the suit in the exhibition illustrates the dark background color indicative of traditional Indian taste. In other garments, composition and motifs appropriated by foreign trade markets reveal a European trend to lighten the background color, as seen in this At-home Robe (Banyan).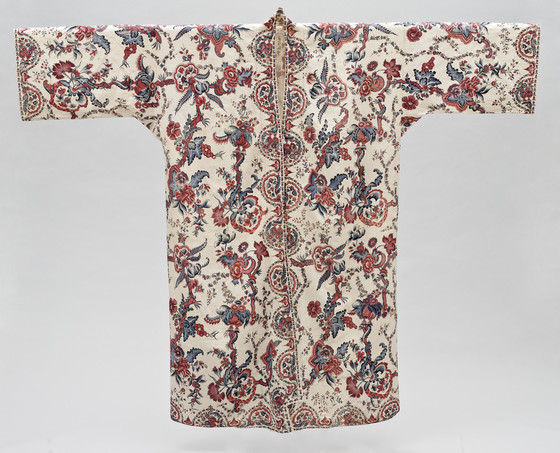 London-born Ozwald Boateng drew inspiration from his heritage to achieve this Spring/Summer 2013 ensemble. It combines the wax-resist-dyed textile tradition of his parents' homeland of Ghana with the rigors of bespoke tailoring of London's Savile Row. Through his designs, we can appreciate the duality of Boateng's African-British identity.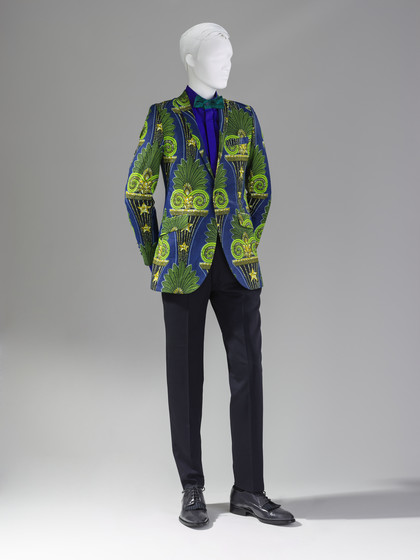 Textile traditions of Japan are honored by contemporary designers such as Yusuke Takahashi, who utilized the traditional clamp-resist dye (itajime) technique in his 2014 inaugural collection for Issey Miyake Men. The fabric was folded, resist dyed, dried, unfolded, and then screen-printed in red and blue. Today, textile artists and fashion designers occasionally employ age-old techniques in pursuit of contemporary creations, keeping cultural traditions alive.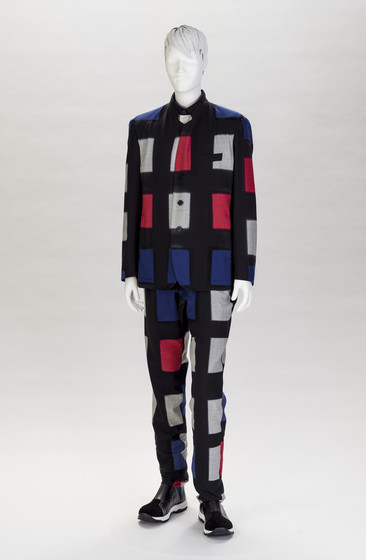 A close examination of textiles allows us to learn about materials, dyes, and technology. Motifs and fashion construction can point to specific times and regions of the world, while shapes and silhouettes may be indicators of social and political sensitivities. Comprised of technical design and aesthetics, fashion lends itself to self-expression, identity, and evolution. 
These select examples drawn from Reigning Men illustrate the history of textiles and fashion and their artistic and anthropological context. The exhibition gave me an opportunity to delve into themes of cultural exchange, appropriation, trade, and tradition, and helped me appreciate the artistic expression in the field of costume and textiles.