Wear LACMA is an art and fashion collaboration between the museum and Los Angeles's top designers that celebrates the museum's permanent collection. The Fall 2016 Wear LACMA Collection, launching next month, features one-of-a-kind fashion items by Oliver Peoples, Pam & Gela, and Lisa Eisner. We sat down with Lisa Eisner to chat about her suite of jewelry, including two necklaces, earrings, and a bracelet, inspired by Jay DeFeo's painting, The Jewel.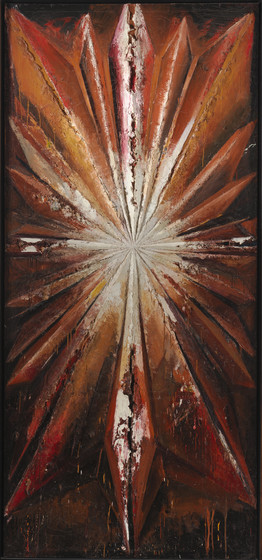 Tell us what you were inspired by in LACMA's collection.
I chose The Jewel by Jay DeFeo. I have been in love with her for a while. The Jewel grabs me; it's like when I go into a cathedral in Italy and you just gasp; you feel something. Every time I come to LACMA I visit The Jewel. Just this morning I went in front of it and was amazed. There is so much energy to it. You can feel everything that DeFeo was doing.
At first it was the thickness of the paints and then you see how imperfect it is...and how emotional and energetic, like things just moving, the beams almost pulse. And then, you see the middle is raised even more than the rest. It's just like peeling off the paint and sanding it almost to the bone—that's what it feels like. That is like heaven to me.
How did you get involved with Wear LACMA?
Katherine Ross is a friend and I've known her since she lived in New York. I've attended past Wear LACMA openings; a lot of my friends participated in previous iterations of Wear LACMA so I went to support them. Secretly I always thought, "I hope she asks me. I really want to do this." When she did, I knew immediately which painting I would choose!
Can you tell us about your design process?
It was an interesting process for me because I've never started out with one thing. At first, I questioned which part of the painting I was going to be able to do. I was thinking about the energy and the rays.  I was trying not to make it too heavy because I like to make big jewelry. I actually did a couple of different versions. For example, one is of the rays. The necklace is a bronze skeleton of the rays and they're all textured. There's a citrine stone in the middle so it protrudes out from the middle and the rays go out. I could do 10 versions of it. I should just do this for the rest of my life, actually.
Wear LACMA is an initiative of the museum's Director's Circle. Shop the new Wear LACMA items at the LACMA Store and online beginning November 7, 2016. All proceeds benefit the museum and its programming.