This summer, LACMA launched an online video series, Artists on Art, for which we asked contemporary artists to speak on an object of their choice from our permanent collection. Alison Saar is a recipient of fellowships from the John Simon Guggenheim Memorial Foundation and the National Endowment for the Arts, and was a 2012 United States Artists Fellow. For Artists on Art, Saar selected Ernst Ludwig Kirchner's Dancer with Necklace (1910); today, she speaks more about her connection to this masterpiece.
When did you first encounter Dancer with Necklace?
I was in New York at the time that the German Expressionist Sculpture show opened here at LACMA [in 1983]. My father immediately saw that I would love Dancer with Necklace [on view in that exhibition] and sent me a catalogue. And of course, as soon as I was back in town, I went to go see the work. When I saw this piece, I immediately gravitated toward it. In fact, I saw this piece again at LACMA when it was installed as part of the 50th anniversary exhibition [in 2015]. It really inspired me to take my work in a new direction. It's interesting that now, some 30 years after first seeing it, it still continues to inspire me.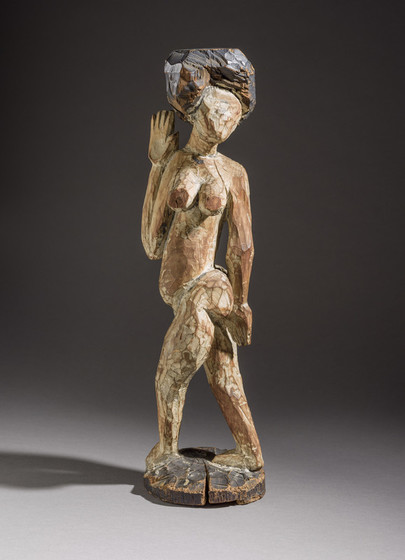 What about this piece inspired you then and inspires you now?
What really attracts me to this piece is the rawness of it. We can still see how the figure is pressed against the boundaries of the log that she is contained in. One shoulder is kind of rubbing against the perimeters; she has all this amazing motion within the small confined spaces. It feels to me that there is an amazing release of the figure, that sense that it is born from this simple material.
It also resonates with some of the ways that African art is treated in terms of texture and surface. I know that Kirchner and some of his friends were looking at African art at that time, and you can see where he is drawing off of that. In Berlin, right around the turn of the century, a Cameroonian sculpture, a Bangwa queen, was on public view in Berlin. This piece really resonates with that. It's all about the breast and the belly and the buttocks. There is a lot of movement in this work. That's not really typical of a lot of African art, which is often staid and stationary; that is very present in my work as well. But the Cameroonian and specifically the Bangwa, it always feels like there is some sort of dance involved in it. I really love the way those two pieces connect.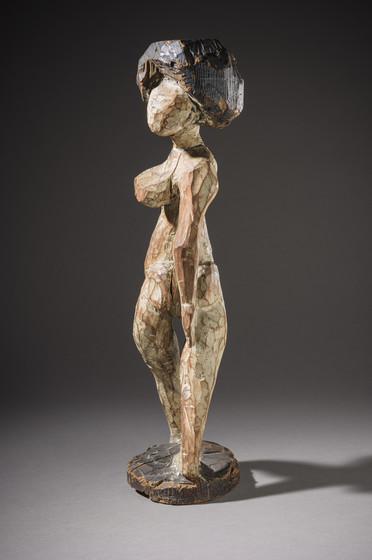 I love that there is an emphasis on the breast and the belly and the buttocks. And there are all these rounded forms. She has got her one hand up, doing this shimmy, this twisty stretch. I just love that posturing—it's just a really strong, intense female figure. She's not reclining, she's not offering herself. You don't feel so voyeuristic. She is out there and strutting her stuff. That's really powerful and beautiful.
I'm really interested in her facelessness. In some ways it refers to motion. It also refers to all women. You know, in my own work I'll have faces. They all have eyes but they don't have pupils, and there is always this emptiness to them. It talks about it being a mask, but it also talks about how we are sometimes between two worlds. At this moment of dance and ecstasy, you maybe become faceless. It's just this motion, this expression, this—joy, this exuberance in this thing in the moment.
Ernst Ludwig Kirchner's Dancer with Necklace is on view in the Ahmanson Building, Level 2. The conversation was edited and condensed for clarity.