For more than 25 years, Toba Khedoori has engaged the elements of architecture (walls, floors, windows)—and signs of its occupation (open doors, burning fireplaces, seating)—in minimal compositions that subtly suggest human presence. What connects all of Khedoori's images is that they are at once particular and ambiguous.
Although they are removed or displaced from any specific reality, the sources of several of Khedoori's images are located in Los Angeles—or could be. Even as fragments, the chain-link fencing, theater seats, doors, fireplaces, hallways, walls, windows, and horizon all correspond to characteristics of L.A.'s architectural culture. They, too, are specific but also open. Regardless of whether or not the sources originate in L.A., what is distinctive is that they could come from anywhere. They are just nonspecific and disengaged enough to make them seem general. Khedoori distills the nonspecific from a city that is distinctive and recognizable in its "simple, unadorned"1 domestic architecture, its low-rise urban culture, its vegetation, and its indelibly hard light. Just as she has used a particular door or fireplace to function as a model, Khedoori uses the particularity of Los Angeles in order to arrive at the generic.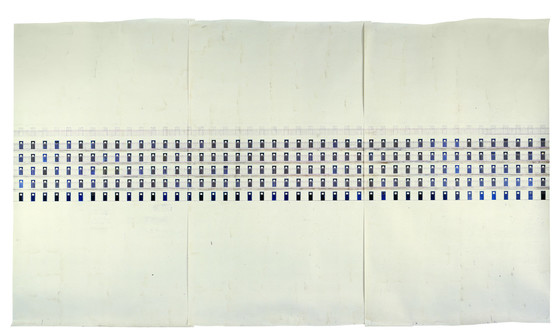 Los Angeles is also Khedoori's home, where she has lived and worked for more than 25 years. Born in Australia in 1964, she first moved to the United States in 1984. Toba and her identical twin sister, Rachel, both attended San Francisco Art Institute, receiving their respective BFA degrees in 1988. As an undergraduate, Khedoori began to make works on paper and developed her distinctive process of working in large format, using wax to seal the paper in preparation for her intricate renderings in paint. In 1990 Khedoori began her graduate degree in the painting department at the University of California, Los Angeles (UCLA). As a graduate student Khedoori began developing a lexicon of images that would continue to be associated with her mature oeuvre, including explosions, a train, and model houses.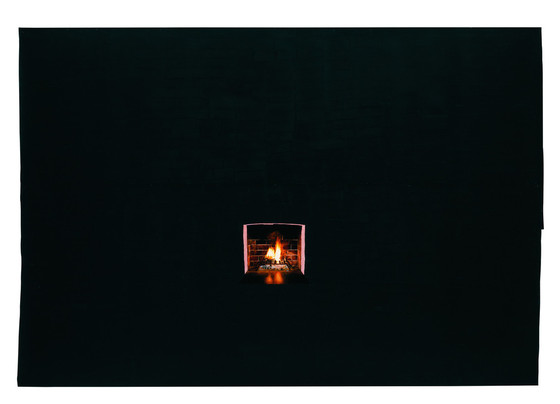 Although Khedoori's manner of working on the floor, producing works that in scale envelop her body, could be seen as performative and environmental, she chose not to shift her practice into installation. Instead she committed herself to working exclusively on paper—and to drawing. Though the incorporation of painted images into some of her works on paper could be considered a kind of hybrid painting (since 2008 she has also used linen as a support), Khedoori has continued to identify her works as drawings. 
As a graduate student she opted not to make use of the UCLA's studio facilities, instead choosing to work in her own space in Inglewood, where she has remained for nineteen years. That situation afforded her not only the ability to work at a greater scale, but also a sense of distance and separation—further enhanced by the expansiveness of Los Angeles—that is so essential to her work. In 2008 Khedoori started to reduce the sale of her works on paper and also stopped applying wax to their surfaces. The following year she moved to a new studio in Vencie, California, a smaller, narrower space where she continues to make smaller works on paper, while also producing her recent oil-on-linen images of hands, as well as grids, stripes, leaves, and tile floors. For an artist who has followed such a singular and resolute path, she continues to pursue challenge and change. Specific, but not too specific, Khedoori's work remains as elusive and clear as ever. 
1. Elizabeth A. T. Smith, "Vertigo," in Toba Khedoori (Los Angeles: The Museum of Contemporary Art, 1997)
Excerpted from Ann Goldstein's "Specific but Also Open" in the accompanying catalogue for Toba Khedoori, on view in BCAM through March 19, 2017.