Stephen Little, curator of Alternative Dreams: 17th-Century Chinese Paintings from the Tsao Family Collection, first met Jung Ying Tsao (1929–2011) in 1977, when Stephen began working at the Asian Art Museum of San Francisco. Over the years, Stephen got to know Mr. Tsao and the incredible range and depth of his private collections of Chinese art. Highlights of Mr. Tsao's collection is currently on view at LACMA in Alternative Dreams, which closes this Sunday, December 4. 
Mr. Tsao was best known as a collector and dealer of late 19th- and early 20th-century Chinese paintings, and few people knew that he was also a passionate and experienced collector of late Ming- and early Qing-dynasty paintings. In this excerpt of an interview, conducted in 2008 in San Francisco by Qiao Wen' an and translated by Chris Wen-chao Li, Mr. Tsao speaks about his path to becoming a collector.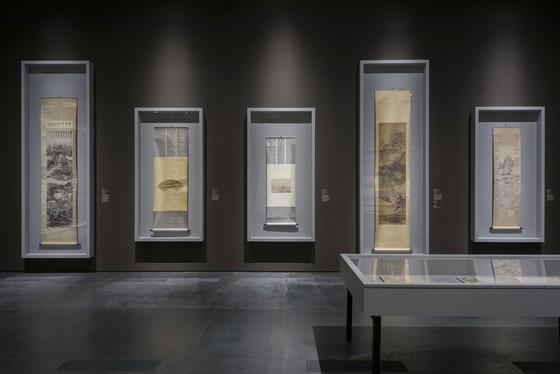 What prompted you to start collecting Chinese art? 
I never set out to become an art collector. My motivations in the very beginning were threefold: (1) I was trying to feign sophistication; (2) I wanted to get to know cultured and knowledgeable people in the world of art; and (3) I was hoping to make a bit of a profit. Later, I came to realize that I was indeed young and ignorant, with little knowledge of Chinese history and culture, not knowing enough to distinguish between artistic masterpieces, mediocre artwork, and mere handicraft. 
An acquaintance of mine was friends with the associate director of the National Palace Museum [in Taiwan] and got me a pass, allowing me to make frequent visits to the museum and study the works on display. I began to study traditional Chinese culture.
Of all the artworks that you have collected, which is your favorite?
It would have to be a landscape painting by Bada shanren, which even the legendary Chang Dai Chien [Zhang Daqian, notable painter and collector] held in awe. I remember I was a dinner guest at the Chang residence. After dinner, he grabbed a chair and asked me to show him my prized possession, which he spent a good half hour poring over. 
"Wouldn't you say you've been staring at this painting for a while?" I asked him, to which he turned slowly to look at me and replied, "It takes time to read the work of a master. There are works that you can spend a lifetime studying and still not understand. How could there possibly be any shortcuts when you're studying Chinese ink painting?"
That, for me, was a wake-up call. I used to believe that the ability to tell with one look whether a work is genuine or fake is the most impressive thing in the world, but now I can see that true appreciation of art is an experience much more profound. With ink painting, you have to examine every stroke of the brush, every item portrayed, every element of composition and style, any number of which may have significance and hold clues to the deeper meaning of the work. Those who claim they can fully comprehend art with one look of the eye are not connoisseurs, but rather merchants of the trade. 
From then on, I adopted an academic approach to the study of artwork, which is a difficult path to take, but is nevertheless rewarding. I would spend my time in libraries and museums poring over paintings, stele rubbings and exhibition catalogues. That has been my life for the past 60 years. I have never stopped studying and have benefitted from this diligence.
Tsao Jung Ying documentary from Richard Widmer on Vimeo.
Alternative Dreams is on view at LACMA through December 4, 2016. The full interview can be found in the exhibition catalogue, which also contains illustrations, essays, and translations of poems inscribed on the paintings.