This week, we open an unusual installation by Art + Technology Lab grant recipient Michael Mandiberg. Quantified Self Portrait (Rhythms) is a sound installation in the Pritzker Parking Garage elevators; it combines recordings of the artist's heartbeat and digital media alerts. Quantified Self Portrait (1 Year Performance), on view on the video screens in Stark Bar, is a video composite of a year's worth of self-surveillance that create an impression of artist's daily work. 
Tell us first about Quantified Self Portrait. 
Quantified Self Portrait is a yearlong performance where I self-track my labor through means of pervasive custom surveillance software, and show the results as a multiple-part multimedia installation. I use myself as a proxy to hold a mirror to a pathologically overworked and increasingly quantified society, revealing a personal political economy of data. Quantified Self is a social movement in which technology is used to self-track personal data in order to gain a fuller, unbiased understanding of oneself. This self-portrait is also a symbol of the artist today not as an individual laborer, but as someone who is part of a larger network of workers, agents, and organizations. Despite a long history of the self-portrait, we have few representations of the daily life of contemporary artists.
There is evidently a lot going on with your hair in the video self-portrait.
The three-channel video Quantified Self Portrait (1 Year Performance) is a poetic visualization of digital labor that most directly pays homage to Tehching Hsieh's work. It is a roughly seven-minute frenetic stop motion animation built out of the webcam photos and screenshots my software takes every 15 minutes, paired with the short distillations of what I learned each day during the one-year durational performance. Companies that employ freelance computer labor often surveil their remote workers with software that takes screenshots and photographs. Like Hsieh, I shaved my head and face at the start of the year, thus the hair growth marks time and alludes to my biopower.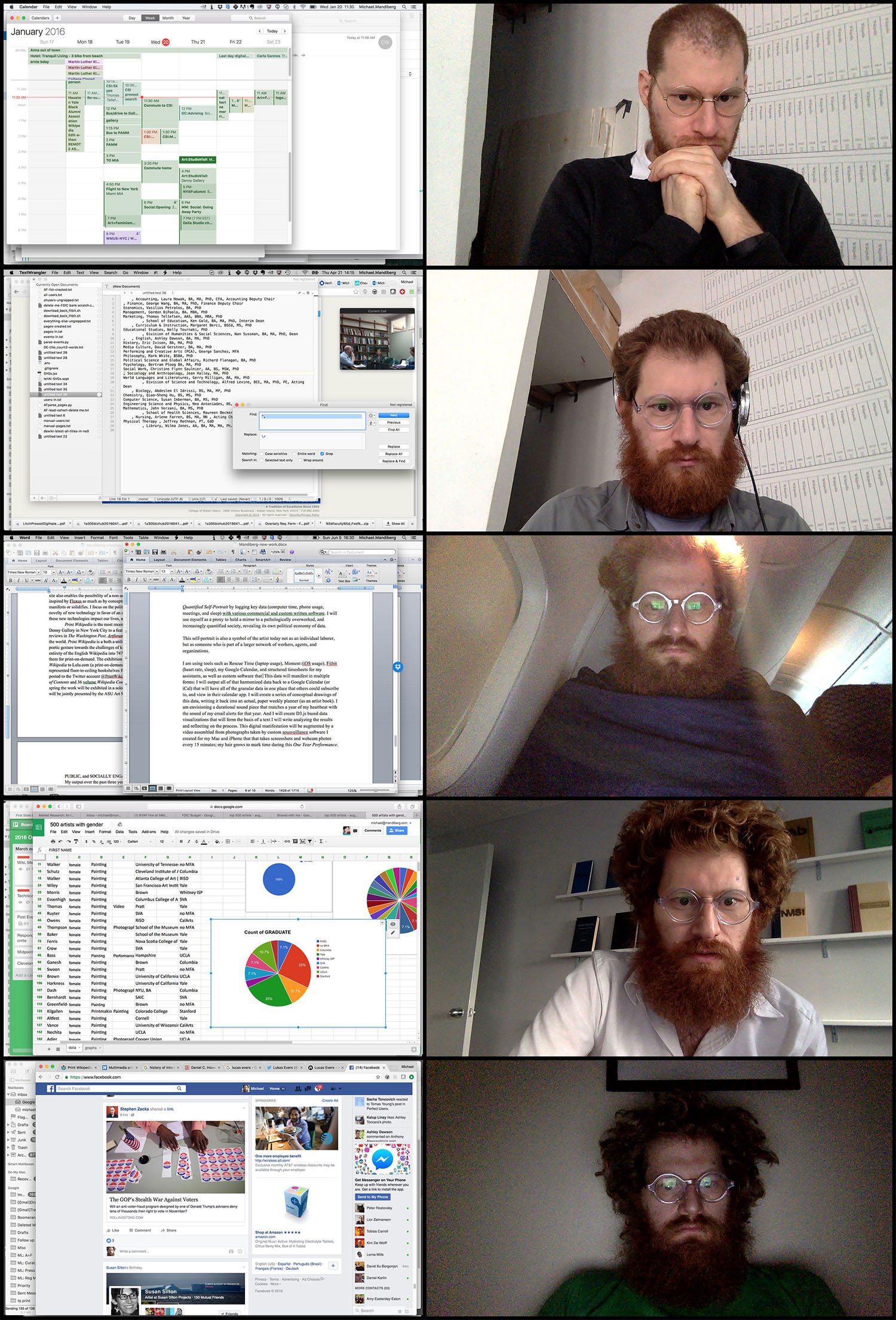 And what about the accompanying sound piece?
The sound installation Quantified Self Portrait (Rhythms) sonifies a year of my heart rate data alongside the sound of my email alerts. The piece plays for one full year, with each moment representing the data of the exact date and time from the previous year. As with the video, the piece fits the conceptual framework of documenting my literal labor, while also pushing the aesthetic boundaries of conceptualism into a more emotionally open space: nearly everyone who has heard the test mockup has been deeply moved, bordering on upset, by the piece.
Your initial proposal to the Lab was for a film project that crowd-sourced the recreation of scenes from the Charlie Chaplin film Mechanical Tramp. How did your thinking about the nature of labor and technology develop and lead to Workflow? 
I see Mechanical Tramp and Quantified Self Portrait as two parts of an exploration of contemporary digital labor. Mechanical Tramp looks outward, and uses digital labor markets to peek into the lives of others as they work. Quantified Self Portrait looks inward at my own labor, using it to stand in for the experiences others. Ultimately both are about representing the changing nature of work and what the workplace looks like, whether for artists or piecemeal laborers in the digital factory.
By using the means of digital labor in order to explore digital labor itself, I am making visible the limits and extent of the increasingly "convenient," yet unrestrained, systems of production and communication that we live within.  
Michael Mandiberg: Workflow is on view through January 1, 2018.