LACMA's new "The Printed Past" tour offers students grades 6–12 access to rarely seen works on paper, including photographs, prints, drawings, and political posters. Light-sensitive works on paper (photographs, prints, and drawings) comprise some 55 percent of LACMA's collection of Western art but can only be exhibited for short periods of time. Although scholars often request special viewings and college professors bring their students to view specific works, it is unusual for high school students to have special access to these works.
Pulling these sensitive and valuable artworks from storage specifically for high school students delivers an empowering message to the participants on these tours. Guided by LACMA staff in LACMA's Study Center for Photography and Works on Paper, students will view and discuss artworks relating to topics chosen for their alignment with their social studies curriculum. These topics are Immigration and Urbanization, Poverty and Labor, and World War II.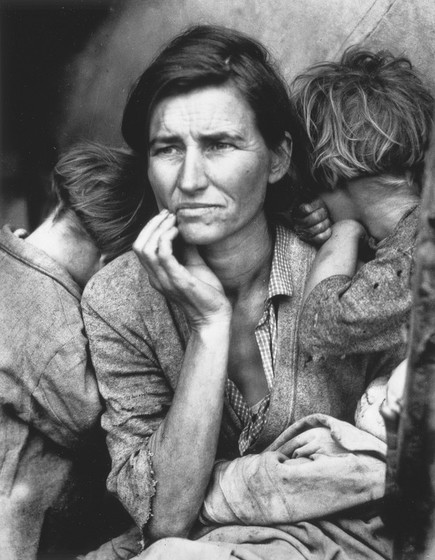 Featured artists in the Poverty and Labor tour include photographer Lewis Hine, who quit his job as a teacher to devote his time to documenting and exposing the harsh realities of child labor, and Dorothea Lange, who used her camera to help bring attention and aid to desperate farm workers and their families during the Great Depression.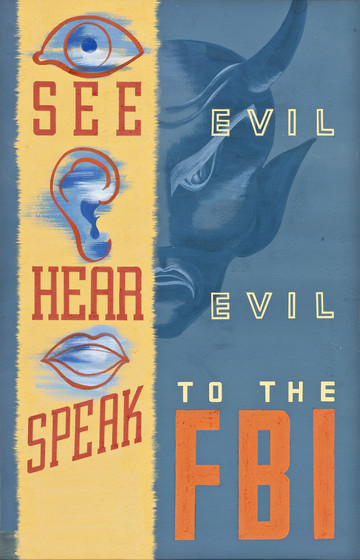 On the World War II tour, students will look at Nazi propaganda posters and discuss how hate was (and is still) spread. They will also look at Soviet war photographs that were censored by the Soviet government and not seen by the public until decades after the war, prompting a conversation about war journalism and censorship. Finally, students will look at a poster broadcasting a message similar to today's "If you see something, say something." This poster was made for the FBI by Japanese-American artist Fujiye Fujikawa during her incarceration at an American internment camp during WWII.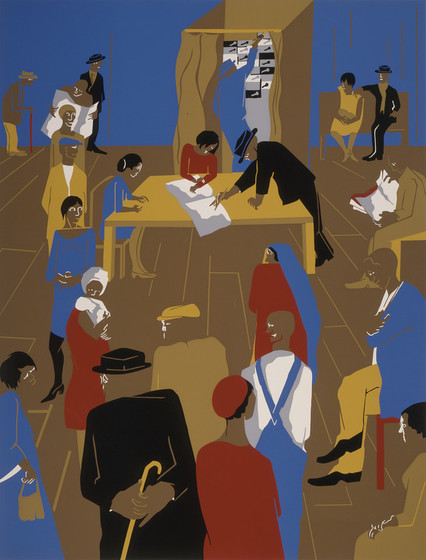 Immigration and Urbanization focuses on depictions of the massive wave of immigration from Southern and Eastern Europe, industrialization, and urbanization. However, it also includes artworks associated with the Great Migration, a period in which more than six million African Americans left the rural South for the urban North in search of better economic opportunities and relief from the institutional racism of the Jim Crow-era South. Jacob Lawrence's The 1920's…The Migrants Arrive and Cast Their Ballots, a silkscreen print made in honor of the 200th anniversary of the Declaration of Independence, shows newly transplanted African Americans in the North waiting their turn to exercise their right to vote, a right they had been deprived of in the South.
Sign up for school tours on LACMA's website.