Twenty-Minute Family Guides give fun prompts for families to learn about art and practice ways of looking that are playful and open-ended. Guides can be printed at home to use at the museum. 
Let's explore a series of paintings by Korean-American artist Young-Il Ahn that were inspired by a personal experience: one day he was boating off the coast of Santa Monica, California, and became engulfed in a thick fog. Then, suddenly, the fog lifted! This event prompted him to be fascinated with how light, color, and movement play with water.
Before your looking begins, you will need a piece of paper to make a spyglass. Use your museum map or pop by the Boone Children's Gallery for a piece of paper.
Start in the lobby of the Hammer Building, Level 2. Find a big blue painting called Water SZLB15. If the bench in front of the painting is free, take a seat!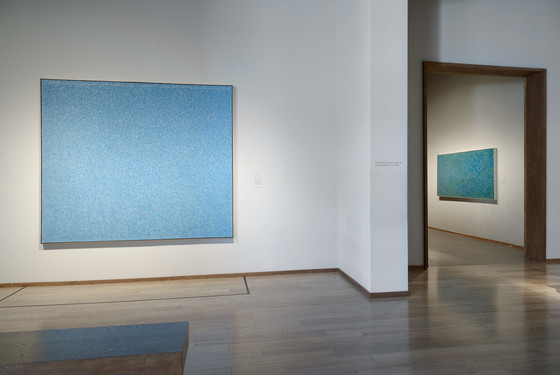 First, take a long look at the blue swatches of paint. What shapes are the blue strokes? Young-Il Ahn didn't use a brush—he used a palette knife to make these marks. (A palette knife is a tool used by artists. It looks kind of like a spatula or spreader for frosting cakes.)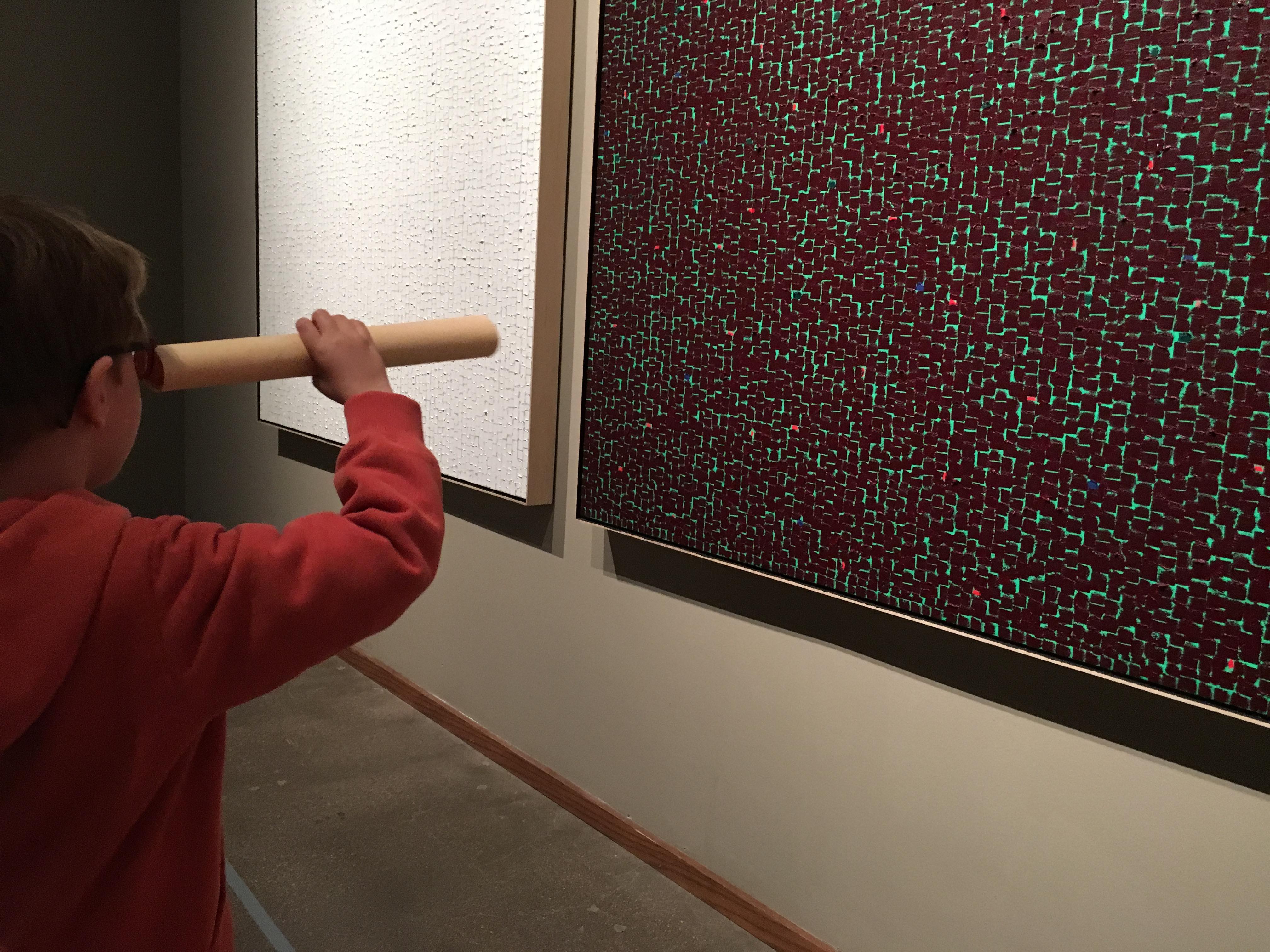 Now, roll up your paper to make a tube. Make sure the opening is big enough to spy through. Using your spyglass, focus on a small section of the painting. What other colors do you see? What do you notice about the texture of the paint?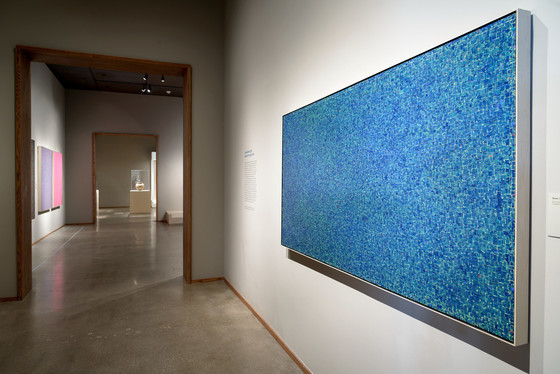 When you are ready to see more, go to the adjacent gallery that has nine more water paintings by Young-Il Ahn. 
Walk to the middle of the room and take a seat on the floor (make sure you leave enough room to let people by). You are now on a pretend boat out at sea and you have to use your spyglass to describe your discoveries. Look at the paintings around you. How are they the same? How are they different? Take turns and share aloud what you see!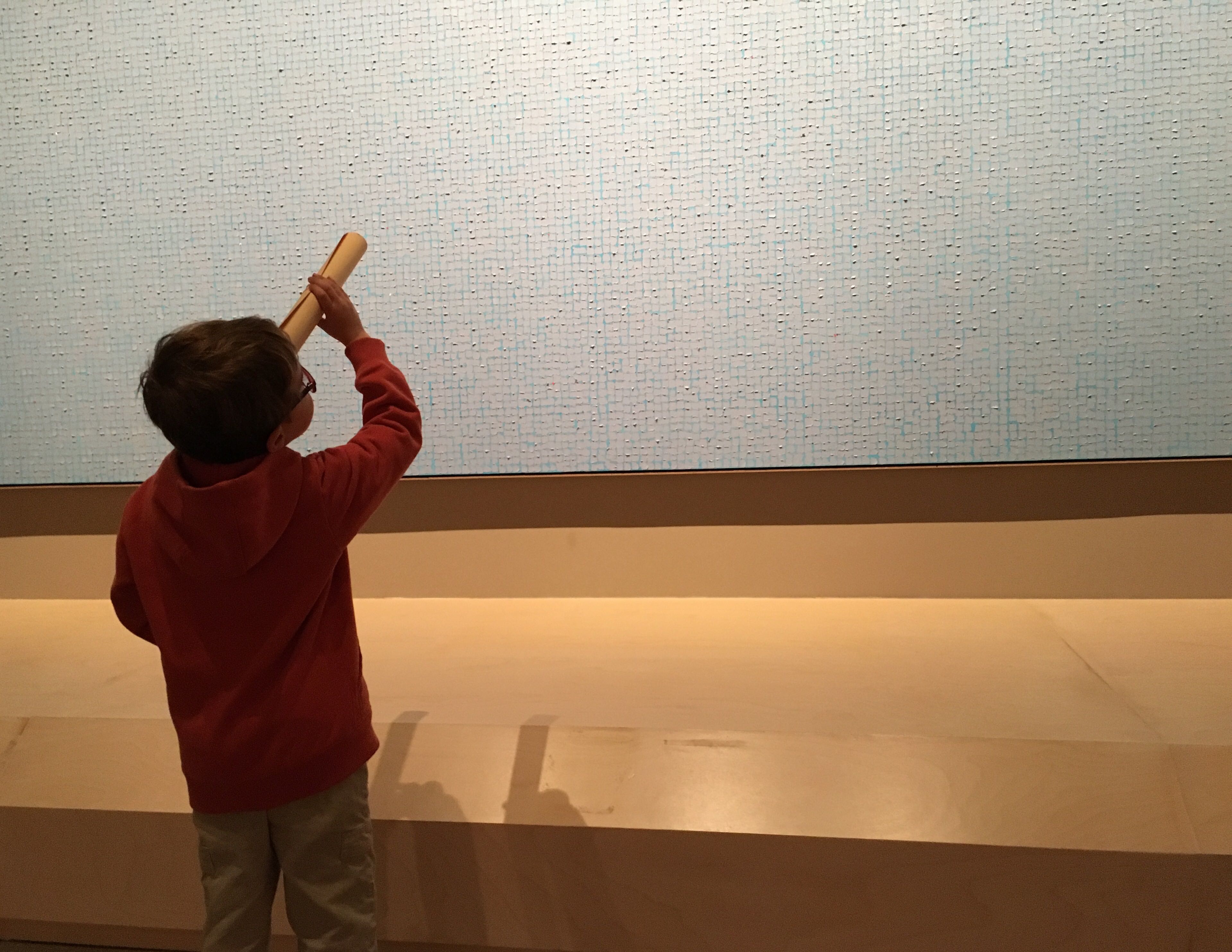 Now, take a closer look. Stand up and walk slowly toward one painting. What new details do you notice when close up? With your spyglass, look at the painting from different angles. Notice how new colors magically appear when you get closer. The tiny splashes of paint imitate the effect of light sparkling on the water! 
The artist Young-Il Ahn created these paintings inspired by his experience at sea. Head to the Boone Children's Gallery to create your own paintings inspired by today's trip! 
Unexpected Light: Works by Young-Il Ahn is on view until October 1, 2017. Through Arts for NexGen LACMA—the museum's free youth membership program for anyone ages 17 and under—families can make short but frequent visits to the museum, making the arts a regular part of their lives. If your child isn't a NexGen member yet, stop by the Boone Children's Gallery to learn more and sign up!