If you've visited LACMA, you have probably walked under Tony Smith's monumental Smoke (1967), which has graced the atrium of the Ahmanson Building since 2008. Often referred to as "the spider" by the many schoolchildren who come to LACMA, Smoke is meant to be experienced from every angle—from under and above. Installed over 10 days in 2008, Smoke required special guests to help put it together—spelunkers! (The pieces had to be screwed together from the inside.)
Next time you're at the museum, stop by Tony Smith: Smoke, a small exhibition focusing on the sculpture and the trajectory of Smith's practice. On a recent day, exhibition curator Leslie Jones took us through the show.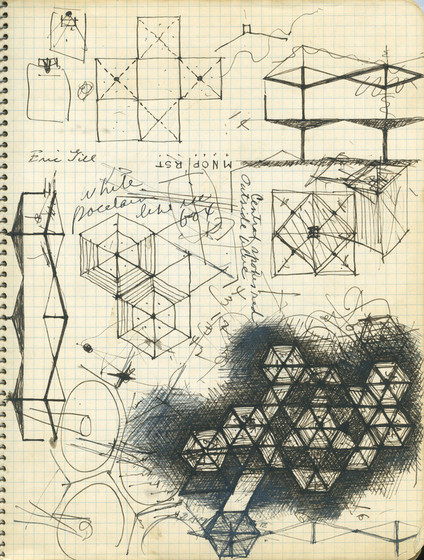 Smith started his career in architecture, working first as a bricklayer then as a clerk for Frank Lloyd Wright. Check out architectural drawings, sketches, and models of several of his ideas in the exhibition. 
He also created drawings and paintings, and turned to sculpture in his 50s. His sculptural work, like Smoke, is rooted in geometry, but the experience of viewing it seems to defy logic. In the words of the artist: "My own personal feeling is that all my sculpture is on the edge of dreams."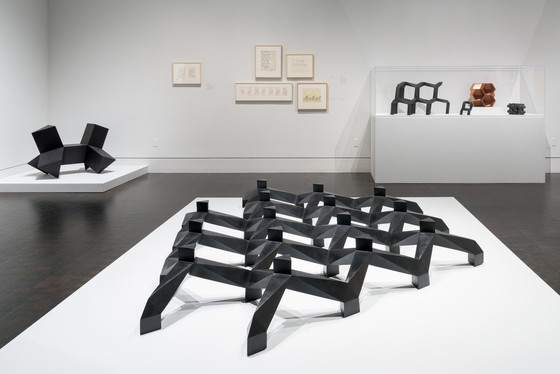 Though he was grouped with the minimalists in the 1960s, he wasn't really of that generation. He titled all of his work, unlike many of the 1960s sculptors, with evocative and often playful titles; he wanted people to bring associations to his sculptures and to have a subjective experience.
Tony Smith: Smoke is on view in the Ahmanson Building through July 2, 2017. Don't forget to experience Smoke in person! The sculpture is located in the atrium of the Ahmanson Building.