Whenever I look at Chris Burden's Metropolis II, I see a city full of frenetic energy. When the cars are still and all is quiet, my focus drifts to the shape of the buildings. Although I see this sculpture often, when I started working at LACMA I was surprised to learn that Metropolis II is one of many pieces included on the school tour The Artist as a Social Conscience. The tour explores how artists throughout history have used their artwork to give voice to and provoke dialogue about critical issues such as racism, class, and gender.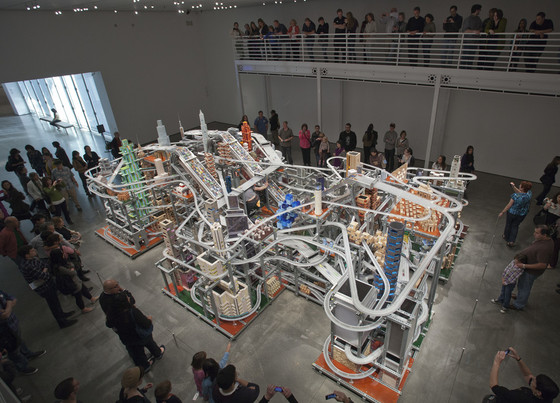 What does this city have to do with social issues? After all, the tour is about how artists use their artwork to tackle critical issues in their time, and as a casual observer, the connection between Metropolis II and any social issue may not be obvious. When I asked one of our school tour docents about this, she said, "Students immediately see the social implications of life in Metropolis II. Nobody ever wants to live in Metropolis II because it is crowded and there's no water, or people, or trees." Burden himself validates this interpretation to some extent: "The noise, the continuous flow of the trains, and the speeding toy cars produce in the viewer the stress of living in a dynamic, active and bustling 21st century city."   
Who knew?  
Since the tour debuted in the 2013–14 school year, The Artist as a Social Conscience has become one of LACMA's most popular tours, often filling up before the school year begins. Designed for middle and high school students, the tour encourages long, close looking and an exploration of the artwork within the time period in which it was created. To many, some choices may be less obvious and require more looking and questioning to truly understand what the artist is saying, like Burden's Metropolis II. Other artworks, like Sam Durant's Like, man, I'm tired of waiting and Edward Biberman's I Had a Dream, may have an unmistakable connection to a social issue and can be powerful tools to use as a springboard for a conversation about race and equality.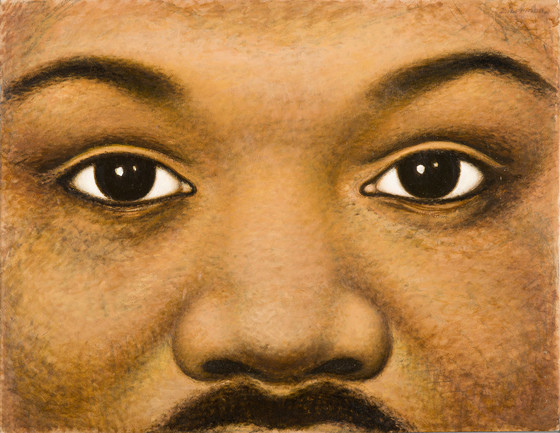 Recently I followed a group of middle school students as they discussed Biberman's painting. The unconventional close-up on Martin Luther King Jr.'s eyes and nose manages to be instantly recognizable and sparks conversations about Dr. King's influence on the civil rights movement. The docent shared the story of Rosa Parks and the Montgomery bus boycott with the students and asked what they would have done in that situation. All of the students agreed that Parks did the right thing, saying, "We are all equal."
Before moving on to anotehr work, the docent asked the students to consider the title of the painting. Dr. King's famous speech was "I Have a Dream," but Biberman titled his piece "I Had a Dream." "Why do you think the title is different?" the docent asked. "Things still need to change," said one student. Some things have changed since the 1960s, but the students agreed that as a society we need to continue Dr. King's fight.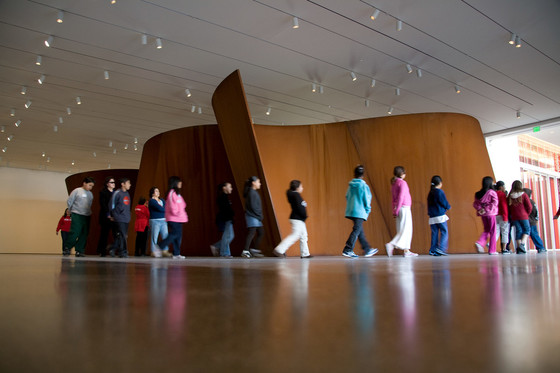 In February, docents had the opportunity to lead The Artist as a Social Conscience tours for LACMA Local members. The event received very positive reviews from the LACMA Local members and the docents. In fact, one docent kept exploring with her group because no one wanted the tour to end! Another LACMA Local tour will be presented on April 15. Additionally, the Evenings for Educators event on Tuesday, April 4, will focus on Art and Social Justice.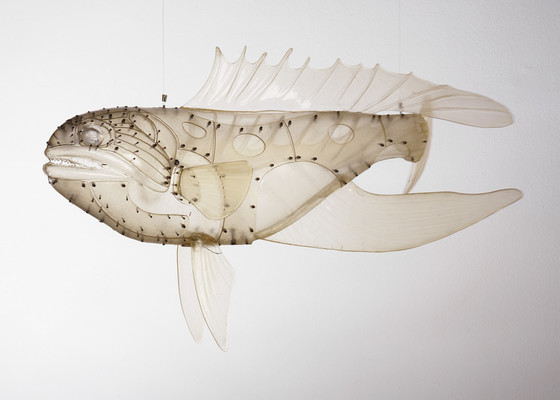 A docent shared a student comment with me about Lee Bontecou's Untitled (Fish): at first, the student thought the fish was menacing and scary, but in discussing the work the student realized that humans were menacing and scary to the fish because we cause pollution. Artists throughout history have used their art to give voice to and provoke dialogue about critical issues such as racism, class, and gender, but sometimes it takes close looking, questioning, and conversation to notice.  
Learn more about LACMA's school tours and sign up to bring your class to the museum!