Hi. We're Kata and Tom. We work together as an artist duo, under the name Kovács/O'Doherty. At the moment, we're undertaking a research project supported by LACMA's Art + Technology Lab, which has the working title Signal Tide.
In this project, we're working to get a reliable real-time signal from an abandoned satellite and to output that signal as audio. The satellite is the LES-1, which was designed and built at Lincoln Labs at MIT in the early 1960s. It was launched in 1965, but stopped transmitting in 1967. However, at some point in the intervening half-century, it quietly started to give a signal again, which was rediscovered by Phil Williams, an amateur radio enthusiast in Cornwall, England, in 2013.
We intend to combine the audio from the resurrected satellite's signal with a musical "answering" signal, in order to create a sound installation in which the satellite duets with an earthbound accompaniment as it passes overhead.
To do that, however, takes a lot of testing, research, and figuring-out. In our work on the project so far, we've been building antennas, climbing hills, hunching over laptops, researching folk music traditions, recording sounds, and learning a lot. And, as part of this work, we recently spent four weeks in Los Angeles, taking further steps with the whole project.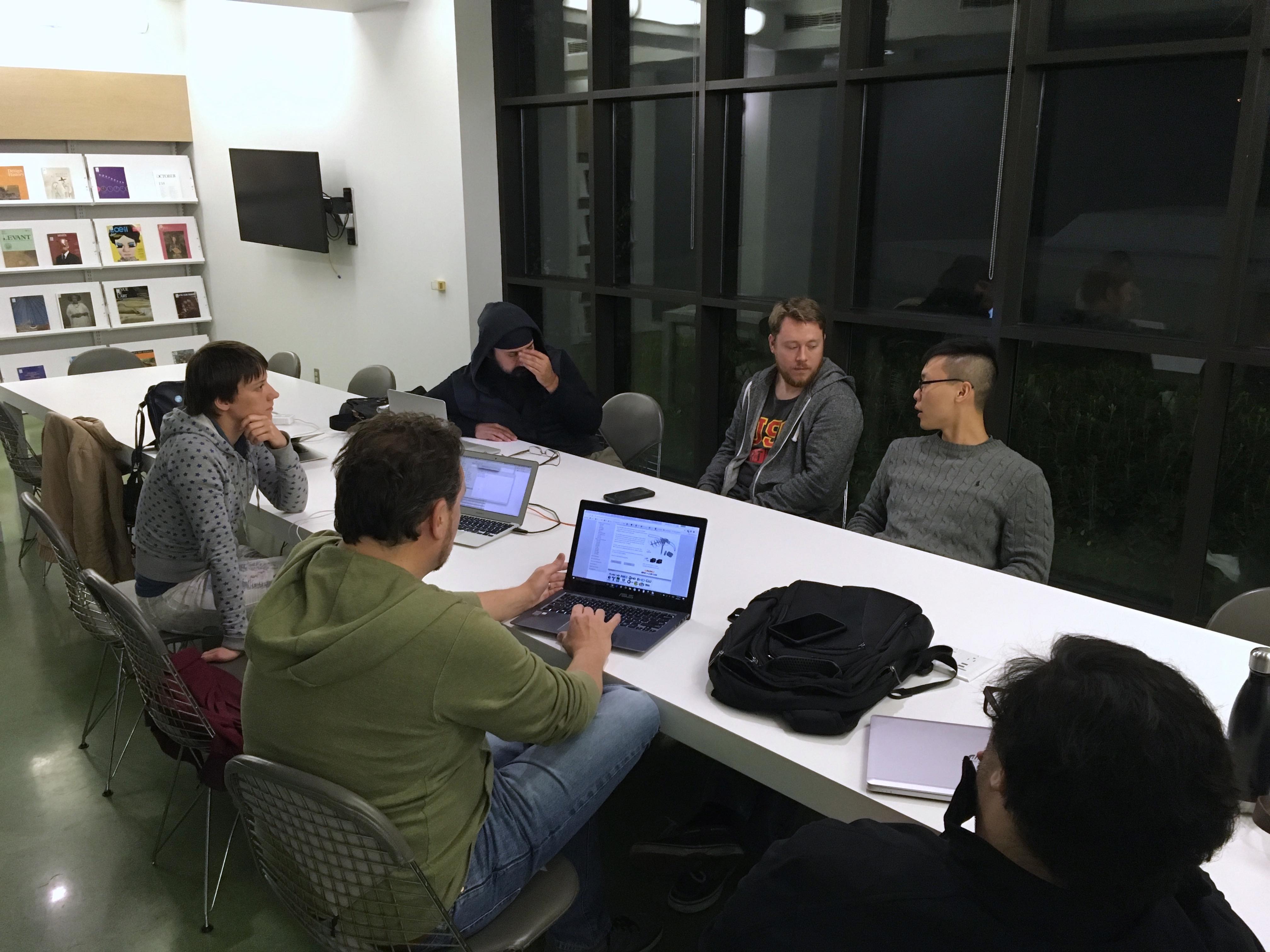 One of the supporters of the work of the Art + Technology Lab is SpaceX. And so, with satellites on our mind, it didn't take us long before we got in touch with Meharban, Jeremy, Paul, Devin, and Han, all at SpaceX. We had a meeting, and made a plan.
The first step in the plan was to go up into the hills north of Malibu, outside the city of Los Angeles, to try to figure out how we might track the satellite in a location with a minimum of radio interference.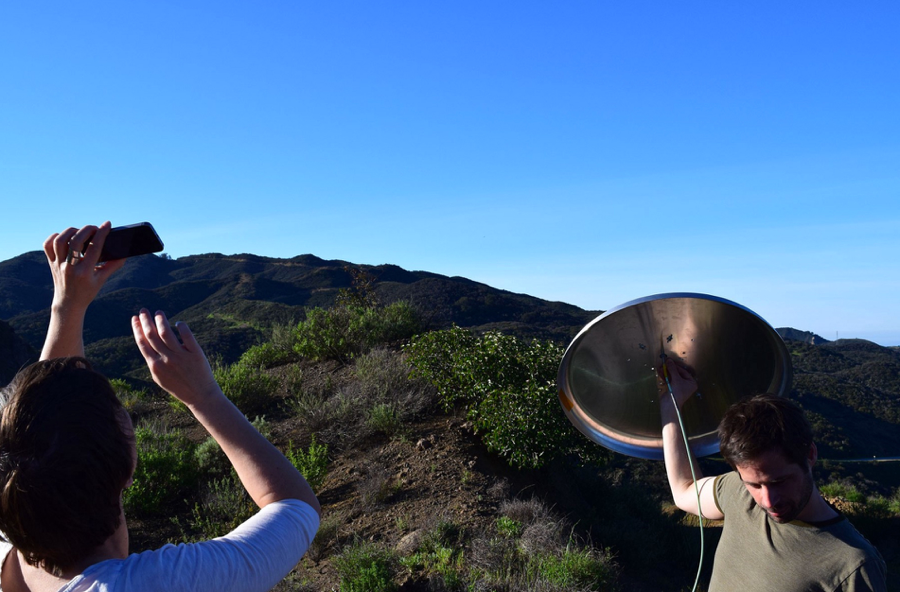 Progress was made, questions were answered, and lists were written. The work is continuing.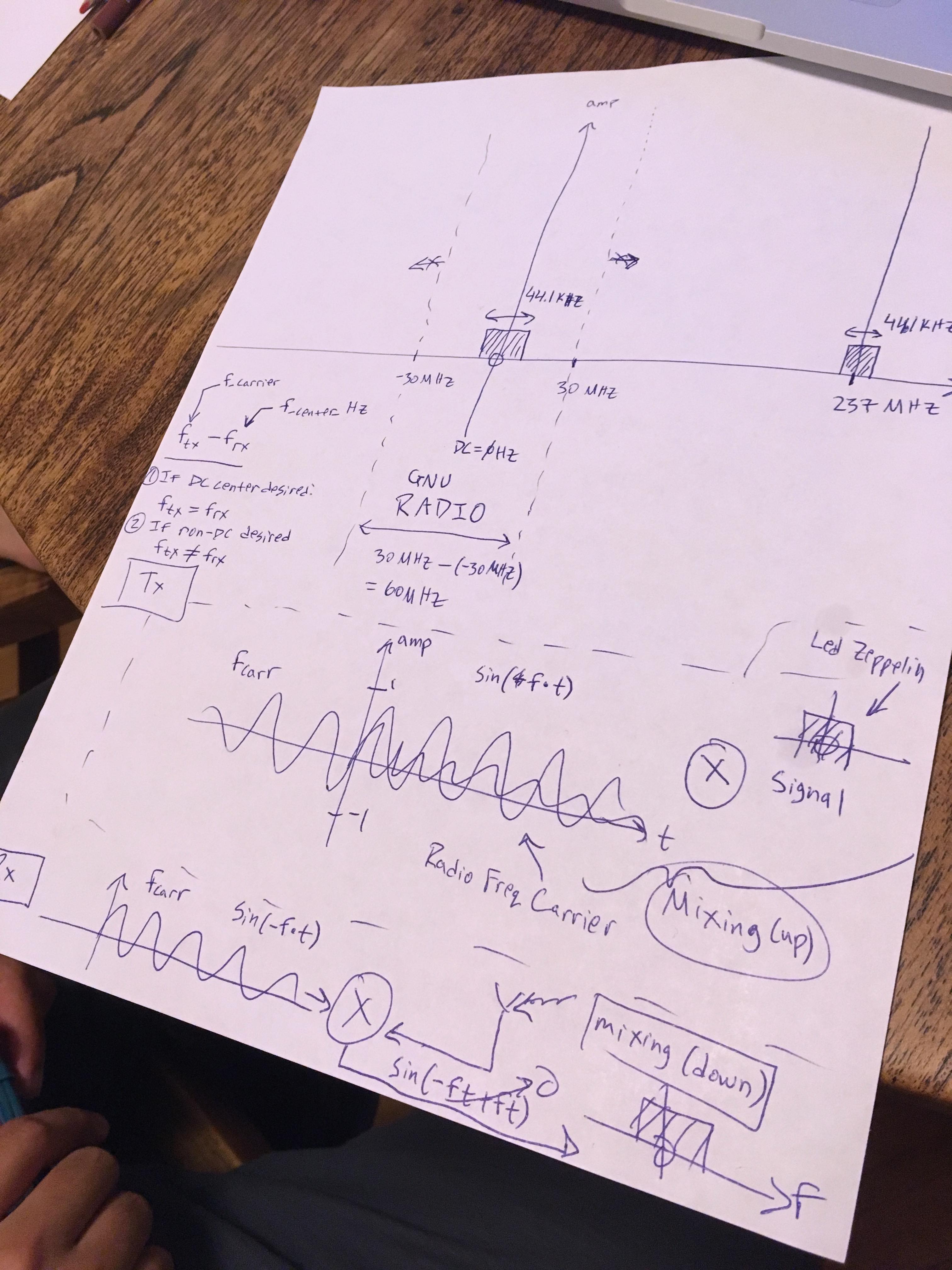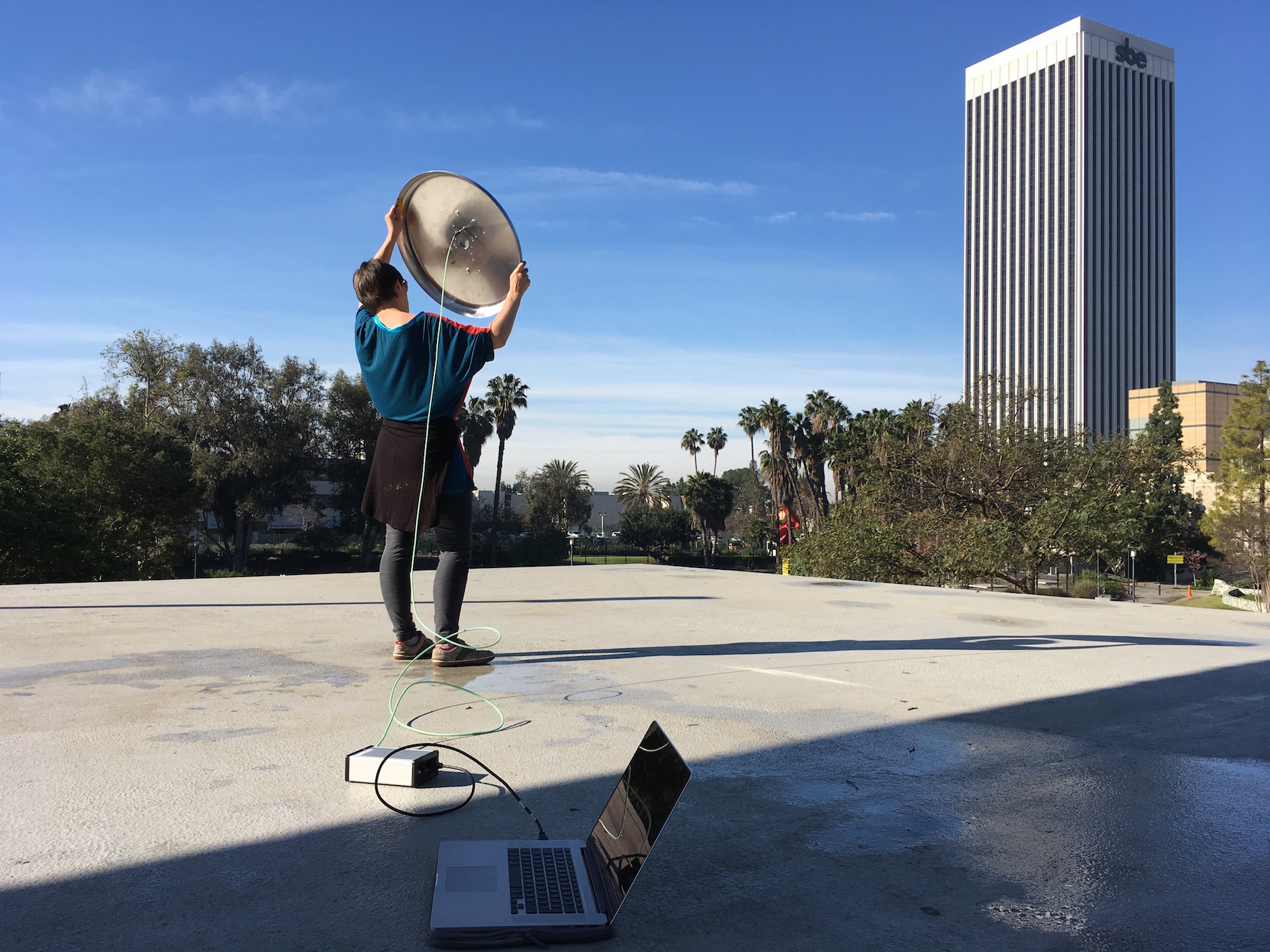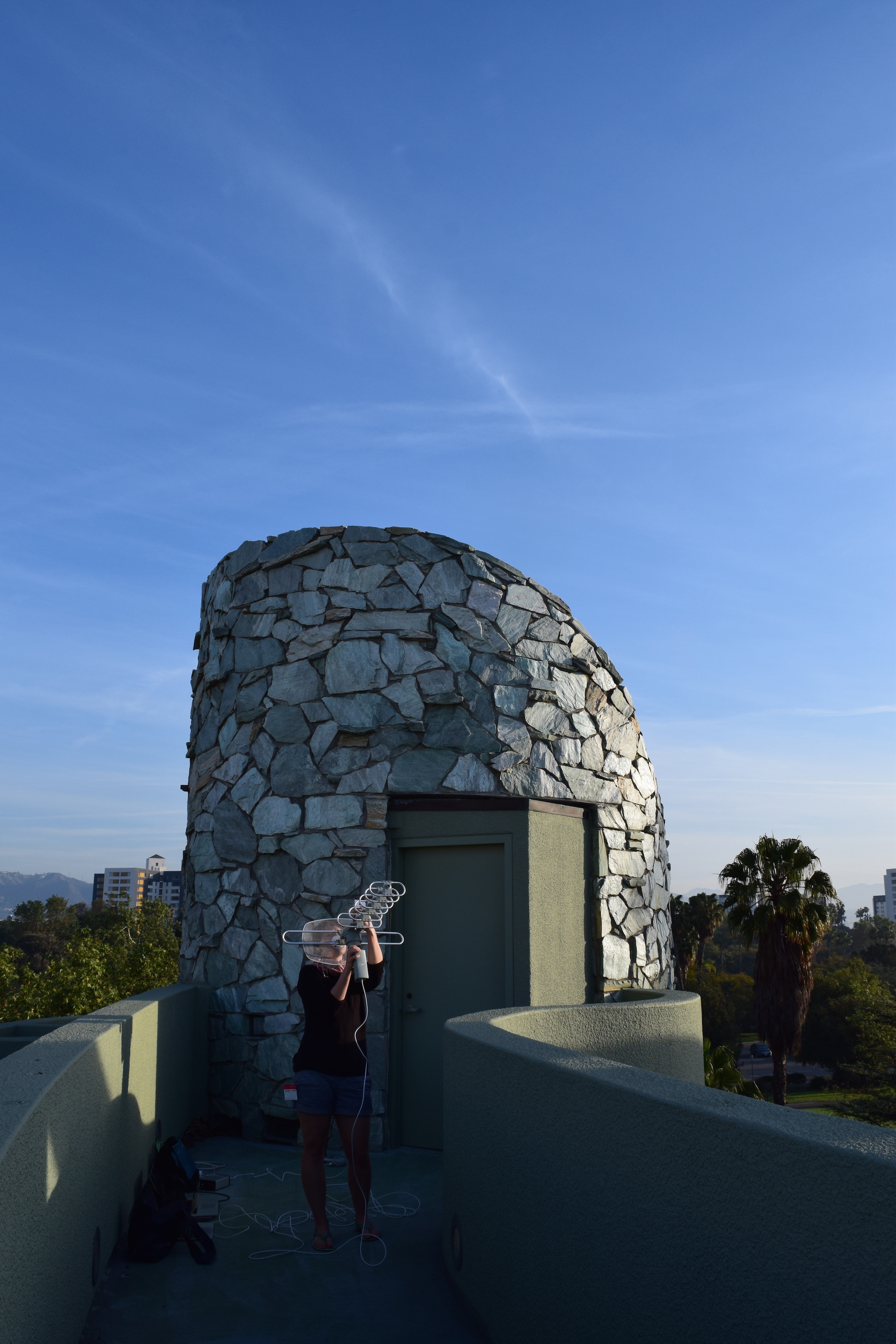 Meanwhile, in another strand of the work, we also met up and talked with Kenric McDowell, Brian Mulford, and Andrea Held from Google — and, through Kenric, we went along to the Machines of Loving Grace symposium, hosted by UCLA.
Separately from this, we also met up with Dan Goods, Visual Strategist of NASA's Jet Propulsion Laboratory (JPL), who is also an adviser to the Art + Technology Lab. We met at the beautiful Huntington Library, Art Collection, and Botanical Gardens in Pasadena, and while we were there, we were able to take a look at Dan's Orbit Pavilion, an installation that also creates sonic representations of the paths of satellites and spacecraft.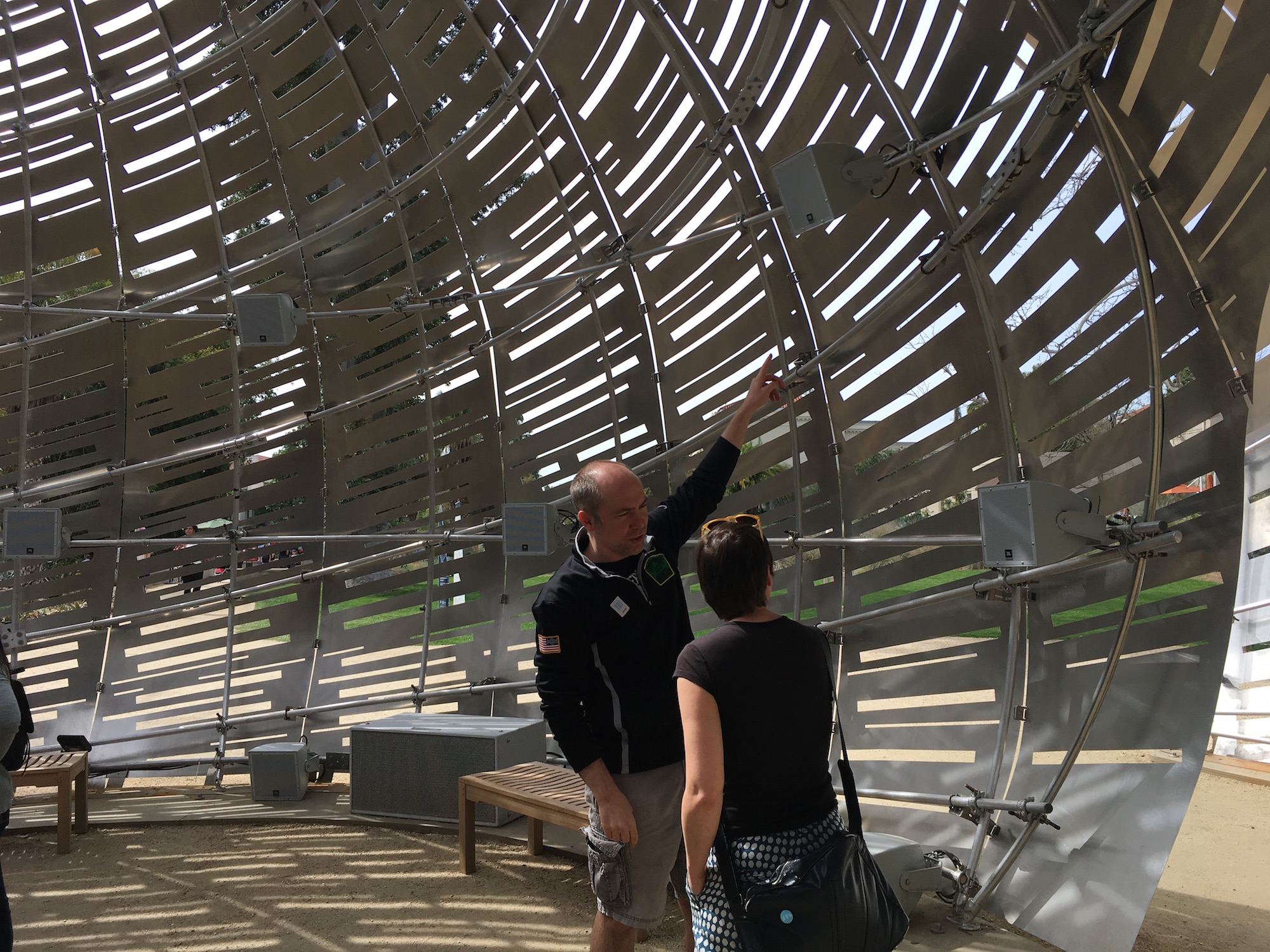 Through Dan, we were also able to meet up with Stephan Esterhuizen, also of JPL, who does a lot of work with very weak signals — like the ExoMars mission and many others. Stephan had plenty of advice to give about our setup, and possible future changes to it. He was also able to help us get some audio out of our existing data.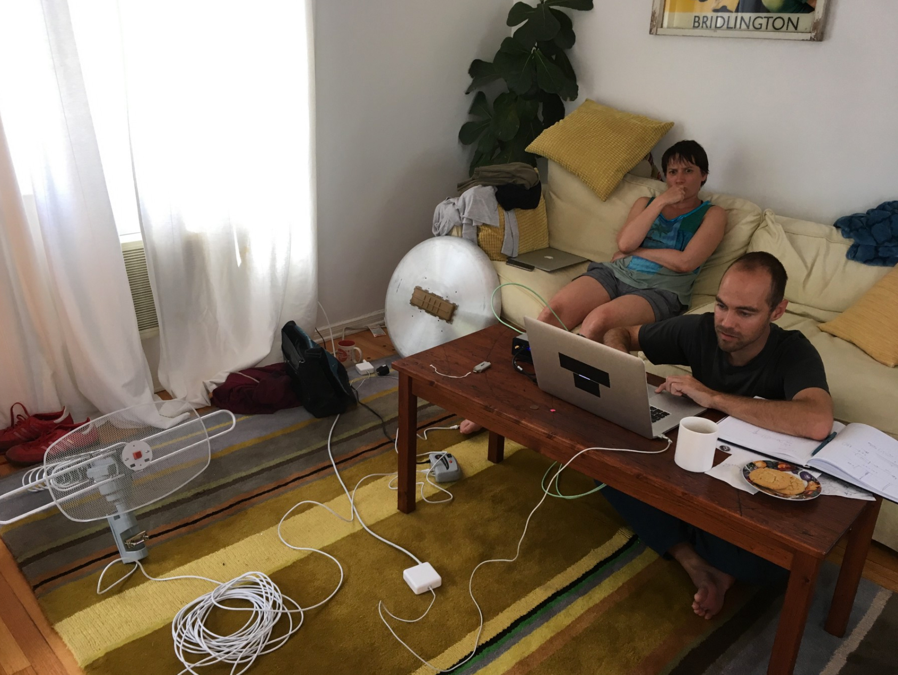 Since leaving Los Angeles, we've been hard at work, and we're hoping to present the final outcome of our research later in 2017. Watch the skies. Or, maybe, listen to them…
The Art + Technology Lab is presented by Hyundai.
The Art + Technology Lab is made possible by Accenture, with additional support from Google and SpaceX.
The Lab is part of The Hyundai Project: Art + Technology at LACMA, a joint initiative exploring the convergence of art and technology.