Twenty-Minute Family Guides give fun prompts for families to learn about art and practice ways of looking that are playful and open-ended. Guides can be printed at home to use at the museum. 
Find the exhibition An Irruption of the Rainbow: Color in 20th-Century Art, tucked in a lovely corner of the Ahmanson Building, Level 2. In addition to color, the three pieces highlighted in this guide have a musical connection. Follow this guide to find the hidden musicality.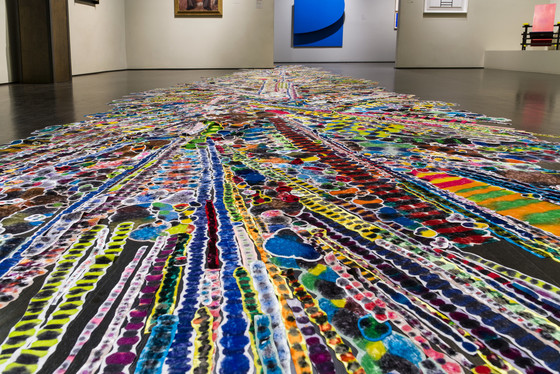 Is this a sculpture? A painting? A collage? Or all three? Artist Polly Apfelbaum thinks of her piece as all three and calls this explosive energy a "floor painting." While listening to punk rock, the artist dyed stretchy crushed velvet fabric then cut out into shapes by following the organic stain. Although it may not seem so at first glance, Apfelbaum laid out the pieces deliberately. She says her art references the noise of the blaring music. Walk around the piece and imagine the sounds of loud drums, fast-moving electric guitar, and the thumping and popping rhythm of the bass. With your group, clap out a rhythm based on what colors, patterns, and shapes you find.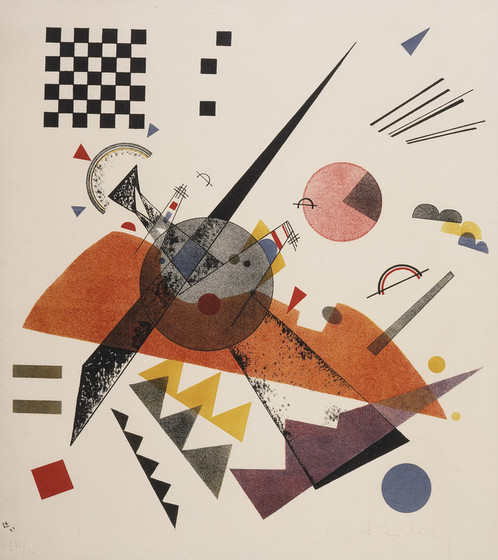 Artist Wassily Kandinsky also infused sound and rhythm into his work. He liked to talk about his art in musical terms. If you step back you can find a rhythm in his paintings.The rhythm creates a sense of movement for the forms. He once said, "the sound of colors is so definite that it would be hard to find anyone who would express bright yellow with bass notes or a dark lake with treble." At first, you might not feel anything. Stand in front of it, and imagine yourself in the art. Start to feel surrounded and enveloped by the colors. Have everyone in your group or family pick a color or shape. Make a sound that the shape or color makes. Form a family orchestra and play together in front of this artwork.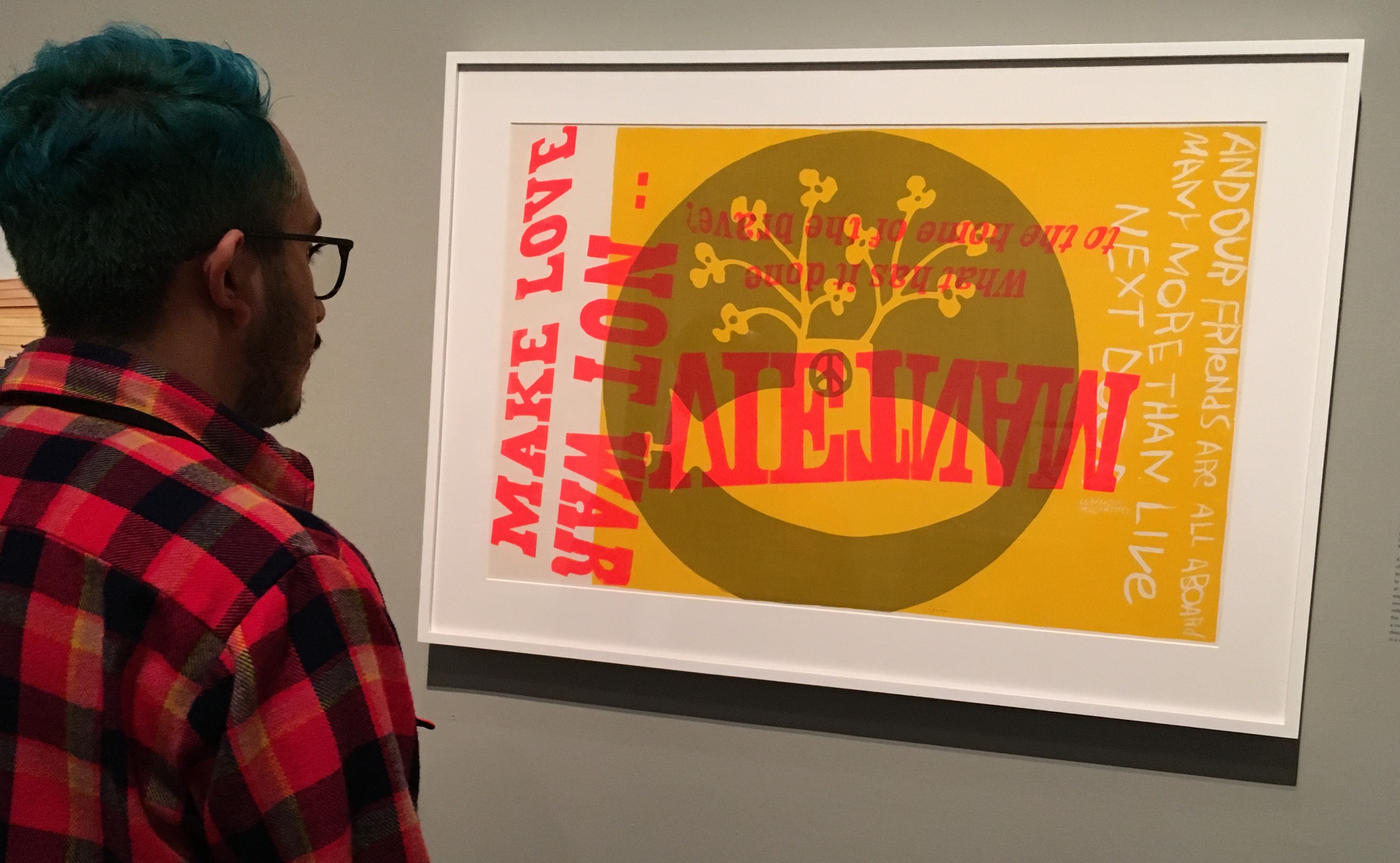 Sister Mary Corita Kent was a nun, educator, social activist, and artist! Her artwork, with its messages of love and peace promoted tolerance and diversity. Notice the colors she chose: yellow and fluorescent orange—bright and warm! Now read the words on the right-hand side of the print. Does anyone in your group recognize the song? It's the famous song by the Beatles—Yellow Submarine! Do you have a favorite song about peace and love? Sing it now! 
Join us on June 4, 11, 18, and 25 for Andell Family Sundays, which will present artist-led workshops and bilingual tours of this exhibition! An Irruption of the Rainbow: Color in 20th-Century Art is on view through July 23, 2017. Special on June 11—author Kay Haring will read from her book Keith Haring: The Boy Who Just Kept Drawing!