Since opening in September 2015, LACMA's Study Center for Photography and Works on Paper has hosted classes from around the Los Angeles area, and sometimes farther, to view artwork from the museum's permanent collection. In fact, 53 groups of high schoolers, undergrads, and graduate students have visited the Study Center for custom viewings of, in total, over 900 photographs, prints, drawings, and graphic arts materials.
By design, the process for planning these visits invites instructors to customize their students' Study Center experience in a way that complements their curriculum. Instructors preview LACMA's holdings online and consult with me and other museum staff to select specific objects from the collection. The selection is then retrieved from storage and displayed in our viewing area on the day of the group's visit. During the actual visits, students usually stay for about one hour, discussing the works. Conversations often drift among art historical topics, technical and materials-based discussions, and the broader historical and social implications of artworks. Students also remark on the effect of being face-to-face with an object they may have only ever seen in reproduction. The physicality of works on paper, and the detail in line, texture, and tone can be wonderfully surprising. As a fan of materials and objects, I'm always delighted to witness the revelatory moments students have when viewing works in person.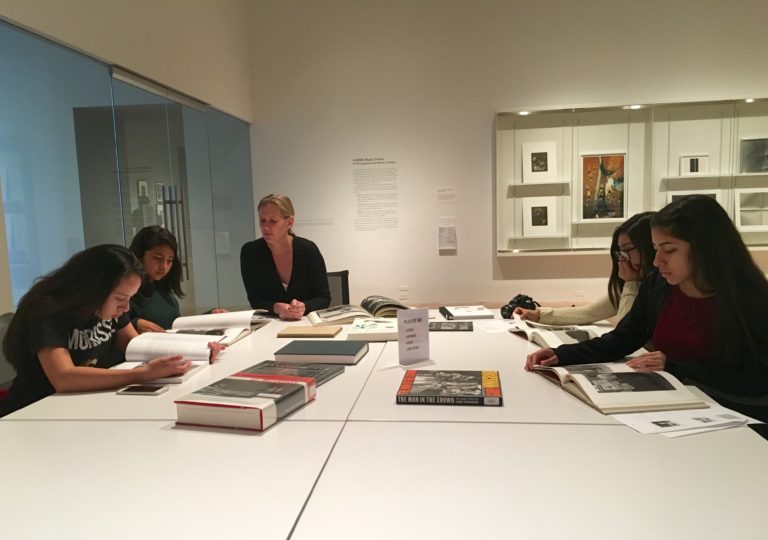 Seeing students excited and inspired by the permanent collection is one of the most rewarding parts of my job, and one recent series of visits was a highlight. Throughout the spring, we hosted a small group of dedicated young artists for monthly visits to view photographs and peruse books from our library. The students came from Las Fotos Project, an organization based in Lincoln Heights, that provides photography mentoring to teenage girls living in communities of color who would not otherwise have access to photography equipment and facilities. Guided by their mentor and accomplished photographer Kristin Bedford, the girls viewed selections in four categories: street photography, women in photography, self-portraiture, and images of Los Angeles. During their four visits, the group viewed photographs by almost four dozen artists—Diane Arbus, Nan Goldin, Max Yavno, Eugène Atget, Louise Dahl-Wolfe, Mariana Yampolsky, and Robert Frank among them.
The visits with Las Fotos were particularly meaningful to me because I know first-hand the positive influence photography can have on teens, and especially teen girls. I was also introduced to photography as a high school student, and vividly remember being captivated by the magic of photo chemisty in the darkroom, by the technical fundamentals, and by the greats in the history of the medium. And I know that grappling with photography, both conceptually and technically, can be a powerful motivator and confidence booster.
To learn more about the Study Center or to schedule a group or individual visit, contact us at StudyCenter@lacma.org or visit www.lacma.org/studycenter.