Tony Smith's Smoke has become such an iconic work in LACMA's collection that it is difficult to remember a time before this compelling and expansive sculpture occupied the atrium of the museum's Ahmanson Building. Originally conceived in 1967 for the exhibition Scale as Content at the Corcoran Gallery of Art in Washington D.C., Smoke was then erected as a painted plywood mock-up (now destroyed) due to high fabrication costs. The final painted aluminum sculpture was fabricated in 2005 by Lippincott—a renowned fine art metal fabrication company based in Connecticut that has worked with Tony Smith (and now his estate) on numerous projects since the mid-1970s.
I recently spoke with Lippincott co-owner Alfred Lippincott to learn more about the fabrication and installation of this monumental piece.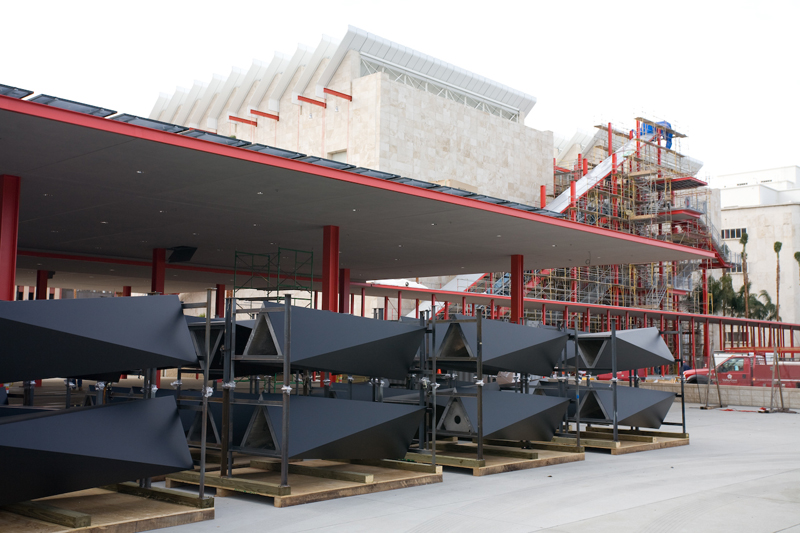 Like many of Tony Smith's works, Smoke is modular in construction. "It is made of 45 eight-foot-long extended octahedra," Lippincott explains, which are "regular octahedra (or eight-sided forms) that have been elongated along a center line." The sides of each octahedron are formed by six isosceles-triangular plates of marine-grade aluminum attached at both ends to "machined cast aluminum bulkheads that control the overall length and allow for bolting the components together." The plates are then "welded together and finished by sanding and carefully working the weld down to the surface plane before preparation and painting." While a smooth and pristine surface is aesthetically important, Lippincott emphasizes that, for them, "the very highest priority" (for structural integrity) is assuring that each component is "dimensionally accurate," adding that each is "accurate to within 20/1000 of an inch."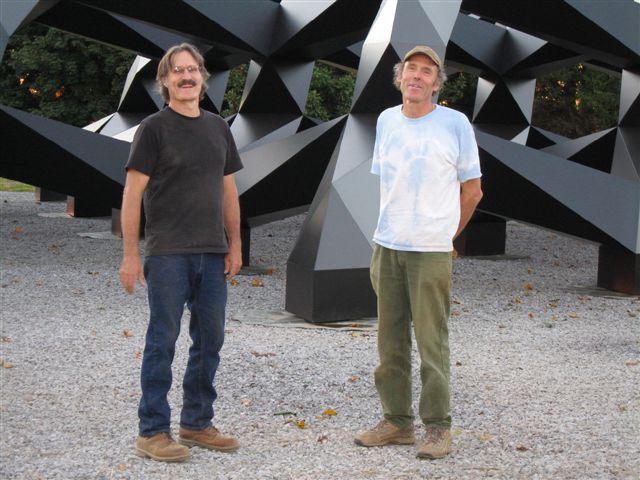 The fabrication of Smoke's numerous components took approximately 10 months and in 2008 all 45 octahedra (along with five tetrahedral assemblies,  16 triangular panels and assorted fixtures) traveled across the country on three flatbed trucks to LACMA where it was assembled over eight days. The installation crew included Alfred, his brother Donald (who founded the company in 1966), a crane operator, and two art installers, one of whom, Adam Swisher, had a very particular skill. Smoke and related large-scale "space-lattice" works by Smith also fabricated by Lippincott (like Moondog, Smog, and Smug) involve bolting components together from the inside, rather than welding them on the outside. Because the hollow octahedral components are very narrow and dark, Lippincott sought out an installer who was also skilled as a spelunker, or cave explorer, to shimmy through the sculpture's interior and fasten the pieces together.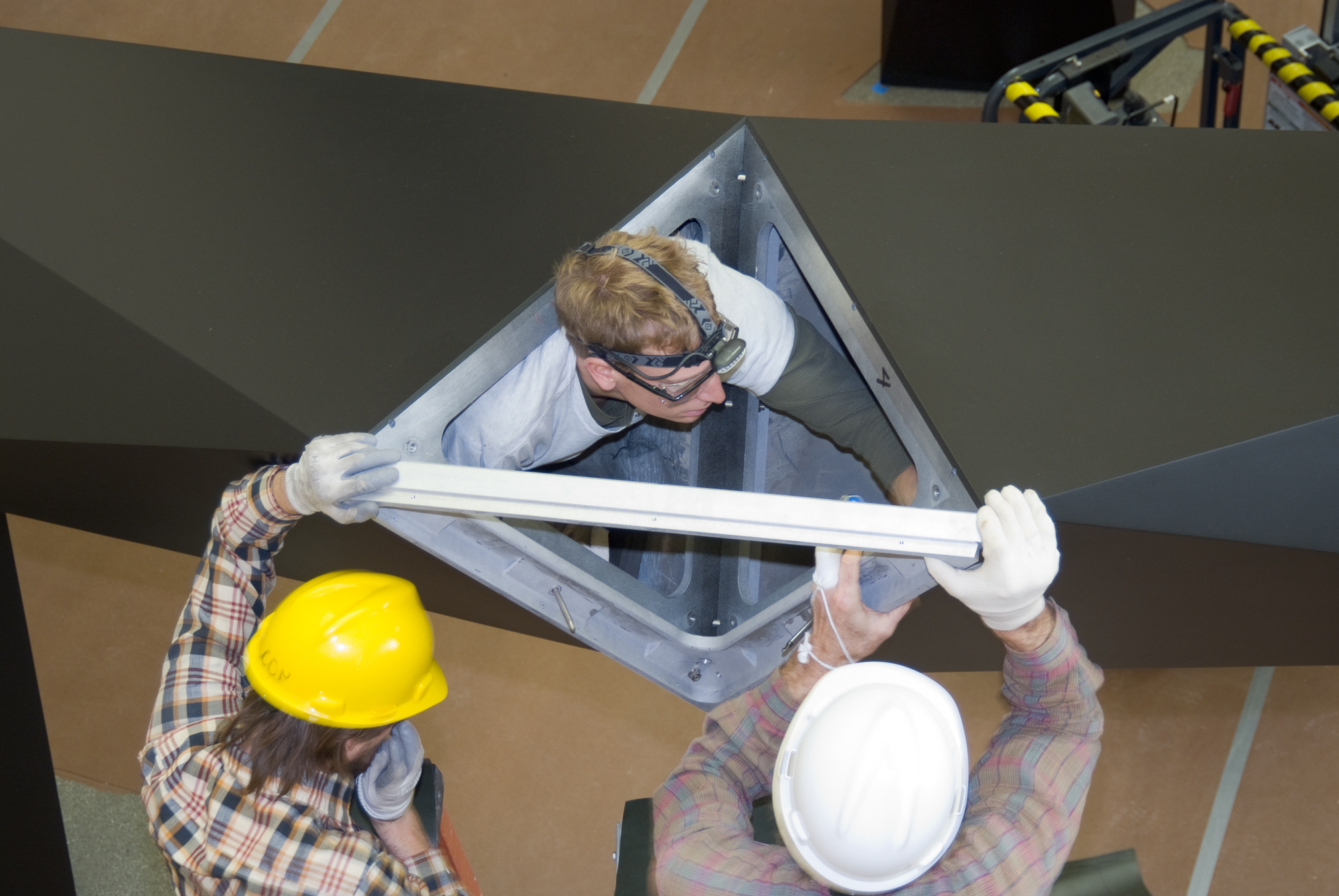 Other challenging aspects to the installation were getting the crane through the passageway and working in a restricted space. Smith's large-scale sculptures are generally installed outdoors so the "size of the room was such that we had to think about where to place the crane, where to start erecting the sculpture, where to stage our assembly fixtures. We mapped it out from start to finish," Lippincott explained. Another effective strategy was putting together two to four octahedra at a time in "sub-assemblies" before having the crane hoist them into their final positions. You can see the installation of Smoke from start to finish in this time-lapse video.
Tony Smith: Smoke, a focus exhibition including related drawings, models, painting, and sculpture, is on view in the Ahmanson Building through July 2, 2017.