We are pleased to announce the AHAN: Studio Forum artists of 2016: Carolina Caycedo, Petra Cortright, Cayetano Ferrer, Nancy Lupo, Sean Shim-Boyle, and Martine Syms, and the AHAN: Studio Forum artists of 2017: Kelly Akashi, Carmen Argote, Ramiro Gomez, Hayv Kahraman, and Max Maslansky. The acquisition of a total of 20 works of art (15 pieces in 2016 and five in 2017) in painting, sculpture, mixed media, video, and installation by these 11 artists is thanks to AHAN: Studio Forum, one of LACMA's longest standing acquisition initiatives supporting emerging talent in the Los Angeles area.
Since its founding in 1963, AHAN: Studio Forum (formerly the Young Talent Award and then Art Here and Now in the 1990s) has supported emerging artists by purchasing work for LACMA's collection early in the artists' careers. Over the years, the group has helped us acquire works by Mark Bradford, Chris Burden, Mary Corse, Njideka Akunyili Crosby, Llyn Foulkes, Sanya Kantarovsky, and many others. Together with our AHAN members of 2016 and 2017, we have purchased 20 significant works of art by these 11 talented artists living and working in Los Angeles.
We welcome these artists into the LACMA family and thank the members of AHAN: Studio Forum for their support, especially Beate and Christopher Chee for additional support in 2016, and Holly and Albert Baril, Susan Hancock, and Jane Siegal for additional support in 2017. While a large portion of our Contemporary Art department's programming and collecting focuses on work by internationally recognized artists, the collection has also been able remain attuned to the dynamic potential and blossoming careers of local artists thanks to this group's support. As Los Angeles has been an epicenter of major modern and contemporary art movements and home to some of the most important artists in the world, AHAN: Studio Forum has been a cornerstone for our commitment to Southern California.
2016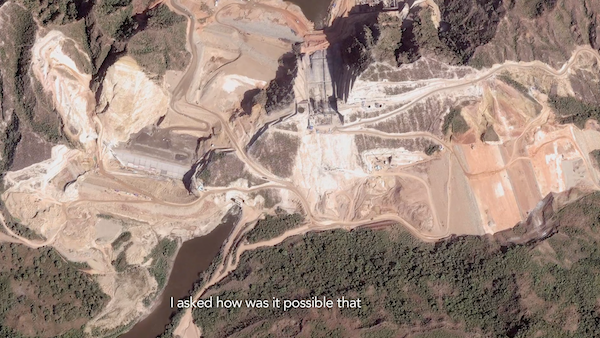 Carolina Caycedo's multidisciplinary and politically engaged artistic practice manifests itself broadly in everything from drawing and sculpture to performance and protests. The sculpture and two videos acquired this year are part of Caycedo's multi-year project titled "BE DAMMED," an investigation of power dynamics and social repression associated with the corporatization and decimation of water resources and rivers. In Esto No Es Agua / This Is Not Water (2015), the artist produces overlaying river portraits. The principal imagery focuses on Cascada Las Damas, a waterfall in the town of Garzón, Colombia. A related video, Land of Friends (2014), is an experimental documentary that synthesizes the Caycedo's research into the privatization of water rights along the Magdalena River. Finally, while Three Arched Knuckle (2013) looks fragile and handmade as if made from clay, it is in fact made of solid concrete. The sculpture is in the shape of brass knuckles, but the source for the design is based on an existing dam. Caycedo's work will be included in LACMA's upcoming exhibition A Universal History of Infamy, part of Pacific Standard Time: LA/LA.
Cayetano Ferrer is a Los Angeles-based artist whose sculptures, videos, and room-sized installations take up (to quote architects Robert Venturi, Denise Scott Brown, and Steven Izenour in their seminal text Learning from Las Vegas) "the megatexture of the commercial landscape." Ferrer scans the built environment looking for design elements drawn from a long history of pattern and ornamentation. In particular, Ferrer has employed the illusionistic architectural details found in simulated environments, such as Las Vegas casinos and convention centers. Endless Columns (2014) is an immersive environment that, upon entrance, seems composed of elaborate architectural components and lighting design. In reality, the installation relies on mirrors and dual video projections on a CNC routed column to produce a form of neon Baroque familiar from Vegas showrooms. The centerpiece for the column design seems to be drawn from the heights of Art Deco but is actually based on a salvaged trashcan from the MGM Grand Las Vegas Hotel & Casino. Ferrer is interested in the history of how architectural and design components have become blended into our built environment. In 2015, Ferrer received a grant from LACMA's Art + Technology Lab where he has been working with object fragments, conservation, and the permanent collection.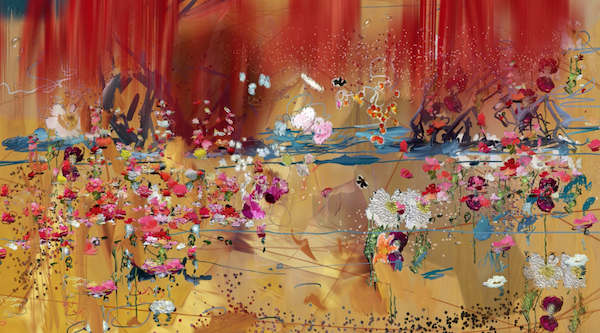 For Petra Cortright, the distinction between an artist working with a paintbrush and a digital tool is nonexistent. Science fiction novelist Bruce Sterling writes, "Cortright's material is scraped from the abyss of Internet pop culture: 8-bit clip art, animated GIF files, free screen savers." What some consider the detritus of digital culture is the artist's palette. The first video, block_roll_thigh (2015), assimilates and transforms the content of Virtualgirl, a program that allows one to purchase short looping videos of strippers that can be used as screensavers. Cortright hacks the program and removes the animated female figures, placing them against a green screen backdrop, long used in commercial film production to transport a character into another location. Cortright's figures are not transported but remain looped in a strange digital limbo, making what was designed as titillating gestures into something uncanny. The second video, all_gold_everything (2015), is a digital painting that animates the layered process of its construction in Photoshop. As such, Cortright aestheticizes certain procedures used in graphic design, through the use of the software's standard tools as well as ones that she customizes herself, and illustrates how, in this digital age, there are new forms of abstraction that mimic the intentional and unintentional consequences of the technology's uses.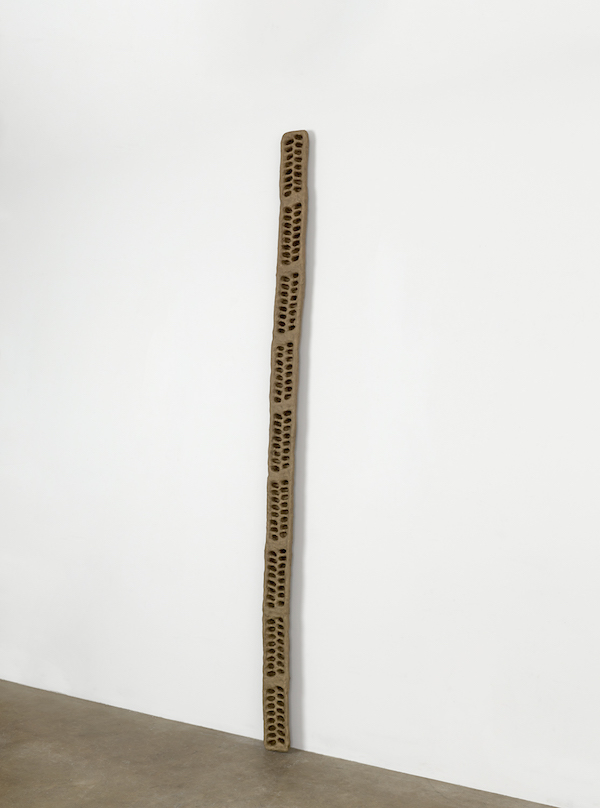 Nancy Lupo is a sculptor and mixed-media artist who has been living and working in Los Angeles since 2012. Her found-object and material mash-ups are at once banal, sensorial, erotic, formal, confusing, and repellant. She incorporates objects such as cast-iron dog food bowls, Rubbermaid Brute rubber garbage cans, bathroom shelving fixtures, kitty litter, quinoa, rotting oranges, ice trays, and dental floss. While they are ordinary in their function and place in the world, Lupo engages the energies of their forms and materiality, attempting to reveal latent meanings and associations through her sculptural interventions. Implicating oddities of our consumerist tendencies, the sculptures contain many forms and compounds, layered inside and underneath the surface materials. BB Two, OV Two, and SPT One (2015) are made of freezer ice trays covered with Magic-Sculpt, barley greens powder, calcium carbonate, acrylic binder, and UV sealer. Read as totems, installed upright, leaning against a gallery wall, their enigmatic geometries and forms are both sculptural and architectural.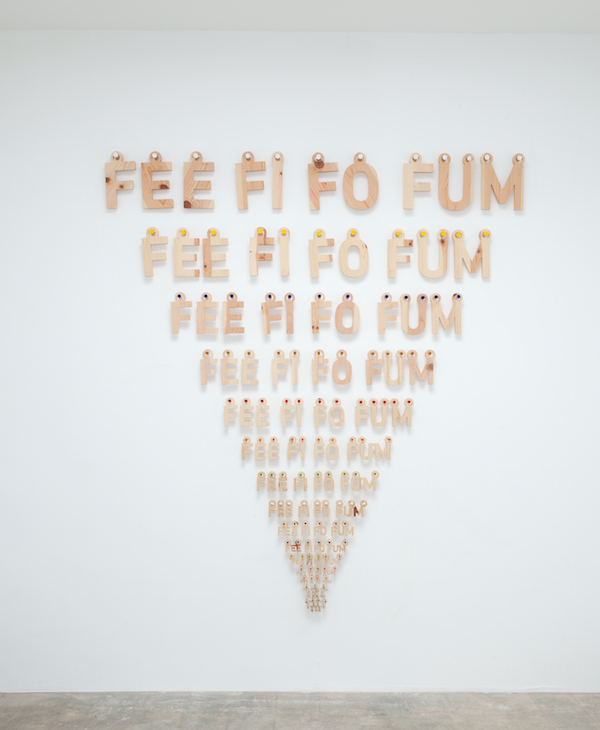 Sean Shim-Boyle's work considers the everyday transformation of raw materials into animated structures. These sculptures and installations tackle social norms through childhood fairy tales, folklore and riddles with moral codes and guidelines, and they offer absurd, melancholy, solipsistic or alternative interpretations related to power, wealth and manipulation. Fee Fi Fo Fum (2016) is one of several sculptures from a recent body of work, which unpacks aspects of the contradictions of popular narratives, primarily the fairy tale of Jack and the Beanstalk. Fee Fi Fo Fum spells out the giant's refrain in simple wooden letters hanging on color-coded dowels arranged from top to bottom descending in size. The play with the childhood toy-like materials, font, and colors draws us into to a reexamination of familiar narratives.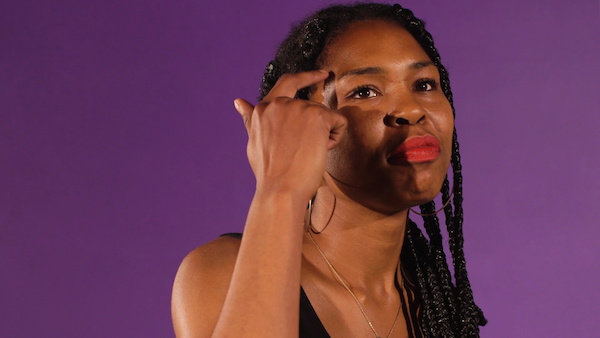 Martine Syms addresses a contemporary culture awash in visual information and media histories. Syms's academic background in media production and her professional experience as a graphic designer, in concert with her generational proclivities to move fluidly across disciplinary boundaries, merge in videos, websites, performance lectures, sculptures, photographs, and installations. Syms's work explores themes as varied as Afrofuturism, queer theory, the power of language, and the spiritual nature of the color purple. Vertical Horizontal Extended, Vertical Elevated Oblique, A Thread Or Line That Holds Things Together (2015) is made up of a C-stand, mounted photographs, the artist's clothes, and sand bags. The C-stand and sandbags are familiar sights on commercial photo and film shoots, while the imagery and clothing add an autobiographical twist and turn the entire ensemble into a form of abstracted portraiture. Notes on Gesture (2015) is a video staged by Syms that features a young African American woman speaking and moving in extremely short segments, fragmented in a way that mimics the looping gifs that populate social media. A related work, Belief Strategy VIII (2015), is a backdrop, similar to those used in theater and film production, that is painted purple, a color whose cultural references and resonances have been a recurrent theme for the artist.
2017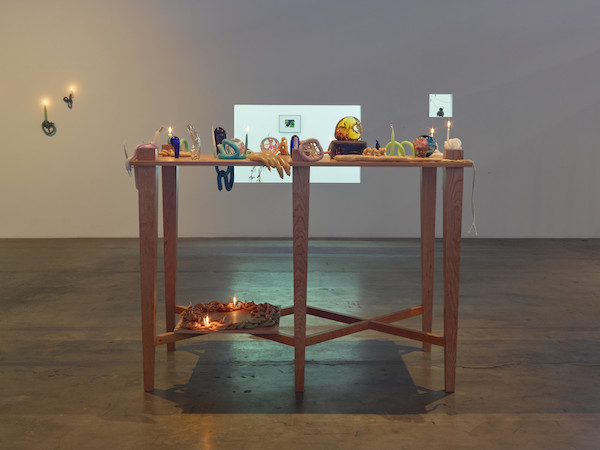 Kelly Akashi's sculptures exist in a tension between allure and repulsion, and body and material. Whether shaping wax, bronze, rubber, or glass, she creates undulating forms that recall coiling snakes, amputated hands, liquid bulbs, braided wires, tentacles, or viscera. Often these materials mimic each other's movements and challenge our expectations of materiality, weight, temperature, and scale. Activity Table (2016) takes the form of a 40-inch tall table upon which twisted candles, hand-blown glass, rope, wicks, and other elements are placed. These elements may be activated whenever the "host" decides to light the candles, releasing their kinetic energy and transforming this otherwise static sculpture into something which is alive and changing. Akashi produces these candles in limitless forms, challenging the notion of what a candle is or can be. Whether burned or left in their uninterrupted form, they suggest a stymied action that "oscillates between possibility and impetus, consecration, and function."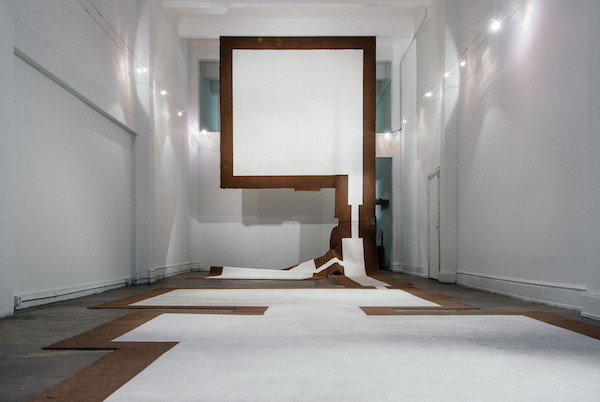 Carmen Argote is a multidisciplinary artist working in sculpture, painting, photography, video, and performance. Many of her explorations originate from her own experiences with inhabited spaces. For Argote, architecture's physicality is inseparable from its role in class structures, familial myth, and shared histories. She brings her own family members into collaborations in order to channel their shared experiences with immigration, trauma, and the notion of home. 720 Sq. Ft.: Household Mutations (2011) is a large-scale installation that is suspended from the ceiling and extended onto an open gallery floor. Exploring spatial memorization and memorialization as well as complexities around private versus public, interior versus exterior, and positive versus negative spaces, it replicates the scale and plan of her family's first home in the U.S., an apartment in the Pico Union area of Los Angeles. (They immigrated from Guadalajara, Mexico, in 1984.) By appropriating the wall-to-wall carpeting, the material transcends its original context and is elevated to a sculptural object. 720 Sq. Ft.: Household Mutations is currently on display in BCAM in Home — So Different, So Appealing as part of Pacific Standard Time: LA/LA at LACMA. 

Ramiro Gomez's drawings, paintings, sculptures, and installations explore disconnects between the experiences of people of different classes and cultures sharing the same spaces: the haves and have-nots, the visible and invisible. Cut-Outs (2015) is a full-room installation of acrylic-on-cardboard panels and sculptures by artist which he started during his residency at Institute for the Humanities Gallery at the University of Michigan in 2015. Measuring 8 x 73 linear feet, the piece moves from exterior scenes of landscaping into the interior of a well-appointed mid-century home. Cut-Outs borrows formally from early David Hockney paintings such as Domestic Scene – Los Angeles (1963), but whereas Hockney's scenes depict leisure and affluence, Gomez draws from the occupational experiences of both himself and his family members to document the presence of the predominantly Latino workforce who maintain the homes, lawns, and backyards of the affluent in Southern California and beyond. Like Argote, Gomez has work featured in Pacific Standard Time: LA/LA exhibition Home—So Different, So Appealing currently at LACMA.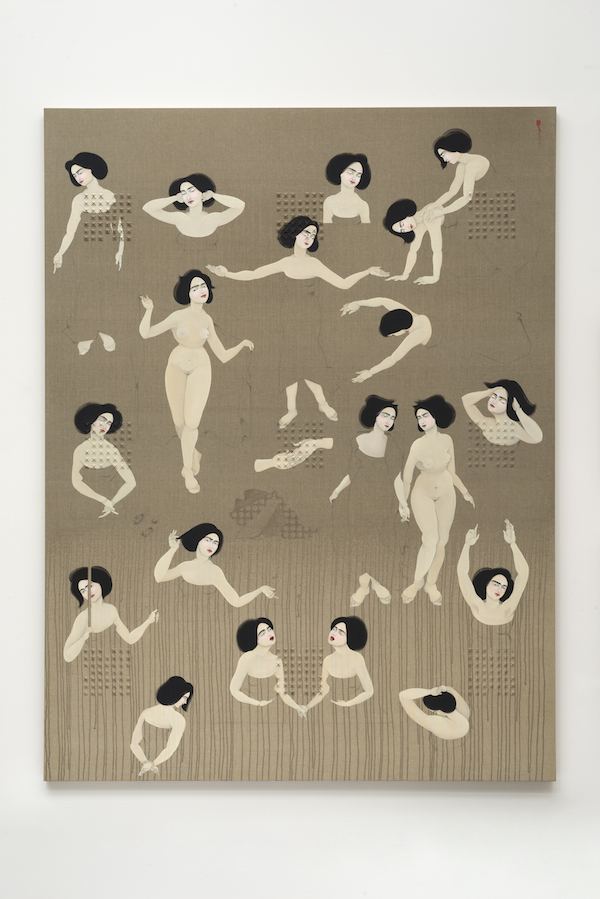 Drawing from her personal history as an Iraqi émigré to Sweden and ultimately to the United States, Hayv Kahraman creates a fusion of Western and Middle Eastern art historical aesthetics that is wholly her own. Her work spans drawing, painting, and sculpture in an intimate and often brutal look at the female identity in the context of diaspora. Search (2016) is a painting that depicts 19 nude female figures and various isolated body parts in varying poses of contrapposto, assuming gestures and body poses adapted from Western military manuals for soldiers deployed to Iraq during the Gulf War. The small crosshatch incisions made into the canvas are tracings of acoustical foam that is pressed against the back of the canvas, cut, and then removed. This material refers to the sonic weaponry that is often used in Western military attacks to disperse people in Iraq and Afghanistan by emitting unbearably loud and unnerving sound.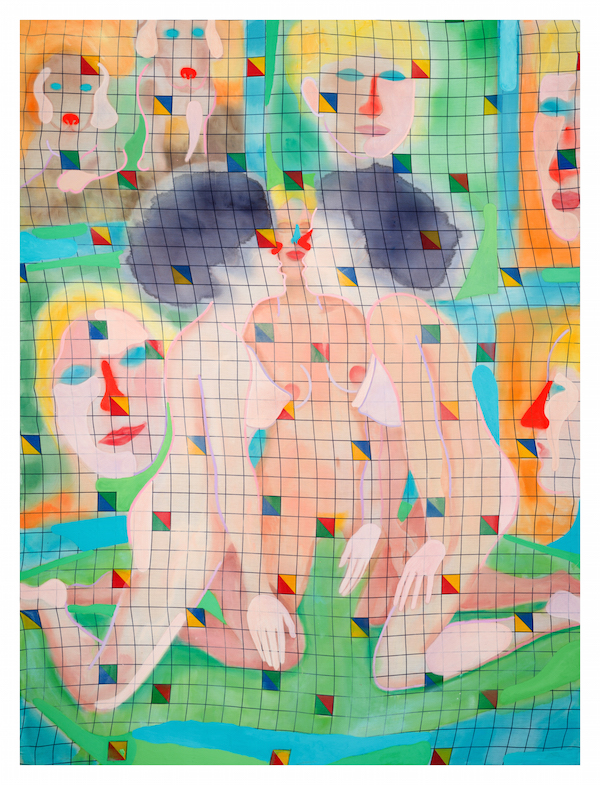 Max Maslansky is a painter best known for reproducing moving image stills on bed linens. The mustacheod figures and style of dress show inspiration from pornography of the 1970s and 1980s. The artist's painterly style, where he renders space through wide expanses of unnatural color, recalls the Fauves of the early 20th century. His lewd figures, except when identified in the title, often remain anonymous due to their shadowed eyes and comical red noses. The artist works with several, consistent, ready-made sizes of bedsheets: queen, twin, half double, half twin, and pillowcase. Each painting plays with the vintage patterning of the sheets themselves, which Maslansky typically sources from thrift stores. Three-Squared (Queen Size Bed) (2017) uses the familiar grid, recalling both graphics of the era and the grid of Minimalism as a checkpoint for modernity.