One of my projects as a Costume and Textiles department intern is to participate in a curatorial review of LACMA's sampler collection, as part of the department's ongoing inventory project. I am very passionate about samplers, so I was thrilled to have a chance to assist in the assessment of LACMA's collection. While looking through the samplers, curatorial assistant Leigh Wishner (now at FIDM) and I came across several examples of exceptional Mexican samplers. Curator Kaye Spilker had already told me about the relatively recent acquisition of a stunning Guatemalan sampler, so finding the Mexican samplers led to the realization that LACMA's small but splendid collection of samplers made south of the United States should be researched and written about for the public.
Samplers are panels of embroidered cloth made to display needlework skills through stitched alphabets, numbers, verses, and decorative motifs. They were typically created by girls and young women from the 17th through the early 20th century, many of whom included personalized inscriptions and dates of completion. LACMA's collection of samplers from Europe and the Americas also includes a unique Guatemalan sampler. While many centuries-old samplers from Spain and its colonies (especially Mexico) have survived, examples from Guatemala are quite rare.
Most girls who lived in New Spain during and after the Spanish Conquest learned how to stitch samplers in convents or at escuelas de amiga, schools for girls whose families could not afford convent educations. While samplers allowed their makers some artistic freedom, they also served a practical purpose—helping girls practice the sewing skills they would need in a domestic setting. The Guatemalan sampler features a variety of techniques and symbols linked to different times and places. The inscription indicates the sampler was made by M. Dolores Zea and probably finished in 1841, though the pastoral scenes flanking the dedication are reminiscent of those seen in embroideries from the 1700s.
The sampler's midsection includes openwork and embroidered squares worked in techniques originating in Europe and colonial Mexico. Several of these squares feature Aztec stitch, usually considered unique to colonial Mexican samplers. It is not, however, surprising to find this technique on a sampler from Guatemala; it was likely taught to sampler-makers throughout Spain's colonies and remained a common feature in samplers from these regions even after they gained independence.

The bottom of the sampler features bands of drawn work, a lacemaking technique that reached its peak in 17th-century Europe. The drawn work was produced by removing selected warp and weft threads from the ground fabric, and then wrapping them with silk thread to add color and create the bands' opulent geometric and floral patterns. In using a needlework technique that flourished 200 years earlier on the other side of the world, Zea was connected to a rich heritage of stitchery.
Three of LACMA's Mexican samplers also feature Aztec stitch, drawn work, and motifs derived from a variety of sources, most likely including pattern books. The first two, made circa 1785, are embroidered with secular motifs—female figures, birds, flowers, celestial images, and spotted felines, symbols that are ubiquitous in European and North American samplers. The double-headed eagles on both samplers may represent the Spanish Habsburg dynasty or refer to ancient Aztec iconography such as Quetzalcoatl—the plumed serpent—or Aztec eagle warriors. Both samplers also have motifs of purely Christian origin: the pelican pecking at its breast to feed its young (symbolizing Christ's personal sacrifice, a motif found on samplers since the 16th century) and the Virgin Mary.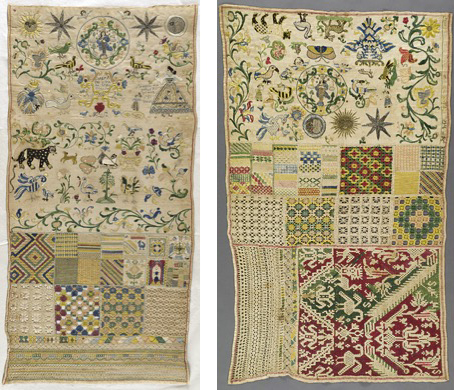 The Virgin Mary is unique to Mexican samplers and reflects the makers' Catholic heritage. All three samplers depict the Virgin as embodying the Immaculate Conception, with a halo of twelve stars. The two 18th-century examples include depictions of mirrors, cypress, and palm trees, all emblematic of Mary's piety.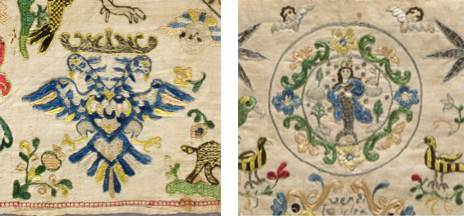 The Virgin is the most prominent image on the latest sampler in this group, whose inscription indicates that it was made by Franca Hernz (probably Francisca Hernandez) in 1867. Even though this sampler dates nearly a century after the 18th-century examples, there is a demonstrable link to the techniques (Aztec stitch, drawn work) and Christian imagery integral to Mexican samplers.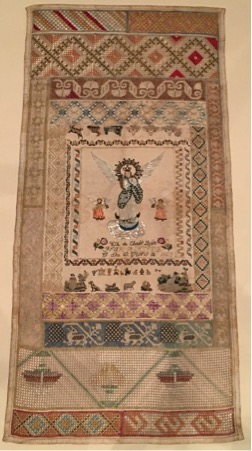 The 18th-century sampler with the Virgin Mary medallion flanked by two silver stars includes two inscriptions: "vendito y loada sea Maria" ("blessed and praised be Mary") and "Joaquina para ti si me olbidares" ("Joaquina, for you, should you forget me"). Like the visual motifs, the sampler-maker's sentiments are both religious and secular. While samplers were practical, they were also personal, allowing us, centuries later, glimpses into the lives of the girls who stitched them.
View an example of a Mexican sampler in the Latin American Art galleries in the Art of the Americas Building, Level 4.