Together with members of the LENS: Photography Council, we visited five lens-based artists this year including Marten Elder, CJ Heyliger, Siri Kaur, Hilja Keading, and A.L. Steiner. With funds provided by the council we acquired work by all of the artists for LACMA, and in each instance this will be the first work by each artist to enter the museum's permanent collection. 
Marten Elder's photographic work reveals the range of color that exists in the world, but is not always visible. With an in-depth understanding of the mechanics of color capture, both in the camera and the adjoining software, Marten disrupts the assumptions that technology makes in terms of color, resulting in photographs that include an outstanding and unusual range of tones. With a background in street photography, Elder seeks out a contemporary application of this approach that, together with his expanded spectrum, causes viewers to see the urban landscape anew.
Most recently his approach has changed, from one that was exterior—walking the city streets—to one that is interior—quiet moments, including windows from inside. This work, PR 56, pictures a houseplant on a table with a range of pinks, greens, and blues that defy our understanding of how a plant is rendered photographically. His conceit is that these colors exist within the objects photographed but are not visible to the eye, and his work categorically shifts that relationship.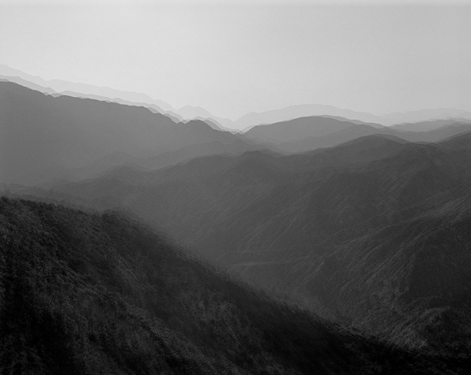 For the last four years, photographer CJ Heyliger has concentrated on the vast and intricate landscape of inland Southern California—from barren deserts dotted with refuse to rich, strangely uninhabited forests. His work registers these sites simultaneously familiar and foreign; naturalistic yet somehow otherworldly. In dialogue with the compositional practice of 19th-century landscape photographers such as Timothy O'Sullivan, Heyliger is a well-versed craftsman and a master technician. The isolated locations he chooses act as studio as well as subject.
In Angeles Crest #3 from Nothing Stands Still (2015), Heyliger set out to re-photograph a single vista in the Angeles Crest Forest, capturing multiple exposures on a single negative. Shot with a large format camera over multiple visits—on different days, with different light conditions—he was never able to view the intermediate images, and thus relied on memory. The resulting product confounds the eye. At first seemingly blurry, the variations in overlapping ridge lines begin to resonate. It is an imperfect repetition. Yet remarkably, there are pockets of clarity in which the multiple exposures align. The parenthetical "from Nothing Stands Still" connotes the artist's performative process of repetitively lugging a camera up a hill. It also calls to mind an aphorism: you can never step into the same river twice.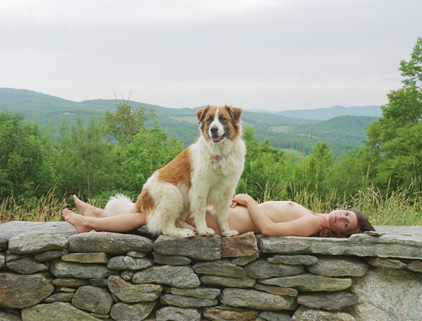 Siri Kaur's enduring images document real life while engaging with a poetic undercurrent that is simultaneously alluring and disquieting. The cinematic tone of Kaur's photographs draws the viewer's focus toward her subjects, which then transform upon closer viewing. Everyday objects and scenes become both strange and attractive, comforting and eerie. Kaur makes pictures that are aware of their status as objects and as images by creating relationships between content and material, between photographs and their viewers, and between the past and the present.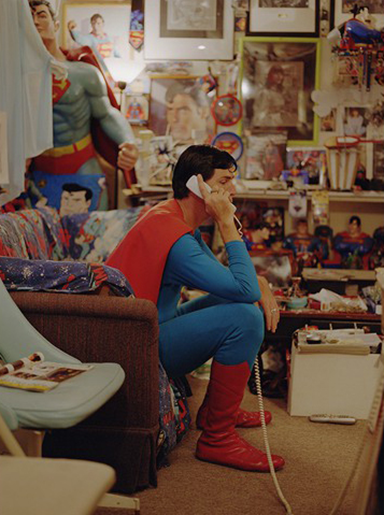 Christopher is from Kaur's series titled This Kind of Face, in which she photographed celebrity impersonators who spend the majority of their time in costume. Here Superman is on the telephone in his apartment surrounded by his own memorabilia in a way that is both humorous and slightly unnerving. Sister is a stunning composition that includes a defiant woman, the artist's sister, protected by her loyal dog, with a verdant landscape in the background. The viewer is held back visually by the rock while that supports the subject.

Working primarily in multi-channel video installation, California native Hilja Keading has been described as a "pioneer of Los Angeles video art," creating immersive experiences that examine connections between visual and psychological worlds. Over her more than 30-year career, Keading's focus has expanded to include direct experiences of symbolic, metaphysical, and even mythological realities that produce sensations of time's elasticity and flashes of profound insight that extend beyond the visible.
Keading regularly presents comparative dichotomies inside/outside, male/female, strong/weak, and mother/daughter. Backbrace is a four-channel video installation in which a mother and daughter are shown spinning around slowly as they speak the words of a letter from one to the other. The poetic lilt of their voices matches the cyclical movement of the camera that shifts and changes warning of potential danger. The dialogue implies the reversal of caretaker roles while suggesting an unspeakable and innate understanding between the two.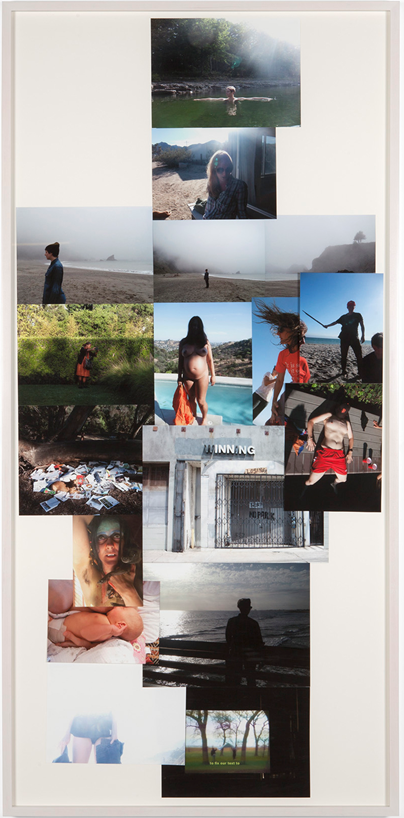 A self-described "skeptical queer ecofeminist androgyne, A.L. Steiner uses the constructs of photography, video, installation, collage, collaboration, performance, writing, and curating in order to explore sexuality, gender, identity, politics, and activism. Steiner's thought-provoking works question and disrupt cultural, societal, and political norms of contemporary life, often with a humorous voice.
Lovers Love Loving Love is a collage of 18 photographs shot in both Northern and Southern California and upstate New York between 2008 and 2015. It includes pictures of Steiner's partner Rachel Berks as well as friends, curators, and artists Zackary Drucker, Chloë Flores, Lauren Davis Fisher, Eve Fowler, Renée Green, and K8 Hardy. As in much of Steiner's work, there is both an honesty and freedom within the images expressed through the body and sex.