When first considering my approach in compiling and editing the section "Other Voices: Reflections on Almaraz's Legacy," which was to be included in the catalogue for Playing with Fire: Paintings by Carlos Almaraz, I began with a "wish list," which included a few select artists and collectors who I felt might attest to the influence of an important artistic figure. After speaking to the two key archivists of Almaraz's life, television producer Dan Guerrero (a childhood friend of Almaraz) and artist Elsa Flores Almaraz (his widow), it became clear that my list had to expand to include an entire chorus of voices. Rapidly my research turned into a unique opportunity to gather remembrances of an extremely beloved artist, mentor, friend, husband, and father, whose impact continues to reverberate not only within the walls of museums but also in the hearts of many. Often in art history researchers elaborate on an artist's legacy. Typically legacy is assessed through a visual analysis of an artist's oeuvre tying techniques and subject matter to future genealogies, art historical inheritance seen within the practices of generations of artists. As I gathered statements and stories and conducted interviews, it became apparent to me that this methodology, while necessary, does not wholly consider the full human impact of an artist's existence. In the case of Almaraz, excluding the personal, I felt, would isolate his practice from the humanity that he expressed within his work.
I have learned through the process of compiling these voices that by allowing personal histories to be told, insights were gained as to possible ways that life experiences, friendships, and family affected the outcome of artworks created. Almaraz left behind paintings, prints, and drawings that are all infused with a distinctive personal iconography that we, as viewers, are challenged to decipher. Iconography that is thoughtfully considered by art critic Suzanne Muchnic, art historian Aimée Brown Price, and actor Cheech Marin. Articulated by artist Jeffrey Vallance is a unique glimpse into Almaraz's visual exploration of world cultures. Vallance and Almaraz shared a friendship rooted in their common love of Polynesian culture and symbolism. And perhaps most touching is the recollection offered by environmental biologist Maya Almaraz (his daughter), who recalls painting Anonymous Donors (1989) with her father, reproducing his iconic imagery, when she was six years old.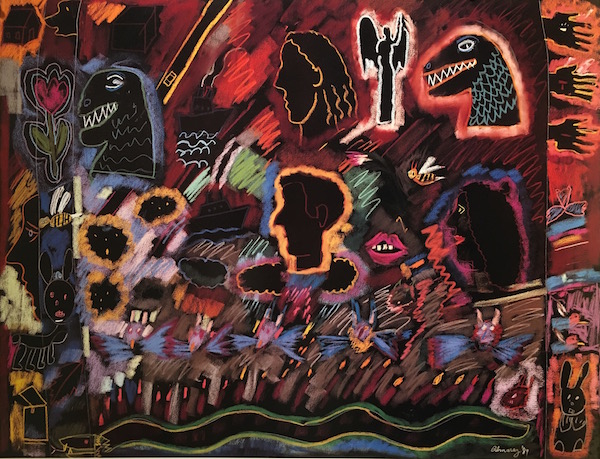 Another interesting insight was revealed within my process. Considering past historization of Almaraz, scholars have found it can be difficult to reconcile the shift Almaraz made when returning back to his studio practice, which was viewed as an abandonment of the principles of the Chicano movement. It is my hope that the "Other Voices" section clarifies Almaraz's personal goals in returning to more private work as an extension of his earlier community work, advocating for a Chicano presence in galleries and museums by paving the way for generations to come. The writings of law professor Monroe Price elaborate on Almaraz's foresight into the importance of the Los Four exhibition at LACMA in 1974 and how the exhibition would introduce audiences to Chicano art. Furthermore, in the later years of Almaraz's life, his sense of community did not falter as he continued to advise artists so that they may thrive. The excerpt from my interview with artist Harry Gamboa Jr. as well as the account by artist Daniel Brice demonstrate Almaraz's devotion to spreading pragmatic advice. It is perhaps this belief and bolstering of others, or perhaps his thirst for life, or his sense of humor, that many remember best. In fact, it is all of these many facets that comprise the artist and the man Carlos Almaraz. My thanks to all the individuals who lent their voices to this project that highlight his humanity.
Playing with Fire: Paintings by Carlos Almaraz is on view through December 3, 2017.