For its second rotation on LACMA's campus as part of A Universal History of Infamy, Nuevo Museo de Arte Contemporáneo (NuMu) will present Retrospective: A Solo Exhibition by Regina José Galindo, which opened last weekend and will be on view through February 19, 2018. The exhibition will include 28 photographs—each documenting a different performance by the artist—as well as a selection of her poems and a sound piece.
Regina José Galindo (Guatemala, b. 1974) is one of the most influential artists in Guatemala, where she lives and works. She is a visual artist known primarily for her performances that explore the ethical implications of unequal relationships of power, namely those involving political corruption and racial and gender discrimination. Photographic and video documentation of her performances serves as an extension of her practice in the museum context.
Insistent on being called an artist rather than an activist, Galindo often pushes her body and wellbeing to the limit in physical acts that brilliantly manage to be as poetic and beautiful as they are painful to witness. The difficult social and political realities that she invites audiences to confront, through observation and, at times, participation, are often highly localized, but always seek to affect a universal, collective conscience.
By the time the artist was born, Guatemala had been in the midst of a bloody civil war for 14 years, one that would continue until 1996. Originally a soldier that quickly rose to the rank of army chief of staff, Efraín Ríos Montt led a coup to overthrow President Fernando Romeo Lucas García on March 23, 1982. During his dictatorial rule (1982–1983), Ríos Montt executed a violent campaign against political dissidents and was personally responsible for the genocide of much of Guatemala's indigenous population, though many of these deaths were either never acknowledged, or claimed as disappearances. Much of Galindo's work alludes directly to this national trauma.
In an early work, No perdemos nada con nacer [We have nothing to lose by being born] (2000), Galindo lay inside of a transparent bag as if she were human waste, remaining in Guatemala City's municipal landfill for several hours. Though an analysis of this piece under the Guatemalan context makes a clear reference to the disregard for human life that she witnessed during her formative years (and that reading is integral to an understanding of the artist's oeuvre), her gesture here can also be read as a critique of violence against women, another frequent theme for Galindo.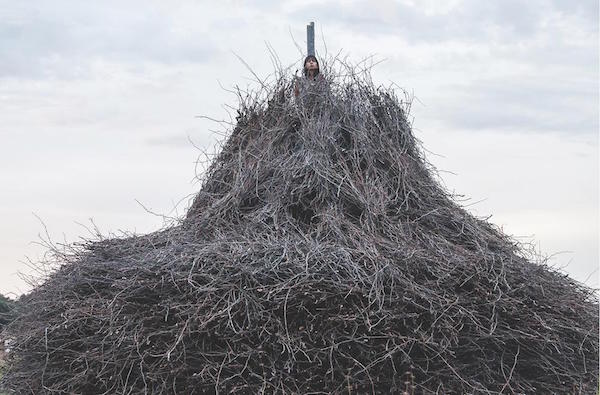 In La intencion [The Intention] (2016), the artist was tied to a pole by the wrists and ankles while a group of participants surrounded her with a thick cone of branches. She alluded to the history of witch hunts—infamous for having occurred in large numbers in Salem, Massachusetts, but in reality, having occurred across several geographies and spaces of time—a phenomenon which, according to the description on Galindo's website, continues to occur in the present day in varying, obscure forms. The work is ultimately a comment on the actions taken against individuals and groups that are feared, rejected, and oftentimes expelled by the majority.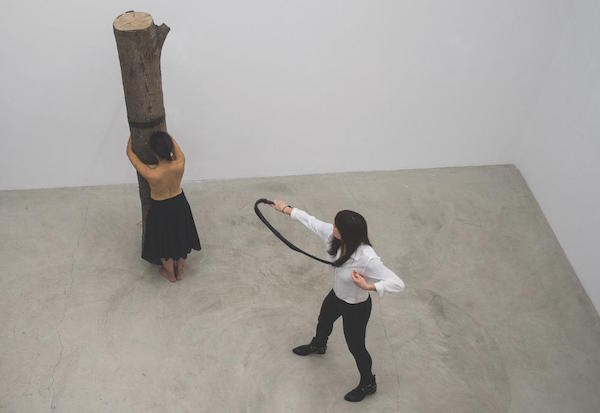 Galindo's retrospective in NuMu will also include a photograph from her most recent work, Make America Great Again (2017), staged on October 28, 2017, on the last day of her solo exhibition, Bearing Witness, at Baik Art Center in Los Angeles (September 9–October 28, 2017). For this performance—which I attended— the artist's wrists were tied around a tree trunk installed in an otherwise empty gallery space. A tin can lay on the floor, open for donations that each resulted in a gallery attendant whipping Galindo harshly on the back. The audience stood for one hour, many clutching dollars in their hands, but most ultimately deciding against being responsible for inflicting pain on the woman who stood so vulnerably before them. Eventually, a member of the audience walked up to the trunk and untied the knot. For several minutes after the artist left the space, many of us continued to stand and look at each other, vaguely confused and melancholic, but deeply and distinctly stirred.
Learn more about the artist in the video below.
Videos of some of Galindo's performances are included in at least two additional Pacific Standard Time:LA/LA exhibitions at other institutions: Guatemala from 33,000 km: Contemporary Art, 1960–Present at the Museum of Contemporary Art, Santa Barbara (through December 17, 2017) and Video Art in Latin America at LAXART (through December 16, 2017).
NuMu's journey to LACMA is powered by