It can feel difficult to understand contemporary art as it often takes forms that are not traditionally recognizable as art. But in that flexibility of form there often is playfulness and openness. We've tapped into this playfulness and openness this month as we dive in to the exhibition A Universal History of Infamy, with opportunities for making, moving, scouting, and seeing for families.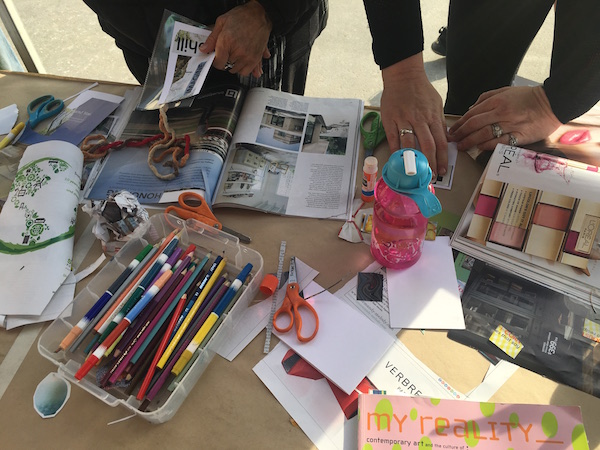 Make:
Artist Eszter Delgado's workshop Wearable Storybook: My Fav Moment is inspired by themes of time, memory, personal stories, and travel. Families are invited to make a book in three parts: writing, drawing, and collage. They start by picking a memory of something special in their lives,  then they write out the story and make a drawing. The last component is to make a collage to go with their story. She encourages the young artists to look for color and shape in the collage materials, rather than images. Eszter says that by recording the story in a book, families can capture a memory that may be lost with time. She is also intrigued by how the same memory is told in different ways by each family member.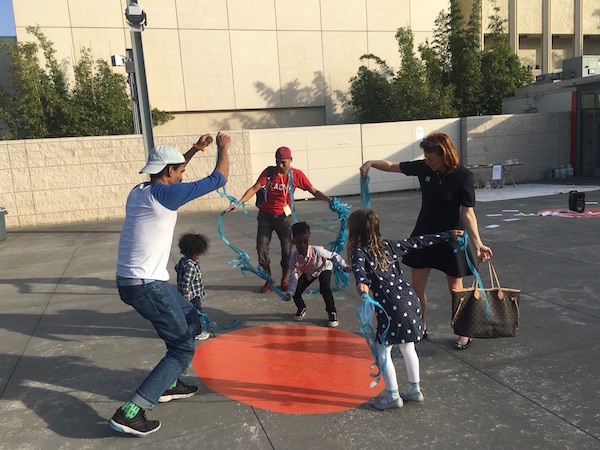 Move:
Artist plante semillas buenas believes that we can learn through sharing nonverbal interactions through dance, movement, and drawing/writing based activities. Inspired by Carolina Caycedo's artwork Serpent River Book, plante semillas buenas has created a performance space called # Islands where families explore different aspects of water; how water moves, and the sounds water makes. Families create their own water-inspired dances and movements that are playful and dreamlike. At intervals, plante semillas buenas leads a "trail dance" that takes a serpentine path through the performance space. Families are invited to follow the movement experience with drawing or writing.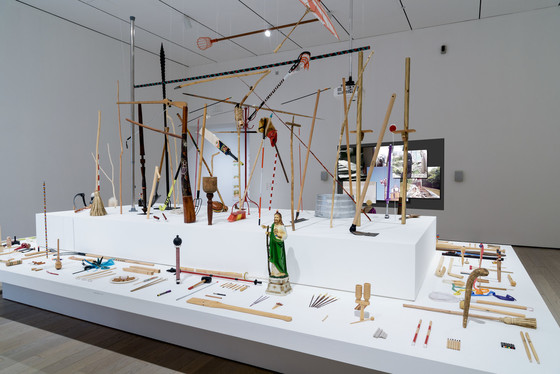 Scout:
The workshop Little Archeological Studies is led by artist Jose Sanchez and is a playful take of field studies. The workshop is inspired by artist Michael Linares's installation and video—Museum of the Stick/Museo del Palo. For his artwork, Linares investigated the use of stick-shaped objects (drumsticks, forks, scepters), scouting the internet the way an archaeologist scouts a site. In the workshop, Jose asks families to scout LACMA's campus in search of stick-shaped objects. Just like in an archeological study, they record what they find on a worksheet by writing or drawing what they discover.
See:
See the art in person! Join educator Gloria Wescott in the exhibition. Gloria is genius at engaging all members of the group, no matter what age (even preschoolers!) in conversation designed to make personal connections, provoke playful interactions, and incite curiosity. And it's in English and Spanish! Don't miss out—Gloria will meet families at the Andell Family Sundays welcome table at 1 pm, 2 pm, and 3 pm. Keep your ears cocked for her announcements.  
Your family can participate in these workshops as part of the Andell Family Sundays program from 12:30–3:30 pm on two Sundays: January 14 and 21. On January 28, LACMA is participating in SoCal Museums' Free-for-All Day. Due to large crowds, only the # Islands workshop will be offered. A Universal History of Infamy is on view through February 19, 2018.