I entered Mark Grotjahn: 50 Kitchens at LACMA and immediately felt as if I were hearing a low humming sound. The space itself, the arrangement of the paintings, and the recurring image depicted by them had triggered a synesthesia. The sound wasn't actually in the room, just in my head. Not unfamiliar to me, the effect works bi-directionally; sounds manifest color and form in my mind's eye, and light and form prompt tone in my mind's ear. Perhaps this is why I am a sound designer, which is like being a composer. Whereas a composer works with a palette of musical instruments, I use sound that is more randomly sourced and selected and manipulated to create a composition, usually to accompany a visual, such as a film.
Since my visit to LACMA, I've reverse engineered the sound field I heard and realized that the exhibition resembled a musical composition.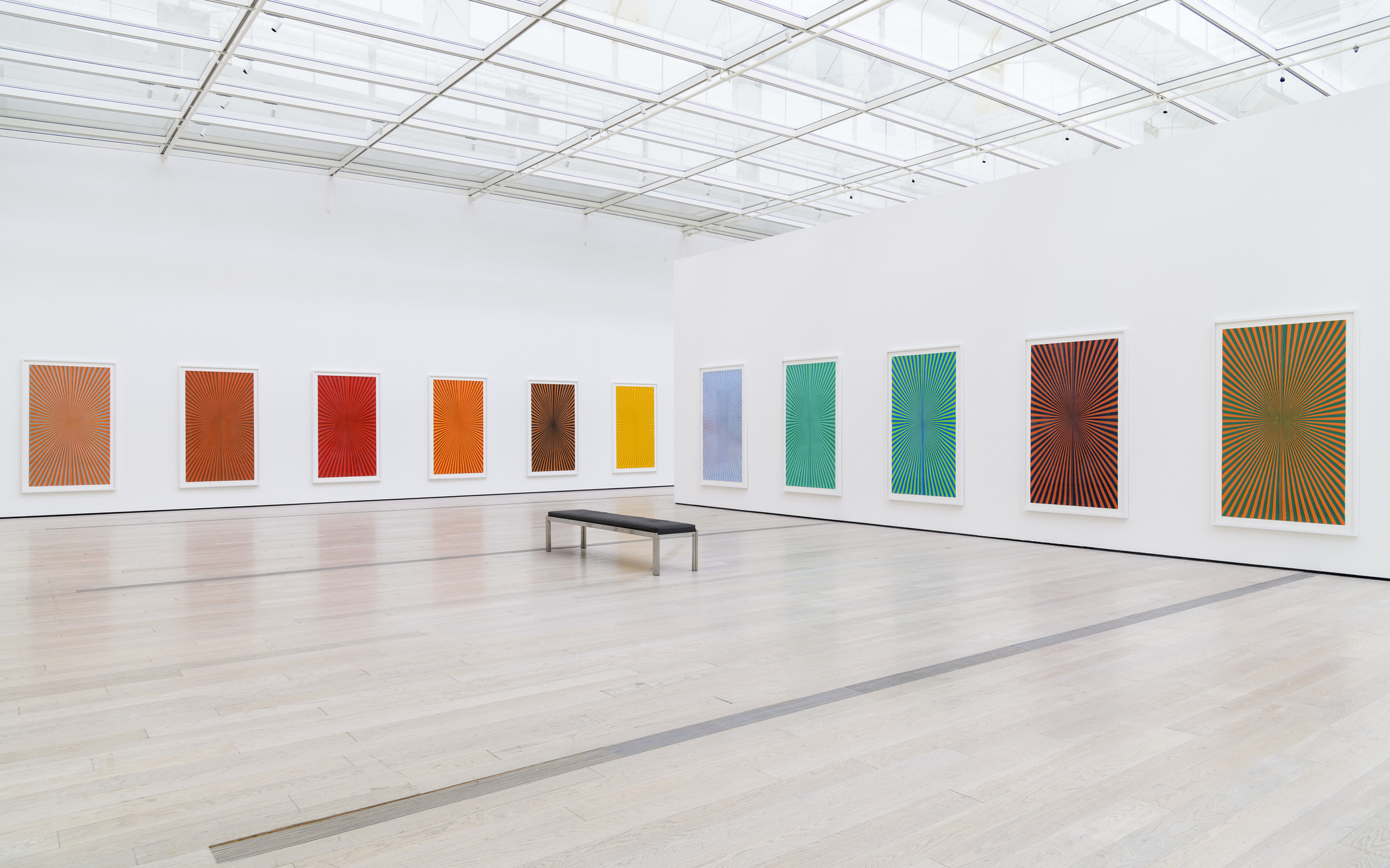 Paintings in a gallery are often curated and organized thematically but the images are usually different from one another. This exhibition as a whole seemed to be the artwork, the space, light, the arrangement of the images, and their similarity to each other seemed intended to create a specific visual composition. The foundational image used in every painting looks sonic, with ray-like lines radiating out from the center of the frame. Color variances are an obvious difference; more subtly, each line has variances, with small fleck marks scattered around. The paintings are hung uniformly, creating lines and rhythms throughout the space. They make me think of orchestral violin players; with almost identical instruments but having minor variations in tone, playing the same notes but with minor variances that combine to create a unified sound.
When sound designing, I arrange elements according to a varying set of parameters tailored to the purpose of the composition. For a film, the sounds match action on one level, while on another level compositional decisions address arcs of volume and energy over the duration of the piece. Silence is an element—the way black is the color of no color, silence is the sound of no sound and can be an effective way to underscore a moment. The paintings, hanging there with such latent energy, and the exhibition as a whole, made me think of a low humming, slightly pulsing, gently hanging in the air like a force field. Something like a white noise, erratic and flickering, skittering in and out of audibility, as if it represented the paintings' energy, or the echoes of visitors reacting to the work. It was a soothing sound, entirely in sync with the harmony of the rows of paintings in the limbo of the white, beautifully lit room. 
Stephen Dewey is a globe-roaming sound designer for film and installation based in Los Angeles. Mark Grotjahn: 50 Kitchens is on view in BCAM through August 19.