"Mom! That's the song I danced in my recital!" a young participant shouted while dashing to join the hula dance workshop last Sunday at Andell Family Sundays. The workshop she joined is being offered every Sunday in September and led by teachers from award-winning Hula Halau 'o Lilinoe, a dance group based in the South Bay. The dancers are teaching families the history of hula, simple dance steps, and songs. We are excited to include hula—in addition to its grace and strength, it is a artform that models family engagement as it is passed down from generation to generation, often with multiple generations dancing together.
September's family program is inspired by remarkable textiles made by Pacific Islanders. The textiles are called tapa, or kapa (in the Hawaiian Islands), and are usually made from the bark of mulberry trees, but can also include fibers from hibiscus, breadfruit, or banana. The textiles are painted with designs and sometimes use stamps or stencils. Making, wearing, and gifting of tapa continues to be very important to Pacific Islanders. 
In the Art of the Pacific galleries, Gloria Westcott's bilingual English/Spanish tours will lead families to look closely and share their discoveries as they view textile and sculpture from several islands such as Hawaii, Fiji, and Vanuatu. Gloria's tours are interactive and flexible to include everyone from toddlers to grandparents! To take the tour, meet at the Andell Family Sundays welcome table at 1, 2, or 3 pm. Also in the galleries, stop by the sketching cart where educators Damaris Garcia and Lorenzo Baker will provide pencils (including colored pencils), paper, and helpful drawing tips.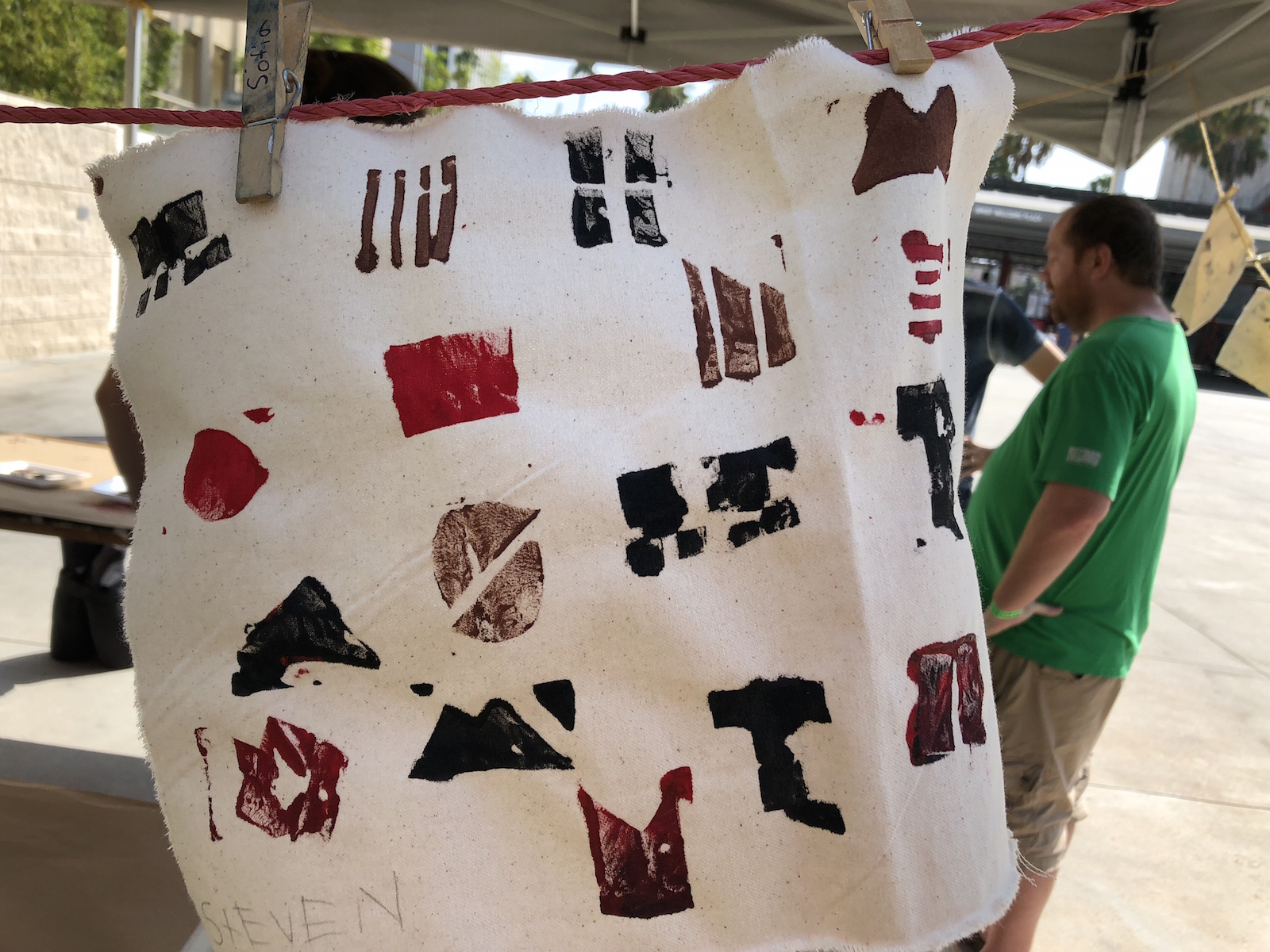 In artist Peggy Hasegawa's workshop, young artists and their family members are encouraged to make their own designs on cloth by making a personal stamp (that they get to keep!). Using simple shapes and a limited color palette, each person brings their own style to create patterns inspired by tapa.  
If your family includes toddlers, stop by artist Eszter Delgado's workshop. Also inspired by tapa, Eszter has prepared brown paper to look similar to barkcloth and stencils in nature shapes, like flowers and leaves, for our youngest artists to use in their art making. Last Sunday one adventurous kid even used their foot! 
Dance a hula, make a tapa, and learn something new together as a family! Join us September 9, 16, 23, and 30, 12:30–3:30 pm. Tours are at 1, 2, and 3 pm. We would love to see you!