LACMA Art + Technology Lab grant recipient Tavares Strachan will launch his project ENOCH into space this fall. Created in collaboration with LACMA, Strachan's ENOCH is centered around the development and launch of a 3U satellite that brings to light the forgotten story of Robert Henry Lawrence Jr., the first African American astronaut selected for any national space program. In this new body of work, Strachan combines hidden histories, traditions of ancient Egypt, Shinto rituals and beliefs, and the history of exploration. The anticipated launch date is Monday, November 19, 2018.
Lawrence died in 1967 while training a junior pilot in landing techniques at Edwards Air Force Base, and his aspirations to go to space were never realized. He was an accomplished Air Force pilot, the first doctorate-holding aerospace researcher to be selected as an astronaut, and the developer of the "flare" technique, now a critical maneuver of space shuttle landing. Despite his belated recognition in 2017, in which NASA leaders honored his many contributions on the 50th anniversary of his death, Lawrence remains virtually invisible amid the commemorative culture of space exploration.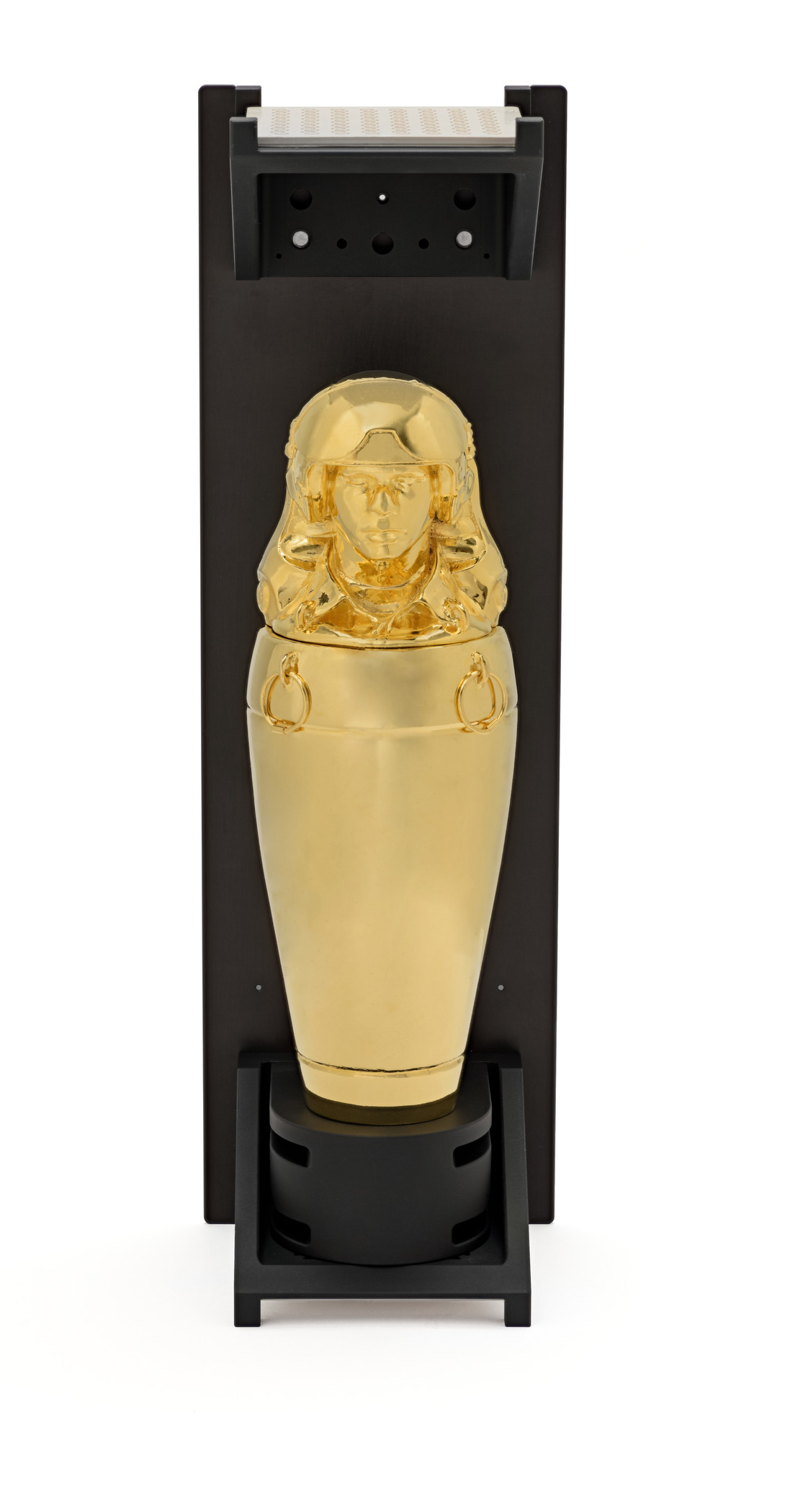 To honor the astronaut's legacy, Strachan created a 24-karat gold canopic jar with a bust of Lawrence. The canopic jar nods to a practice employed by the ancient Egyptians to protect and preserve organs of the deceased for use in the afterlife. The canopic jar was blessed at a Shinto shrine in Fukuoka, Japan, and was recognized as a container for Lawrence's soul. Named in the ritual blessing as "Robert Lawrence – Enoch" the object incorporates three religious traditions, all of which center on the agency of objects and the potential of a person's spirit to endure. The name Enoch refers to a biblical figure (present in Jewish, Christian, and Muslim sacred texts) who never experienced mortal death, instead ascending directly into the afterlife. Strachan's work integrates ancient belief systems with our current faith in technological progress—while rendering that progress inseparable from the efforts of the unrecognized lives that built our contemporary world.
The satellite containing the canopic jar is contracted to launch via Spaceflight's SSO-A: SmallSat Express mission from Vandenberg Air Force Base on a SpaceX Falcon 9 rocket. The sculpture will circle the earth for approximately seven years in a sun-synchronous orbit.
SpaceX is a founding sponsor of the LACMA Art +Technology Lab. In May 2014, Strachan met with SpaceX President and COO Gwynne Shotwell, an advisor to LACMA's Art + Technology Lab, to explore how technology could push his art practice in new directions. Under the premise of the artist's Bahamian Aerospace and Sea Exploration Center (BASEC), Strachan worked with small-scale rockets made from Bahamian natural resources from his home country (glass from beach sand and fuel from sugarcane), launching them and collecting their fallen remnants to exhibit as sculpture. Propelled by these conversations, Tavares embarked on an exploratory project that unfolded into two parts, the Chalkboard Drawings (2015) and ENOCH.
For the Chalkboard Drawings, SpaceX engineers discussed scientific concepts of interstellar space with to a group of children, ages 7–10, from LACMA's NexGen program, using a dry-erase board to illustrate. Strachan has often engaged children in the production of his artworks and has previously worked with students in the Bahamas and the United States. The illustrations generated by the discussion were then interpreted and annotated by Strachan and incorporated into artworks embossed in large slabs of chalk. These works and others will be featured in a future solo exhibition of Strachan's work at LACMA.
Learn more about this project at lacma.org/enoch.
The Art + Technology Lab is presented by:

The Art + Technology Lab is made possible by Accenture, Snap, Inc., and DreamWorks Animation.
Additional support is provided by SpaceX and Google.
The Lab is part of The Hyundai Project: Art + Technology at LACMA, a joint initiative exploring the convergence of art and technology.
Seed funding for the development of the Art + Technology Lab was provided by the Los Angeles County Quality and Productivity Commission through the Productivity Investment Fund and LACMA Trustee David Bohnett.