September Andell Family Sundays programming is inspired by the exhibition The Allure of Matter: Material Art from China, which features contemporary Chinese art. Sometimes it can feel challenging or difficult to understand contemporary art as it often takes forms that are not traditionally recognizable as art. But in that flexibility of form, there can also be playfulness and curiosity. Andell Family Sundays teaching artists and gallery educators were excited by the unconventional art materials used in the exhibition, and came up with fun projects.
You may want to start out by seeing the art firsthand. A great way to do that is by going on a bilingual tour led by educator Gloria Westcott. Her tours are interactive and flexible to include everyone from toddlers to grandparents! Gloria will lead families to look closely, and discover together. To take the tour, meet at the Andell Family Sundays welcome table on the Zev Yaroslavsky Plaza at 1, 2, or 3 pm. Also in the galleries, stop by the sketching cart where educator Krys Murry will provide pencils (including colored pencils) and paper, and offer helpful drawing tips.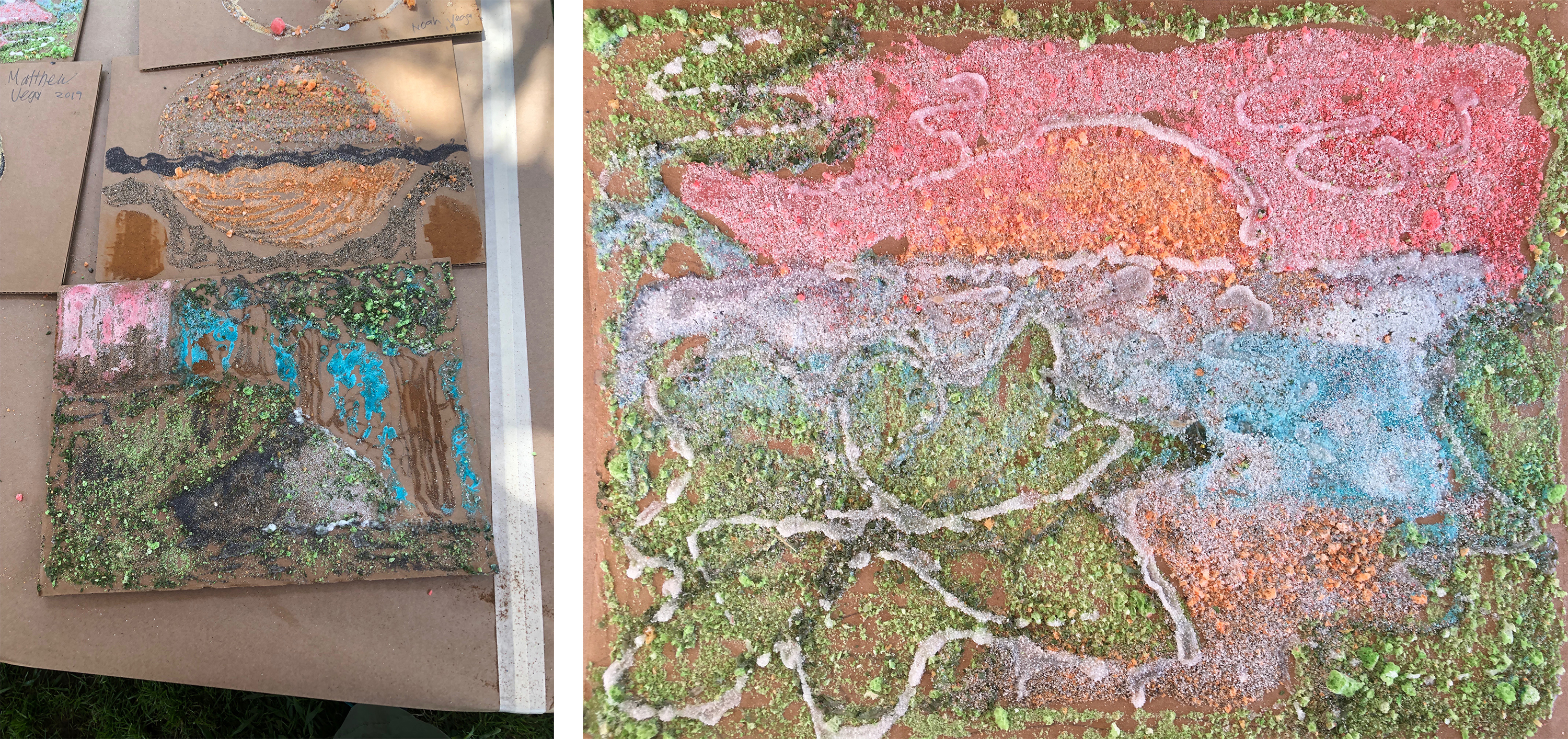 Teaching artist Hadley Holliday was interested in how artists Cai Guo-Qiang and Zhang Huan use gun powder and incense ashes, respectively, to make their paintings of landscapes. Riffing on that idea, in her workshop Unusual Landscapes, participants can paint a landscape using alternative "pigment" such as crushed up colored cereal, turmeric, and cinnamon. The results have been beautiful, and, an added bonus, they smell good!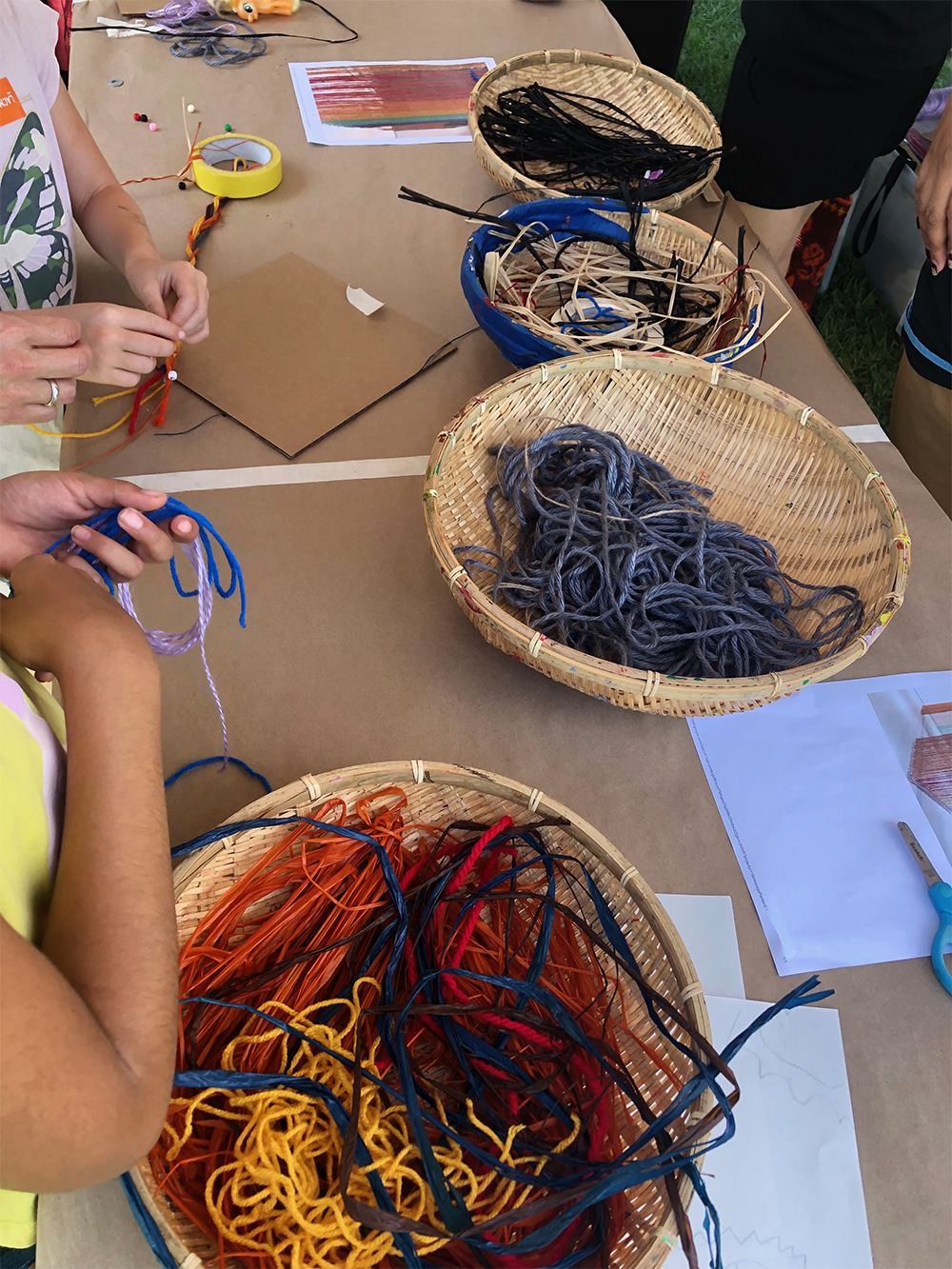 Teaching artist Eszter Delgado was inspired by gu wenda's installation united nations: american code when she envisioned the workshop Weaving Together. She was struck by gu's utopian vision of the world to create harmony through the mixing of different cultures, and how he manifested that idea through braiding. Eszter also thought about how braiding hair is both universal and an ancient practice. In the workshop, participants select three different colors of raffia or yarn, and braid them. While participants are braiding, they are encouraged to talk to each other or think about themes that are important to gu's artwork such as kindness, diversity, harmony, and unity.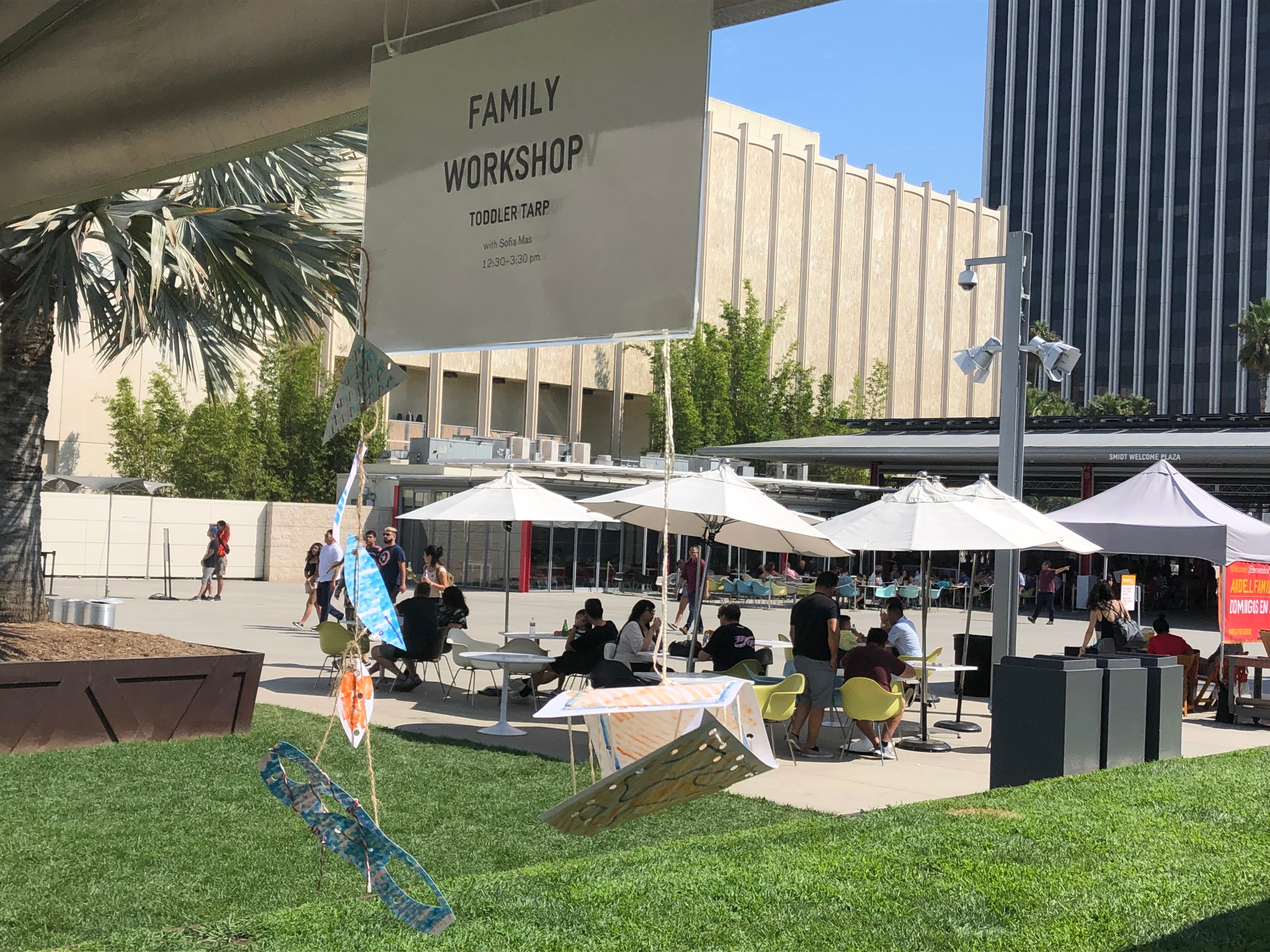 Toddlers always have a special workshop at Andell Family Sundays. Artist Sofia Mas leads these young artists (and their adult assistants) in constructing a hanging sculpture inspired by artist Lin Tianmiao's artwork Day Dreamer and artist Liang Shaoji's Chains: The Unbearable Lightness of Being, Nature Series, No. 79.
Special on Sunday, September 22 at 1:30 pm in BCAM, Level 1:
We are so excited to have author, and illustrator Rachel Ignotofsky read from her fabulous new book Women in Art: 50 Fearless Creatives Who Inspired the World. This beautifully illustrated (and fun!) book celebrates bold women artists who have inspired the world, and paved the way for the next generation of artists. (Some of the artists in her book are in LACMA's permanent collection!) All ages are welcome. The book will be available for purchase at the LACMA Store before and after the event. Pro tip—beat the rush after the reading and buy your book before to follow along!
Your family can participate in these activities from 12:30 to 3:30 pm on two upcoming Sundays: September 22 and September 29. We hope to see you there!