For the second month in a row, Andell Family Sundays in November draws inspiration from the exhibition Every Living Thing: Animals in Japanese Art—because we can't get enough of these delightful depictions of animals!
Baku are mythical beings who eat nightmares. They are part elephant, lion, and ox. Make your own personal baku in a workshop with artist Elonda Norris. You can slip your art under your pillow when you get home and have sweet dreams.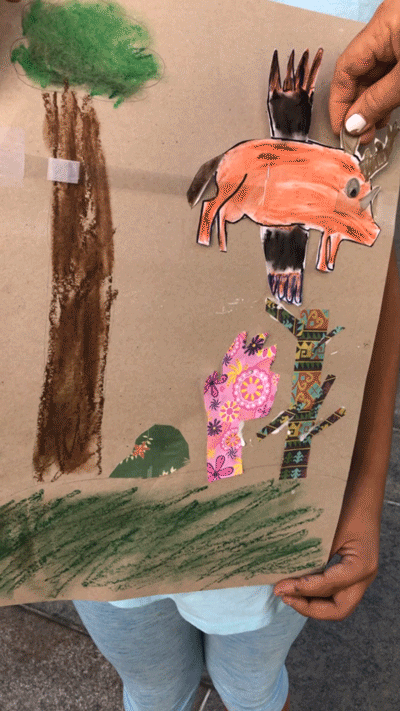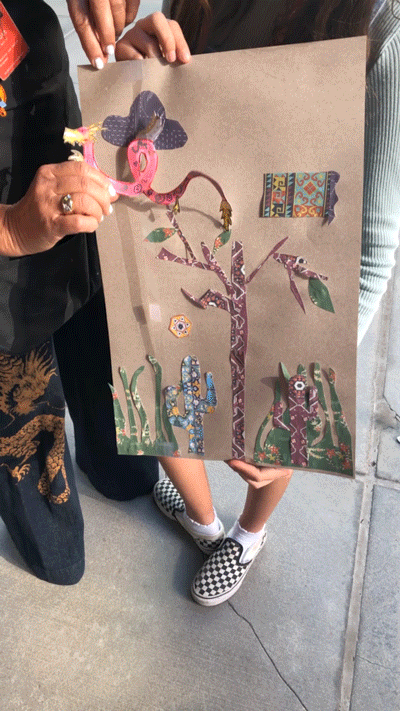 Young artists' creations from Gloria Westcott's workshop at Andell Family Sundays
Artist Gloria Westcott asks participants to choose and make their favorite mythical or supernatural animal from the exhibition. Is it a dragon, baku, tengu (fierce half-crow, half-human forest dwellers), or nekomata (enchanted domestic cat)? Then they make a landscape befitting their animal. And for the final touch—Gloria has a fantastic technique to make the animals move in their landscapes.
Toddlers always have a special workshop at Andell Family Sundays. Teaching artist Eszter Delgado invites the youngest artists to make an animal puppet. Even though the materials are simple, each one is unique. Last Sunday, it was fun to hear all the adventures these animal puppets will have at their forever homes!
Make sure you jump on Sofía Gutiérrez's bilingual (Spanish/English) gallery walkthrough of the exhibition at 1, 2, or 3 pm. Sofía is excellent at engaging all members of the group, no matter what age (even preschoolers!), in conversation designed to make personal connections, provoke playful interactions, and incite curiosity.
Do you like to draw? While in the galleries, stop by the sketching cart where educator Krys Murry will provide pencils (including colored pencils) and paper, and offer helpful drawing tips.
Don't forget to grab a family guide at the entrance. The booklet is like a field guide that highlights six artworks with a variety of activities and fun facts. While you are at the entrance, you can also find your Japanese zodiac animal. Just look for the chart of dates on the wall.
Special on November 17: Performance LA Nebuta
Join us for a little taste of the Nebuta Festival, which is one of the most famous festivals in Aomori Prefecture Japan. On display will be an enormous paper lantern float depicting the Japanese folk hero Kintoki by Nebuta Master Hiroo Takenami. Enjoy a series of short performances by taiko drummers, flute and hand cymbal players, and dancers.
Your family can participate in these activities from 12:30 to 3:30 pm on three upcoming Sundays: November 10, 17, and 24. We hope to see you there!