Forming our collection of Spanish colonial art has been one of my greatest passions and privileges. When I arrived at LACMA in 2000, there was no collection of viceregal art, save for a handful of textiles and a 16th-century Mexican chalice gifted to LACMA by William Randolph Hearst (who purchased it thinking that it was Spanish!). Over the last 15 years, we have acquired works from a range of regions and media, including paintings, textiles, and decorative arts. Many of our recent acquisitions have been incorporated in our own exhibitions, such as Contested Visions in the Spanish Colonial World (2011–12), and more recently, Painted in Mexico: Pinxit Mexici, 1700–1790 (2017–18). The material is complex, beautiful, and exciting in its diversity and interpretative possibilities; it is also emblematic of the connection between global cultures in the early modern world and of the unique local contexts from which it sprang.
With the recent closure of our permanent collection galleries in preparation for the construction of LACMA's new building, there has been no slowing down. We have continued to bolster the collection with new acquisitions, many of which will be featured in our upcoming traveling exhibition Archive of the World: Art and Imagination in Spanish America, 1500–1800, scheduled to open at LACMA in 2022. This has been an ideal time to study the works in-depth for the accompanying publication, and to work closely with our colleagues in the Conservation Center to analyze and restore them.
One of our most remarkable new acquisitions is a monumental painting by the Bolivian master Melchor Pérez Holguín (c. 1660–c. 1732). When the picture was offered to me last year, I was astounded by its power and the artist's unmistakable style, and could easily see past some of its more obvious conservation problems such as its abraded surface, yellowing varnish, some minor paint losses, and its need for cleaning and the integration of the various pictorial elements. Knowing that this would be an extraordinary project for our team of conservators to delve into given the painting's pristine condition, I persuaded the vendor to sell us the picture "as is."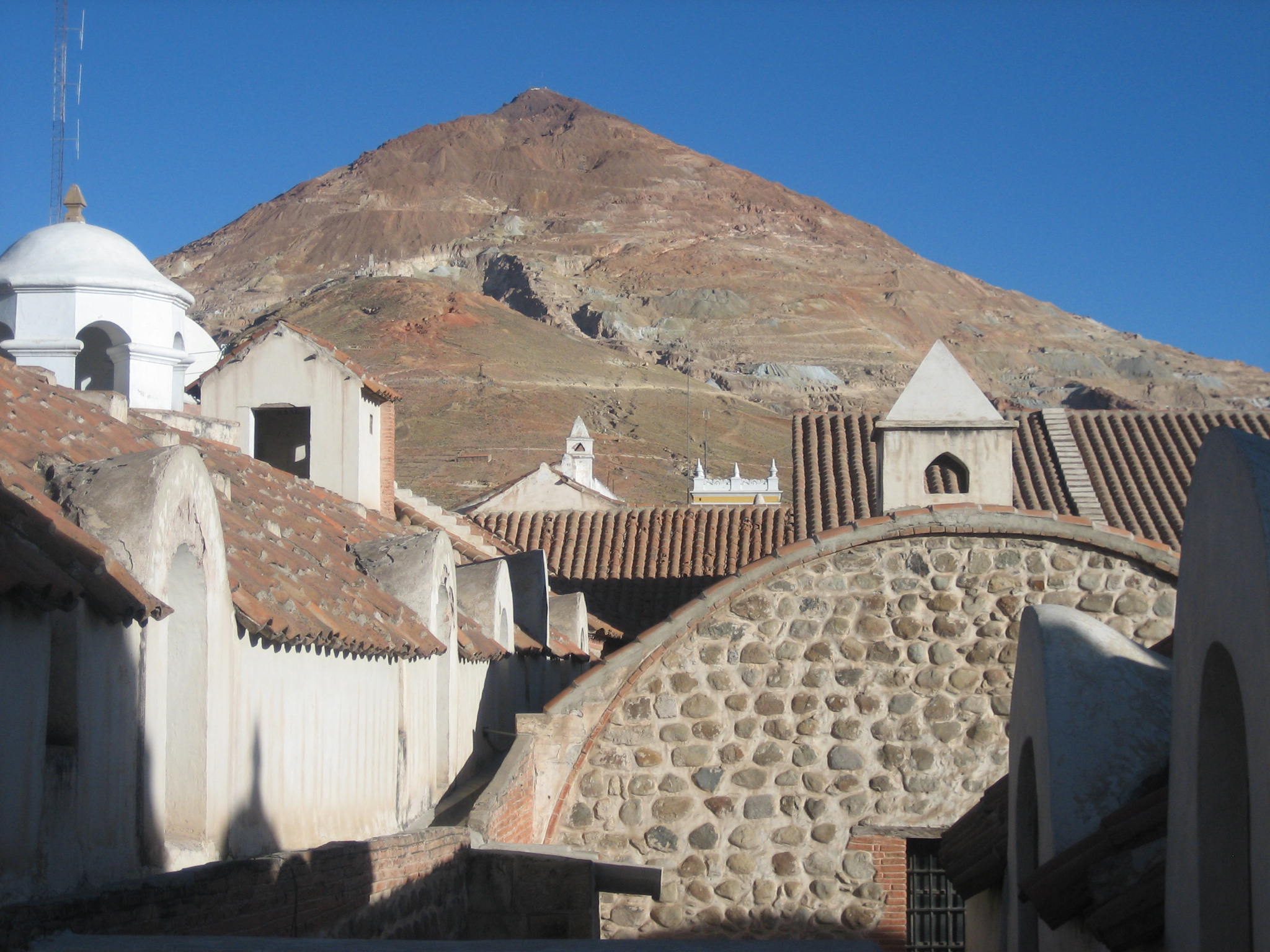 Holguín was singlehandedly the most influential painter in highland Bolivia (formerly part of the viceroyalty of Peru) during his lifetime. He was born in Cochabamba, and by 1678 he is documented in the legendary mining city of Potosí. Known as the "Treasure of the World," the Imperial Villa of Potosí was one of the highest (at 13,200 feet above sea level), wealthiest, most densely populated, and ethnically diverse places in the entire globe. Surely enticed by the opportunities of a city that became the epitome of unlimited riches and squander—but also of profound religious fervor—Holguín established his workshop there. Although nothing is known about his artistic training, by 1678 he was signing his works, some inscribed with the word imbentor (inventor) to signal his capacity for invention and his rising popularity.

At the height of his fame in the early 18th century, Holguín boldly included his self-portrait in one of his most ambitious paintings: The Entry of Viceroy Morcillo into Potosí (c. 1716–21, Museo de América, Madrid). He portrays himself in the middle of the composition, wearing a long cape and broad hat, and proudly holding a palette and brush to denote his social prestige and that of his profession.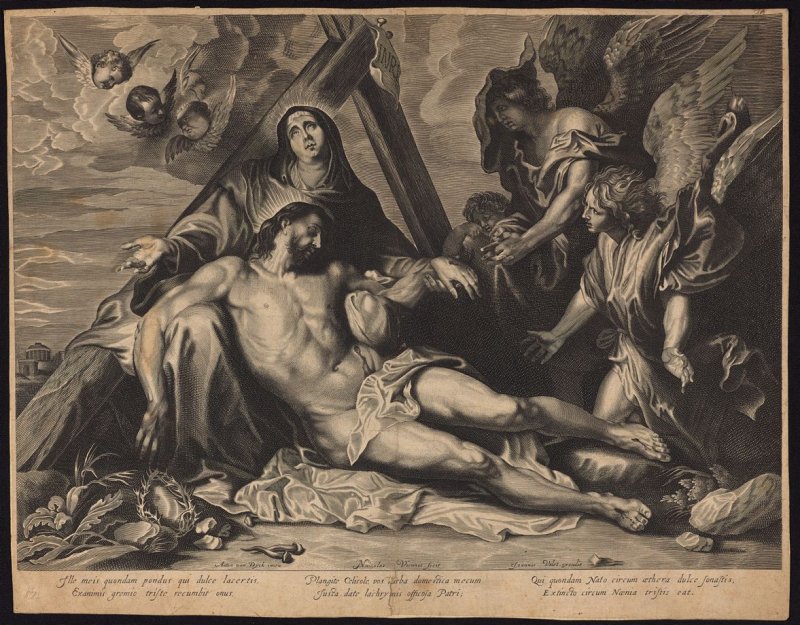 Holguín's Pietá likely dates to his mature period, which was characterized by the introduction of a more luminous color palette, the emphasis on surface ornamentation, and overall softer figural types. Although Holguín created several renditions of the subject, this is by far the most original and complex version known. Based loosely on a print after a famous painting by the Flemish artist Anthony van Dyck (1634, Alte Pinakothek, Munich, Germany), Holguín infuses this nocturne with a heightened sense of pathos and greater narrative purpose.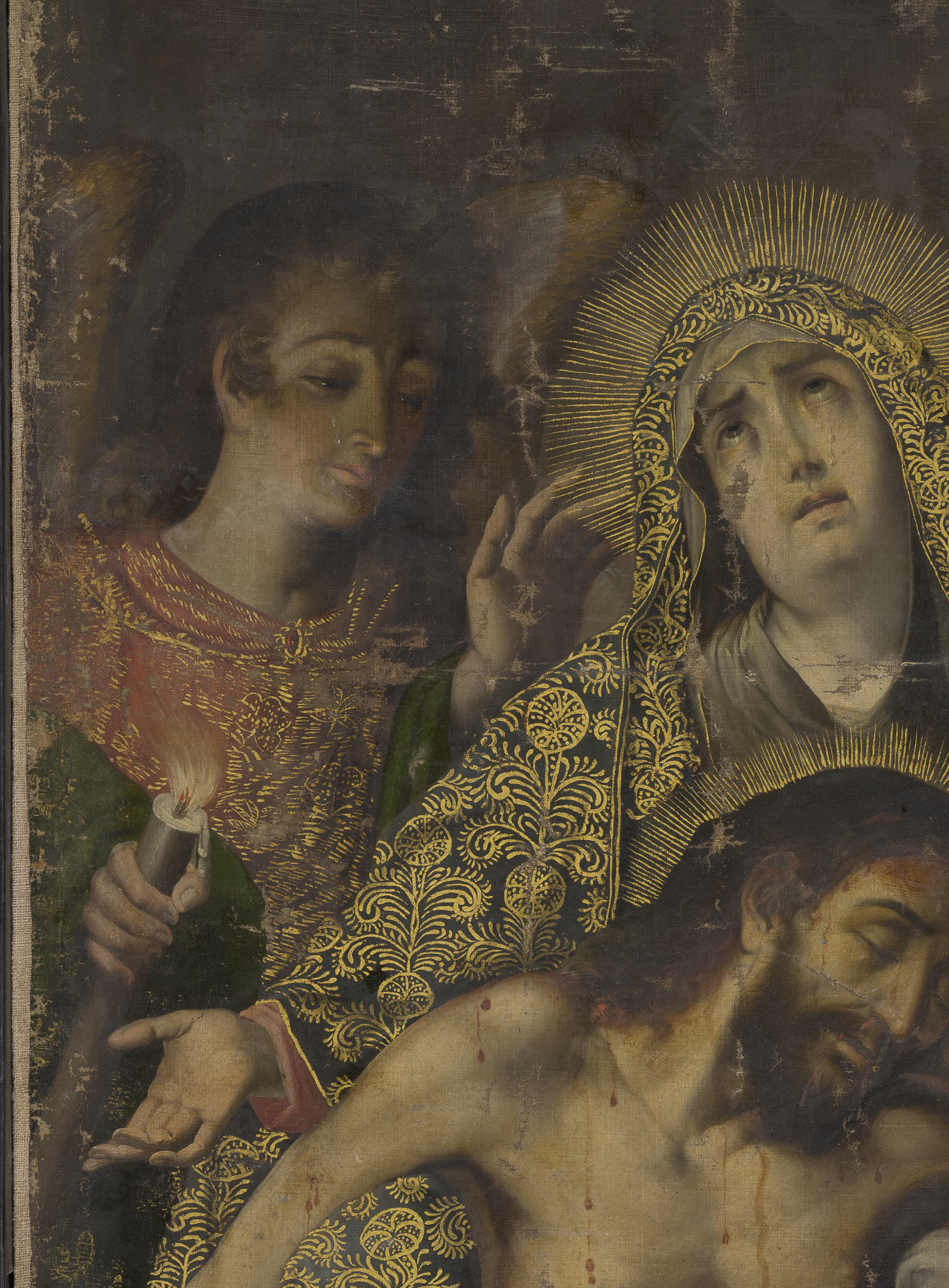 Christ is gently prostrated on the Virgin's lap, surrounded by a cohort of angelic figures lamenting his gruesome fate, while a group of tender-looking cherubs support his arm and kiss his feet. The sketchiness of Christ's right hand contrasts notably with the detailed facture of the figures' faces and the finely rendered crown of thorns and bloody nails, effectively transmitting the sense of his limp body. The intimacy of the scene is highlighted by the angel on the left holding a candle, with tears trickling down his incandescent face.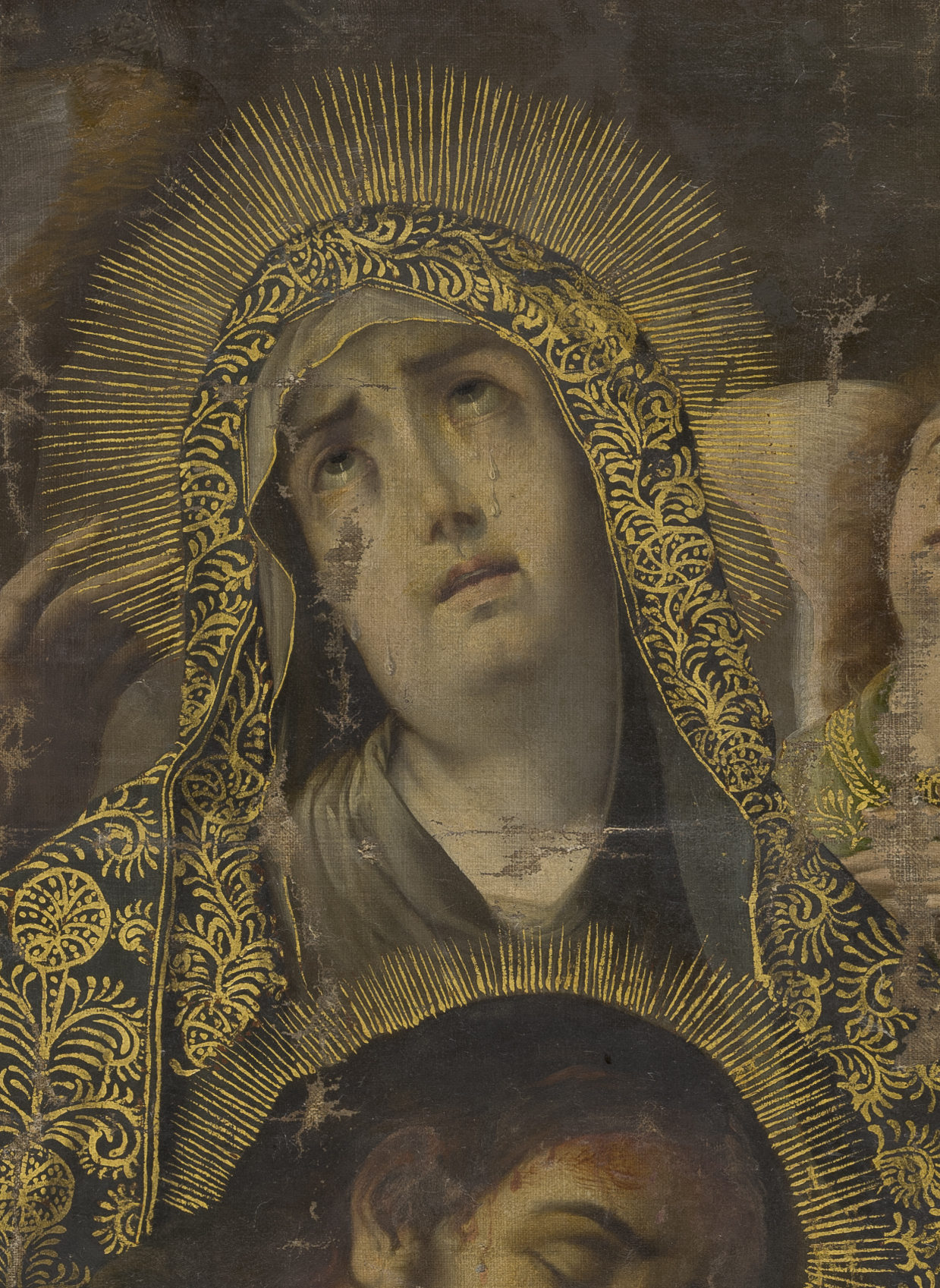 The artist's exuberant use of gold leaf motifs known as brocateado (a technique that is generally associated with the Cuzco School but which was widely used across the Hispanic world), as well as the strategic application of complementary colors (green-red), enhance the preciousness of the divine cohort and contribute to creating a striking and memorable pictorial effect. The work reveals how Holguín skillfully absorbed various artistic traditions—local and European—to create his own version of this canonical subject.
Although Holguín is amply recognized as one of the most distinct artistic personalities from the colonial period in South America, little is known about his painting method. Thanks to a recent grant awarded by TEFAF, our Conservation Center will embark on a thorough scientific analysis of the painting and undertake its restoration, which we expect will yield valuable information about Holguín's technique, use of pigments, and pictorial choices. The monumental picture will debut in Archive of the World along with several new acquisitions. We look forward to sharing this beautiful picture with our visitors, as well as our findings following the painting's restoration.
This short excerpt about the painting is taken Ilona Katzew, ed., Archive of the World: Art and Imagination in Spanish America, 1500–1800, exh. cat. (Los Angeles: Los Angeles County Museum of Art; New York: DelMonico Books/D.A.P., 2022), cat. 11, pp. 71–74.