"Don't judge a book by its cover" is a popular way of saying it is not smart to prejudge the value or significance of something by its first impression. The metaphorical phrase is often used figuratively (in many contexts) as a hint cautioning against faulty thinking, but it can also be used literally as a direct statement advising someone not to overlook a book solely based on its outward appearance. When it comes to the latter (if browsing a bookstore in person), it may take perusing some pages to discover a title's appeal. Only when one picks up a publication does one immediately notice the book's physical features in full effect: its size, weight, feel of paper, appearance of text, quality of printing, and the ease of turning its pages. Every book has its own unique characteristics, features, and aura.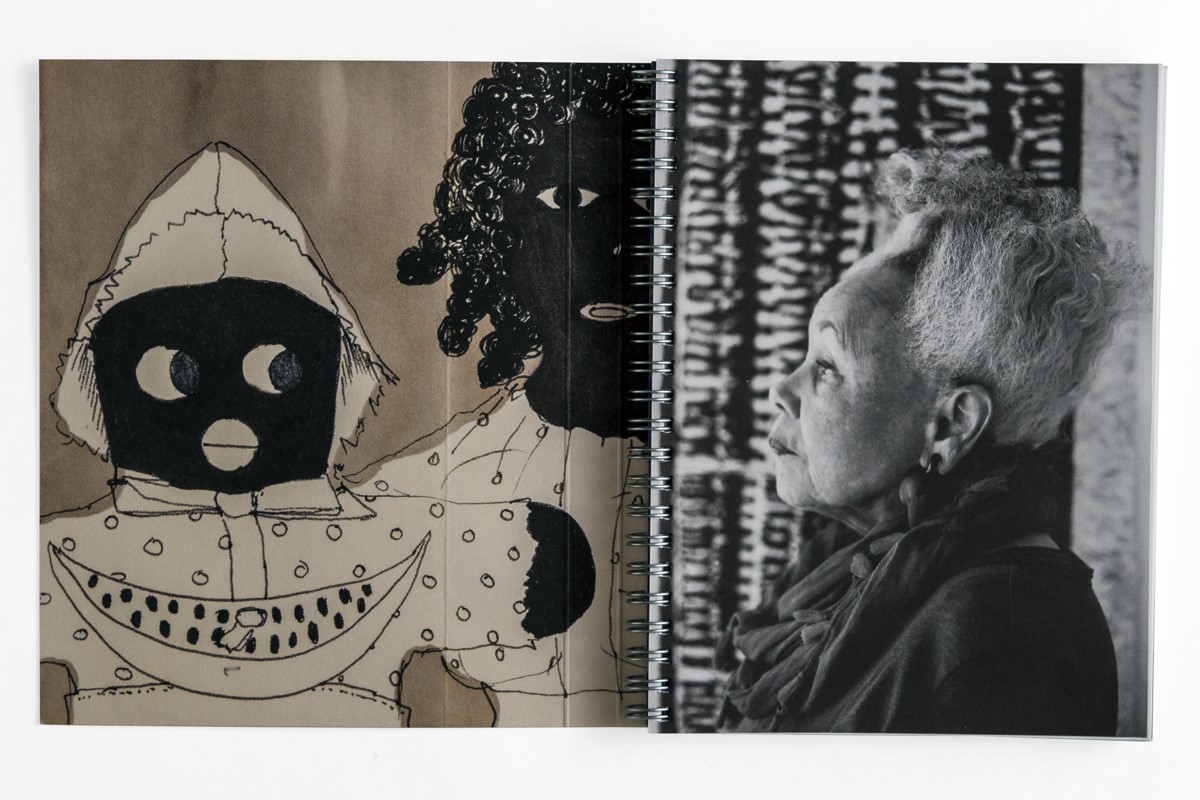 I wonder about people's first impressions of Betye Saar: Call and Response—produced in conjunction with LACMA's current exhibition of the same title. I'm curious whether they know that the book can be a sculpture, and how they'll figure it out. Will they display it like other books on a shelf, with its spine facing out, or unfolded and upright like an art object? Given that Betye Saar: Call and Response is approximately six by eight inches, its physical presence doesn't demand attention on the shelf, but its footprint expands when opened. Immediately the reader encounters a bold juxtaposition: a striking black-and-white, profile photograph of Saar positioned opposite a sketch of a black doll, so that the two appear to be in a locked gaze. This pairing of images of the 93-year-old artist and one of her sketches sets the stage for the intimate 96-page publication tracing Saar's remarkable career and her process of making work, from exploratory sketches to finished objects.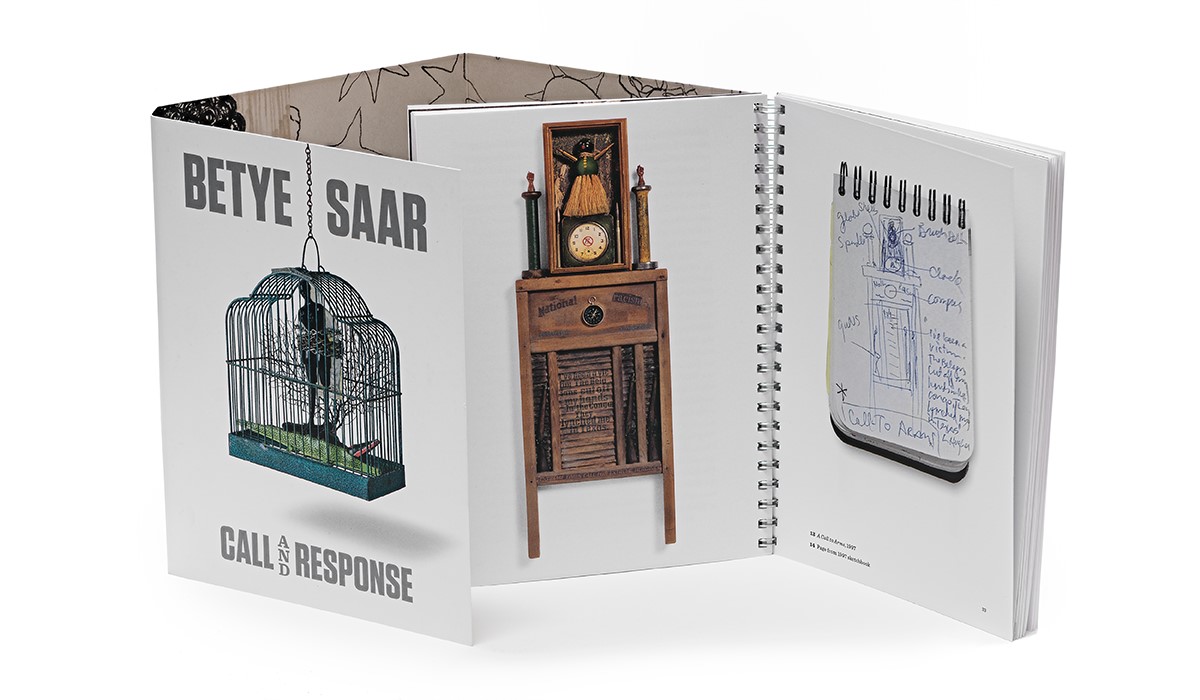 Another detail a reader is likely to notice upon opening the book is its modest matte silver wire binding. Unlike many storied artists' monographs—which can be big, costly, and possess an overwhelmingly heavy hardcover binding—Call and Response employs what's known as "reverse/fully concealed wire-o," a type of binding popular in many workbooks (like journals, planners, and cookbooks) in which the cover wraps around the book to hide the binding structure entirely. The wire is as functional as it is evocative of Saar's sketchbooks, by allowing the book to lie flat and enabling the reader to see the face-to-face comparisons of her quick visual concepts to fearless executions. Unlike many "reverse/fully concealed" bound books, this publication's extra panel, which attaches the printed pages to the cover, is not glued down. This subtle reconsideration of the production allows the book to unfold like an accordion and gives the reader the unique feature and option of displaying the work like a sculpture. Just like there are sculptures made from books, books, too, can be sculptural.
Betye Saar is the ultimate object maker; her work is contemplative, pronounced, witty, and meticulously arranged and assembled. Call and Response aspires to display and match her practice with reverence and thoughtfulness.
Betye Saar: Call and Response is on view in LACMA's Resnick Pavilion through April 5, 2020. Pick up a copy of the exhibition catalogue at the LACMA Store in the Resnick Pavilion during your visit, or online at thelacmastore.org.