Rufino Tamayo: An Artist Without Borders
Rufino del Carmen Arellanes Tamayo was born on August 25, 1899 in the city of Oaxaca, Mexico. Many critics cite his Zapotec heritage as a strong artistic influence on his abstract and surrealist figurative work—Tamayo even created a museum for his pre-Hispanic art collection in the city of Oaxaca. He later moved to Mexico City, where he studied at the National School of Fine Arts. Throughout his long and prolific career, the artist lived and worked in Mexico City and abroad, exhibiting and garnering high praise internationally. Tamayo died on June 24, 1991 in Mexico City, where his eponymous museum of contemporary Mexican art is located today.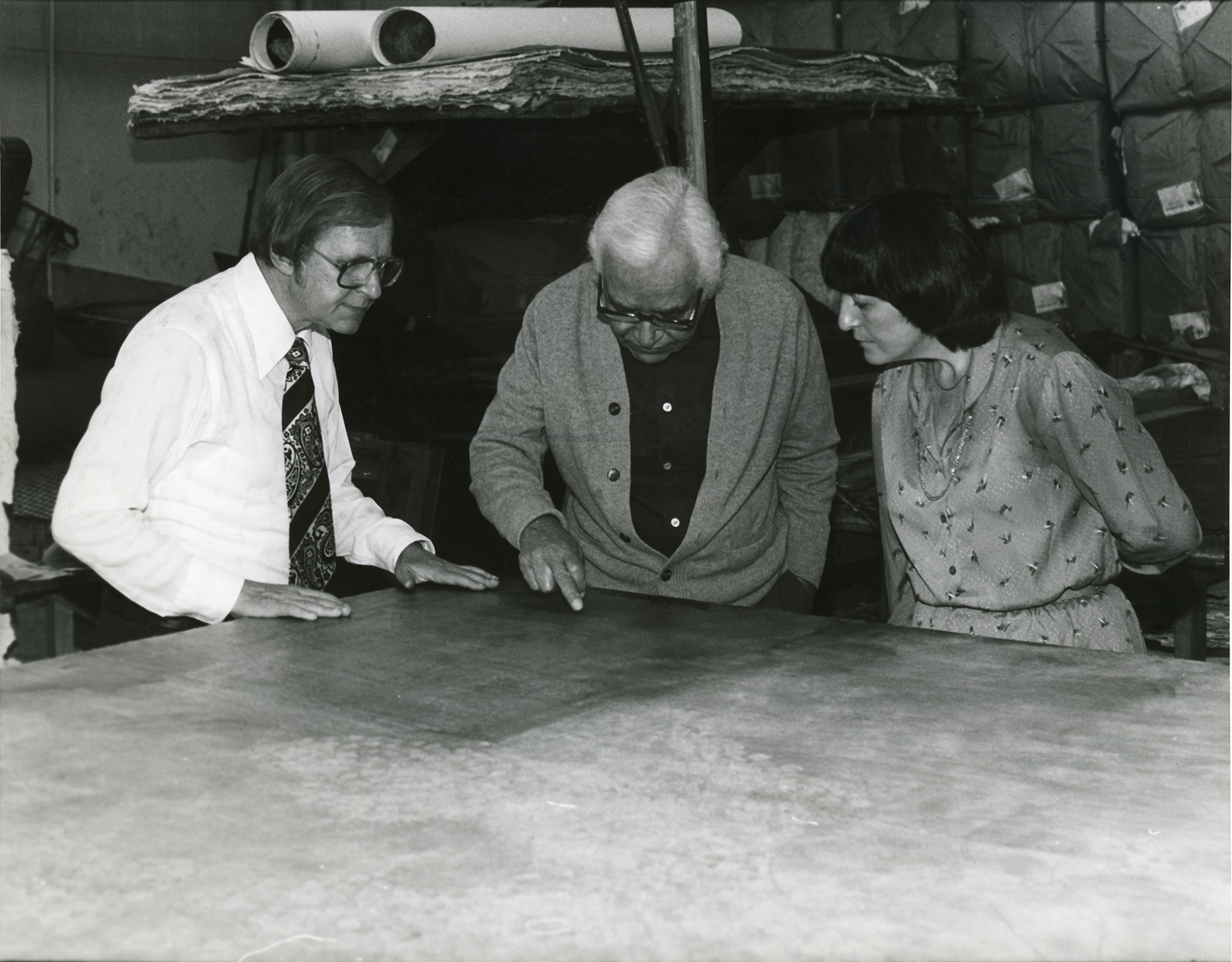 Collaboration and Innovation: Tamayo and the Rembas
Luis Remba, a second-generation printer, opened the fine art lithography studio Taller de Gráfica Mexicana (TGM) in Mexico City with his wife Lea in 1969. They began working with Tamayo in 1973, when they invited him to create a series of prints at TGM. With an emphasis on texture and depth in his paintings, Tamayo sought to recreate some of this dimensionality in his prints as well. The Rembas developed a new technique specifically for the artist's needs of creating depth while maintaining the clarity of the image. This proprietary process included the use of three-dimensional originals from which a mold is taken to create the printing plate, and the use of paper pulp (as opposed to commercially available paper) that creates a thick paper support for each unique print. Word traveled of the innovative art made at TGM, and Luis and Lea were invited to Los Angeles to exhibit their work at UCLA's Wight Art Gallery in 1980. Within a few years, the couple moved to Los Angeles and was joined by their son Shaye to open a second location in which to collaborate with artists at UCLA—the Mixografía studio was born. The resulting Mixografía technique was used for many of Tamayo's prints over the years, including his mammoth Two Personages Attacked by Dogs (Dos personajes atacados por perros) of 1983, printed from the largest lithographic stone in history, measuring in at 103 by 63 inches!

Conservation and Installation Challenges: Displaying Mixografía Prints
Many of these rich and complex Mixografía prints are currently on view in Rufino Tamayo: Innovation and Experimentation (on view through July 11, 2020) at LACMA's satellite gallery at Charles White Elementary School, including the mural sized print. Due to its unique paper support, designing the display method for Two Personages Attacked by Dogs posed some unusual challenges. How do you display a fragile paper object that is 8.5 feet long, almost half an inch thick, and weighs several pounds? This question was the beginning of a rewarding collaboration between the paper conservation department, exhibition designer, and art installation team.
After conservation treatment stabilized tears and delamination of the edges, the print was prepared for mounting by attaching large patches of thin Japanese paper to the back, followed by Japanese paper hinges with wheat starch paste. This adhesive is used in paper conservation because it is strong but reversible, and can be removed with water even after many years. The patches distributed the weight placed on the paper support by the hinges. The paper conservators chose a custom honeycomb panel of buffered paper that was strong and lightweight to support the print and served as a point of attachment for the hinges. Hand-cut slits in the board allowed the hinges to pass through, effectively strapping down the print to the board. The hinges were made from two strips of Japanese paper that open up in opposite directions, like a metal brad, when passed through the board.

A slightly slanted case was constructed to display the print in the gallery, as a fully vertical display would put too much stress on the hinges and the fluffy paper support below. The honeycomb panel was anchored to the interior of the case and the whole system was enclosed with acrylic glazing.
In the end, the large and fragile object was safely mounted for the duration of the exhibit and can be appreciated by visitors. Come and see it for yourself, along with other Mixografía prints, as part of Rufino Tamayo: Innovation and Experimentation.
Rufino Tamayo: Innovation and Experimentation is temporarily closed. Stay tuned for information regarding Charles White Elementary School Gallery's reopening.