The Ancient World Mobile—LACMA's traveling studio and classroom—travels to schools and provides students the opportunity to study and learn about the use and meanings of symbols from the art of Egypt, Southeast Asia, and Rome. During the classroom component, students have an opportunity to explore, examine, and learn from original works of art from the museum's Ancient Egyptian collection! Using close looking and the rare opportunity for hands-on examination of objects that are hundreds or even thousands of years old, students learn how to handle these objects as primary source material.
We had an opportunity to catch up with one of our educators for the Ancient World Mobile—Polly Dela Rosa—and chat about her experience with the program.
Please explain your connection to LACMA's mobile programs.
I've been working as an Educator for LACMA's Mobile Programs since January 2018, when I was hired by Eduardo Sanchez, who was the content specialist of Latin American Art at the time. The Mobile Program includes a classroom and truck component for our two mobiles, the Ancient World Mobile (AWM) and Maya Mobile. I'm currently a classroom educator for the AWM, where we have sixth grade students observe and handle actual ancient Egyptian art objects with their own hands. Meanwhile in the trucks, the students get the opportunity to paint ancient symbols on ceramic tiles.
About a decade and a half prior to having this position, however, I was a seventh grader at Sepulveda Middle School, and the Maya Mobile happened to visit my school! And while I no longer have the original glazed tile I made in the program, one of my colleagues from the program helped me to remember the exact symbols I painted back then (the glyphs for black and white). It's really funny how things can come full circle!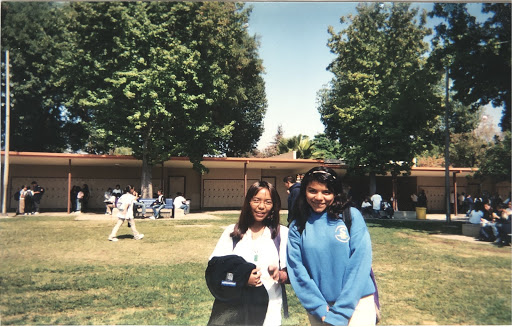 How did experiencing LACMA's Mobile program while in middle school affect your education or relationship to art?
I honestly wasn't all that much into visual arts growing up. I liked to draw as a kid but often felt disheartened when my pictures didn't look "perfect" the first time I attempted them. I never felt motivated to keep practicing either, and just assumed that art just, "wasn't my thing." I wish I could say that my experience with the Maya Mobile marked the pivotal moment in which that sentiment changed, but at the time, I probably just appreciated it as a much-needed break from textbook-reading and filling out blank maps in history class.
That isn't to say that the experience was wasted on me back then. Instead, I think what I really got out of the program was the idea that a culture, a people, populated those maps. They weren't just stories and pictures from our textbooks but a lived society, whose art and writing we were re-enacting as we drew on those tiles. My passion for the arts didn't surface until my community college days, but my intrigue into history and culture definitely blossomed after my experience with the Maya Mobile.
What is it like to now teach a program that you participated in while you were in school?
A motto I've been appreciating a lot lately is, "be the person you needed when you were younger," and when I was younger, I definitely needed someone to tell me that art isn't "perfect"—that it was okay if the image I had in my head didn't match what my hands created on paper. For a lot of people, especially kids at middle school age, there's this pressure to get things right the first time. And when that doesn't happen, that particular skill just isn't "your thing." But just like any other skill, art is meant to be honed. Even more so, art is a physically, mentally, and aesthetically messy process, and that's the beauty of it!
With this in mind, being an educator for this program feels like an opportunity to talk to my younger self. It's a bit healing in a way. And even if the students are still disheartened and hit me with the, "You're just saying that to be nice," or "I still don't like it," I would hope that the affirmation that someone loves their creation empowers them to at least keep trying it.
On the topic of speaking to a younger version of oneself, I recently also got the opportunity to teach my little sister's sixth grade class when the Ancient World Mobile came to their school. It was definitely fulfilling to see her in the same spot I was at her age. I have definitely entertained the idea that our future co-workers might be these students that my colleagues and I have taught during our time in this program. Once again, full circle.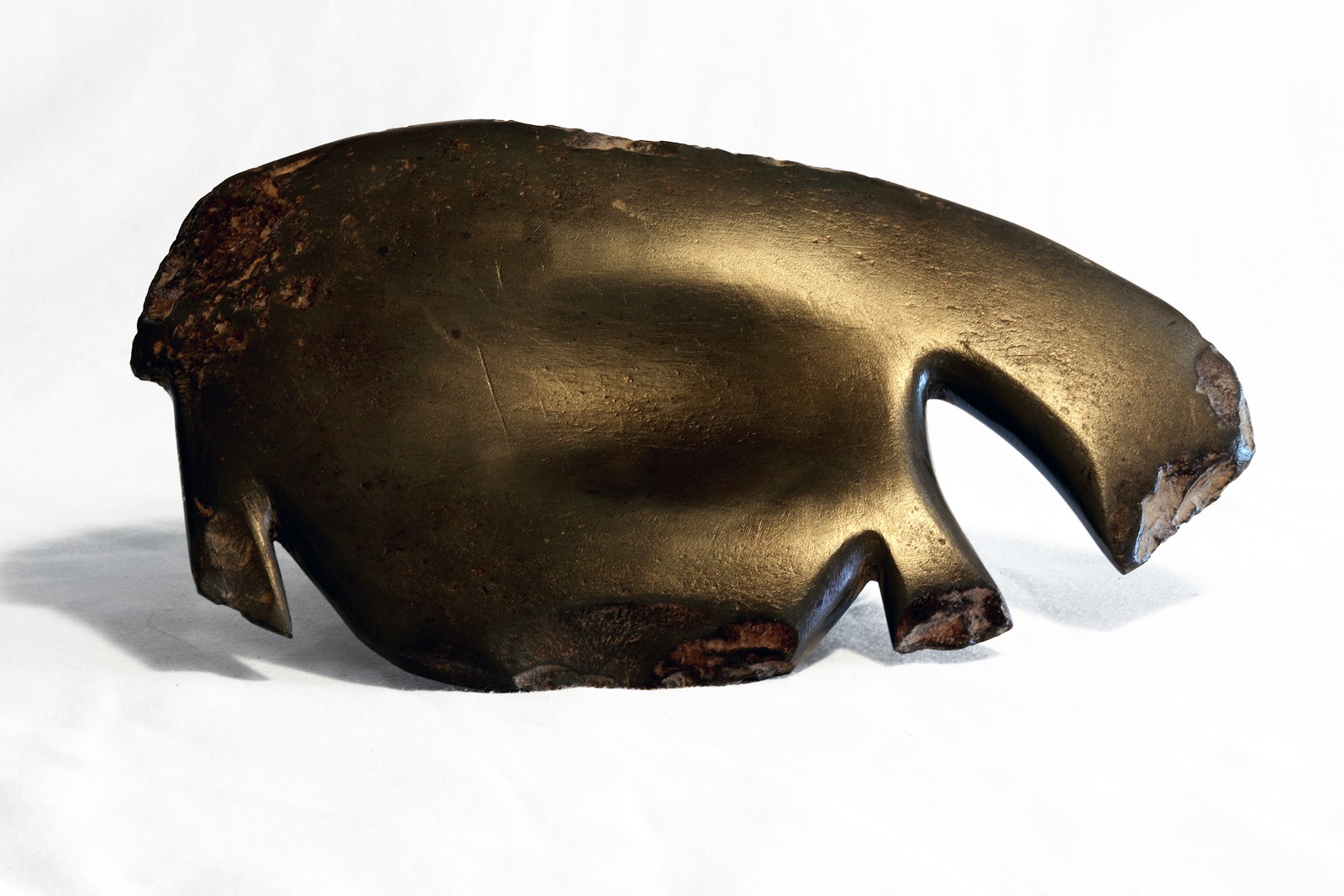 What is your favorite object to teach with in the Ancient World Mobile collection?
We have this awesome ancient Egyptian cosmetic palette in the shape of a hippo that dates back to 5500–3050 BCE, which makes it anywhere from 7,500 to 5,000 years old! When demonstrating it to the students, I make it a point to discuss just how truly ancient it is by telling them that it predates the Great Pyramids of Giza, the Code of Hammurabi, the invention of the wheel, and even most countries that exist in the present-day.
Not only that, but this object might have been used as well. I encourage the kids to think about what kind of person used this object in their everyday life, not knowing that it would eventually survive the next couple thousand years and cross an ocean to be observed by students. "Imagine if an object you own survives for that long and 6th graders in the year 9,000 end up studying your lunchbox or Hydro Flask to find out about life in the year 2020," I tell them. Sometimes it fascinates them, and sometimes they just laugh, but I would hope it's a question that sticks with them, even after their time with us is done.
Why are programs like this so important to continue in Los Angeles?
There's always been a wealth of conversation around the importance of the arts among the youth: it encourages creativity and divergent thinking, it trains people in giving and receiving constructive criticism, it provides cultural and historical context for STEM disciplines, etc. But to me, as a Filipina-American growing up in a place as diverse and multifaceted as Los Angeles, programs like LACMA's Maya and Ancient World Mobile are so important in reflecting—and engaging—the faces, cultures, and intersections that make up this environment.
It's amazing to see how different students interpret our content based on their own lived experiences. Some of them respond to their link to history ("I've touched something that belonged to a Pharaoh!" or "I can't believe you trust us enough to handle such an old object!") while others tell us about their cultural, sometimes even ancestral connection to the lesson. Meanwhile, many more respond to the art-making portions, sometimes in frustration, and other times in pride or ambition. Nonetheless, even if our program is simply a break in filling out blank maps for some, it is a wonderful jumping-off point for the many lived experiences that make up L.A.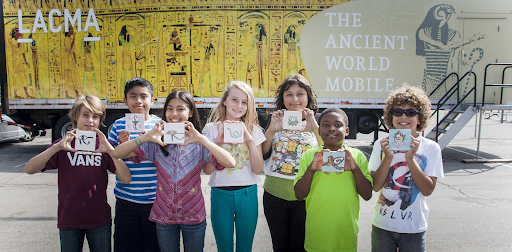 Please note, due to COVID-19, the Ancient World Mobile and Maya Mobile programs are currently postponed. For more information about the programs, please visit LACMA's website. LACMA staff are working hard to develop the mobile program curriculum online. Stay tuned for more details!
The Ancient World Mobile program is intended for sixth-grade classrooms in Los Angeles County public schools and is designed to integrate with the sixth-grade curriculum and the state standards for history/social science.
This program is supported by a generous grant from the Max H. Gluck Foundation.