In 1964, an 85-year-old Upton Sinclair visited the Los Angeles County Museum in Exposition Park to speak about his influential End Poverty in California (EPIC) campaign that began during his race for California governor in 1934. In a winking moment shared with the audience of Angelenos, the author fondly quipped about his old friend Gaylord Wilshire and the eponymous street on which LACMA now stands: "I've seen Wilshire Boulevard improved, in a way. At least it carries more traffic than poor Gaylord Wilshire ever dreamed of! [...] I always think of him whenever I'm driving on that boulevard, at the risk of my life!" Sinclair's mischievous humor seems to illuminate the resilience of a man whose work was set against the formidable backdrop of the Great Depression. This speech was captured on tape less than one year before LACMA opened to the public; listening to it today, I can imagine Sinclair's optimism being echoed across the city as Los Angeles braced itself for the opening of its brand new art museum.
Sinclair's speech and 88 other LACMA public events recorded between 1964 and 1981 were reanimated in the archive when they were digitized from reel-to-reel audio tapes in 2016. Through the effort of LACMA Archivist Jessica Gambling and as part of the California Audiovisual Preservation Project, the recordings were made available for free streaming on the Internet Archive (a previous Unframed post, written by Jessica, shares more details on these tapes and how they were digitized). Spending more time with these recordings from home in recent days, I felt a renewed sense of appreciation for the people who have shared their presence throughout LACMA's history, and even more anticipation for the day when such special moments can be experienced again on LACMA's campus.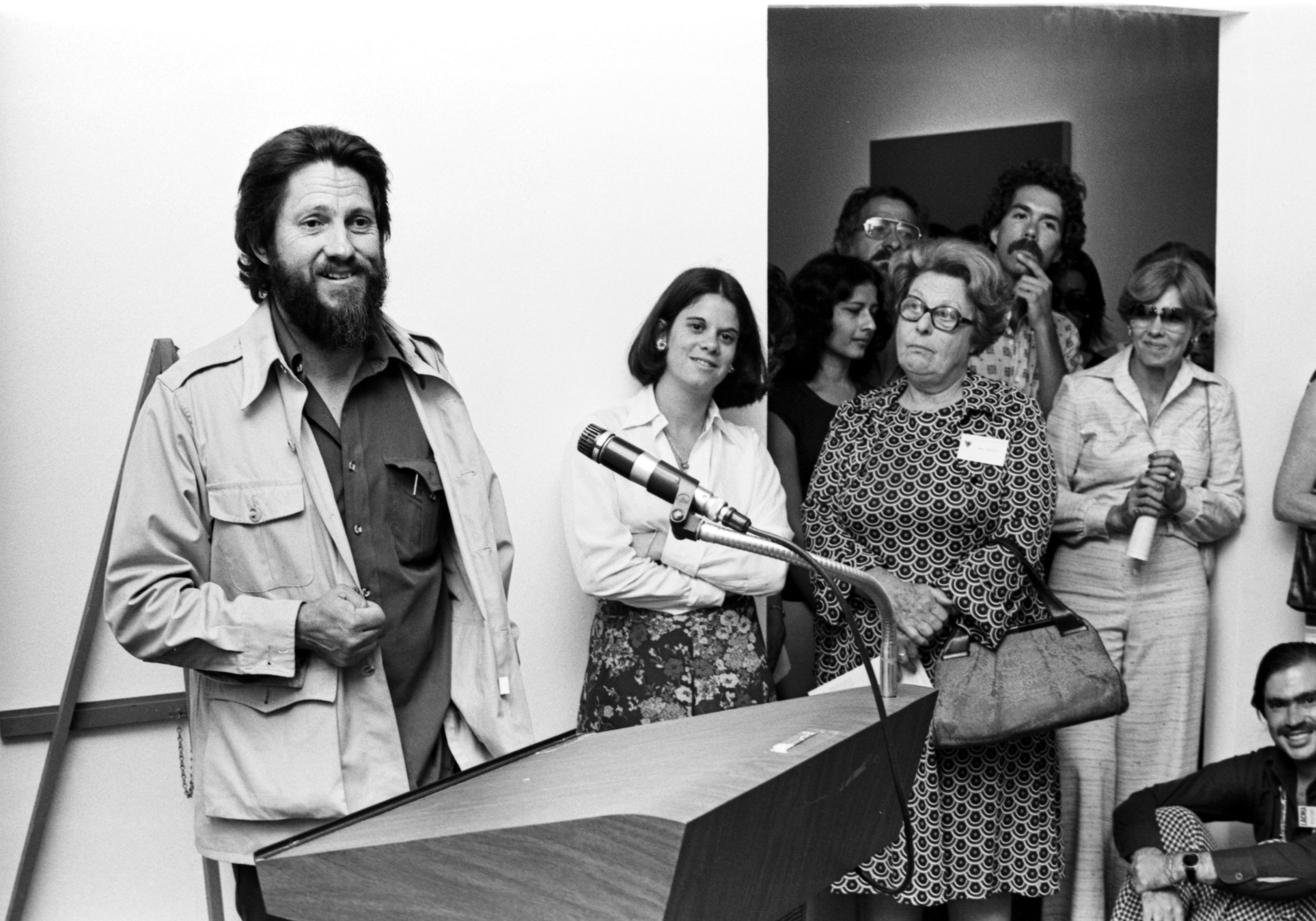 Intrigued by photos showing people huddled organically around the speakers like rapt children during storytime, I listened to a recording of the event depicted: a Q&A program organized by the Modern Art department in the summer of 1974. I imagined planting myself in the crowd as I listened, my ears perking with recognition as curator Maurice Tuchman described a painting by Mark Rothko from the permanent collection as a "rosy exhalation;" I knew their collective attention was on the painting White Center. I then turned my eyes to Andy Warhol's Kellogg's Corn Flakes Boxes as Tuchman responded to an audience member's confusion about the work on display nearby. The recording brought the snapshot into relief, adding dimension to my understanding of the museum and the conversations around art during this time.
The array of recordings reflect LACMA's bustling programming over the years, and all of them bring a sense of immediacy to the numerous moments of interchange that took place at LACMA. You can hear artists sharing their ideas and creative processes, curators and docents providing context to exhibitions or artworks, and visitors posing questions or expressing their personal responses to works on view. You can walk through the galleries of the controversial Edward Kienholz exhibition in 1966, hear artist Charles White addressing the topic of soul and art in 1969 on the heels of the American civil rights movement, or sit in on a 1976 panel with Betye Saar and John Outterbridge held on the occasion of the major exhibition, Two Centuries of Black American Art. In hundreds of hours of interviews, lectures, panel discussions, Q&As, performances, and gallery tours, the sounds of LACMA—occasionally interspersed with the familiar sounds of creaking chairs and mewling babies—enliven our collective memory of the art, people, and events that make up the museum's past.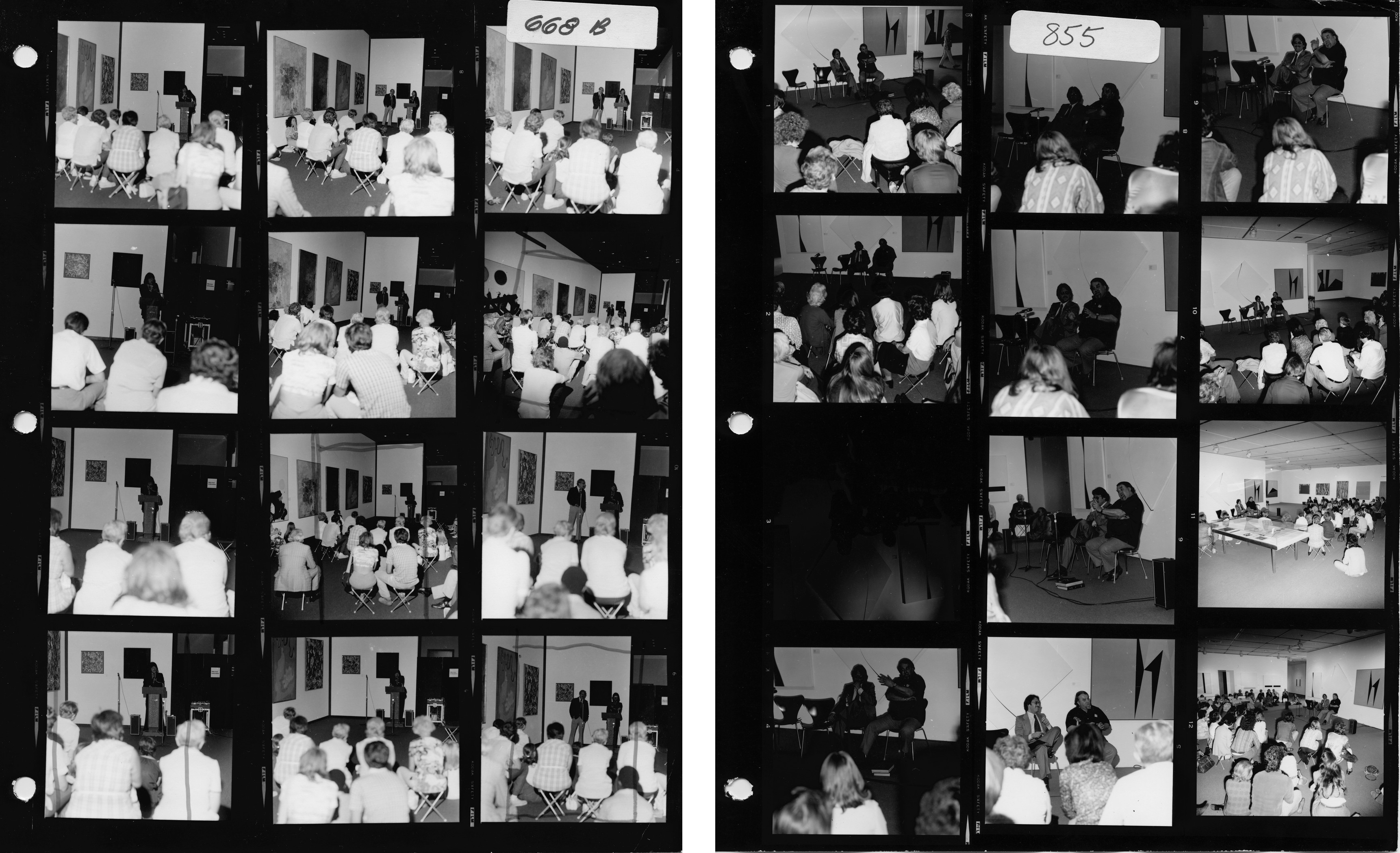 Upton Sinclair would be surprised driving down Wilshire Boulevard today, seeing the street filled not with rushing cars, but with the uncertainties of a global crisis. While the COVID-19 pandemic has disrupted so much of what we had believed to be changeless, it is reassuring to be reminded of the community of people who have built LACMA through commitment and relentless optimism. Remembering the vibrant resiliency of the past helps us look forward to the new voices that will continue to animate LACMA, both on its digital platforms and its physical new campus.
Highlighted below are some recordings selected from the complete digital collection on the Internet Archive. Since these form only a portion of the early audiovisual media that are in the care of the Balch Art Research Library, please contact the library staff for information on additional holdings. In addition, the archive may also contain related photos and additional physical documents that may give a fuller account of some of these past events; we look forward to restoring access to these materials by appointment in our library again soon. Until then, we also invite you to explore the library's full digital offerings and contact us with any questions.
Please note: as the recordings were reformatted directly from original audio tapes, some links may contain multiple programs recorded separately on different days.
LACMA History
Artist Lectures
Artist Interviews—Modern Art Department
Exhibitions
Los Angeles, California
Film Programs