While LACMA is temporarily closed to the public, our mission remains to celebrate centuries of creativity and inspiring human endeavors. We've asked various members of the museum's staff to share which favorite LACMA artworks—from ancient to modern, from East to West, from world-renowned to more obscure—they would love to have in their homes during this time.
Korean art can be somewhat awkward to imagine in one's home in the U.S. After all, most people's experience of viewing Korean art is in a museum under plexiglass—using risers to accentuate height—or in a case, emphasizing the idea that these objects must not be touched or held. In actuality, since many objects produced before the late 19th century were made for practical uses, most Korean art is meant to be "taken off its pedestal," literally, viewed, touched, and held to provide a sense of overall satisfaction.
During this time of self-isolation, I've thought often about the ocean. I love the ocean, not to swim in or go surfing, but to sit on the warm sand, feel and smell the ocean breeze, and listen to the waves crashing. This idea has guided the works I would love to be "stuck" with in quarantine—six selections of Korean art, all from LACMA's permanent collection.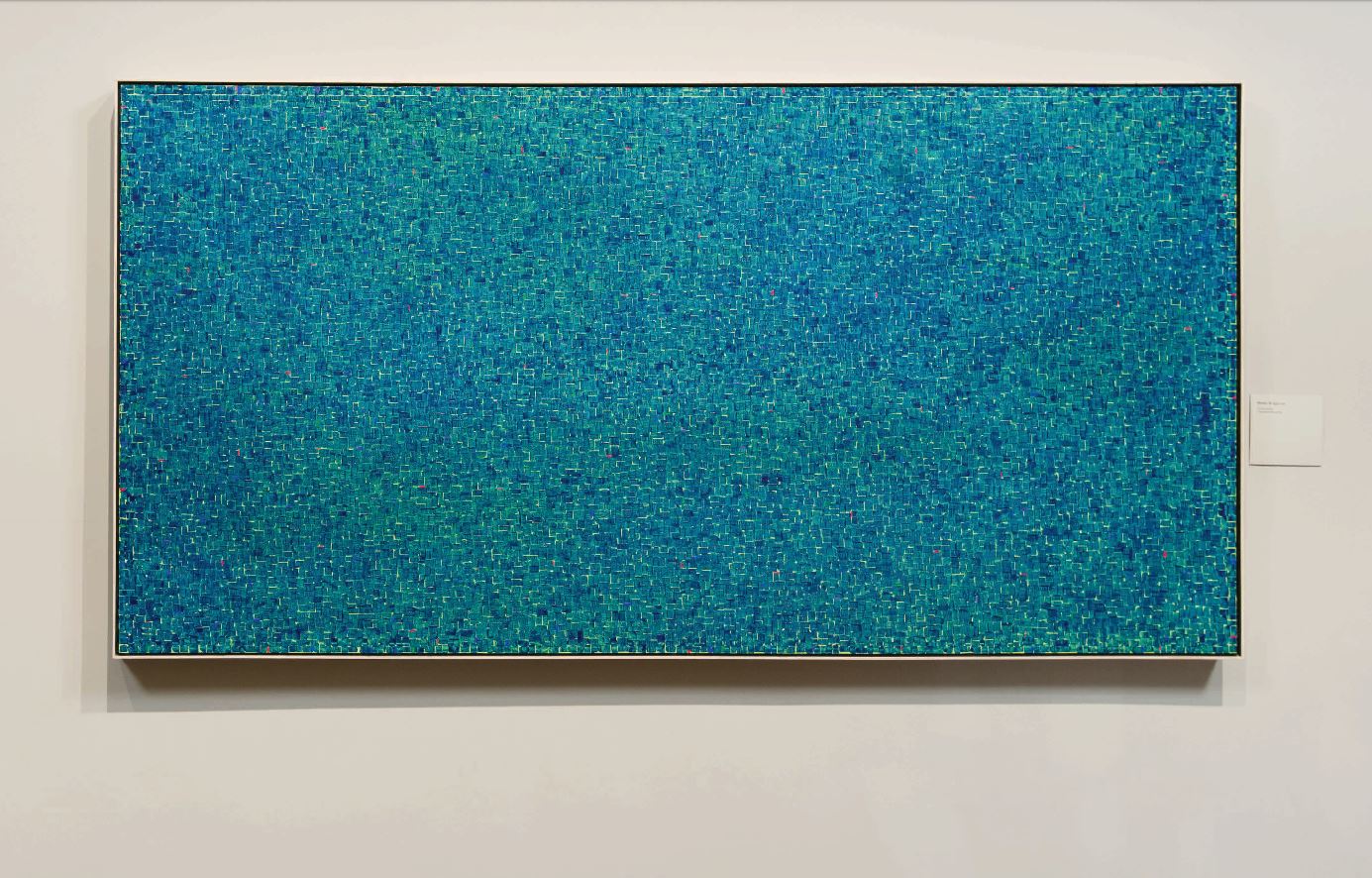 Most of Young-Il Ahn's works are his colorful visualizations of the ocean. During a challenging time in his life years ago, he would take a small boat out near Catalina Island and pretend to fish, while contemplating his situation. One day, a dense fog rushed in and enveloped Ahn. He could not see anything, not even his hands. He was convinced he was going to die that day. Hours later, the fog lifted, but at the moment it broke, he saw infinite prisms of light.
He has since dedicated his life to capturing this moment. Water S-397 is one of his earliest works. The overlap of deep emerald greens and dark blues give a shimmering effect like the moonlight dancing on the ocean waves. No matter how many times you look at it, the painting looks different every time. This work was painted as a love letter to his wife Soraya who has been a steadfast part of the latter part of his life.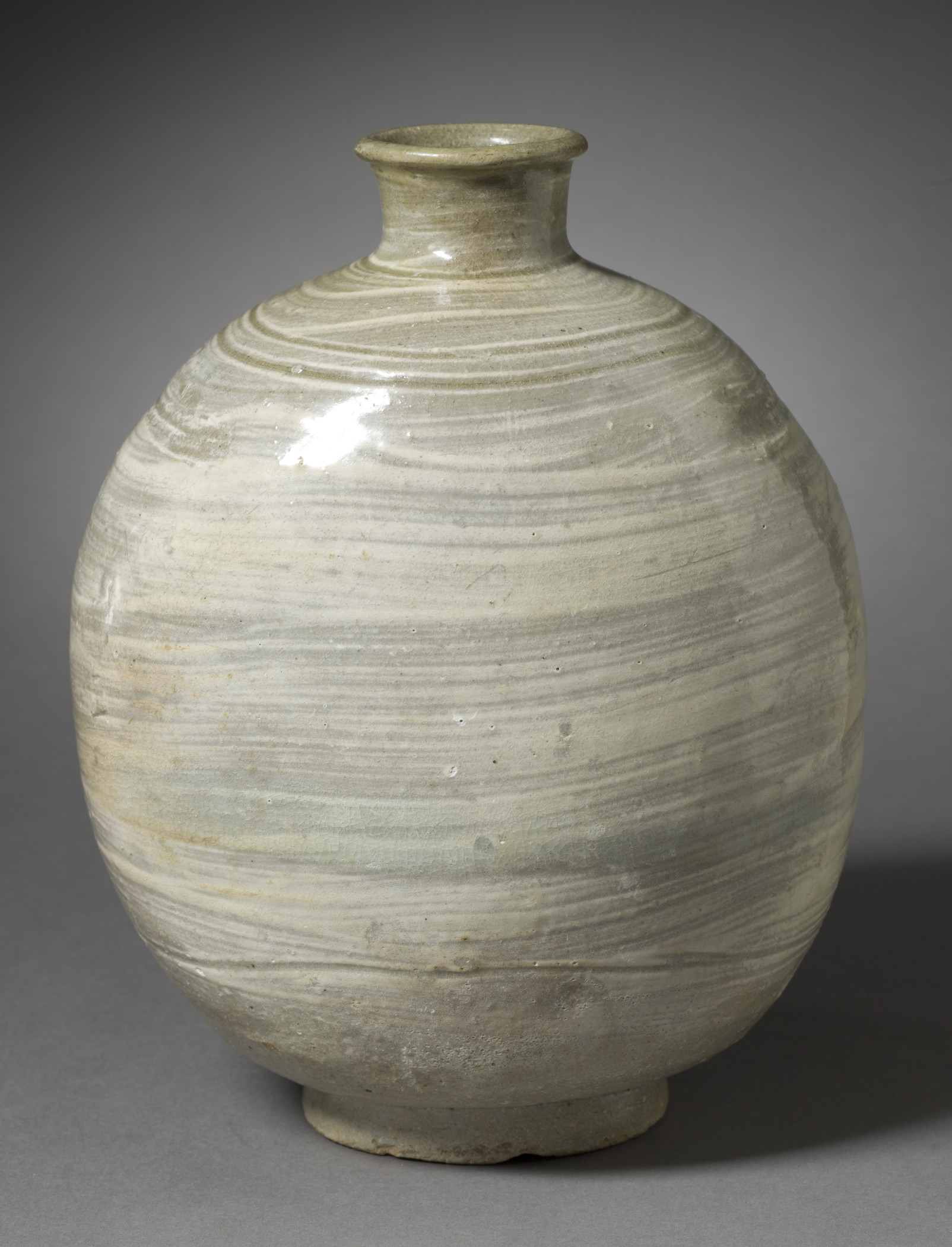 The most visual part of this buncheong ceramic is the freestyle brushstrokes that swirl around and design the body. Shapes and designs are significant markers in the Joseon dynasty's (1392–1910) over-500-year-long ceramic production which can be roughly divided into three phases—early, middle, and late. The early phase introduced buncheong ware. The underlying techniques were a continuation of the previous dynasty's Goryeo ware with the exception of the glaze color. Toward the late part of this early phase, brush designs became freer, lending a "contemporary" look to the pieces. The middle phase introduced porcelain as well as a freer exploration of shapes and sizes in addition to the use of cobalt blue obtained via the Silk Road for the royal and upper classes. The last phase exhibits a more open sensibility in creativity and design and an increasing generous use of the popular cobalt blue which was now produced in Korea. In many ways it can be said that the general ceramic aesthetics were beginning to mimic a tentative kind of freedom reflected socially in the latter part of the dynasty. The flask was used for carrying and serving alcohol or spirits affirming its easy-to-carry physical size.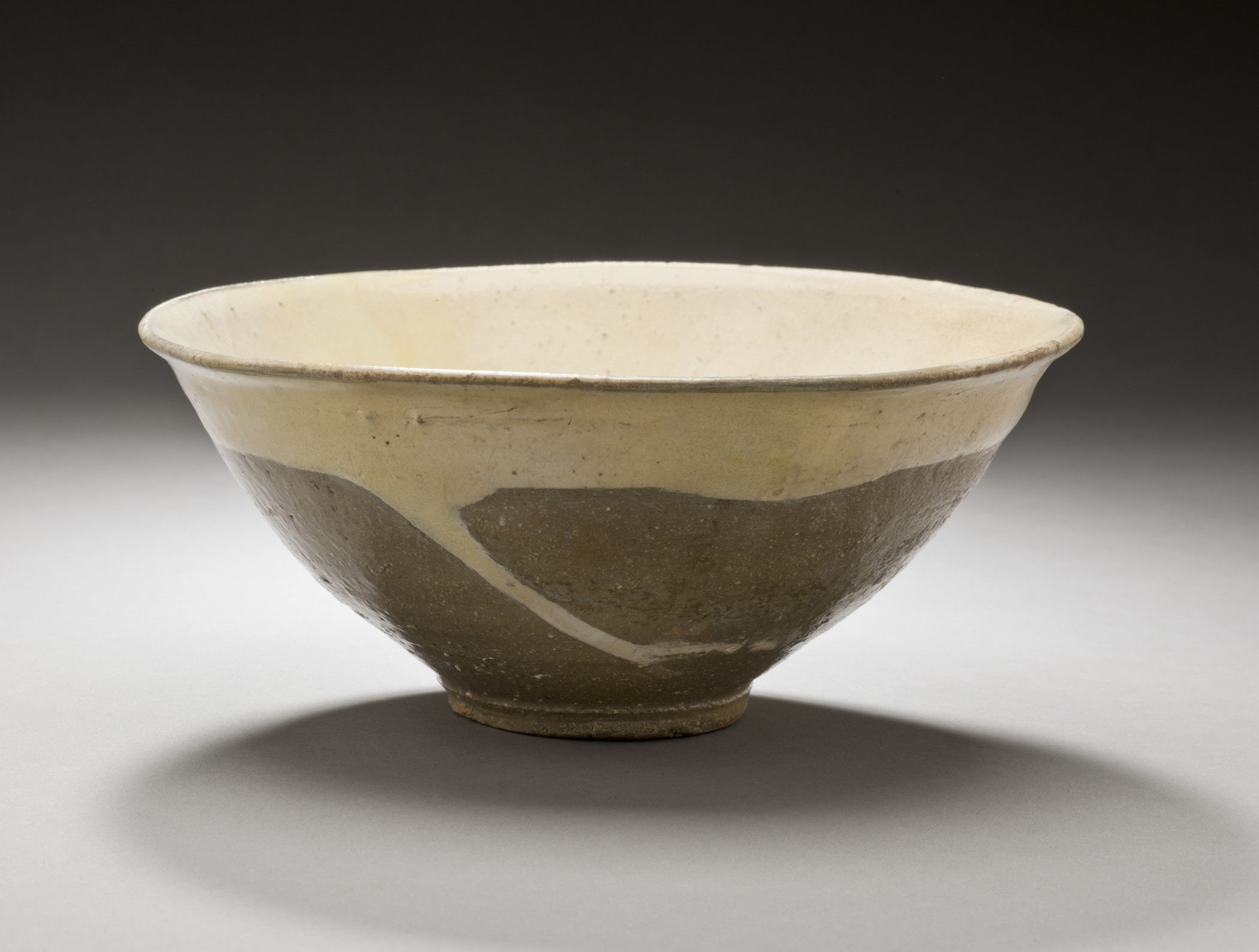 The small bowl was also made in the latter part of the early phase of Joseon ceramic production, as indicated by the deliberate "free" lineation that falls diagonally, but not quite, towards the bottom. This bowl was dipped in glaze to provide the contrasting white or cream color, but this seemingly accidental mark defines that this bowl was designed on purpose by the craftsman. People who made "art"—crafts, furniture, and lacquer—were not regarded or named as artists, thus nearly all objects and crafts were authorless. Admittedly, this practice was different in America and Europe, for example, during parallel time periods. It was only at the cusp of the 20th century, with the influence of the West through Japan during Japanese colonization, that the modern practice for craftsmen to claim artistic ownership by signing one's works allowed these individuals to be known as artists (the exceptions to this practice were the painters).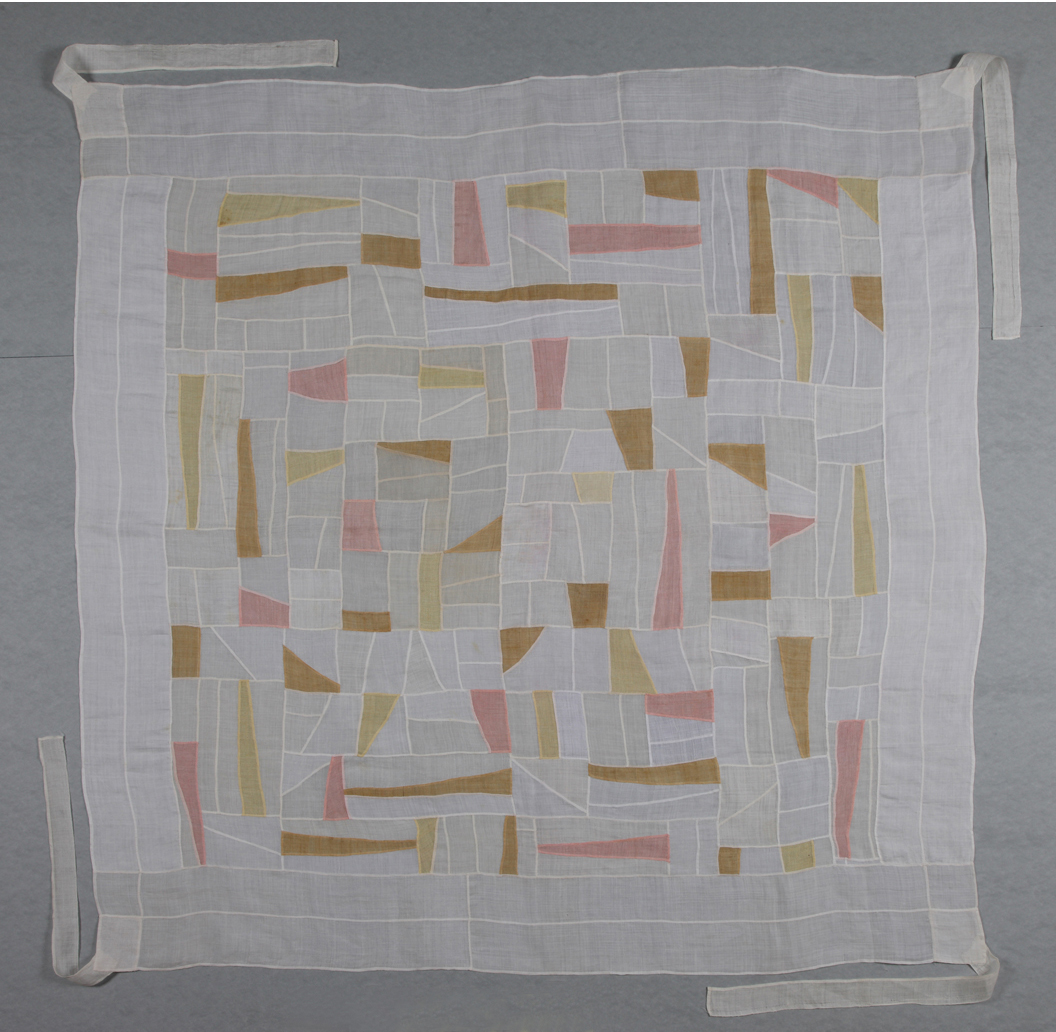 The bojagi, which is the general term under which Jogakbo also belongs, is mentioned in history as far back as the Three Kingdoms period (approx 18 BCE to 660 CE) in a famed Korean history book referred to as the Samguk Sagi (1145). References and lasting examples of the bojagi are rare after the Samguk Sagi until the late Joseon dynasty. The bojagi is a humble and practical textile whose size and beauty depend on the scraps of fabric gathered to make it. At its most basic, it can be used to carry things, to wrap things, to hold packed food, etc. At its fanciest, it is used to wrap beautiful wood or lacquer pieces, garments for a newly married couple, or anything else of equal importance. Bojagi are also passed down from generation to generation. In 1995, Kumja Paik Kim, the first Korean curator in the U.S., at the Asian Art Museum of San Francisco, curated the first bojagi exhibition elevating and solidifying its place within Korean art history. These handcrafted works were then celebrated for being made by women and for their natural beauty. It is particularly attractive to hang these works by a window so the sunlight can accentuate the colored patches and the stitching can form shadows against the walls.
Han Youngsoo (1933–1999) was, in many ways, considered a street photographer, capturing serendipitous moments, as opposed to a photographer who was trying to create art with a camera. He came from a very wealthy family given that he owned multiple Leica cameras in the years following the Korean War (1950–53), one of Korea's most difficult periods. While there were a handful of photographers who also tried to capture the streets and countryside of Korea and its people, Han famously established his own style of portraying Koreans, old and young, as they were and not as victimized people. I call this the "unconscious moment" as an homage to the influence of Henri Cartier-Bresson in some of his works; in others one can see Han's innate sense of humor.
In the opening photograph, Hangang River, Seoul, Korea 1958, a young girl is bowing down to see the baby sitting in a basket. She takes care not to let her umbrella hit the baby or blow away by holding it with both hands in an act of physical wonder. The playful moment is in stark contrast to the three ladies doing laundry in the background. The Han River (Hangang) is South Korea's most important river even if it is not its longest. In early history, the river served as a gateway to China until it was closed at the end of the Korean War in 1953. During times of conflicts, hoards of people were known to escape through the river to the other side. After massive clean-up efforts, the river now serves as a leisurely recreational area.
In the final photograph, also by Han Youngsoo, white sheets are hanging to be dried; implying that they had just been washed. There is an older woman in the background and you wonder if she washed all these and was going home or whether she just happened to be walking through. The color white does not often come through successfully in photographs, but here, you can almost smell the clean sheets and feel the wind that is blowing gently, through them and through you.