In May, the Decorative Arts and Design Acquisitions Committee (DA²) held its ninth annual meeting, but this year on Zoom, virtually. This loyal and munificent group helps LACMA add outstanding examples of decorative arts and design to our permanent collection. Since six of the eight objects are by contemporary artists and designers this year (four working in California), they are also the direct beneficiaries of our donors' generosity. We are truly grateful to DA² for ensuring that all objects presented were acquired, even in a year filled with such uncertainty and challenges.
All acquisitions from the meeting were made to honor the memory of our beloved friend, stalwart LACMA supporter, and incomparable design expert Peter Loughrey, who lost his valiant battle against cancer in March. Two DA² members, Neil Lane and Trina Turk, each made deeply appreciated additional contributions to a fund that has been set up in Peter's name to further our department's mission of acquisitions, scholarship, and education.
We believe Peter would have been proud to have his name associated with the following objects.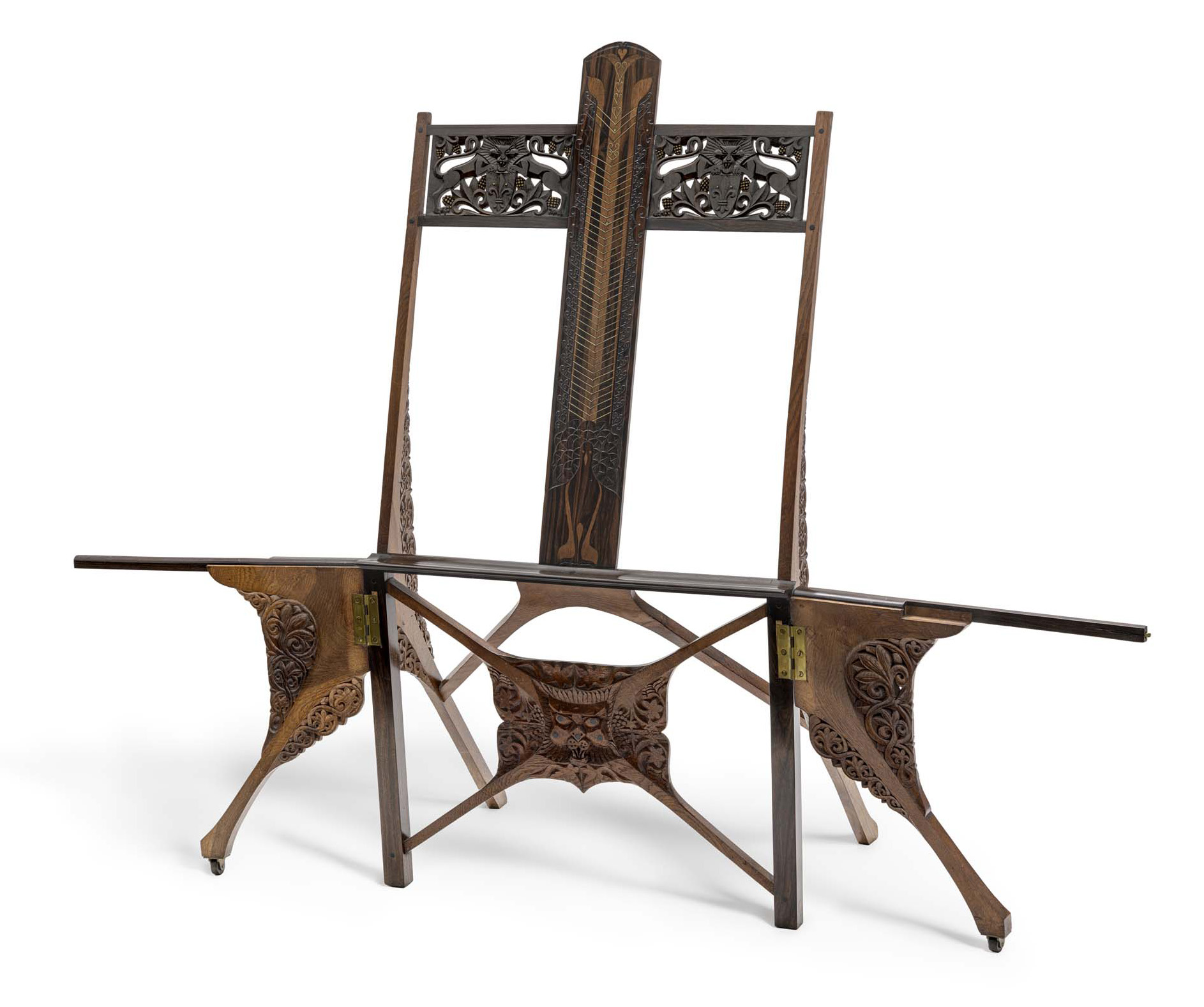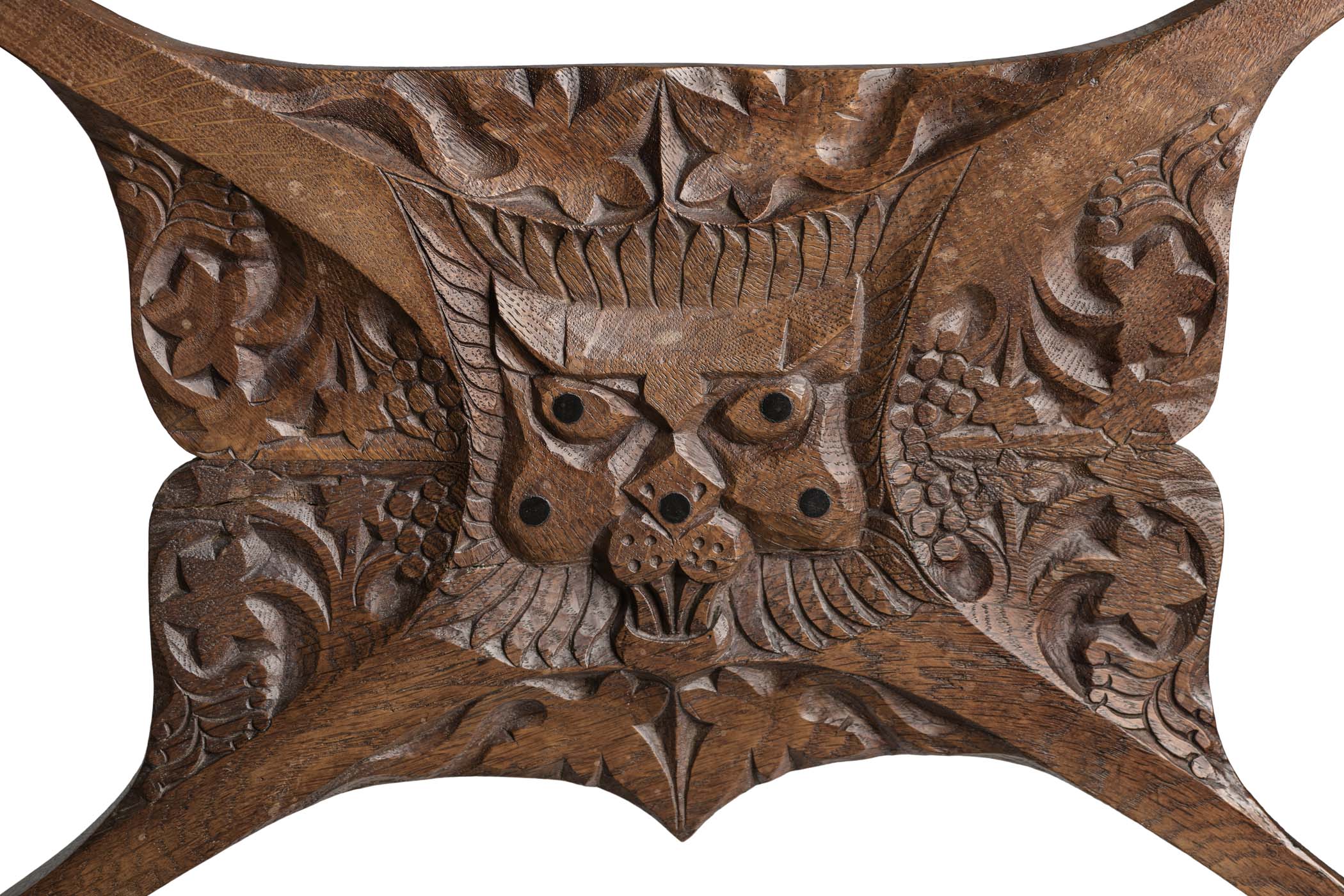 A masterpiece of the Nieuwe Kunst—the New Art that was the Netherlands's version of the British Arts and Crafts movement—this portfolio stand is the work of the most adventurous designer in Amsterdam around 1900. Lion Cachet first created the design to display a very expensive book containing reproductions by Rembrandt; the stand was so admired he was commissioned to design three others. This is the most elaborate of the three and is characterized by expertly carved lions and inlaid lyrebirds, animals that became leitmotifs not only of his furniture, but also his textiles, ceramics, and wallpapers.
This butaque chair demonstrates artist Josef Albers's deep connections to Mexico. A vernacular furniture form in Mexico for centuries, it is a Colonial-era hybrid of Spanish folding chairs and Indigenous ritual seating. Albers learned about this form from his student at Black Mountain College, Clara Porset, who would become one of the leading designers in Mexico at mid-century. He and his wife Anni would visit her on their frequent trips, where he would make the detailed studies of Maya, Aztec, and Zapotec archaeological sites that profoundly influenced his paintings and prints. Albers designed his version of the butaque, which is very close to Clara Porset's, for the student dormitories at Black Mountain; this particular example was a gift to his close friend Theodore Dreier, a founder of the college, and his wife Barbara.

Kay Sekimachi is a towering figure of California fiber art, a master of both traditional weaving techniques and experimental construction. Born in San Francisco to Japanese immigrant parents, Sekimachi became part of a circle of artists and craftspeople in Northern California. This 1959 wall hanging is her most sophisticated geometric design from the 1950s, the first decade of her practice. Sekimachi recalls that its composition was inspired by the paintings of Piet Mondrian, but it also resembles the skillful interlocking geometries of Bauhaus weavers. Sekimachi went on to become an influential figure in the fiber art movement, creating extraordinary three-dimensional sculptures like Nagare I. This earlier wall hanging allows LACMA to show the sophistication of work preceding her celebrated free-hanging sculptures.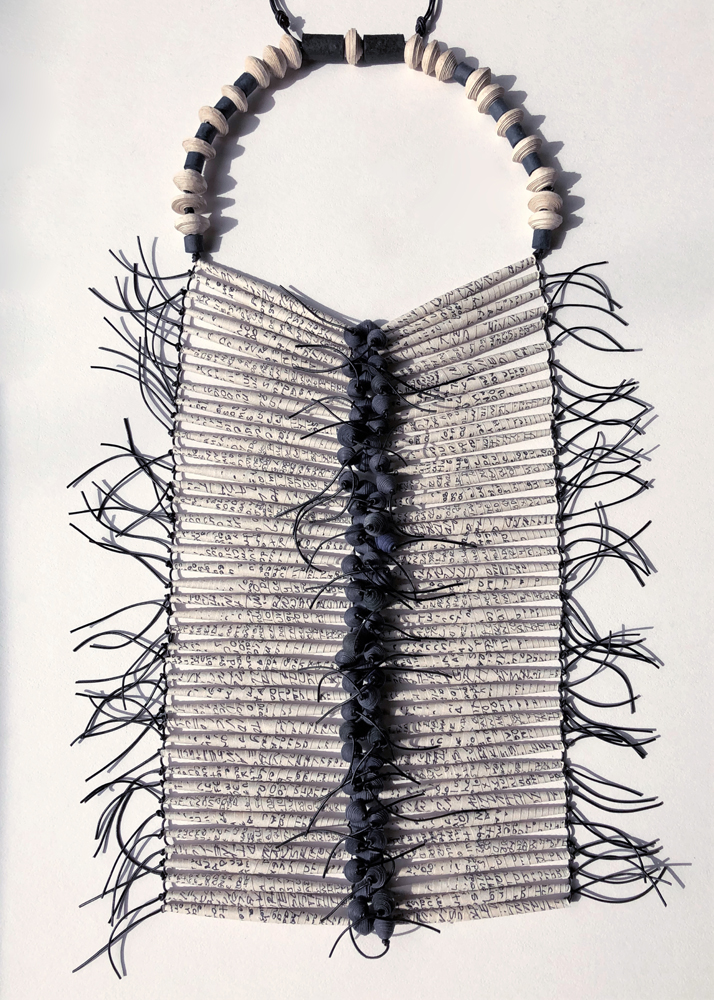 Kiff Slemmons is a self-taught jeweler revered for transforming inexpensive materials into breathtaking works of art. She has collaborated over many years with Indigenous artisans of Taller Arte Papel Vista Hermosa ("Arte Papel") in Oaxaca, Mexico to produce handmade paper jewelry. Arte Papel was founded in 1999 by artist Francisco Toledo and in 2000, he invited Slemmons to work as artist-in-residence. Slemmons developed jewelry designs that the taller staff could produce and sell, creating a sustainable business and consistent employment. She encouraged the artisans to add their personal touches to the pieces, conceiving the work as a true collaboration. For Milagros #1, Slemmons asked each artisan to write 10 wishes on taller paper that was rolled into the bone-like beads and assembled. Milagros ("miracles") are small religious folk charms worn to bring healing and good luck. They are the physical manifestation of a wish or prayer. The piece thus contains Slemmons's wishes together with those of her Oaxacan collaborators.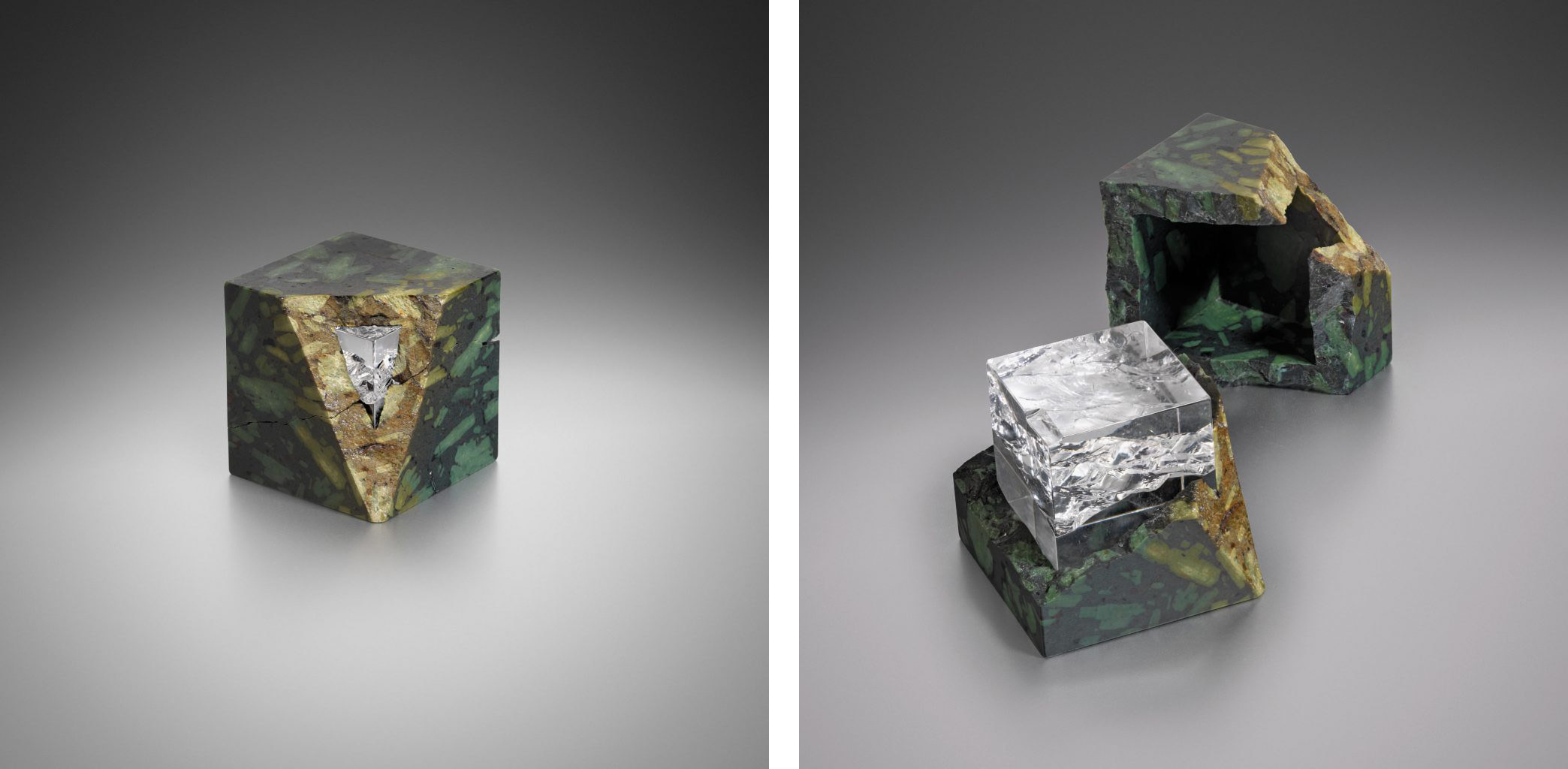 Extraordinarily durable and extremely difficult to work, highly polished semi-precious hardstones are uniquely suited for creating lasting works of aesthetic brilliance and technical virtuosity. Ben Gaskell—artist, stone carver, and supplier of hardstones (especially of rock crystal, as in this piece)—skillfully amplifies the so-called "imperfections" in his materials to achieve striking visual effects. His Breakbox with Split Crystal is a custom-fit container enclosing a fractured cube. A corner of this box is precisely lopped to highlight an abrupt shift in the porphyry's coloration and offers a tantalizing glimpse of the crystal within. The lid lifts along an almost imperceptible hairline crack which, when opened, evokes the smashed edges of a plundered tomb. Inside, the crystal dazzles. Gaskell achieved the rock crystal's light-catching, rippling split by applying immense force at just the right angle. His reverence for the physical qualities of the stones echoes that of the ancient as well as Renaissance hardstone specialists whose works are already in LACMA's encyclopedic collection.
Since 2016, photographer Janna Ireland has been documenting the work of Paul Revere Williams (1894–1980), a fellow Angeleno and the most prominent Black architect of the mid-20th century. Her first foray into architectural photography, the acclaimed series furthers Ireland's visual exploration of Black life. Her lyrical black-and-white images emphasize the elegant details that define Williams's buildings, from the sinuous curving staircases to the intricate screens and trims. Though Williams is best known for his homes for elite clients and Hollywood stars, his practice encompassed a wide range of projects and styles. Working closely with the artist, the department selected 23 photographs from three of Williams's projects—a historicist Hancock Park mansion, a modern Palos Verdes subdivision, and an ambitious elliptical church—representing the breadth of his talents.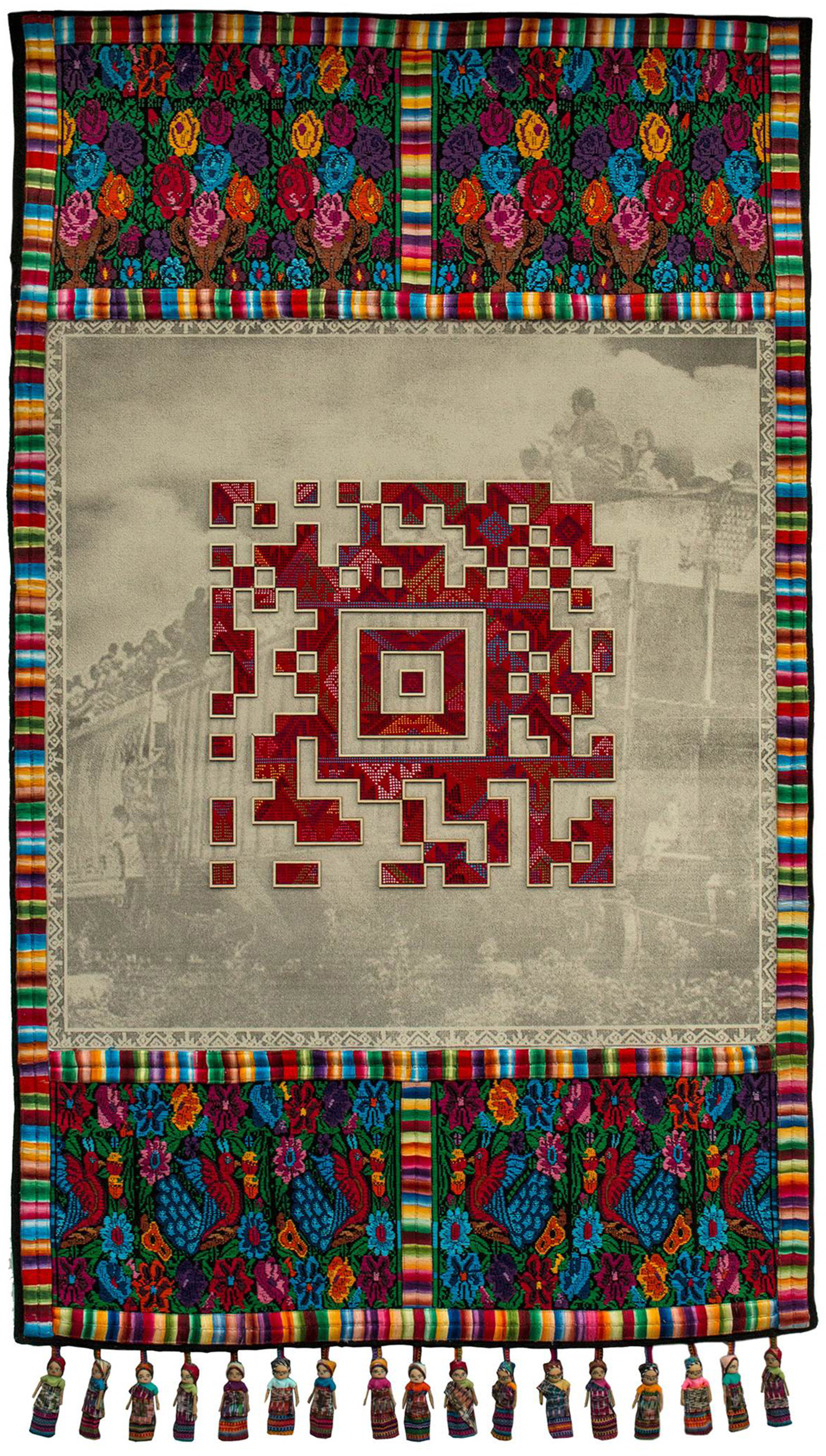 Guillermo Bert, a Chilean American artist working in Los Angeles, created the multimedia series Encoded Textiles, which conveys powerful messages about immigration and refugees. La Bestia depicts the notorious freight train that traverses Mexico going north. Latin American migrants from Mexico and central America take this dangerous journey riding the roof of the train, often with deadly consequences. The photograph of the train appears as a faded black-and-white image on a textured beige canvas. The brightly colored QR code is made of laser cut squares of brightly colored woven fabric and links to the testimonial of a Guatemalan immigrant's harrowing journey by bus, foot, truck, and La Bestia from his hometown to Los Angeles. By ingeniously combining emerging technology with traditional craft and embedding a story that touches so many, Bert imbues La Bestia with extraordinary resonance.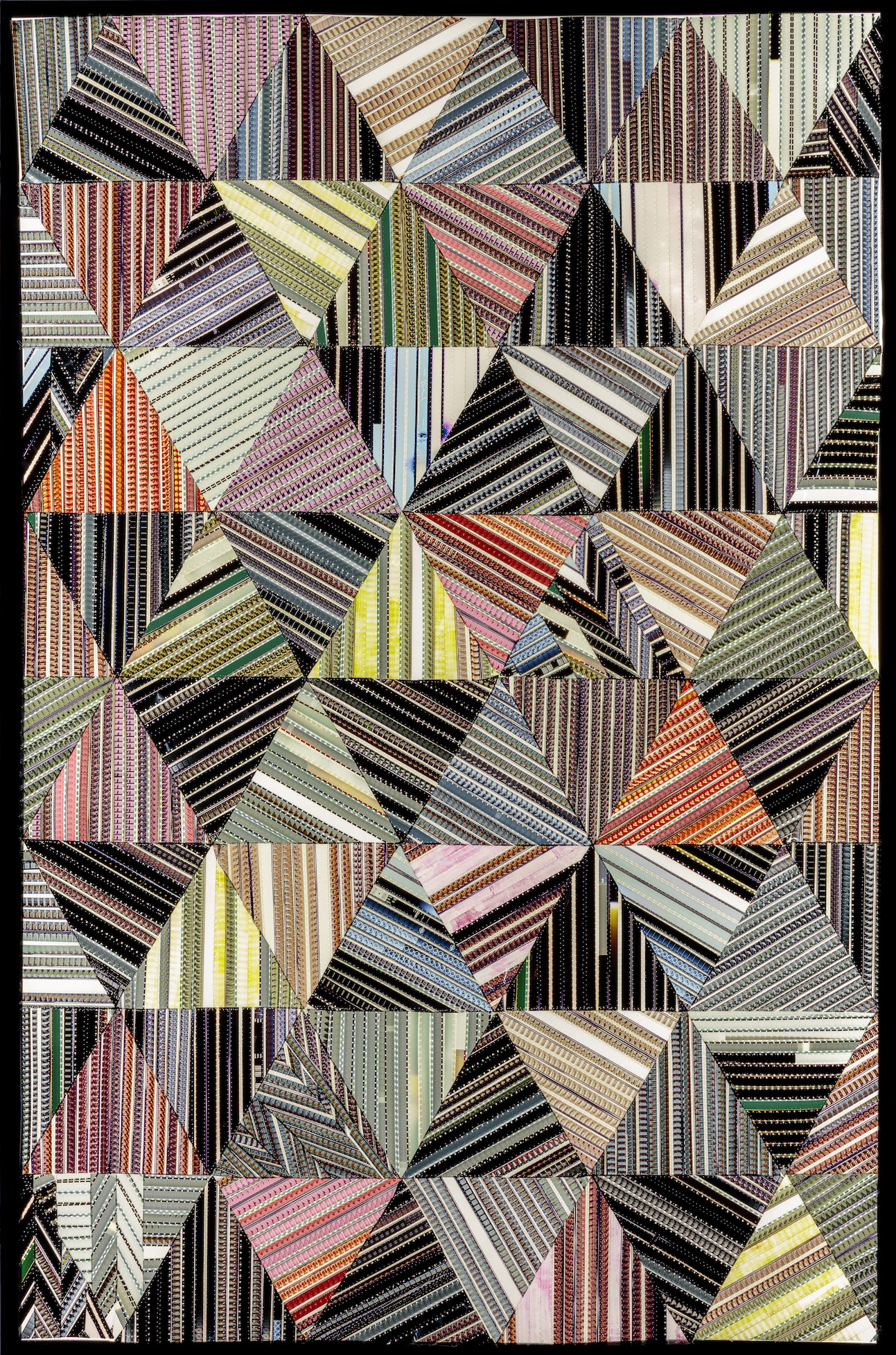 Sabrina Gschwandtner is an L.A.-based artist who also works at the intersection of new media and traditional craft. To make Hands at Work Film, she mined a collection of discarded textile documentaries made between about 1950 and 1980. As she explained, "Not only had the movies' subject matter—mostly that of women creating textiles—been deemed unworthy of archiving, but some of the film had faded or discolored, adding an additional layer of valuelessness." In a subversive act meant to celebrate the undervalued histories of women's work, Gschwandtner arranged the rescued footage in compositions based on historical American quilt patterns and joined the strips together on her sewing machine. Gschwandtner uses two media that have both become obsolete but are also being embraced by a new generation of artists eager to capitalize on their inherent quality and "slowness."