I've always had an innate curiosity for the arts and its relationship with creatives, organizers, writers, and community leaders. As an artist myself, I knew I wanted to pursue a career in the arts. Still, it wasn't until I was selected to participate in the Mellon Undergraduate Curatorial Fellowship Program's Summer Academy at The Museum of Fine Arts, Houston that I had my first sneak peek at museum management. Interested in the managerial aspect of art organizations and institutions, I completed my undergraduate studies in Studio Art and Business and went on to manage a gallery focused on Latinx, Latin American, and Texas-based artists in San Antonio, Texas. I also co-founded a digital platform dedicated to redefining accessibility and bridging the gaps between artists, arts administrators, art audiences, and the Texas community. Early on in my career, these experiences shaped my purpose as an arts professional rooted in accessibility, equity, and inclusion.
I moved to Los Angeles in August of 2019 after being accepted as one of two fellows for the 2019–20 cohort of LACMA's Emerging Art Professionals (LEAP) Fellowship. I considered the LEAP Fellowship to be a unique opportunity to work in an institution where I could envision developing my career under the mentorship of museum professionals who are actively redefining the future of art and cultural institutions and their role in society. While I had never been to LACMA before my fellowship, I was interested in learning about the museum's work with artists, technologists, and thought leaders. I was also curious about its local, regional, and global partnerships to share collections and programs, create pioneering initiatives, and engage new audiences. And what better way to understand these relationships and programs than by getting a bird's-eye view from the Director's Office.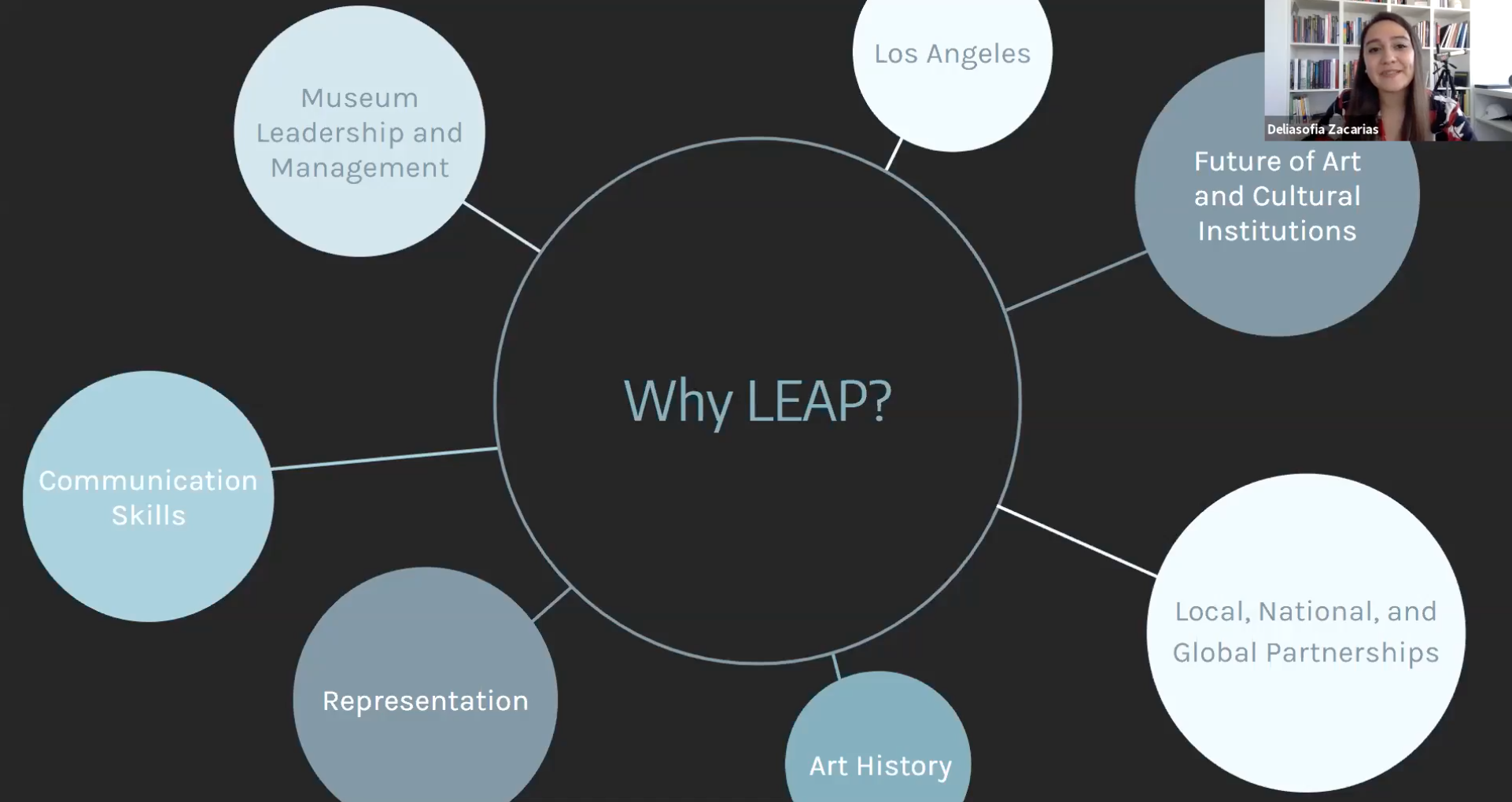 As the 2019–20 Director's Office LEAP Fellow, I've primarily learned from and worked with Executive Administrator Liz Andrews, and CEO and Wallis Annenberg Director Michael Govan. From relearning office processes to assisting with various research projects, working in the Director's Office has been quite extraordinary. I learned the power of words and negotiation as well as the importance of humility when consulting and working with experts in departments to better assess adversities and solutions. It wasn't until I joined the Director's Office team that I realized what "fast-paced" really meant. While I adapted to keep up, Liz and Michael ensured time was made in their busy schedules for mentorship and there was space for open communication. Even though their experience and accolades exceeded my own, I was encouraged to participate, ask questions, and think through matters with them.
The fellowship also allowed me to pursue projects in other departments. In the first few months, I assisted Communications with the 2019 Art+Film Gala, which involved attending logistical prep meetings, coordinating with attendees, and supporting the creation of video content for LACMA's social media on the night of the event. In December 2019, I shadowed the installation of Rufino Tamayo: Innovation and Experimentation at LACMA's gallery at Charles White Elementary School, curated by Assistant Curator of Latin American Art Rachel Kaplan. I also worked closely with Assistant Vice President of Education Chelo Montoya on various public programs, including panel discussions "Connections Across Centuries: Rufino Tamayo, Raul Baltazar, and the Ancient Americas" and "Feminist Perspectives on Julie Mehretu." Through these events and projects, I saw how various departments contribute to LACMA's mission in a tangible manner.
As the world shifted to a virtual reality in March, my projects with these departments quickly adapted to reflect our new normal. My first "quarantine publication" was a reflection on how Wolfgang Tillmans's Los Angeles Installation offers a meditative and interconnected outlook on social distancing. While increasing amounts of digital content reaches new audiences worldwide, it also raises the questions of who is receiving this digital content and how is it being received. I assisted the Education department in creating and editing multilingual artmaking videos and blog posts, as well as researching virtual public programs across our field. I have virtually shadowed the Public Programs team's efforts to safely continue offering the family programs Angelenos have come to love and coordinate timely public forums that affect us all.
A smooth transition to a virtual museum and work from home reality would not have been possible without the agile and adaptable staff that make up LACMA. Without the run-ins and impromptu meetings that would occur in the office, shadowing opportunities seemed unlikely. Nevertheless, with frequent virtual check ins, meetings, and interactions, my learning hasn't slowed down. My mentors and supervisors have demonstrated how interconnected our work is and how my learning experience and fellowship exceed the physical museum. I am fortunate to have had a solid support system as I navigated through a new city, new workplace, and new perspectives.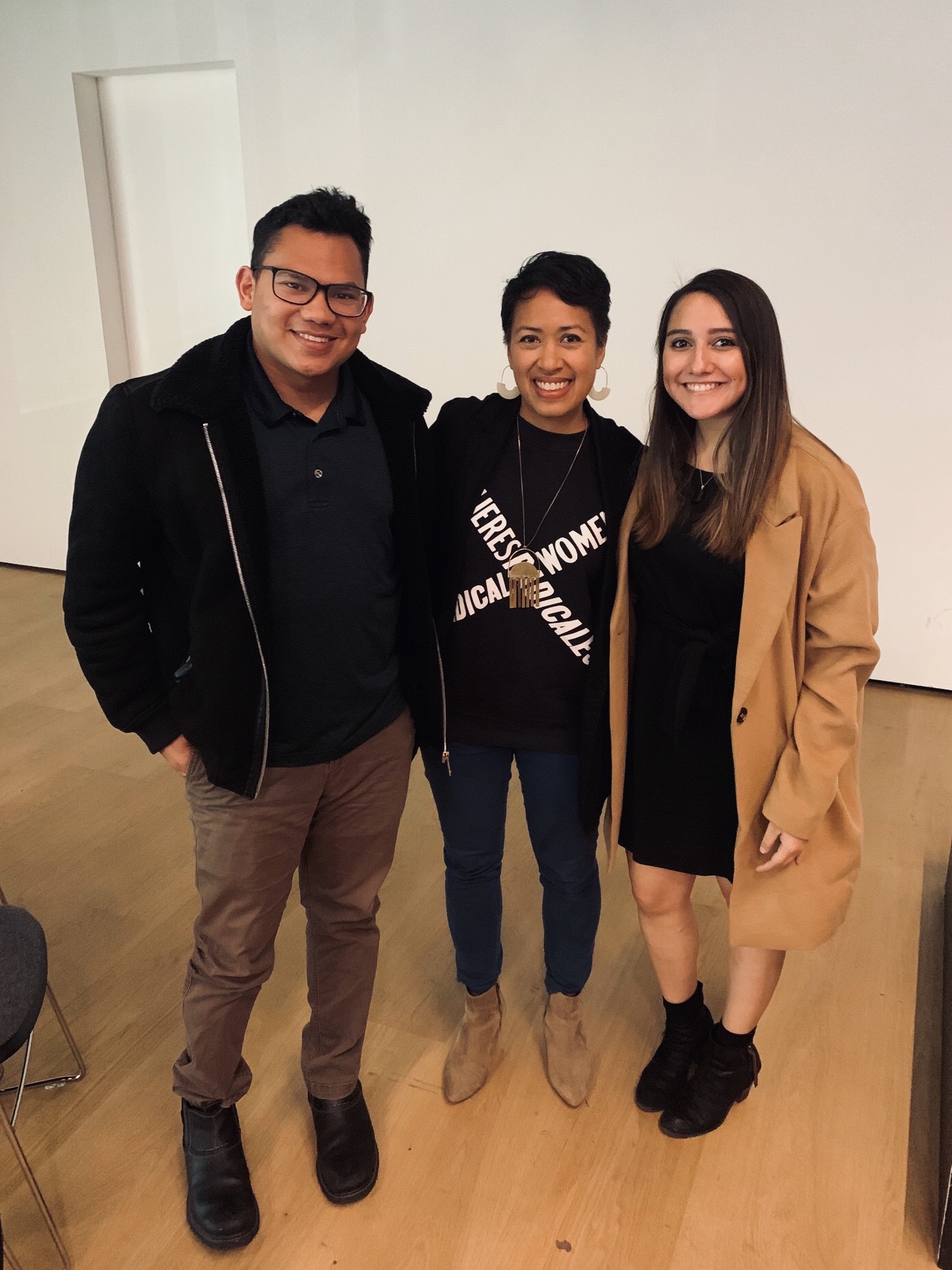 This fellowship offered access to learn from art professionals in and outside of LACMA. I connected with museum leaders, curators, and artists at professional development opportunities, field trips, and fairs such as Photo LA and Frieze LA. Through LEAP-sponsored travel, I also attended the Arts Administrators of Color Convening in Washington, DC, in November 2019. After learning about their efforts to shift from a regional focus to a national focus, I quickly become involved and currently serve on their board. As an artist and arts administrator of color whose fellowship stems from the lack of diversity and representation within museum leadership, I want to continue celebrating and normalizing the successes of BIPOC creatives and, of course, continue learning to then create pathways for BIPOC museum leadership.
The conversations I have had at LACMA both in and outside the Director's Office have led me to think critically about museums' roles and responsibilities. I often ask the following questions: What are the barriers to accessing the museum's collection? How do we remove those barriers? What are our intentions, and what is our impact? What steps can we take to make the museum more diverse, accessible, inclusive, and equitable? How do museums use power and influence to create an inclusive multicultural, intergenerational environment? These questions became even more pressing amidst the global pandemic that started earlier this year.
The reality that shaped my LEAP Fellowship experience consisted of: full office moves in preparation for the construction of the new building, the COVID-19 pandemic, canceled LEAP-sponsored travel and projects, a "new" virtual reality, and the recent demonstrations against racism and public demand for institutions' accountability and change, as well as some personal adversities. While it wasn't exactly how I imagined this year to pan out, I had a unique learning opportunity to be in the trenches of what makes up the nimble leadership and management at the Los Angeles County Museum of Art. I've learned that moments that call for change make the best teaching and learning moments.
As I conclude my fellowship, I am grateful to have had a transformative and enriching experience overall. While my fellowship experience might differ from others in similar programs across the nation, this fellowship solidified my passion and purpose in the art world. With check ins, written reflections, professional development events, and outside evaluations, Lilit Sadoyan, Hilary Walter, and Liz Andrews have ensured metrics to improve the program. Despite spending the latter half working remotely, the fellowship has pushed me to think critically about the role of encyclopedic museums and the opportunity institutions have to counter erasure and be at the forefront of innovation and an equitable framework, internally and externally. While the fellowship is a small step towards a more diverse and equitable sector, it will take more than a short-term fellowship to create change. With a rise in recent public accountability and action, I look forward to seeing how LACMA continues to move forward.