Windows mediate my vision more than ever these days. Indoors, my eyes wander outside from my living room couch, the table, the kitchen sink. At noon, I close my windows to preserve the cool air from the night. At five o'clock, I reopen them to let in the breeze. Where I am in my apartment defines my sense of place. I locate "here" from my view inside.
Christina Fernandez's series featuring window frames, View from Here, prompted me to consider, "Where is here?"
Fernandez is a Los Angeles-native artist whose ongoing artistic investigations consider labor, migration, gender, her Mexican American identity, and photographic perception. She often features the urban and natural environment, primarily of Southern California, as a subject of her work. To make View from Here, Fernandez photographed ten windows and door frames from historically significant sites across the Southwest and Southern California between 2016 and 2017. Last year, LACMA purchased eight works from the series. A selection is included in the exhibition, View From Here: Recent Acquisitions, which takes its name from Fernandez's title.
The window casings—composed of wood, concrete, adobe, and stone—frame the edge of each composition. In each work, Fernandez illuminates a history.
She titled Toyo (Manzanar), 2016, after the artist Tōyō Miyatake, renowned for his photographs of his fellow prisoners at the WWII-era internment camp at Manzanar in Owens Valley, California. Following the attacks at Pearl Harbor, the United States government forcibly removed approximately 120,000 individuals of Japanese descent from their homes, and interned them at camps in California and across the country. Miyatake lived and worked in Little Tokyo in downtown Los Angeles as an artist prior to interment. He smuggled his camera lens into the camp and built a camera body out of wood. Fernandez pointed her lens through a barracks window at Manzanar camp, blurring the view of the desert sky and a tree.
In Noah (Joshua Tree), 2016, Fernandez recalls the artist Noah Purifoy, co-founder of the Watts Towers Art Center, and creator of the Noah Purifoy Outdoor Desert Art Museum. In a view of the desert through chicken wire at Purifoy's museum, Fernandez references his practice in assemblage. He transformed everyday objects and urban debris, such as wire fencing, into sculpture.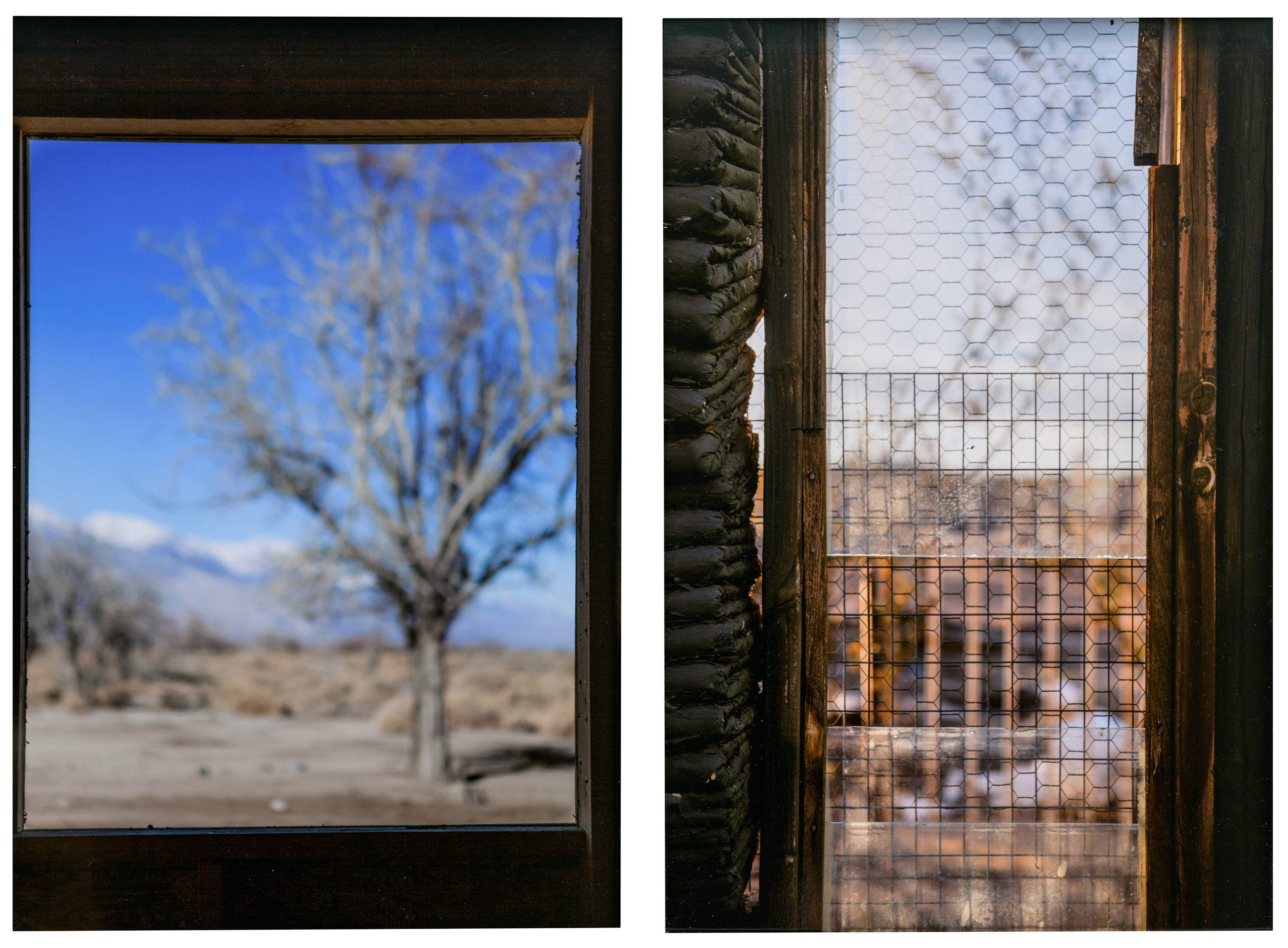 LACMA holds nearly 200 photographs in its collection with "window" in their title. Windows are among the most pervasive photographic motifs. The medium of photography, to draw with light, evolved from the optical phenomenon camera obscura: the image of the world appears, seemingly magically, through an aperture, or pin hole, in a darkened, enclosed space.
Cameras are windows.
To be here means you can't be anywhere else. Yet, Fernandez's photographs obscure this truth. Here can be a prison cell, a living room couch, or the imagining of a world beyond view.
Please join us on October 15 at 12 pm PDT for a conversation between Christina Fernandez and Terri and Michael Smooke Curator and Department Head, Contemporary Art Rita Gonzalez, presented in conjunction with the exhibition View From Here: Recent Acquisitions.