What gives you joy? The beginning of the new year (welcome 2021!) is a great time to remember what gives us joy and doodling a creative word map is the perfect activity to remind us!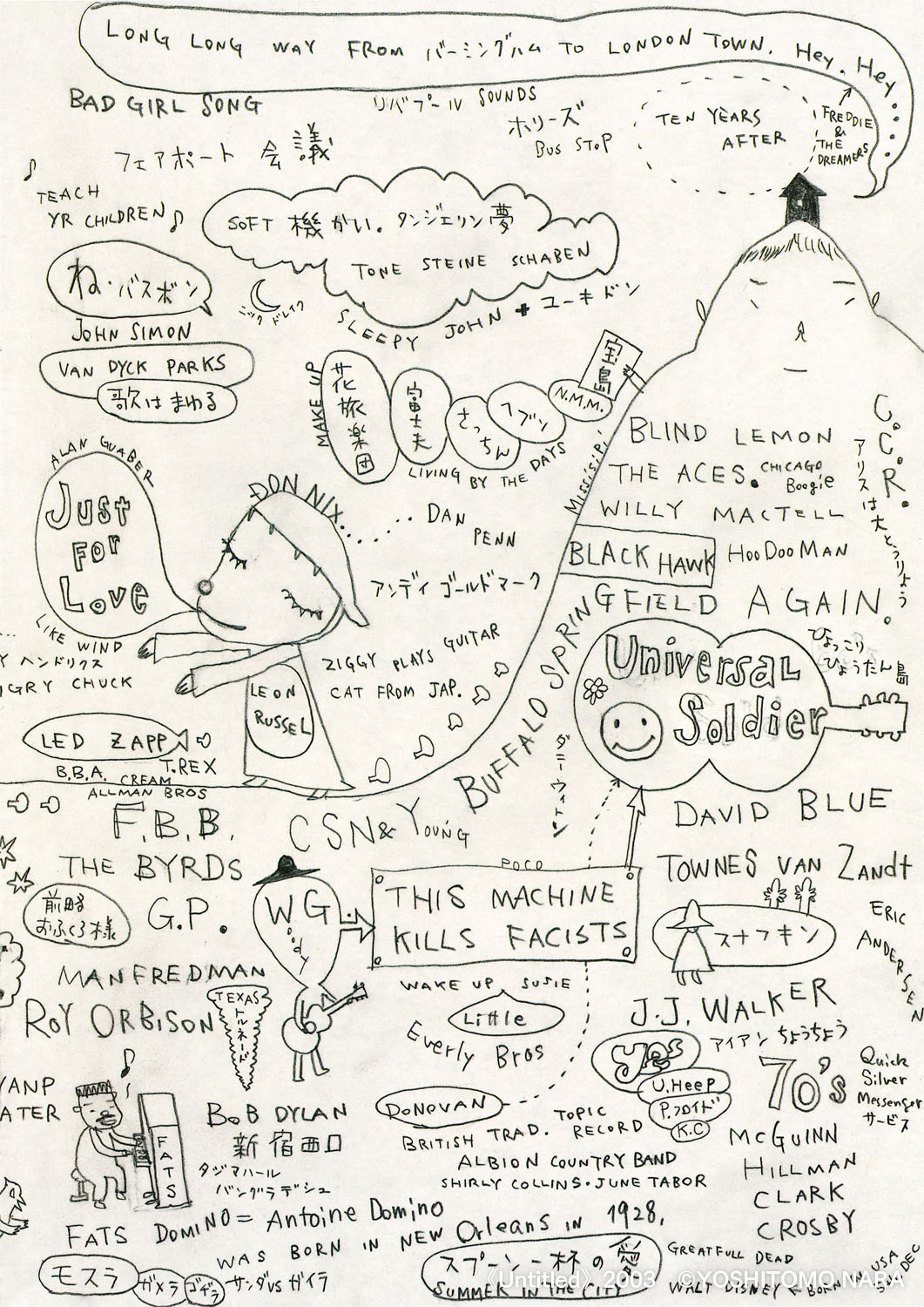 I was inspired by the current exhibition by Japanese artist Yoshitomo Nara to make my word map. He made an amazing doodle word map of his favorite bands. Nara loves music and has a lot of record albums. When he was growing up, he lived in a rural part of Japan that was far from museums. He says that he first discovered art by looking at the art on record albums.
Are you ready? Let's get started!
Step 1
Play music that makes you happy.
Sometimes I listen to the same song over and over—that's ok too! (Although that might annoy the people in your home, so you may want to use headphones.) If you are doing this project with others, take turns picking songs.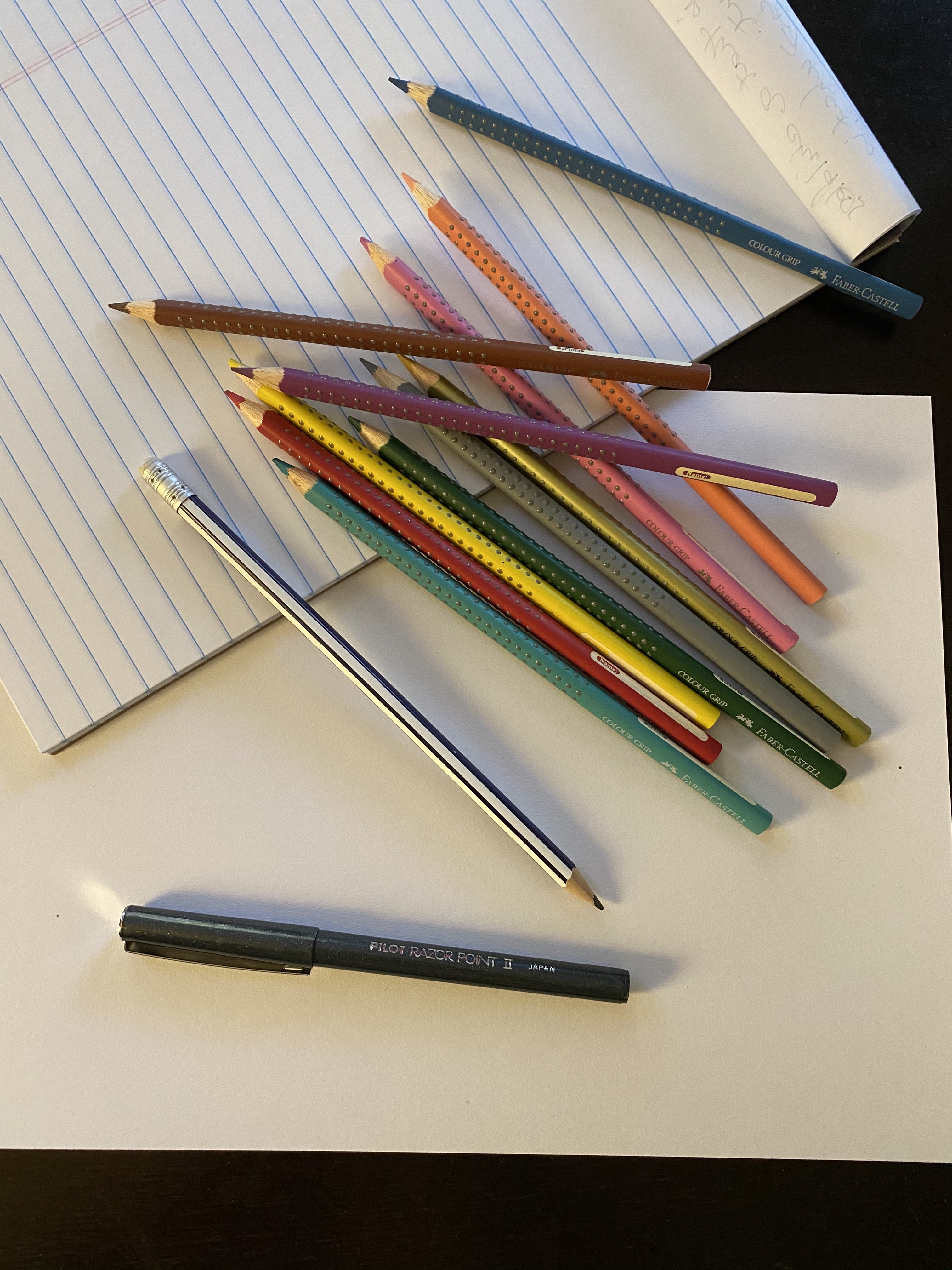 Step 2
Gather your materials.
Scratch paper, for writing and sketching ideas
More paper, for the doodle. Any paper you can draw on is perfect for this project. Printer/computer, watercolor, or cardstock are good options.
Black thin-tipped pen
Pencil
Colored pencils (optional)
Step 3
On your scratch paper, make your list of what gives you joy.
Think about all the things you like to do and make. If you are doing this activity with another person, share your lists. (They can also help you remember the things you like!)
If you get stuck, answer the following:
My favorite activity at the park:
My favorite thing to draw:
My favorite game:
My favorite food:
My favorite sweet treat:
My favorite movie:
My favorite book:
My favorite color:
My favorite sport: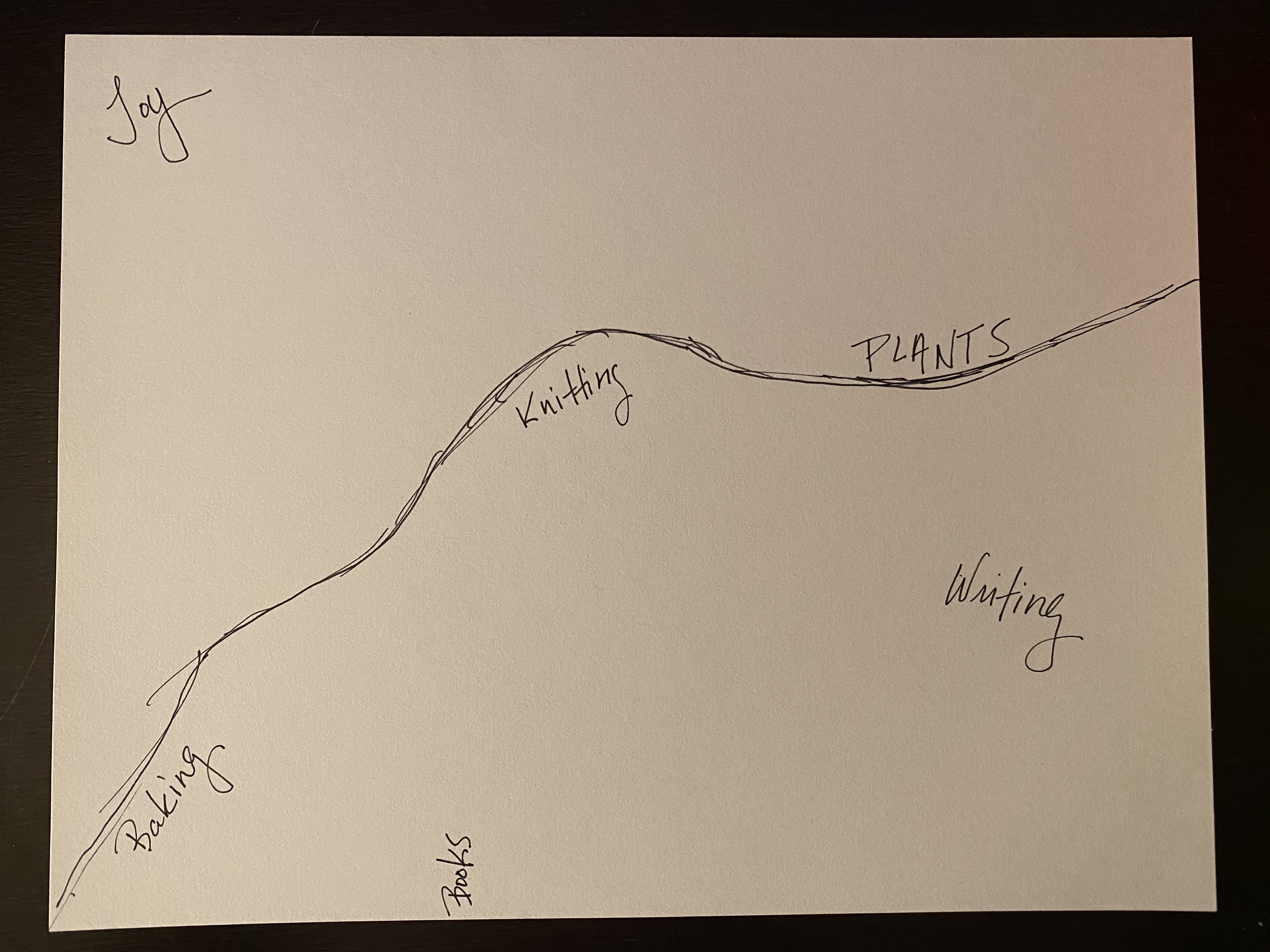 Step 4
Take out the paper you chose for your word map doodle.
From your list of joyous things, pick your Top 10 and write them randomly on the page. Be sure to spread them out.
Step 5
Add more words: surrounding each of your words, add more words that you associate with that category. This is my favorite step.
In my word map, for baking, I thought about what I like to bake and the ingredients, so I added sourdough, bread, cookies, butter, and sugar.
Step 6
Time to doodle!
Fill up your page with little drawings, patterns, symbols, or designs. They can be random or fit with your category.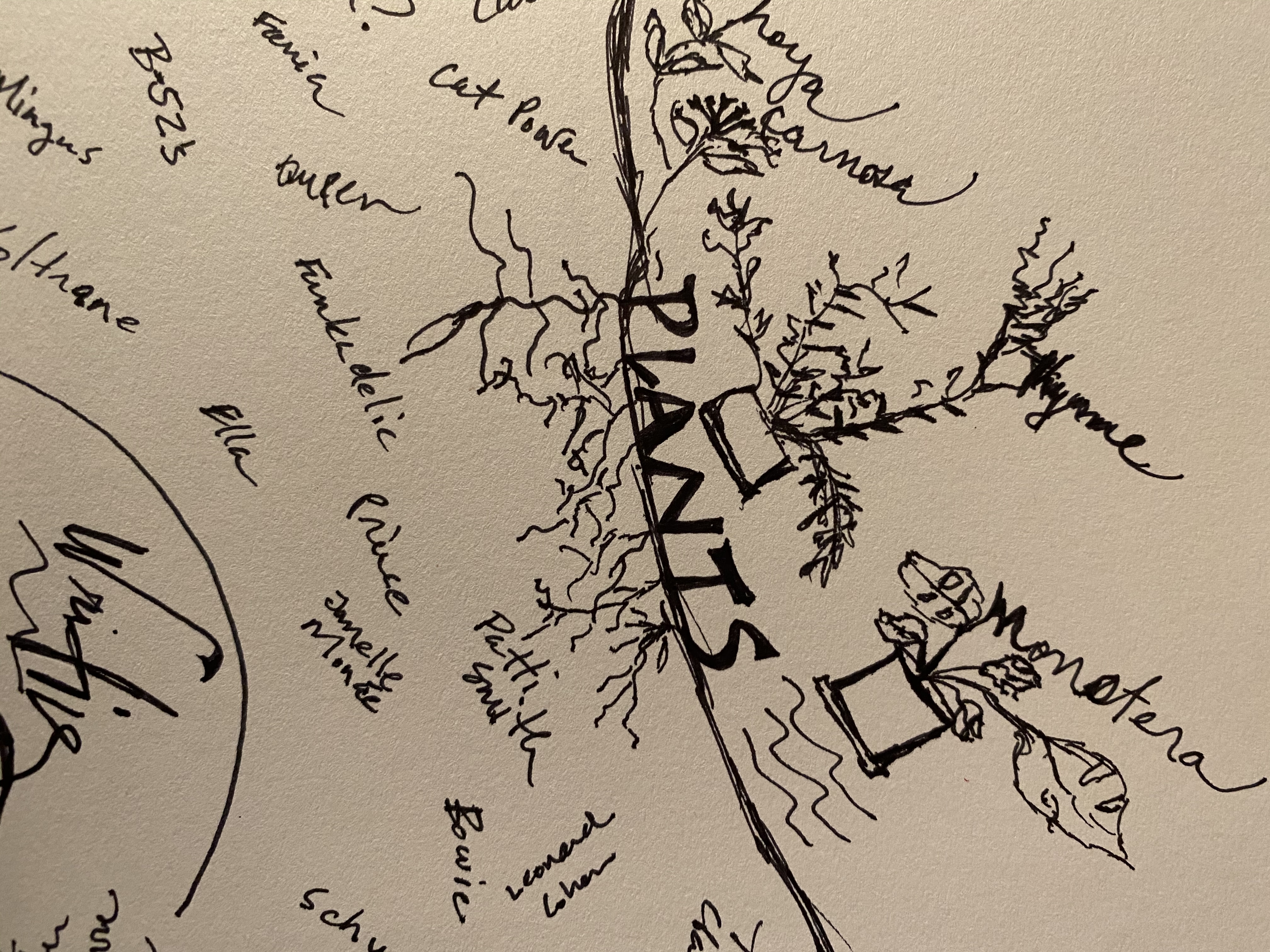 For my doodles, I drew leaves, roots, and my favorite plant. I also drew a teeny tiny cake with two candles for "baking." And, I drew some random stars, arrows, and designs that give me joy!
Bonus: add color, the names of the songs you were listening to, and "JOY."
Step 7
Display!
Put your drawing up someplace you can see it everyday. I put mine up by my desk. When I'm having a hard day, it will remind me of the things I can do to bring JOY in my life.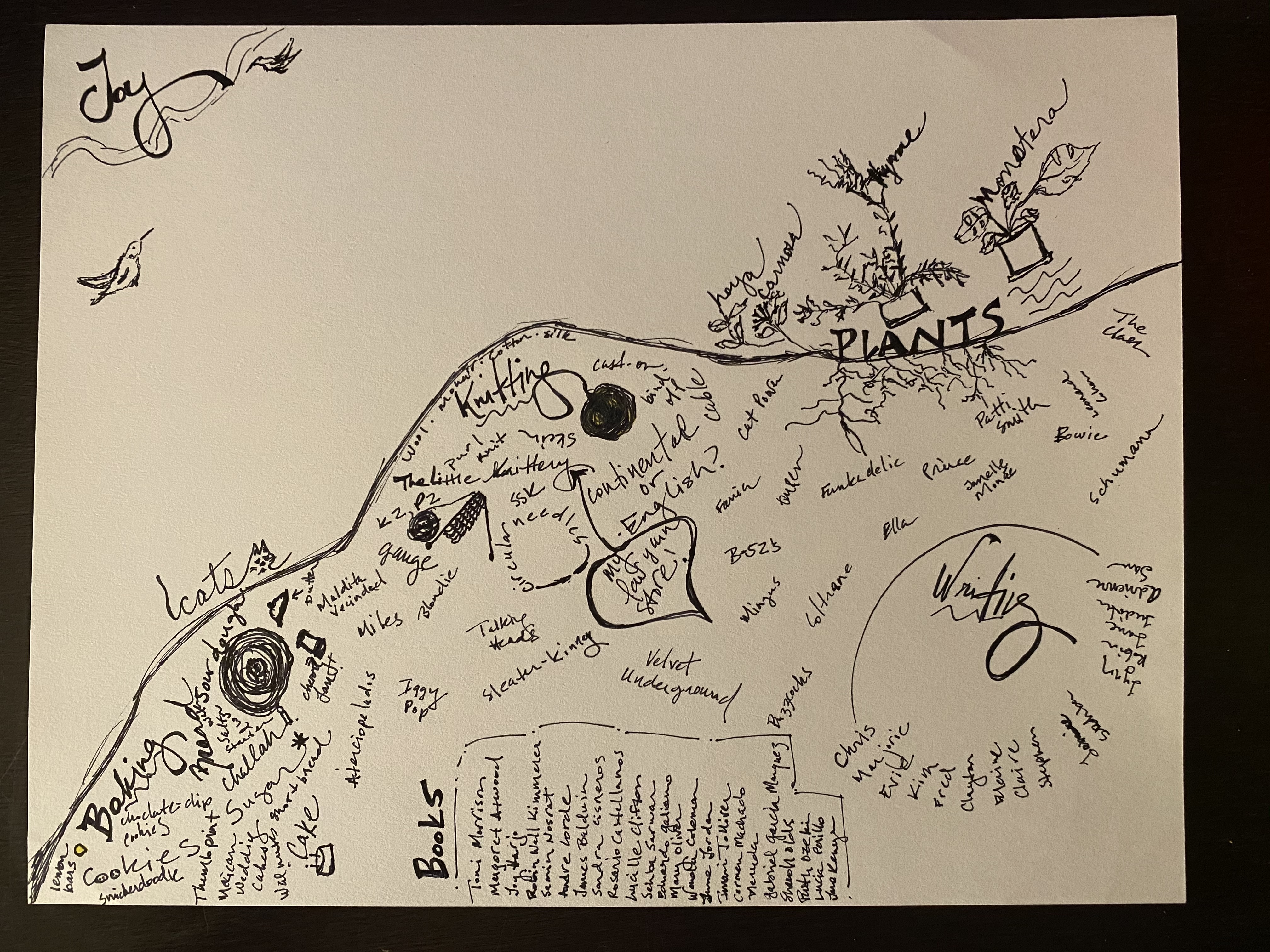 If you share your artwork on social media, tag us at @lacma! We love seeing your art!
Join us on Sunday, January 10 on YouTube to make a tiny flipbook zine, with artist Elly Dallas.