Next time you are at LACMA, look for the NexGenLA table (it's usually on the plaza, near the park) and pick up a LACMA Art Kit. It's free!
What's a LACMA Art Kit? It's a clear bag that holds a beautiful LACMA sketchbook, a striped pencil, a viewfinder, a fold-out activity sheet that gives you ideas on how to think like an artist, and an application for a NexGenLA membership. Did I mention that it's free?
You know what's also free? A LACMA NexGenLA membership! NexGenLA members get to visit LACMA for free from now until their 18th birthday. As an artist, you should visit the museum on a regular basis to get ideas from other artists, form opinions, and stay up to date on what is on view at LACMA. As someone who grew up going to LACMA, I can tell you that there is always something new to see, and it never gets boring. 
Let's get back to the art kit. Keeping a sketchbook is a really good habit to cultivate. Some artists take one with them wherever they go. There is always time to pause and make a five minute sketch. Maybe you've noticed a wonderful flower, or a dog in a baby stroller, and you want to try to capture it with your pencil. 
Did you know you can also draw in the museum? But first, let's remember the museum rules.
No touching the art! And while you're not doing that, make sure you are staying three feet away from all artwork. There! Now everybody and everything is safe and sound. Can you run or scream in the museum? You already know: No!
You can take your sketchbook and pencil into the galleries and draw your favorite artwork. But no erasing! No, really, no erasing! Erasures, the dust you make when you erase something, have no place inside the museum. You will notice that the entire museum is kept super clean. The museum is here to exhibit and protect artwork and artifacts. To keep the artwork in tip-top shape, there is no touching, nor is dirt or food allowed inside the museum. A big thank you is in order to all the wonderful people who keep LACMA spotless! Thank you, thank you!
As you are walking around the galleries, take the time to stop and have a good long look at the artworks that capture your attention. Read the labels on the walls to learn who the artist is and where they are from. If the artwork has a title, it will be listed on the label along with the year it was made. 
Are you still in front of that painting or sculpture? Why not take out your sketchbook and pencil and make a quick sketch? Start out by drawing the big shapes—this is making an outline. Then start adding the details. Maybe you will shade in some areas by pressing the pencil harder against the paper. Once you are outside or at home, you can erase, add color, or paint on your pencil sketch. 
Remember, you can ONLY draw with pencil on the paper in your sketchbook. Hold your book in a way that is comfortable. You can't lean your book on a glass case or anywhere else, but if there is a bench in the gallery, you can sit down to draw. Sometimes it's okay to sit on the floor and sketch. You can ask one of our nice security guards first.
Think of sketches as ideas or memories that don't have to be perfect. They always look better the next day! It's fun to look back at your sketchbook and remember everything you saw when you went out. Some artists also write ideas or poems in their books and some people use their sketchbook as a diary with pictures and words. If you are super organized, you can date each drawing. 
Maybe you want to focus on the art and foliage that is outside the LACMA buildings. Take a walk around and check out all the giant sculptures and special palm trees on the grounds. Not sure what to draw? Use the LACMA viewfinder. It might be shaped like a magnifying glass, but when you hold it up to your eye, you won't see any kind of change. Hold the viewfinder at arm's length and close one eye while you look through the circle with your other eye. There you go, now you can find something interesting to draw. Some artists draw while looking through the viewfinder, and some use the viewfinder only to figure out what to draw.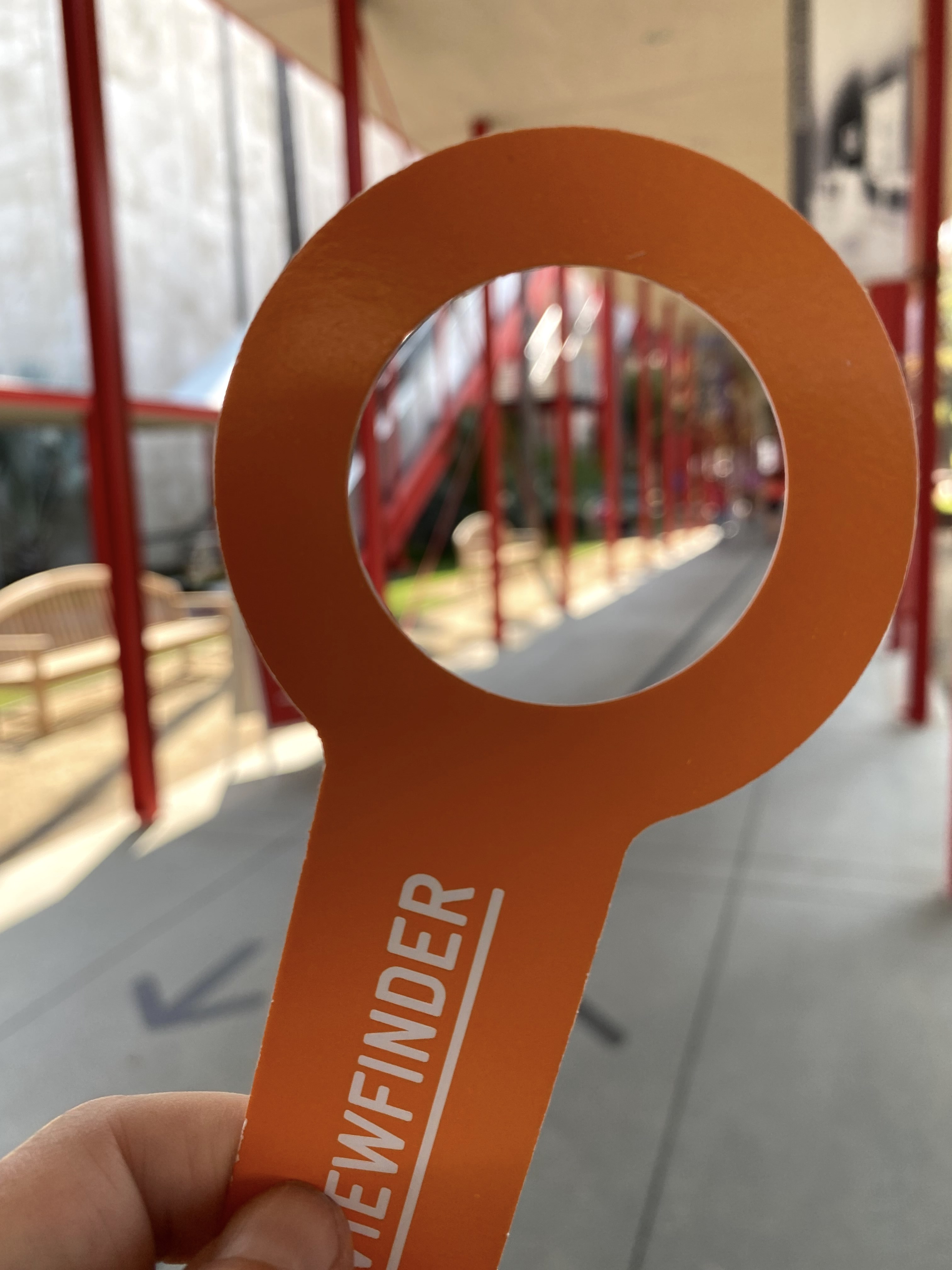 The day I got my LACMA Art Kit, I made one drawing inside the museum and one drawing outside, on the museum plaza. I would love to see your sketches. If you post any online, make sure to tag @lacma. Have fun drawing!