Next time you visit LACMA with kids, check out our delightful new audio tour designed with family fun at the forefront. Just make sure to bring your personal earbuds and an internet-connected device—like a smartphone or tablet!
This is no ordinary tour where you listen to art historical facts and are told what to see. We invite you to be active, playful, and use your imagination. You'll be prompted to commission a portrait by Pablo Picasso, imagine what a dog is thinking in Henri Matisse's Tea, and wonder why Frida Kahlo's Weeping Coconuts are crying.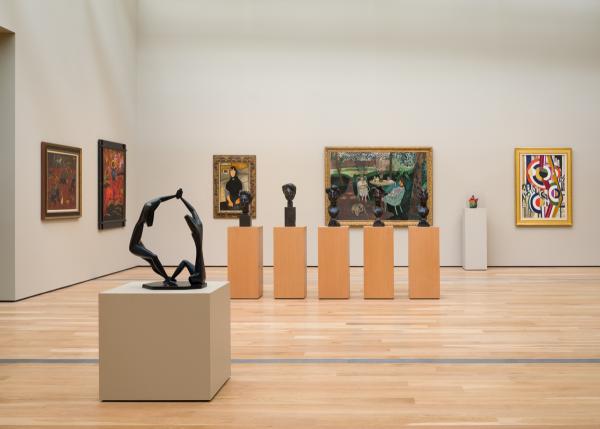 To access Listen, Look & Learn: Modern Art for Kids, simply scan the QRcode at the entrance to the Modern Art Galleries. Besides Picasso, Matisse, and Kahlo, you'll come across dozens of other artists! The audio tour will invite you to: 
Mimic a character in a painting and strike their pose
Find emotion in color and shapes
Play an art memory game
Perform an impromptu soundtrack—aloud!
And, imagine what will happen next…
You'll hear the voices of artists David Hockney, Jacob Lawrence, and Vija Celmins. You'll be invited to step inside a work of art, and you might be inspired to make art yourself when you get home. You'll discover that artists have families—and that kids of artists sometimes grow up to become artists too! You'll also be prompted to share with the people in your group what you see and think with no obligation to agree with each other. 
Oh, you will hear some facts about the art on view and the artists who made it, but we promise they are fun facts!
The entire tour is 22 minutes long but you can pause, skip ahead, and circle back, as you wish.
We are excited to share our newest interactive audio tour with you. We hope you have fun listening, looking, and learning as you join this playful art journey.
Don't forget to bring your earbuds!